A 5-day wellness retreat to help busy women reconnect with their warrior spirit, rejuvenate their soul, ignite their passion, build their confidence and find FUN again in life.
Guilt, work, and stress have stolen our fun. As adults, we've been taught that having fun doesn't equal success or productivity. As busy women, we juggle all sorts of responsibilities and can feel burned out and controlled by our never-ending to-do list as a result. This retreat is all about finding FUN again, reconnecting with your passion, rejuvenating your soul and building your confidence so you can go after your wildest dreams.
Imagine coming away from this experience as a powerhouse warrior and the impact that will have on your family legacy. Rather than being the one who "keeps it all together" for everyone around you, you now hold the keys that enable you to replenish your energy at will, while uplifting those same people and changing the energy dynamics in your work and in your family.
Filling your life with meaningful moments gives you joy in the present and for the future – in the form of memories you can cherish through the years. You'll learn to sense when your mind and body need a break from productivity to do something fun and how to pause to notice the fun you're having in life's big and little moments. This gives yourself the time you need to create joy and is an essential part of self-care.
If you've been feeling like you're running on empty or simply not as fulfilled as you imagined being at this point in your life or perhaps you're yearning for community or just need a break, this retreat is for you.
Do you want to have more fun, unlearn what the diet culture has taught you, change your lifestyle and use self-care to create the happiest, healthiest and strongest version of YOU? Then book now.
Have the confidence to make healthy choices without second-guessing yourself or feeling guilty about it.
Develop your belief system so you can always focus on thinking the thoughts that serve you and confidently take action toward goals that are in alignment with your values.
Deeply nourish your body, mind and spirit with nutritious foods, movement, mindfulness practices and unexpected adventures so you can build healthy habits that create freedom, peace and confidence.
Untangle the unconscious, self-sabotaging habits that drain your energy and develop habits that enable you to thrive even when life is chaotic.
Reconnect with your body, foster resilience, and deepen your intimacy with nature so you can recharge yourself for the people and things that matter most.
Make choices that allow a sense of calm, ease or peacefulness when you're feeling negative emotions so you can remain committed to taking care of yourself.
Maximize your energy levels, metabolism, and emotional resilience with rejuvenating rituals each morning and evening.
As you practice body kindness, you'll learn to integrate compassion, acceptance, gratitude, empathy, self-worth and fun into your daily life.
Connect with your body to make loving and caring decisions that eventually take over your life in the form of enjoyable habits.
Instead of viewing food choices as a matter of "good" vs. "bad," you will explore new, flexible ways of thinking about food and consider the positive role food can play in your well-being.
Connect with other like-minded women without ever feeling judged and gain a community full of support and encouragement to thrive in all of life's ups and downs.
Susan Gladstein
Susan is a certified Life & Health Coach, Air Force Veteran, firefighter wife, and mom of 6 who is in love with wellness and having fun! Most days you'll catch me dancing, riding my bike, or spending time outside.
I educate exhausted women who are struggling with motivation and confidence so they can have ENDLESS ENERGY to keep up with all the things they're juggling, thrive in life and have FUN. I imagine a world where women don't feel guilty for taking time for self care and instead have the energy, motivation and confidence to live their life according to the purpose they're called for and have the courage to go after their big, scary and wildest dreams.
The ability to let go and embrace the playful, silly side of life should be right up there with nutritious food, sleep and exercise on your self-care checklist. When you understand that your mental health is just as important as your physical health, fun no longer feels frivolous. Noticing the fun in your everyday life is a form of mindfulness.
I know how it feels to be exhausted and self-conscious. I know the struggle of balancing all the chaos of kids and jobs and often doing it solo while my husband is on military duty or on shift at the fire department.
I'm on a mission to make health and wellness enjoyable so it doesn't feel like such a daunting task. I work with my clients on habit change so that new ways of doing things just become who they are and what they do without having to think about it – and in a way that feels easy and FUN!
It is my honor and privilege to share the truth with other busy women who struggle with guilt in taking time for themselves: You have unique talents and gifts to give the world and if you're not taking care of your mind, body and spirit, the world is missing out on YOU!
I cannot tell you how much FUN I had on my retreat with Susan. I am not normally the kind of person to plan fun trips, or come out of my shell, so traveling with her was amazingly refreshing! As a busy mom of 3, I don't get much time to myself, so it was scary to spend the money and take the time away with other women. But it gave me a renewed vision for my life, and the energy from the other women was so empowering. Susan makes everything memorable and special, and I would 100% do it again in a heartbeat!
If you've never been on a retreat with Susan, then you are in for an incredible TREAT! She is so passionate about what she does and is so full of life. Her real life experiences and past struggles have become her beautiful story…and she holds nothing back. She has transformed countless lives and helped women rise above and be the best versions of themselves. This is a perfect getaway for busy moms who need to "reset." Her retreats are a once in a lifetime experience that will leave you with so much joy, love and clarity for your life. I've traveled the world with Susan and her planning is impeccable. You don't have to worry about a thing, except to show up, and soak in every beautiful moment for YOU. It's a game changer. The bonds you form with each other are powerful, but the impact it has on your life is priceless. If this has been on your bucket list, or is just spur of the moment, all I can say is…you won't regret it!
Say YES to Costa Rica! This is your opportunity to engage with Susan and the Glad Warrior Team. A 21-year Air Force veteran, mother of three, firefighter's wife, fitness champ, life coach, and true friend, Susan's breadth of life experiences contributes to her ability to relate to anyone and literally everyone. She was my life coach before she was a life coach. For 30-plus years, she has been the truest of true friends. In my worst times, she never judged and always encouraged me to be my best and to get after my personal goals, yeah … even the ones I thought were impossible, she believed in me. ANYTHING is possible with Susan! You will be inspired, amazed, and transformed into the best version of yourself. There is no better day than today to start your journey with Susan.
Going on a retreat with Susan was such an incredible experience! As a mom of 3, I wasn't sure about investing the time and money in myself, but it was the absolute best thing I could have done for me – and my family! It was wonderful to have that time to relax and to connect with Susan and the other amazing women there. It's easy to go through life feeing as though you are alone in your struggles but I quickly realized that was not the case. Susan made me feel confident and empowered to take on the challenges I was facing. I left feeling so refreshed and ready to take on life with a renewed outlook. I would definitely recommend this retreat to anyone and cannot wait to go again!
Designed as a fully inclusive and individually crafted wellness experience, all you need to do is show up, ready to relax and rejuvenate and we'll take care of the rest!
Double occupancy in a Jungle Bungalow or Geodesic Dome with views of the jungle.
Single occupancy in a Jungle Bungalow with views of the jungle.
Single occupancy in your own private Bali style suite with beautiful jungle views.
VIP SINGLE
$7,500
PER PERSON
Single occupancy in your own private, 200-Year-Old Balinese villa with a private deck and stunning views of the jungle and ocean.
1:1 Coaching Session with Susan in Costa Rica.

A completely private campus; available to your retreat group only. Access to a private waterfall, nature paths, incredible flora and fauna, and an ocean view infinity pool. Also included is a dedicated team of 20+ local professionals to coordinate everything for your enjoyment, from touch down to take off.
​

Gourmet plant-based cuisine prepared using all local and organic produce. Full meals, snacks, teas, coffees and fruit trays available throughout your stay.
Private transportation from the International airport to our campus; a private driver and transportation to our campus in Imiloa Mountain.
Wellness Gift Basket
Welcome Sunset Happy Hour with Mocktails Poolside
Workshops to choose from throughout your stay
Yoga classes and guided meditation
Imiloa Exclusive chef led cooking class
1-hour spa treatment of your choice
Cano Island Excursion (snorkel, swim, boat)
Beach dinner party with music, bonfire, and drinks
Access to private waterfall, river adventures, and miles of jungle paths for relaxation, meditation and exploration
You are on your own wellness journey and you're invited to attend all, some or none of the activities. This experience is all about you!
What's Not Included
Flights to SJO
Immerse yourself in a 22-acre jungle oasis located in Dominical, Costa Rica. Imiloa is nestled in the heart of the rainforest, overlooking the majestic Pacific Ocean, and is just a short 15-minute ride from the beach. It offers the perfect setting for experiencing deep healing while being embraced by nature, all in the comfort of luxurious accommodations. We like to call it JungleLuxury.
During your stay at Imiloa, you can revel in the beauty of our nature paths, indulge in the serenity of our private waterfall, relax by the shared infinity pool that offers breathtaking forest and ocean views, and of course, savor the culinary delights of our gourmet plant-based meals meticulously crafted by our expert kitchen team.
Included in each accommodation is the comfiest mattresses, 850 thread count sheets, storage space and dry rooms as needed, fiber optic internet, daily cleaning service, private en-suite bath, indoor/outdoor design for every accommodation with a focus on nature and being your private refuge, and full service, thrice-filtered private well for drinking water throughout the property.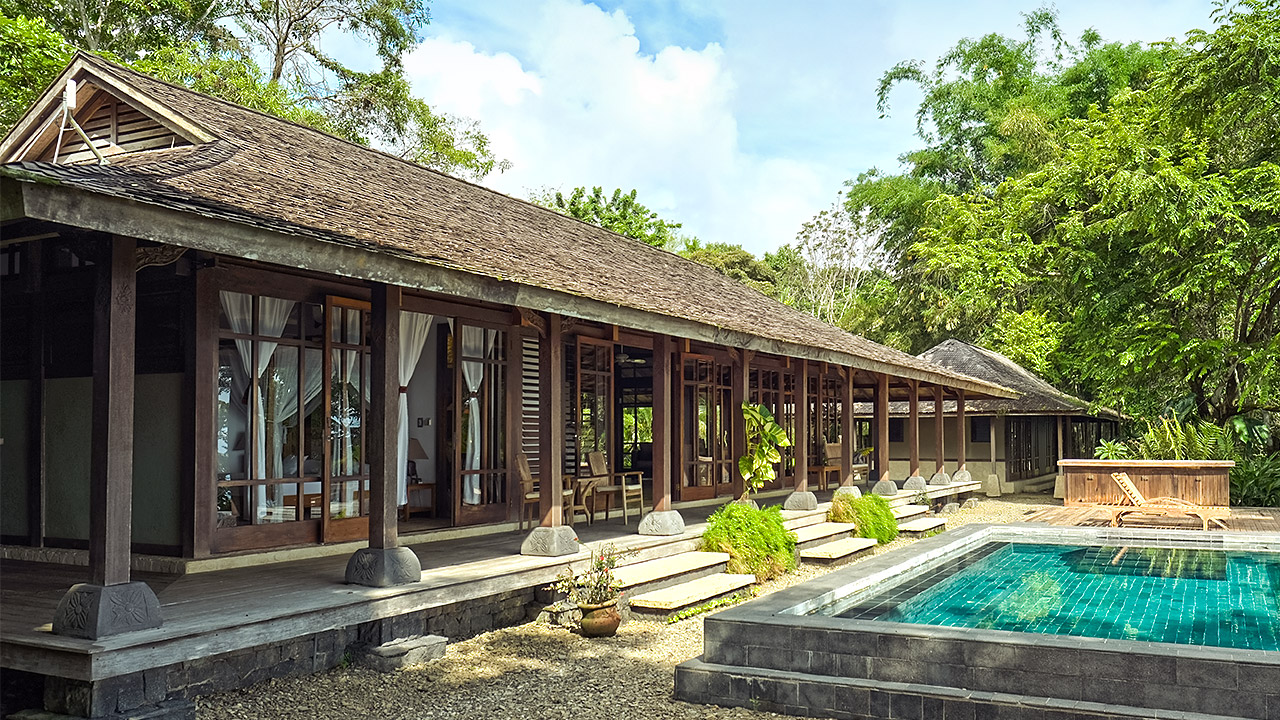 Bali Suites
Our 3 Bali Suites are elegantly situated at the top of the mountain in the 200 year old Bali Village. The suites are located just a few steps away from our shared infinity pool, with gorgeous views overlooking the rainforest and the pacific ocean.
Bali Suites 1 and 2: 1 King bed or 2 twins
Shared infinity plunge pool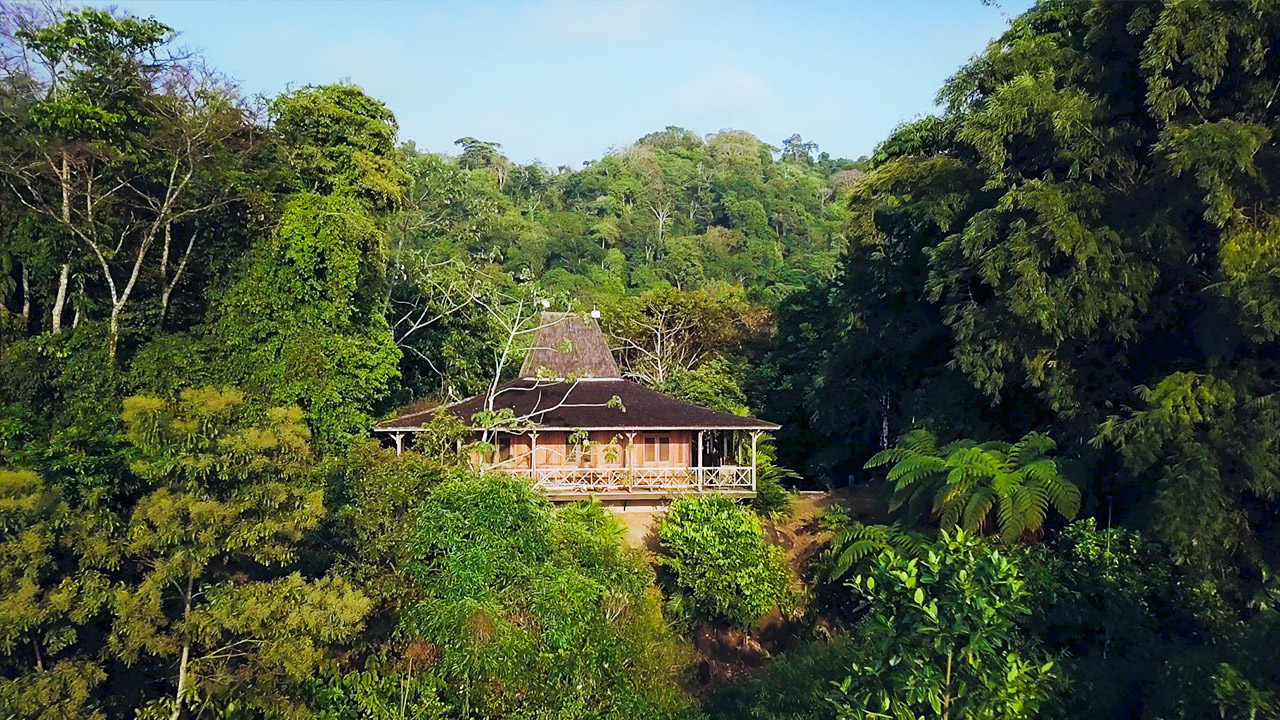 Jogolo House
Perched on the edge of the cliff, at the furthest end of the property, sits a 170 year old home from the Java Islands named Jogolo. Complete with a writer's desk, outdoor Balinese shower, and unique hand-carved architecture, Jogolo is teeming with history, soul and comfort.
No AC | Fans + Open-air construction that allow for natural ventilation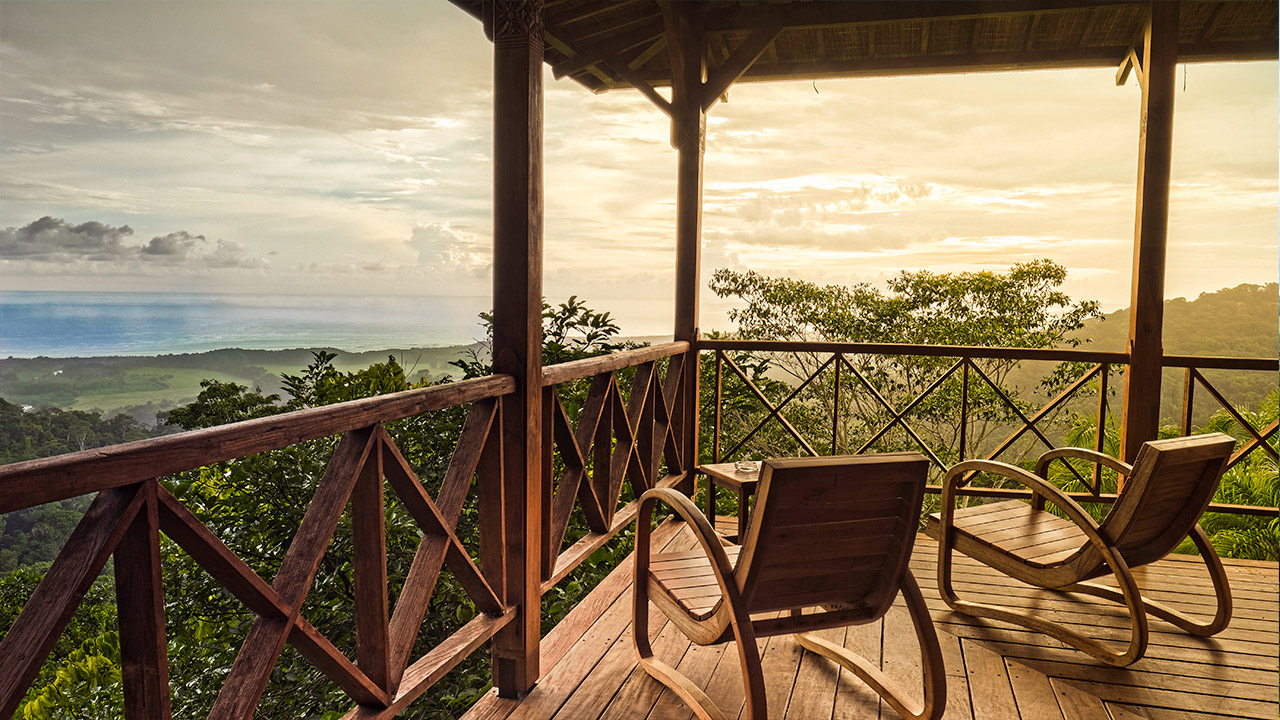 Potoo House
This two-floor imported home from Bali will have you wishing you'd never leave. Complete with a King Bed and a twin in the corner of the 180 year old home, Potoo combines open-air jungle luxury with unparalleled views of the Pacific ocean. On the lower level you will find a plunge pool and private area perfect for spa treatments.
1 King bed and 1 Twin bed
No AC | Fans + Open-air construction that allow for natural ventilation
Geodesic River Domes
Inspired by sacred geometry, our 6 Geodesic River Domes, sits in the rainforest along the edge of our private river. Enjoy the soothing sounds of the flowing water paired with the vibrant sounds of the jungle.
Open-air shower with rainforest views
Jungle Bungalows
Our 6 Jungle Bungalows are in close proximity to our common area, and right on the pathway to our own private waterfall. Bali inspired, the interiors feature natural finishings and beautiful details. Spacious bathrooms with a shower and soaking tub looking out to the rainforest.
No AC | Open-air construction with fans and screens that allow for natural ventilation
GOURMET PLANT BASED CUISINE
At Imiloa, we take pride in being a conscious comfort food campus. That means we serve healthy, locally-sourced, gourmet vegan meals that are as artistically plated, scientifically nourishing and delightfully crafted for all of our retreat guests.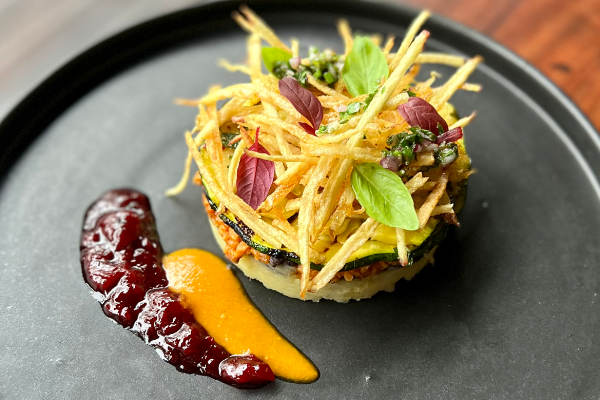 The Spa
Treat yourself to the ultimate relaxation and wellness experience amidst our lush jungle surroundings. Our signature 60-minute massage treatments, offered by skilled local specialists will leave you feeling relaxed rejuvenated. Unwind and embark on a blissful journey of tranquility, surrounded by the serenity and soothing sounds of the rainforest.
The Wellness Bar
At Imiloa we have developed a healthy and tasty menu for our Wellness bar which includes an amazing assortment of signature beverages ranging from superfood smoothies, detoxifying elixirs, freshly pressed juices, custom crafted mocktails & delicious specialty coffees.
ALL INCLUSIVE TRANSPORTATION
Included in your retreat ticket is a privately charted plane from SJO to Imiloa as well as luxury ground transportation to from the airstrip. For more details and information on transportation please email our team at welcomehome@imiloainstitute.com
Imiloa has taken the extra step to ensure your peace of mind by partnering with a trusted and comprehensive travel insurance provider. Our chosen provider meets the entry requirements for Costa Rica and offers "cancel for any reason" plans that provide maximum coverage. With this additional option available through www.globalrescue.com/imiloa, you can travel with confidence, knowing that your retreat experience is safeguarded against unforeseen circumstances. Discover the true essence of worry-free travel where every detail is carefully curated to enhance your journey of wellness and adventure.
Nestled in the heart of the jungle, atop a mountain with breathtaking views of the Pacific Ocean, Imiloa offers a truly immersive nature experience. Adjacent to the second most biodiverse land on the planet, our location is a nature-lover's paradise. Just a quick 15-minute drive away, you'll find Dominical, a vibrant beach town with surf, excellent coffee, and local shopping opportunities.
To the north, you can explore Quepos, and to the south, discover Ojochal and Uvita, famously known as the Whale's Tail.
But that's not all. Imiloa's convenient location also provides easy access to other attractions. Just 45 minutes to the east lies San Isidro, Costa Rica's second largest city. Within an hour's drive in all directions, you'll find cafes, beaches, waterfalls, biodiversity, and friendly locals eager to share the beauty of our lush, lovely area that we proudly call home.
Your journey to Imiloa is made even more convenient with our private plane, ensuring a smooth arrival. During your stay with us, your group will enjoy unlimited transportation to and from the beach, airport, and throughout your retreat, making your experience seamless and stress-free.
Come, immerse yourself in the wonders of nature and experience the warm hospitality of Imiloa. We can't wait to meet you!