Harness the quiet, yet powerful energy within in a 6-day immersive retreat that will reset, recharge and renew your sense of self, purpose, and overall well-being.
Unmask & Shine is a call to action to awaken your spirit and become the architect of your own healing! Reemerge with a renewed sense of self, boundless gratitude, and a deeper connection to your highest self.
Unmask: To reveal the true character of; To uncover; To bring to light
It's time to remove your mask and step into your truest, most authentic self. Our masks create an illusory sense of protection from the outside world while keeping our true nature hidden. How can we manifest our highest expression or experience true abundance if we are hiding behind a mask?
Join us as we create and hold space for you to experience transformational growth and abundance, allowing you to release the self-imposed limitations that keep you from effortless manifestation and peace in all facets of your life — health, wellness, love, finances, and business.
We see you. It's time to burst into a full-body "YES" to the calling of your heart. It's time to Reset, Recharge, and Renew. It's time to Unmask & Shine!
Freedom is calling. Join us.
Learn practices to realign with your purpose and life path (or even discover it!)
Take your health and wellness to the next level
Deepen your practice of self-love
Learn to release the beliefs, behaviors, and blocks that are limiting your success in all areas of your life
Learn how to activate your body's healing mechanisms using yoga, meditation, breathwork and nutrition
Day 1
Immersion
After your private flight transfer from SJO to Imiloa's landing strip, your journey begins. Take this time to immerse yourself in the space and all that Imiloa has to offer. Exhale, meet someone new, relax in your luxury accommodations and stet your intentions for the week. We will gather for refreshing mocktails, enjoy a beautiful ocean sunset, and break break together. We'll end the night mingling fireside together, or you can retreat to your cozy bed in the jungle.
Day 2
Awakening
Begin to learn the tools of transformation with a host-led sessions and workshops. You can participate in some, all or none. Today we start to awaken the power within by unmasking the habits, patterns, self-imposed limitations that have kept you from elevating and shining. Today we connect with ourselves, with each other, with nature. We'll move to our sacred Blue Clay experience at our private waterfall. You will explore communication without words as you enjoy the healing properties of the blue clay followed by a refreshing cleanse in the river.
Day 3
Freedom
Today is all about becoming the architect of your healing and getting out of your mind and into your body, building upon the learnings from Day 2! Release the shackles of fear, frustration, stagnation and design the version of yourself that is powerful, connected, and authentic. In the evening, we invite our Indigenous neighbors to offer native cacao in a ceremony. Cacao is a heart-opening plant medicine native to the land of Costa Rica, behind the Savegre Mountains, that Imiloa calls home.
Day 4
Clarity
Today we get really clear about what you want in life, love, and business. How do you want to show up in the world? You'll leave this day with a blueprint for your healing, the keys to manifestation and the freedom to walk in alignment with your authentic self.
Day 5
Play
You'll spend this final full day completely attuned as your authentic self, discovering your untethered inner strength in your choice of yoga sessions, excursions, massages or body treatments, or simply unstructured personal time to explore and reflect poolside on the exquisite retreat grounds. To close this week we will celebrate with a fun party at the beach, including sunset, live music/DJ, bonfire, dinner, snacks and drinks.
Day 6
Loving Kindness & Gratitude
This part of your journey ends as you reemerge with a renewed sense of self, boundless gratitude, and a deeper connection to your highest self and with others. We will pause to celebrate and recognize the tremendous work and life-changing growth you cultivated for yourself and others this week. It is here that you leave with a strong, powerful, bright and steady light for you to take with you on the next part of your journey. This final day at Imiloa is the first day to the rest of your life. Shine!
Compassionate support to release limitations and step into your most authentic self.
A renewed sense of self and deep connection to your soul's purpose.
Transformational growth that will propel you towards the life of your dreams.
The keys to manifestation and the freedom to walk in alignment with your authentic self.
Kena Hodges
Kena is a holistic life coach, a 200 hr registered yoga teacher with Yoga Alliance, and has studied under Jonny Kest's Center for Yoga. She is a mom, a plant-based nutritionist, Reiki healer, Intuitive, and Mindset & Manifestation coach. She loves to smile, laugh, dance, be in nature — be free to be herself, unmasked, unapologetically. Kena's sole purpose is to raise the consciousness of the planet through various healing modalities and creative offerings. Kena abides by the mantra: "When you heal yourself, you heal the collective." With this philosophy, Kena creates the space to empower you to go within to experience true vitality and manifest the life of your dreams. With a specialization in mindset coaching, manifestation, Self-love/inner work, nutrition, herbal/supplemental medicine, fitness, yoga, and meditation, Kena guides you to explore the depths of who you are and shed aspects of yourself that are no longer serving your greater good.
Marsha Thompson
Marsha is a certified yoga instructor with yoga alliance. With over 700 hours of training, she is certified in prenatal yoga, sculpt yoga, ashtanga yoga, and sound bowl healing. Marsha works throughout the southeast sharing the practice of yoga at numerous yoga studios, colleges, and in home settings as private lessons. When Marsha isn't teaching yoga she enjoys hiking, reading, and connecting with community.
Rachelle Péan
Rachelle Péan is a mixed-race Black woman descended from a Welsh/British-white American mother and Haitian-Black father. She has always been incredibly sensitive, and it's not until she found her career as a therapist the past 10 years that she began to learn that this sensitivity is a gift to be cared for and shared with others for healing. Rachelle has worked in hospitals in the Bronx, NY and Troy, NY, with adults, children, and families, and has been in private practice for 4 years now.
Rachelle specializes in creating inner safety, embodiment, and reconnection with intuition after trauma. The tools she's been trained in are EMDR, Reiki Energy Healing, Yoga, Trauma Focused CBT, and Hypnotherapy.
Rachelle is most passionate about returning to Ancestral healing practices and approaches, embracing the divine feminine, simplicity as spirituality, sacred sexuality, and plant medicine: mushrooms and Ayahuasca.
I had been diagnosed with cancer and given 3 months to live when a friend referred me to Kena. Our first meeting was magnetic! She was so authentic, and caring, and funny — amazing energy. She came up with a customized plan for what we coined "My Radical Remission." That plan included everything from nutrition, yoga, herbal healing, to energy work, and emotional release — it was intense. It still is! She meets with my family (yes, there is a family/support team plan) weekly and SIX months later, I'm still here. Kena is a part of our family now. She is a part of my Radical Remission story and WE simply love her.
Rachelle held space in her heart and her energy for my healing, she taught me how to craft weapons to combat the illusory shadows of past conditioning, and she is a conduit of inner transformation.
Marsha has inspired me with her very being alone. She left an incredible mark on me during an incredibly difficult period of my life. I owe so much to her and I hope that she knows the impact of her work for so many. I lost a coworker and it sent me into a downward spiral with mental health issues (primarily depression and anxiety). Medication only made things worse and the daily stress from my job shed a pretty harsh light on my overall lack of happiness and quality of my life. I started going to yoga every single morning with Marsha. She connected with me on and off my mat as she pushed me beyond my comfort zone. No matter where I was in my headspace, I always felt my power! She was always prepared, concise, inspiring, and authentic. She unknowingly gave me back my peace by helping me find myself, my power, and my peace.
Chelle has been a beacon of light on my healing path, leading me through my own inner darkness with empathy, compassion, and a sense of empowerment that is contagious. Her deep understanding of intergenerational trauma, how it is stored within the body, and knowledge of both clinical and self-care strategies that can be used to help process it are combined to create a powerful force that not only makes me feel supported, but challenges me to become a better individual. I have worked with Chelle since February 2018. Since that time, I've experienced EMDR mixed in with her own unique blend of intuitively provided coping skills, an abundance of empathy, and an ability to lovingly "hold space" for anyone that crosses her path. She meets me where I'm at during each session without judgement, as well as with a willingness to learn new things to add to her skills. She is courageous in keeping an open mind and always willing to listen to new ideas, while remaining a pillar of strength on days where I feel like I'm falling apart. She connects deeply with me and shines light on the dark areas; think "soul sister", but with healthy boundaries. Over the past almost 3 years, I've grown leaps and bounds with her help, finally building the strength to let go of unhealthy patterns and conditioning. With her support, I've been able to reclaim my personal power and look at a future without fear. Not only has Chelle been a phenomenal therapist and yoga instructor, she's also been a beloved mentor for myself and many others who aspire to work in the clinical and healing communities. I would strongly recommend working with her on your healing path; she's a pleasure to know and offers a safe space to start unpacking the "heavy" stuff that we've often unconsciously carried on our journeys.
Kena has been the best mindset coach! She makes me so uncomfortable that I have no choice but to grow. She has been paramount in helping me identify triggers and mental blocks that have kept me playing small and playing it safe. She helped me go within to face my fears and remove the blocks in a way that did not retraumatize or trigger me. Kena is direct, yet gentle and funny. She's not going to waste your time, energy, or money (or her for that matter) — she gives it to you straight, no chaser, but wrapped in love, laughs, smiles, and genuine support. Because of her, I've manifested the relationships I've only dreamed about, a much better job, and have launched my business and podcast! Can we say I'm just getting started, but am abundantly living!!
Marsha is just incredible! Her mantras for our practice are always on point and it always feels great in my body. I love her flows. I appreciate the energy she brings in each and every class. Marsha creates and holds space for me to just be. The sense of renewal and release I experience with each class washes over me and I leave that much more connected to my higher self. I am so grateful for her!
I'm so grateful for the light and perspective Chelle brings to her work. I feel seen, heard, valued, and deeply supported in my journey. I'm able to feel my feelings and cry my tears and come out on the other end. It doesn't feel nearly as impossible with care and support like hers.
TRIPLES
$2,999
PER PERSON
Triple occupancy in a Geodesic Dome with views of the jungle
DOUBLES
$3,999
PER PERSON
EARLY BIRD
Available through April 15th 2022.
Double occupancy in a Jungle Bungalow or Geodesic Dome with views of the jungle
SINGLES
$4,599
PER PERSON
EARLY BIRD
Available through April 15th 2022.
Single occupancy in your own private, 200-Year-Old Balinese suite with beautiful jungle views
1 private coaching session or yoga session Spa credit of $50
VIP SINGLES
$5,499
PER PERSON
Single occupancy in your own private, 200-Year-Old Balinese villa with a private deck and stunning views of the jungle and ocean
Includes one massage or body treatment, 3 private coaching or yoga sessions (pre/post retreat), 1 year access to Unmasked Community
*If you are a couple and would like to stay in a Bali Villa one person pays the Single rate and the second person pays Double rate
Each retreat participant receives a gift bag; all-access to activities, workshops, events; COVID testing to return home; 3-month free access to Unmasked Community.

A completely private campus; available to your retreat group only. Access to a private waterfall, nature paths, incredible flora and fauna, and an ocean view infinity pool. Also included is a dedicated team of 20+ local professionals to coordinate everything for your enjoyment, from touch down to take off.
​

Gourmet plant-based cuisine prepared using all local and organic produce. Full meals, snacks, teas, coffees and fruit trays available throughout your stay.
Private transportation from the International airport to our campus; a private driver and transportation to our campus in Imiloa Mountain.
What's Not Included
Flights to SJO, Spa Services
You will be immersed in a 22-acre jungle oasis in Dominical, Costa Rica.
This enchanted mountainside jungle venue is ten minutes from the beach and it is the perfect setting to experience deep healing, embraced by nature, yet completely luxurious.
While staying at Imiloa you will enjoy our nature paths, our private waterfall, our salt-water pool, stunning views and delicious and nutritious meals by our five-star vegan chef.
Included in each accommodation is the comfiest mattresses, 850 thread count sheets, storage space and dry rooms as needed, fiber optic internet, daily cleaning service, private en-suite bath, indoor/outdoor design for every accommodation with a focus on nature and being your private refuge, and full service, thrice-filtered private well for drinking water throughout the property.
BALI VILLAGE
Bali Village is perched 1200 feet about the Pacific Ocean, on a ridge line of flora, fauna and wildlife every direction you look. These 5 accommodations are 160-200 year old homes imported from Bali. Each with their own en suite bathrooms, the homes bring you back and create a self space for rejuvenation and transformation.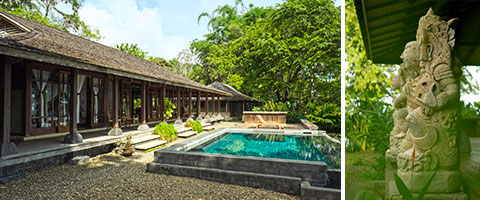 BALI MASTER SUITE
200 Year Old Homes from Bali. Imported from the Java Islands, these homes boast outdoor showers, full kitchen access, surreal vista views to the Pacific, their own salt water plunge pools and hand-carved art that is as old as the houses.
JOGOLO HOUSE
Perched on the edge of the cliff, at the furthest end of the property, sits a 170 year old home from the Java Islands we call Jogolo. Complete with a writer's desk, outdoor Balinese shower, hand-carved architecture that will transport you to another land and time, Jogolo is teeming with history and comfort. Your cold plunge pool is adjacent to a warm bath, both outdoor. Full kitchen, too.
POTOO HOUSE
This two-floor imported home from Bali will have you wishing you'd never leave. Complete with a King Bed and a twin in the corner of the 180 year old home, Potoo has modern luxury with 360 views of the Pacific. On the lower level, a plunge pool and private spa. Potoo also includes many outdoor chairs, hammocks and a full kitchen, too.
BUNGALOW HILL
Six Jungle Bungalows built on the side of the mountain on the pathway to our very own private waterfall. Bali inspired, the interiors feature natural finishings and a gorgeous exposed shower and bath tub.
DOMELAND
Six Buckminster Fuller inspired Geodesic River Domes, among the best made in the world and partially powered by solar energy, sit perched on the edge of our private river with the fresh, flowing water feeding up to the domes. Experience the soothing sounds of relaxing and sleeping next to flowing water. Amazing!
THE HOUSE OF MASTERS
The House of Masters, located in the center of the property, is a 2,000 square foot Balinese structure hanging 100 feet in the Jungle canopy. Adjacent are restrooms and a yoga storage room for mats, blocks and more. The space can be converted for any type of retreat, workshop or dance party.
THE HEART OF IMILOA
A sprawling 3,000 square foot space that is the "Heart of Imiloa," our social space features loungy, multicultural inspired furnishings, couches, and 5 imported tables from Bali, all under a Polynesian style roof.
THE PATHS
Jungle paths connect the 20+ acres at Imiloa, with hand-made stairs and lighting, creating an immersive, easy experience for you and guests.
THE WATERFALL
Beyond the Jungle Bungalows is a path that leads to our own private waterfall. Descend into what feels like an enchanted jungle forest as you bask in the magic and beauty of the surrounding nature.
At Imiloa, we are a proudly conscious comfort food campus. That means we serve healthy, locally-sourced, gourmet vegan meals that are as artistically plated, scientifically nourishing and delightfully crafted for all of our retreat guests.
Imiloa's world-class spa is a curated, sensual and deeply moving experience. Choose from Ayurvedic massages and practices, to a shamanic masseuse from our team members who are from the Boruca indigenous tribe here in Costa Rica, to more traditional Swedish, relaxation or Thai yoga massages, body wraps and others. A full list of spa offerings and a link to book during your free time will be provided to you before you arrival.
Schedule your plane to arrive at SJO. In order to access your private plane charter, all guests must be at the Domestic Terminal at SJO San Jose, Costa Rica no later than 3PM on the arrival day.
Once landed, proceed to customs and instructions will be provided to meet Imiloa concierge.
Proceed to baggage claim with concierge and proceed to Domestic Terminal (3 minute walk from International Terminal). Please be at the Domesitc Terminal at SJO San Jose, Costa Rica no later than 3PM on your day of arrival.
Private Imiloa plane will be waiting to fly you to Quepos.
Private ground transport shuttles will pick you up in Quepos and bring you to Imiloa.
If you are already in Costa Rica, ground transport may be coordinated from Quepos, Dominical or Uvita as inclusive.
Please do not plan to drive to Imiloa on your own. It is not permitted.
If you need to arrive the day before, please stay at the Hampton Inn across from the airport, or plan to be in the San Jose Domestic Terminal for private flight to Imiloa by no later than 3PM (instructions will be emailed).
You will depart Imiloa at 9AM, and arrive at the landing strip at 9:30AM, with an estimated arrival to SJO airport at 10:30AM. The domestic terminal is a 5-10 minute walk to the international terminal at SJO. Typically, it is suggested to be at the international terminal 2.5 hours prior to your international departure. Please book your departing international flight accordingly, knowing that you will be at the airport at 10:30AM on departure day.
Questions? Email us: impact@imiloainstitute.com
Our team, the Welcome Home Team at Imiloa, from kitchen to property, gardening to coordination, logistics to transportation, will be available to you throughout your stay with anything you need. They have a ready smile, answers to most of your questions and can quickly support so your experience is easy and fulfilling.
TRAVEL INSURANCE and COVID PROCEDURES
Imiloa has partnered with a comprehensive travel insurance provider that meets the entry requirements for Costa Rica and offers "cancel for any reason" plans to maximize coverage: www.globalrescue.com/imiloa (additional cost)
COVID tests for entry and exit requirements to your home country can be done on site. We have an on-call physician that can come to the property for testing and results sent in English.
We follow cleansing and sanitization protocols as per Ministry of Health to ensure a safe environment
Staff and retreat participants are asked to follow and safety guidelines such as social distancing, washing of hands, and proper mask wearing.
Imiloa is located in the jungle, at the top of a mountain, overlooking the Pacific Ocean. Our lush retreat center is located adjacent to the second most biodiverse land on the planet.
Dominical, only 13 minutes away, is a beach town with surfer vibes, great coffee and plenty of shopping. Just north of our municipality is Quepos and to the south, Ojochal and Uvita, which is known as the Whale's Tail.
Just 45 minutes east sits Costa Rica's second largest city, San Isidro. Within an hour of Imiloa in all directions, you have access to airports, cafes, beaches, waterfalls, biodiversity and happy people ready to show you the lush, lovely area we call home.
You'll arrive easily on our private plane, and your group will enjoy unlimited transportation to and from the beach, to and from the airport and throughout your stay with us.