Prepare for your next great chapter with the support of Mother Nature. On this immersive women's retreat in Costa Rica filled with wild beauty, you will learn to restore your inner calm, unlearn the traps of your female conditioning, and cultivate deep confidence.
As women, we are at a cultural turning point. We have begun to see how our conditioning feeds into an invisible and incessant Confidence Crushing Cycle. In this cycle, we grit our teeth and push through to reach our goals, but they don't produce the fulfillment we long for. We lose touch with our inner voice—leaving us frustrated, fatigued, and off-balance.
You can learn a new way to navigate your life. A way that leaves you inspired, fulfilled, and with deep confidence to manifest your grandest vision for your next chapter.
In this transformative retreat, you will unlearn the hidden conditioning that blocks you from your dreams. You will restore the ability of your nervous system—and spirit—to respond to new challenges. And you will cultivate tools to free yourself from the traps of the Confidence Crushing Cycle—tools that are already inside you, but simply need to be unleashed.
Through simple lessons, intimate and thought-provoking group discussions, and transformative activities, you will learn to:
Break out of automatic thoughts, feelings, and behaviors that hold you back
Rewire your stress response
Find your inner voice (and free it!)
Develop clarity
Gain a sense of your true capacity
As you connect and share with other supportive and dynamic women preparing for their next big chapter, you will be empowered to move forward in profound new ways.
Now is YOUR time to transform your life from the inside out.
As a result of this immersive and transformative retreat, you will
Meet and understand "the protected you" that has been wounded by our culture's insidious Confidence Crushing Cycle
Quiet the voices of the Confidence Crushing Cycle to live in a fundamentally different way
Discover the authentic, confident YOU that was there all along
Soothe and strengthen your whole self in body, mind, and spirit as you experience the natural beauty of Costa Rica
Connect and grow with other women on their journeys toward a new great chapter
Learn to work with all levels of your body's energy system so you can approach your next chapter with ease
Deep Confidence in yourself and your ability to manifest your next chapter
Lifetime practices to soothe and strengthen your nervous system and sidestep the Confidence Crushing Cycle
Intimate awareness of your heart and soul's desire
Gratitude for who you really are, the life you have created so far, and the path that calls you forward
A rewired YOU ready to move forward with your next chapter
Joanna
Joanna Kleinman, LCSW, is a licensed psychotherapist, Amazon #1 international best selling author of Dethroning Your Inner Critic, life and corporate coach, podcast host of The Dethroning Your Inner Critic podcast, and public speaker. She is also the creator of The M.I.N.D Method™, a time tested, proven system that brings together practical psychology, neuroscience and the power of intention to discover who you are separate from the critical voice in your mind. She considers herself to be an unconventional therapist and is driven by the conviction that the most powerful life you can live is when you know the difference between YOU and your Inner Critic. With over 25 years experience, she has worked with corporations such as Cigna, Nestle, TD Bank, Cantor Fitzgerald, Provider Trust, Susan G. Komen, Lendlease, Campowerment, and Virtua Health Systems, and has transformed the lives of thousands of people, detailing how they can design a new future by rewiring the automatic way they think and act, and breaking the habit of giving energy and attention to their Inner Critic. She has been married for 25 years and lives in Cherry Hill, NJ with her husband and three children.
Joanna Kleinman, L.C.S.W
Psychotherapist and Life Coach
Dethroning Your Inner Critic
(609) 506-4566
DethroningYourInnerCritic.com
Kathy
Kathy Garrett, Ph.D. is a leadership coach, consultant and professor. As a women's leadership coach she empowers women to trust their own unique style and unique path to success. As a founder of The Confidence Cure for Women, an approach to help women break free of the personal, leadership and career traps that hold them back, she coaches women to understand their nervous systems, expand their ways of knowing, and learn to trust to follow their own inner guidance. As an executive consultant and coach at the Propel Consulting Group she specializes in developing leaders, inclusive teams, and organizations. During a winding and wonderful career journey, she held roles as a mind-body health psychologist, a leader in a Fortune 500 global company and is currently a faculty member of the Graduate School of Saint Joseph' s University where she teaches and mentors professionals to lead today's organizations. Kathy believes deeply in the transformative power of retreats. She is a certified Retreat Leader and SoulCollage® facilitator and depends on these approaches to follow her intuition in her own life.
Kathy is married with a grown daughter and an aging pup. She is a city dweller who tends an urban flower garden, keeps several types of journals and spends lots of time in nature.
Kathy Garrett. Ph.D.
The ConfidenceCureForWomen.com
Kathygarrett8@gmail.com
267-259-3651
Working with Joanna has enabled me to become more confident, release self-doubt, and the old stories that were holding me back.
Joanna taught me to acknowledge, be with, feel, and then finally let go of what was holding me back. The techniques I've learned are so valuable that I use them every day in my daily life. I am so grateful to become a part of a community of like minded women who have supported me throughout my journey.
I've never experienced anything like working with Joanna.
The tools and support Joanna provides are amazing. The change in my relationship with myself and others is truly visible and felt by all who know me. I highly recommend working with Joanna for anyone with an open mind and ready to work.
I love having met my inner critic and thank Joanna for putting me on that path.
I cannot tell you how instrumental Joanna has been in my life. She has the chops to tackle any of the things that I bring to the table and she does so with grace and wisdom. I am working through challenges that have held me back from living out my dreams and pursuing them in the first place.
Kathy, with her warm and inviting manner, confirmed what was already evident—this was a safe space where we could open our hearts and minds to the possibility of… well, in a word, anything. Taking this time to "pause" my life and touch in deeply with my soul and the beautiful Pennsylvania woods that surrounded us, was just what I needed to set myself back on a path to living my life with passion. I am deeply appreciative of Kathy—who skillfully guided us through ritual and sharing—with kindness, compassion, energy, and care. I would highly recommend this wonderful and magical experience and/or any other retreat that Kathy Garrett Retreats has to offer!
Kathy is an extraordinary leader who leads from the heart and invites others to join in creatively exploring in an embodied way. She is an "all-in" leader who laughs easily, thinks brilliantly, listens compassionately and responds from the heart. Whenever I have the privilege of being led by Kathy, I leave the gathering feeling deeply nourished with much to reflect on and grow into.
Joanna guides you through learning how to identify your inner critic and breaking free from the illusions and stories she's been telling you since you were a child. We become addicted to listening to our inner critic in order to seek pleasure or avoid pain. Through Joanna's exercises, you will be opened up to this hamster wheel of automatic, false stories our minds have convinced us to believe. Learn how to dethrone that inner critic and you will truly be opened up to the authentic person that you are. Joanna's book will give you the tools to unhook from those automatic thoughts and live your life peacefully in the present.
Go on retreat with Kathy. Do not miss the opportunity to be with her in beautiful Nature places. She brings Father Sky and Mother Earth to every experience she offers. She is one of the most powerful women on the planet today and you will never regret that you stood shoulder to shoulder with her.
I've been to several retreats by Kathy Garrett and have enjoyed each one! Kathy has deep expertise in what she teaches, and this expertise is combined with compassion, positivity, confidence and energy. When interacting with Kathy, you feel all of this. Somehow she intuits what you and the group needs and responds in a way that supports personal growth and development. It's amazing and impressive. I would highly recommend Kathy Garrett Retreats!
Kathy Garrett is a gifted leader that brings to all of her circles both her deep knowledge of process along with the Soul-ful Leadership that only life and personal healing can offer. When I am in circle with her I am inspired to dive deeper into my interior life and mine the gems that I have yet uncovered. This has happened to me personally EVERY time I am being led by her.
Kathy creates a safe space to explore and discover a deeper relationship with self and soul. Her spirit is warm, welcoming, attentive, and always inviting.  Her check-ins with the group provide everyone a chance to speak from their place of knowing- a true gift for the shy Soul. One of the things I most appreciate about Kathy is her ability to offer a platform to set one's intentions, and in doing so encouraging each of us to tap into our instinctual center. Participating in Kathy's programs has helped me create a toolset for inner exploration that has enriched both my personal and professional life. Thank you, Kathy for sharing your gifts!
Double occupancy in a Jungle Bungalow or Geodesic Dome with views of the jungle
Single occupancy in your own private Bali style Suite with Jungle views
Single occupancy in your own private, 200-Year-Old Balinese villa with a private deck and stunning views of the jungle and ocean

A completely private campus; available to your retreat group only. Access to a private waterfall, nature paths, incredible flora and fauna, and an ocean view infinity pool. Also included is a dedicated team of 20+ local professionals to coordinate everything for your enjoyment, from touch down to take off.
​

Gourmet plant-based cuisine prepared using all local and organic produce. Full meals, snacks, teas, coffees, juices, elixirs and fruit trays available throughout your stay.
Private transportation from the International airport to our campus; a private driver and transportation to our campus in Imiloa Mountain.
What's Not Included
Flights to SJO, Spa Services
You will be immersed in a 22-acre jungle oasis in Dominical, Costa Rica.
This enchanted mountainside jungle venue is ten minutes from the beach and it is the perfect setting to experience deep healing, embraced by nature, yet completely luxurious.
While staying at Imiloa you will enjoy our nature paths, our private waterfall, our salt-water pool, stunning views and delicious and nutritious meals by our five-star vegan chef.
Included in each accommodation is the comfiest mattresses, 850 thread count sheets, storage space and dry rooms as needed, fiber optic internet, daily cleaning service, private en-suite bath, indoor/outdoor design for every accommodation with a focus on nature and being your private refuge, and full service, thrice-filtered private well for drinking water throughout the property.
BALI VILLAGE
Bali Village is perched 1200 feet about the Pacific Ocean, on a ridge line of flora, fauna and wildlife every direction you look. These 5 accommodations are 160-200 year old homes imported from Bali. Each with their own en suite bathrooms, the homes bring you back and create a self space for rejuvenation and transformation.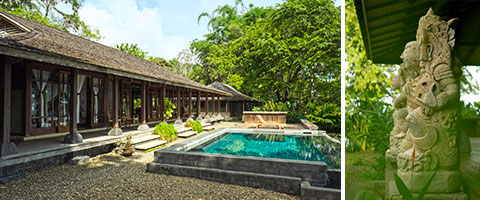 BALI MASTER SUITE
200 Year Old Homes from Bali. Imported from the Java Islands, these homes boast outdoor showers, full kitchen access, surreal vista views to the Pacific, their own salt water plunge pools and hand-carved art that is as old as the houses.
JOGLO HOUSE
Perched on the edge of the cliff, at the furthest end of the property, sits a 170 year old home from the Java Islands we call Joglo. Complete with a writer's desk, outdoor Balinese shower, hand-carved architecture that will transport you to another land and time, Joglo is teeming with history and comfort. Your cold plunge pool is adjacent to a warm bath, both outdoor. Full kitchen, too.
POTOO HOUSE
This two-floor imported home from Bali will have you wishing you'd never leave. Complete with a King Bed and a twin in the corner of the 180 year old home, Potoo has modern luxury with 360 views of the Pacific. On the lower level, a plunge pool and private spa. Potoo also includes many outdoor chairs, hammocks and a full kitchen, too.
BUNGALOW HILL
Six Jungle Bungalows built on the side of the mountain on the pathway to our very own private waterfall. Bali inspired, the interiors feature natural finishings and a gorgeous exposed shower and bath tub.
DOMELAND
Six Buckminster Fuller inspired Geodesic River Domes, among the best made in the world and partially powered by solar energy, sit perched on the edge of our private river with the fresh, flowing water feeding up to the domes. Experience the soothing sounds of relaxing and sleeping next to flowing water. Amazing!
THE HOUSE OF MASTERS
The House of Masters, located in the center of the property, is a 2,000 square foot Balinese structure hanging 100 feet in the Jungle canopy. Adjacent are restrooms and a yoga storage room for mats, blocks and more. The space can be converted for any type of retreat, workshop or dance party.
THE HEART OF IMILOA
A sprawling 3,000 square foot space that is the "Heart of Imiloa," our social space features loungy, multicultural inspired furnishings, couches, and 5 imported tables from Bali, all under a Polynesian style roof.
THE PATHS
Jungle paths connect the 20+ acres at Imiloa, with hand-made stairs and lighting, creating an immersive, easy experience for you and guests.
THE WATERFALL
Beyond the Jungle Bungalows is a path that leads to our own private waterfall. Descend into what feels like an enchanted jungle forest as you bask in the magic and beauty of the surrounding nature.
At Imiloa, we are a proudly conscious comfort food campus. That means we serve healthy, locally-sourced, gourmet vegan meals that are as artistically plated, scientifically nourishing and delightfully crafted for all of our retreat guests.
Imiloa's world-class spa is a curated, sensual and deeply moving experience. Choose from Ayurvedic massages and practices, to a shamanic masseuse from our team members who are from the Boruca indigenous tribe here in Costa Rica, to more traditional Swedish, relaxation or Thai yoga massages, body wraps and others. A full list of spa offerings and a link to book during your free time will be provided to you before you arrival.
Schedule your plane to arrive at SJO. In order to access your private plane charter, all guests must be at the Domestic Terminal at SJO San Jose, Costa Rica no later than 3PM on the arrival day.
Once landed, proceed to customs and instructions will be provided to meet Imiloa concierge.
Proceed to baggage claim with concierge and proceed to Domestic Terminal (3 minute walk from International Terminal). Please be at the Domesitc Terminal at SJO San Jose, Costa Rica no later than 3PM on your day of arrival.
Private Imiloa plane will be waiting to fly you to Quepos.
Private ground transport shuttles will pick you up in Quepos and bring you to Imiloa.
If you are already in Costa Rica, ground transport may be coordinated from Quepos, Dominical or Uvita as inclusive.
Please do not plan to drive to Imiloa on your own. It is not permitted.
If you need to arrive the day before, please stay at the Hampton Inn across from the airport, or plan to be in the San Jose Domestic Terminal for private flight to Imiloa by no later than 3PM (instructions will be emailed).
You will depart Imiloa at 10AM, and arrive at the landing strip at 10:30AM, with an estimated arrival to SJO airport at 11:30AM. The domestic terminal is a 5-10 minute walk to the international terminal at SJO. Typically, it is suggested to be at the international terminal 2.5 hours prior to your international departure. Please book your departing international flight accordingly, knowing that you will be at the airport at 11:30AM on departure day.
Questions? Email us: impact@imiloainstitute.com
Our team, the Welcome Home Team at Imiloa, from kitchen to property, gardening to coordination, logistics to transportation, will be available to you throughout your stay with anything you need. They have a ready smile, answers to most of your questions and can quickly support so your experience is easy and fulfilling.
TRAVEL INSURANCE and COVID PROCEDURES
Imiloa has partnered with a comprehensive travel insurance provider that meets the entry requirements for Costa Rica and offers "cancel for any reason" plans to maximize coverage: www.globalrescue.com/imiloa (additional cost)
COVID tests for entry and exit requirements to your home country can be done on site. We have an on-call physician that can come to the property for testing and results sent in English.
We follow cleansing and sanitization protocols as per Ministry of Health to ensure a safe environment
Staff and retreat participants are asked to follow and safety guidelines such as social distancing, washing of hands, and proper mask wearing.
Imiloa is located in the jungle, at the top of a mountain, overlooking the Pacific Ocean. Our lush retreat center is located adjacent to the second most biodiverse land on the planet.
Dominical, only 13 minutes away, is a beach town with surfer vibes, great coffee and plenty of shopping. Just north of our municipality is Quepos and to the south, Ojochal and Uvita, which is known as the Whale's Tail.
Just 45 minutes east sits Costa Rica's second largest city, San Isidro. Within an hour of Imiloa in all directions, you have access to airports, cafes, beaches, waterfalls, biodiversity and happy people ready to show you the lush, lovely area we call home.
You'll arrive easily on our private plane, and your group will enjoy unlimited transportation to and from the beach, to and from the airport and throughout your stay with us.