A 6-day immersive retreat designed for high-performing professionals in need of deep spiritual, emotional, and physical support.
Join trained Dr. Oksana Nimkevych, MD and Natalya Rostovshchikova, Kundalini Practitioner, RN, BSN, M.Ed for a full experience of reprogramming limiting beliefs and gaining access to your innate power to live a truly free, happy, healthy, and vibrant life.
Each day of this retreat is dedicated to learning yourself, learning your anatomy, physiology, psychology, getting in touch with your inner child, discovering your personal generational trauma via a series of daily 1-3 hours interactive workshops on scientifically based traditional western medicine, classical psychology and methods of wholistic and eastern medicine. Each day will be enriched with the ancient wisdom of Kundalini yoga to balance your body and chakras, which will strengthen your intuition and open your heart. After 6 days of profound teachings, nature immersion, plant based food renewed, you will leave regenerated, with improved health and metabolism and successful techniques to continue creating a more vibrant life for yourself both personally and professionally and for your loved ones.
As medical professionals Dr. Oksana Nimkevych and Natalya bring their collective research, science, personal experience, meditations, and practice of Kundalini yoga as a blueprint to build and sustain a healthy lifestyle. Discover how to diagnostically scan your own life, create your own personal life balance wheel and map your psychosomatic physical ailments. Return home having radically transformed your relationship to yourself, your work, your values, and beliefs.
Are you ready to step into true freedom, happiness, and vibrancy? Then book now.
Experience true vibrancy and joy as you develop a new skillset to build and sustain a healthy lifestyle.
Gain empowerment and mastery through ancient Kundalini yogic technology to sharpen your mind, body, and soul.
Reclaim your power to activate the body's innate wisdom and healing mechanisms.
Return home feeling empowered to handle all that your professional and personal life requires of you.
A deeper understanding of your true inner self through the teachings of Carl Jung.
Kundalini yogic techniques that you can use in your daily life.
Learn about Dilt's pyramid of logical levels.
Increased levels of self-motivation and fulfilment.
Biology of beliefs. Genetic reprogramming.
Affirmation rituals to empower you on your journey towards self-motivation and fulfilment.
An ability to release the past, re-parent yourself, and experience deeper levels of gratitude through meditation.
A custom-made journal to track and record your transformative journey.
Natalya Rostovshchikova
Natalya Rostovshchikova, Kundalini Practitioner, RN, BSN, M.Ed
A as an active registered nurse at a hospital in New Orleans, LA, Natalya has always been fascinated by integrative medicine– a form of medicine that embodies and examines health through the lens of lifestyle, nutrition, occupation, physical, mental, and psychosocial elements . Her quest for healing-oriented therapies began with acupuncture, Chinese herbs, cupping, moxibustion, and Ayurvedic modalities.. Most recently, Natalya discovered a true passion for Kundalini yoga– an ancient science that exercises the whole ten-body system.
As a true believer in the power of food as medicine, Natalya lives by the principle, "what we eat, we become." She enjoys cooking in Ayurvedic traditions, making her own herbal infusions, and utilizing infrared lights as a healing modality. She teaches Kundalini yoga at one of the local spas, in private settings, and passionately educates friends and clients about holistic living, , juicing, fasting and exercising. As an avid questioner and seeker, Natalya has left no stone unturned to deepen her quest for a healthier life for humankind during these unprecedented and challenging times.
Oksana
Oksana Nimkevych, MD, Nutrition Aficionado, Personal Trainer, Member of ASN, ACP, IAFP, SSS
As an MD, Nutrition Aficionado, and Personal Trainer, Dr. Oksana's mission is to educate people on how to sustain youth and vibrant health by treating, reversing, and preventing chronic diseases, through optimizing body regeneration and bringing wholeness and integration to the mind, body and soul connection. She is certified by the international alliance of fitness professionals in pilates, a certified yoga instructor, and Zumba instructor. As a highly-esteemed expert in her field, she has served on several boards including the National Kidney foundation (Louisiana chapter), the critical care committee in Ochsner Kenner Hospital, and as a member and practicing nephrologist for the National advisory board for acute dialysis for Davita. Her numerous research and publications in the field of practical medicine have contributed to uncovering ultimate solutions to the health challenges of the modern world. Utilizing a holistic approach to wellness and lifestyle medicine, her practice is focused on helping people address chronic conditions through anti-inflammatory, whole food, and predominantly plant-based diets.
The support I have received from Dr. Oksana's and Natalya's commitment to the care of their clients' physical and emotional health as well as well-being is exceptional. They have taught me how to navigate through life's challenges with dignity and grace. I am so grateful to be on this spiritual journey with them. My overall journey with the Best Yourself Educations/ Programs is remarkable!
Natalya and Oksana have shown me how by giving the best to myself, I grow in all areas. Like most women, I spent years running on caffeine and borderline fatigue. Natalya's wellness insight and Kundalini yoga teaching made me see the power in the breath for relaxation, renewal and rest. Natalya's combined nursing background and her vast knowledge of holistic healing is unmatched. Her calm nature is soothing and has made my yoga practice and life approach one of ease and self-compassion.
Fortunately I discovered Natalya's Kundalini classes. Natalya's calming voice, gentle and inviting nature as well as her wisdom of tapping into blocked energy fields has brought me much inner peace and strength and helped dissipate panic and frustration these past few months. Going to Kundalini classes brought something that was really missing in my life.
I have been so grateful for the opportunity to participate in educational lectures, courses, events with Natalya and Oksana. I learned more about mind-body-spirit connection and the strategies that can be implemented to promote wellness and prevent disease.
What can I say about Kundalini yoga, it will change your life. It is not for everyone, but if you let go there is nothing like it. Take this from a gym nerd, that has pushed himself in varied ways throughout his life. A prism of reflection embodies Natalya's class. You will be physically challenged through each kriya and see the results in the physical body. Mentally challenged in seeing the world through a different lens, mantras will envelope your senses and bring your awareness to new heights. An esoteric experience for the mind, body and soul. Natalya's way of teaching is not cookie cutter. She brings her authentic self each and every class. When you are there, you are her world. She will teach you, to see yourself as whole, a transformational leader. She will always impart knowledge and allow those who enter to be themselves – take that knowledge and help as they wish. Don't take her wisdom, love or energy for granted.
Quad occupancy in a Geodesic Dome with views of the jungle.
DOUBLES
$3,900
PER PERSON
Double occupancy in a Jungle Bungalow with views of the jungle.
SINGLES
$4,600
PER PERSON
Single occupancy in your own private Bali style Suite with beautiful jungle views.
VIP SINGLES
$4,900
PER PERSON
Single occupancy in your own private, 200-Year-Old Balinese villa with a private deck and stunning views of the jungle and ocean.

A completely private campus; available to your retreat group only. Access to a private waterfall, nature paths, incredible flora and fauna, and an ocean view infinity pool. Also included is a dedicated team of 20+ local professionals to coordinate everything for your enjoyment, from touch down to take off.
​

Gourmet plant-based cuisine prepared using all local and organic produce. Full meals, snacks, teas, coffees and fruit trays available throughout your stay.
Private transportation from the International airport to our campus; a private driver and transportation to our campus in Imiloa Mountain.
What's Not Included
Flights to SJO, Spa Services
You will be immersed in a 22-acre jungle oasis in Dominical, Costa Rica.
This enchanted mountainside jungle venue is ten minutes from the beach and it is the perfect setting to experience deep healing, embraced by nature, yet completely luxurious.
While staying at Imiloa you will enjoy our nature paths, our private waterfall, our salt-water pool, stunning views and delicious and nutritious meals by our five-star vegan chef.
Included in each accommodation is the comfiest mattresses, 850 thread count sheets, storage space and dry rooms as needed, fiber optic internet, daily cleaning service, private en-suite bath, indoor/outdoor design for every accommodation with a focus on nature and being your private refuge, and full service, thrice-filtered private well for drinking water throughout the property.
BALI VILLAGE
Bali Village is perched 1200 feet about the Pacific Ocean, on a ridge line of flora, fauna and wildlife every direction you look. These 5 accommodations are 160-200 year old homes imported from Bali. Each with their own en suite bathrooms, the homes bring you back and create a self space for rejuvenation and transformation.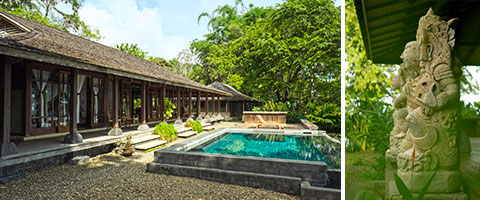 BALI MASTER SUITE
200 Year Old Homes from Bali. Imported from the Java Islands, these homes boast outdoor showers, full kitchen access, surreal vista views to the Pacific, their own salt water plunge pools and hand-carved art that is as old as the houses.
JOGOLO HOUSE
Perched on the edge of the cliff, at the furthest end of the property, sits a 170 year old home from the Java Islands we call Jogolo. Complete with a writer's desk, outdoor Balinese shower, hand-carved architecture that will transport you to another land and time, Jogolo is teeming with history and comfort. Your cold plunge pool is adjacent to a warm bath, both outdoor. Full kitchen, too.
POTOO HOUSE
This two-floor imported home from Bali will have you wishing you'd never leave. Complete with a King Bed and a twin in the corner of the 180 year old home, Potoo has modern luxury with 360 views of the Pacific. On the lower level, a plunge pool and private spa. Potoo also includes many outdoor chairs, hammocks and a full kitchen, too.
BUNGALOW HILL
Six Jungle Bungalows built on the side of the mountain on the pathway to our very own private waterfall. Bali inspired, the interiors feature natural finishings and a gorgeous exposed shower and bath tub.
DOMELAND
Six Buckminster Fuller inspired Geodesic River Domes, among the best made in the world and partially powered by solar energy, sit perched on the edge of our private river with the fresh, flowing water feeding up to the domes. Experience the soothing sounds of relaxing and sleeping next to flowing water. Amazing!
THE HOUSE OF MASTERS
The House of Masters, located in the center of the property, is a 2,000 square foot Balinese structure hanging 100 feet in the Jungle canopy. Adjacent are restrooms and a yoga storage room for mats, blocks and more. The space can be converted for any type of retreat, workshop or dance party.
THE HEART OF IMILOA
A sprawling 3,000 square foot space that is the "Heart of Imiloa," our social space features loungy, multicultural inspired furnishings, couches, and 5 imported tables from Bali, all under a Polynesian style roof.
THE PATHS
Jungle paths connect the 20+ acres at Imiloa, with hand-made stairs and lighting, creating an immersive, easy experience for you and guests.
THE WATERFALL
Beyond the Jungle Bungalows is a path that leads to our own private waterfall. Descend into what feels like an enchanted jungle forest as you bask in the magic and beauty of the surrounding nature.
At Imiloa, we are a proudly conscious comfort food campus. That means we serve healthy, locally-sourced, gourmet vegan meals that are as artistically plated, scientifically nourishing and delightfully crafted for all of our retreat guests.
Imiloa's world-class spa is a curated, sensual and deeply moving experience. Choose from Ayurvedic massages and practices, to a shamanic masseuse from our team members who are from the Boruca indigenous tribe here in Costa Rica, to more traditional Swedish, relaxation or Thai yoga massages, body wraps and others. A full list of spa offerings and a link to book during your free time will be provided to you before you arrival.
Schedule your plane to arrive at SJO. In order to access your private plane charter, all guests must be at the Domestic Terminal at SJO San Jose, Costa Rica no later than 3PM on the arrival day.
Once landed, proceed to customs and instructions will be provided to meet Imiloa concierge.
Proceed to baggage claim with concierge and proceed to Domestic Terminal (3 minute walk from International Terminal). Please be at the Domesitc Terminal at SJO San Jose, Costa Rica no later than 3PM on your day of arrival.
Private Imiloa plane will be waiting to fly you to Quepos.
Private ground transport shuttles will pick you up in Quepos and bring you to Imiloa.
If you are already in Costa Rica, ground transport may be coordinated from Quepos, Dominical or Uvita as inclusive.
Please do not plan to drive to Imiloa on your own. It is not permitted.
If you need to arrive the day before, please stay at the Hampton Inn across from the airport, or plan to be in the San Jose Domestic Terminal for private flight to Imiloa by no later than 3PM (instructions will be emailed).
You will depart Imiloa at 9AM, and arrive at the landing strip at 9:30AM, with an estimated arrival to SJO airport at 10:30AM. The domestic terminal is a 5-10 minute walk to the international terminal at SJO. Typically, it is suggested to be at the international terminal 2.5 hours prior to your international departure. Please book your departing international flight accordingly, knowing that you will be at the airport at 10:30AM on departure day.
Questions? Email us: impact@imiloainstitute.com
Imiloa has partnered with a comprehensive travel insurance provider that meets the entry requirements for Costa Rica and offers "cancel for any reason" plans to maximize coverage: www.globalrescue.com/imiloa (additional cost)
We follow cleansing and sanitization protocols as per Ministry of Health to ensure a safe environment
Staff and retreat participants are asked to follow and safety guidelines such as social distancing, washing of hands, and proper mask wearing.
Our team, the Welcome Home Team at Imiloa, from kitchen to property, gardening to coordination, logistics to transportation, will be available to you throughout your stay with anything you need. They have a ready smile, answers to most of your questions and can quickly support so your experience is easy and fulfilling.
Imiloa is located in the jungle, at the top of a mountain, overlooking the Pacific Ocean. Our lush retreat center is located adjacent to the second most biodiverse land on the planet.
Dominical, only 13 minutes away, is a beach town with surfer vibes, great coffee and plenty of shopping. Just north of our municipality is Quepos and to the south, Ojochal and Uvita, which is known as the Whale's Tail.
Just 45 minutes east sits Costa Rica's second largest city, San Isidro. Within an hour of Imiloa in all directions, you have access to airports, cafes, beaches, waterfalls, biodiversity and happy people ready to show you the lush, lovely area we call home.
You'll arrive easily on our private plane, and your group will enjoy unlimited transportation to and from the beach, to and from the airport and throughout your stay with us.