Calling all seekers, crypto tribes, movers, shakers, and rock stars of the Tech Sector: Join us for the first ever Crypto event of its kind in the jungles of Costa Rica! Over 7 immersive days, you will embark on a mind-altering journey of discovery into the digital assets revolution.
The Crypto Orb Retreat at Imiloa gathers some of the brightest thinkers, doers and investors in the industry to explore the immediate and far-reaching opportunities of investing and trading. With pertinent philosophical implications we will undertake what many consider to be the largest wealth transfer in history which has entered an acceleration stage. 
Experience deep immersion in an intimate gathering of sharing knowledge and connecting among those who will define the crypto industry. Hear from experts about topics ranging from the biggest investment trends and opportunities in 2022 and the near future, to mainstream and institutional adoption, and how to expertly navigate this fast-changing landscape. 
This enriching experience is combined with daily holistic activities to recharge and bring your mind and body to a whole new level. Learn, Play, Connect & Relax in pristine Costa Rican Nature. This retreat aims to foster, create and nurture the formation of a tight-knit community whose members can rely on each other for guidance and support in their crypto journeys. 
Crypto Orb 2022 is the first Crypto event of its kind in Costa Rica with an exclusive global community of attendees. Are you ready to explore Web 3.0 opportunities from the pristine Costa Rican jungle?
Stunning Imiloa Institute, an exclusive group of leaders, thinkers and investors are coming together for learning, adventure, play and connection.
Daily workshops and strategy sessions delivered by world-renowned experts will take half of your time, while the other half will be designated towards connection, adventure and relaxation. Together we build a community of leaders that collaborate and co-create, while prioritizing wellness and mastering an optimal mental state. 
We will take a deep dive into several topics, with the ultimate goal of creating advantageous results that retreat participants can carry throughout 2022 and beyond. We will cover NFTs, DeFi, BTC, ETH, SOL, AVAX, LUNA, ATOM, FTM and  some hand-selected Altcoins and IDO's that carry good long-term growth perspectives.
Web 3.0 is transforming our world at such a rapid pace, that in order to fully appreciate and integrate its complexity and possibility, we've created a spacious schedule over 8 days to fully explore the root shifts at a societal level. From there, we will explore the current advancements in the field and the crypto ecosystem. We'll enjoy community meals and explore how the NFTs and the blockchain can be used to positively impact human beings, empower activists, institutions, and NGO's for more efficient results in environmental and human rights protections.  
The result is a radical transparency for our guests: ideas, technologies and healthy discourse all while enjoying the relaxation and wellness for which Imiloa Institute has become known for. In between spa treatments, strategy sessions and workshops, enjoy one-on-one conversations about your trades poolside, or take an adventure down to our private waterfall.
Speakers and guests include experts on programming and development, product building, venture capital, gaming, seed investing, community, marketing and tokenomics. As the future arrives, we're inviting you to step into it with a sense of confidence and wonder. Your mind-altering journey will veer through the digital assets revolution and culminate in the unity among engineers who bend time and space, curious investors and leaders who want to be a part of something bigger than themselves and how they have worked before.
While still in its infancy, Crypto has exploded into a rapidly evolving industry. Don't miss out on this unique opportunity to develop and hone your knowledge and skills, in order to set yourself up for success within this lucrative industry.
The Crypto Revolution Has Come. Are you Ready?
Day 1
New tokenomic models, DAOs, Staking and profitable investments in & beyond 2022
Day 2
NFTs, GameFi, Metaverses & the Evolution of Culture
Day 3
Social Tokens, DeFi & Future Financial Systems (To be confirmed)
Day 4
Metaverses deep-dive: its opportunities and pitfalls
Day 5
Project Pitches by founders and Investment Opportunities presented by Analysts
Day 6
Human evolution through Tech and Wellness
Gain an advantage in 2022 and beyond by hearing from and connecting with the movers and shapers of the crypto world:
Receive intel to become a better participant and investor in the Crypto Ecosystem.
Gain first-hand knowledge and tips from top industry experts. You will have a unique opportunity to discuss & debate what matters to you. All of this in an intimate setting and small groups.
Learn about the next wave of token economies and how to effectively create and capture value through them as a creator or an investor.
Learn about the market activity in the NFT, GameFi and Metaverse spaces and how to invest profitably there.
Find new peers, partners, investors and friends with whom to journey through the cryptoverse. 
Jeff Burton
Co-founder of Electronic Arts
CEO, Chairman Woodside Creek Ventures, Partner at Woodside Crypto
Jeff Burton, Serial Entrepreneur, co-founder of Electronic Arts Global technology executive, keynote speaker, and a Silicon Valley veteran, Jeff was a founding team member of Electronic Arts, where he oversaw the global expansion of its operations. Jeff has high-level connections in Silicon Valley and around the world that he is using to help startups like BitDegree. Jeff developed U C Berkeley's Skydeck startup accelerator and is currently involved in helping startups around the world to grow and scale into the Silicon Valley. Jeff is an experienced, dedicated contributor and serves as an advisor to BitDegree.
Mohamed Ezeldin
Token Lead at Animoca Brands
Animoca Brands, a Deloitte Tech Fast winner that is ranked in the Financial Times list of High Growth Companies Asia-Pacific 2021, is a leader in digital entertainment, blockchain, and gamification. It develops and publishes a broad portfolio of products including the REVV token and SAND token; original games including The Sandbox, Crazy Kings, and Crazy Defense Heroes; and products utilizing popular intellectual properties including Formula 1®, Disney, WWE, Power Rangers, MotoGP™, and Doraemon. The company has multiple subsidiaries, including The Sandbox, Blowfish Studios, Quidd, GAMEE, nWay, Pixowl, Bondly, and Lympo. Animoca Brands has a growing portfolio of more than 150 investments in NFT-related companies and decentralized projects that are contributing to building the open metaverse, including Axie Infinity, OpenSea, Dapper Labs (NBA Top Shot), Bitski, Harmony, Alien Worlds, Star Atlas, and others.
Danielius Stasiulis
CEO and Co-founder, BitDegree
Co-founder at EdTech Lithuania
Danielius Stasiulis is one of the founders of EdTech Lithuania and a co–founder & CEO of BitDegree, one of the leading EdTechs in Lithuania. BitDegree (est. 2017) has recently been crowned as the Global Champion of the UN-backed World Summit Awards in the field of Education for leveraging technology to bring digital skills to the masses.
Today, the platform provides digital skills focused short-courses and learning paths to 850k+ reskillers and upskillers globally and is recognized for its pioneering research into gamification and learning motivation. Previously, Danielius has spent 10 years in management consulting at Civitta, Emerging Europe's leading consultancy covering 15 countries with 350+ consultants, where he served as a Partner and a Board member developing the Startups and Innovation stream. For his work in building the European startup ecosystems and personal entrepreneurial example, Danielius has been awarded the prestigious Junior Achievement Europe FERD's List honouree title 2019 and was named as one of the 5 exemplary Junior Achievement Lithuania alumni from over the last 25 years in 2018.
In 2020, Danielius was recognised by Global Lithuanian Leaders with other BitDegree co-founders as the Lithuanian leaders whose ideas lead globally. Danielius has earned a BSc in Economics and Business from the Stockholm School of Economics in Riga and has been a visiting scholar to UC Berkeley at Skydeck accelerator.
Kipras Vazalinskas
Senior Investment Specialist, BitDegree
Double occupancy in a Geodesic Dome with views of the jungle
Single occupancy in a Bali Suite or Jungle Bungalow with beautiful jungle views
Single occupancy in your own private, 200-Year-Old Balinese villa with a private deck and stunning views of the jungle and ocean

A completely private campus; available to your retreat group only. Access to a private waterfall, nature paths, incredible flora and fauna, and an ocean view infinity pool. Also included is a dedicated team of 20+ local professionals to coordinate everything for your enjoyment, from touch down to take off.
​

Gourmet plant-based cuisine prepared using all local and organic produce. Full meals, snacks, teas, coffees, juices, elixirs and fruit trays available throughout your stay.
Private transportation from the International airport to our campus; a private driver and transportation to our campus in Imiloa Mountain.
What's Not Included
Flights to SJO, Spa Services
You will be immersed in a 22-acre jungle oasis in Dominical, Costa Rica.
This enchanted mountainside jungle venue is ten minutes from the beach and it is the perfect setting to experience deep healing, embraced by nature, yet completely luxurious.
While staying at Imiloa you will enjoy our nature paths, our private waterfall, our salt-water pool, stunning views and delicious and nutritious meals by our five-star vegan chef.
Included in each accommodation is the comfiest mattresses, 850 thread count sheets, storage space and dry rooms as needed, fiber optic internet, daily cleaning service, private en-suite bath, indoor/outdoor design for every accommodation with a focus on nature and being your private refuge, and full service, thrice-filtered private well for drinking water throughout the property.
BALI VILLAGE
Bali Village is perched 1200 feet about the Pacific Ocean, on a ridge line of flora, fauna and wildlife every direction you look. These 5 accommodations are 160-200 year old homes imported from Bali. Each with their own en suite bathrooms, the homes bring you back and create a self space for rejuvenation and transformation.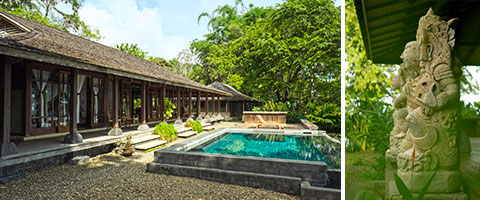 BALI MASTER SUITE
200 Year Old Homes from Bali. Imported from the Java Islands, these homes boast outdoor showers, full kitchen access, surreal vista views to the Pacific, their own salt water plunge pools and hand-carved art that is as old as the houses.
JOGLO HOUSE
Perched on the edge of the cliff, at the furthest end of the property, sits a 170 year old home from the Java Islands we call Joglo. Complete with a writer's desk, outdoor Balinese shower, hand-carved architecture that will transport you to another land and time, Joglo is teeming with history and comfort. Your cold plunge pool is adjacent to a warm bath, both outdoor. Full kitchen, too.
POTOO HOUSE
This two-floor imported home from Bali will have you wishing you'd never leave. Complete with a King Bed and a twin in the corner of the 180 year old home, Potoo has modern luxury with 360 views of the Pacific. On the lower level, a plunge pool and private spa. Potoo also includes many outdoor chairs, hammocks and a full kitchen, too.
BUNGALOW HILL
Six Jungle Bungalows built on the side of the mountain on the pathway to our very own private waterfall. Bali inspired, the interiors feature natural finishings and a gorgeous exposed shower and bath tub.
DOMELAND
Six Buckminster Fuller inspired Geodesic River Domes, among the best made in the world and partially powered by solar energy, sit perched on the edge of our private river with the fresh, flowing water feeding up to the domes. Experience the soothing sounds of relaxing and sleeping next to flowing water. Amazing!
THE HOUSE OF MASTERS
The House of Masters, located in the center of the property, is a 2,000 square foot Balinese structure hanging 100 feet in the Jungle canopy. Adjacent are restrooms and a yoga storage room for mats, blocks and more. The space can be converted for any type of retreat, workshop or dance party.
THE HEART OF IMILOA
A sprawling 3,000 square foot space that is the "Heart of Imiloa," our social space features loungy, multicultural inspired furnishings, couches, and 5 imported tables from Bali, all under a Polynesian style roof.
THE PATHS
Jungle paths connect the 20+ acres at Imiloa, with hand-made stairs and lighting, creating an immersive, easy experience for you and guests.
THE WATERFALL
Beyond the Jungle Bungalows is a path that leads to our own private waterfall. Descend into what feels like an enchanted jungle forest as you bask in the magic and beauty of the surrounding nature.
At Imiloa, we are a proudly conscious comfort food campus. That means we serve healthy, locally-sourced, gourmet vegan meals that are as artistically plated, scientifically nourishing and delightfully crafted for all of our retreat guests.
Imiloa's world-class spa is a curated, sensual and deeply moving experience. Choose from Ayurvedic massages and practices, to a shamanic masseuse from our team members who are from the Boruca indigenous tribe here in Costa Rica, to more traditional Swedish, relaxation or Thai yoga massages, body wraps and others. A full list of spa offerings and a link to book during your free time will be provided to you before you arrival.
Schedule your plane to arrive at SJO. In order to access your private plane charter, all guests must be at the Domestic Terminal at SJO San Jose, Costa Rica no later than 3PM on the arrival day.
Once landed, proceed to customs and instructions will be provided to meet Imiloa concierge.
Proceed to baggage claim with concierge and proceed to Domestic Terminal (3 minute walk from International Terminal). Please be at the Domesitc Terminal at SJO San Jose, Costa Rica no later than 3PM on your day of arrival.
Private Imiloa plane will be waiting to fly you to Quepos.
Private ground transport shuttles will pick you up in Quepos and bring you to Imiloa.
If you are already in Costa Rica, ground transport may be coordinated from Quepos, Dominical or Uvita as inclusive.
Please do not plan to drive to Imiloa on your own. It is not permitted.
If you need to arrive the day before, please stay at the Hampton Inn across from the airport, or plan to be in the San Jose Domestic Terminal for private flight to Imiloa by no later than 3PM (instructions will be emailed).
You will depart Imiloa at 10AM, and arrive at the landing strip at 10:30AM, with an estimated arrival to SJO airport at 11:30AM. The domestic terminal is a 5-10 minute walk to the international terminal at SJO. Typically, it is suggested to be at the international terminal 2.5 hours prior to your international departure. Please book your departing international flight accordingly, knowing that you will be at the airport at 11:30AM on departure day.
Questions? Email us: impact@imiloainstitute.com
Our team, the Welcome Home Team at Imiloa, from kitchen to property, gardening to coordination, logistics to transportation, will be available to you throughout your stay with anything you need. They have a ready smile, answers to most of your questions and can quickly support so your experience is easy and fulfilling.
TRAVEL INSURANCE and COVID PROCEDURES
Imiloa has partnered with a comprehensive travel insurance provider that meets the entry requirements for Costa Rica and offers "cancel for any reason" plans to maximize coverage: www.globalrescue.com/imiloa (additional cost)
COVID tests for entry and exit requirements to your home country can be done on site. We have an on-call physician that can come to the property for testing and results sent in English.
We follow cleansing and sanitization protocols as per Ministry of Health to ensure a safe environment
Staff and retreat participants are asked to follow and safety guidelines such as social distancing, washing of hands, and proper mask wearing.
Imiloa is located in the jungle, at the top of a mountain, overlooking the Pacific Ocean. Our lush retreat center is located adjacent to the second most biodiverse land on the planet.
Dominical, only 13 minutes away, is a beach town with surfer vibes, great coffee and plenty of shopping. Just north of our municipality is Quepos and to the south, Ojochal and Uvita, which is known as the Whale's Tail.
Just 45 minutes east sits Costa Rica's second largest city, San Isidro. Within an hour of Imiloa in all directions, you have access to airports, cafes, beaches, waterfalls, biodiversity and happy people ready to show you the lush, lovely area we call home.
You'll arrive easily on our private plane, and your group will enjoy unlimited transportation to and from the beach, to and from the airport and throughout your stay with us.