A healing journey of conscious movement, breathwork, and meditation to balance the elements within.
Join us for Elemental Medicine Magic, a week-long retreat of movement, breathwork and meditation in the jungle and beaches of Costa Rica.
Nicole Smith Levay and Margaret Burns, Energy Healers & Coaches, will lead you through a journey of connecting to the natural world through your body's senses. Uplift your spirit through conscious practice in communion with nature. This retreat is designed for empaths who are feeling stuck and want to dive deeper in their energetic healing.
It's time to shake the dust off of the past. It's time to learn rituals that keep you vibrating at your healthiest self. How will you strengthen yourself in unpredictable times? When you are connected to your inner healer, you always have a safe home base.
Amidst a background of Costa Rican jungle and beach, allow nature to be your medicine. The five elements – air, wind, earth, fire, and ether – all have a role to play in your vitality. Prepare to be taken through each element as it relates to your energetic blockages and learn the tools to open up your energy to new possibilities of health.
You are invited to reconnect to the disowned parts of yourself, meet the discomfort with courage, and grow and transform through this experience. As your own healer, you can return home and apply the embodied energetic practices we'll be using to ground you, move you, and light you up when you please.
Book now and experience the power of Elemental Medicine Magic and ignite your soul's deepest potential!
Imagine how amazing it will feel when you:
Connect with other empathic spiritual community in a safe place
Learn various movement, breathwork, and meditation tools to address energy blocks
Experience element based rituals you can perform at home
Live in alignment with the cycles of the moon and stars
Clear trauma in the body & nervous system 
Have the ability to self-regulate emotional turbulence
Ground into deeper embodiment of all that is you
Are able to transform pain to pleasure
Knowledge of who you truly are when you have dedicated time and space to heal
Clarity as you are infused with a sense of peace after years of chaos
Groundedness as you become more aligned with your soul's purpose and direction
Joyfulness when you return home more engaged with life on all levels
After our New Mexico retreat a couple years ago I signed up for this retreat with no hesitation. Nicole is incredibly intuitive and knew just how to create an experience that spoke to all of us. The activities were well planned and amazing and when the weather or power didn't cooperate Nicole seamlessly changed gears. The rooms were comfortable, the food delicious and the retreat grounds were spectacular. Once again I feel like I came back home healed, with beautiful memories and new lifelong friends. Can't wait for the next event. ❤️
Margaret's extensive knowledge and training combined with her personal experience and deeply compassionate heart make her a gifted healer whom I highly recommend.
Healing For the Healer
A bonus 20-hour certification program for retreat participants
Register now to receive the Healing For the Healer Certification Bonus! A 20-hour certification course, with most training hours on-site in Costa Rica — all included in the price of your retreat registration!
As a wellness professional, you give so much to the world, so take this opportunity to deepen your own self-healing and support your existing client work with supplemental trauma-sensitive and somatic healing practices.
Nicole Smith Levay
Nicole Smith Levay is an energy healer and coach who integrates somatic therapy, meditation, and breathwork into sessions and classes for women who struggle with anxiety and depression. A former professional dancer, Nicole holds an MA in Somatic Psychology from California Institute of Integral Studies, and is a well known workshop facilitator at healing centers like Kripalu Center for Yoga & Health, Ghost Ranch, and Mount Madonna Center. Using body centered techniques, she is known for taking both a forward thinking and artistic approach to mental health and trauma-informed care.
A certified life coach since 2013, her training in the yogic sciences also includes over thousands of hours in: kundalini meditation, chanting, breathwork, sound healing, pranic healing, hatha asana practice, trauma sensitive yoga, therapeutic restoratives, and more. It was a combination of all these practices that helped her heal from chronic pain and transition from an early retirement in dance performance in her twenties.
From this, her company Power Within Healing began, a virtual studio platform where she hosts weekly classes and moon circles, as well as mentors wellness entrepreneurs in their next steps in the collective evolution. In her two decades as both a performing artist, teacher, and healer, she has blessed to travel and share her work in countless countries around the world. She holds deep gratitude for her growing family, as well as the many artistic and spiritual communities (soul family) that she has been blessed to be a never-ending student in.
Margaret Burns
Margaret Burns is root-cause practitioner. Her mission is to empower others through spiritual wellness. A trained midwife, birth & postpartum doula, Reiki Master, Registered Yoga Teacher, & Kinesiologist, her Master's thesis is on Mirror Touch Synesthesia & how alternative modalities work.
She speaks on meditation, the life of the Empath, the Esoteric Woman. She has worked alongside Teal Swan, and is a proud member of Hive Global Leaders, whose vision is a happy, healthy, & fully alive world for all people. She holds masters degrees in both English from the University of Texas at Austin, & Philosophical Theology from Austin Seminary.
Her work has taken her around the world to study at the source- India, Bali, Australia, The Temple of the Dalai Lama, Central America, & the islands off the coast of Spain. She wishes to thank her daughters, who have taught her everything about unconditional love, & her parents, who continue to support her even though she has always done things differently. Many thanks also go to her mentors who have empowered her to inspire and make magic everyday.
You will be immersed in a 22-acre jungle oasis in Dominical, Costa Rica.
This enchanted mountainside jungle venue is ten minutes from the beach and it is the perfect setting to experience deep healing, embraced by nature, yet completely luxurious.
While staying at Imiloa you will enjoy our nature paths, our private waterfall, our salt-water pool, stunning views and delicious and nutritious meals by our five-star vegan chef.
Included in each accommodation is the comfiest mattresses, 850 thread count sheets, storage space and dry rooms as needed, fiber optic internet, daily cleaning service, private en-suite bath, indoor/outdoor design for every accommodation with a focus on nature and being your private refuge, and full service, thrice-filtered private well for drinking water throughout the property.
BALI VILLAGE
Bali Village is perched 1200 feet about the Pacific Ocean, on a ridge line of flora, fauna and wildlife every direction you look. These 5 accommodations are 160-200 year old homes imported from Bali. Each with their own en suite bathrooms, the homes bring you back and create a self space for rejuvenation and transformation.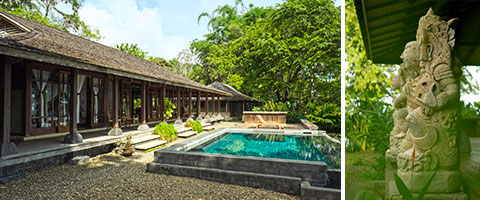 BALI MASTER SUITE
200 Year Old Homes from Bali. Imported from the Java Islands, these homes boast outdoor showers, full kitchen access, surreal vista views to the Pacific, their own salt water plunge pools and hand-carved art that is as old as the houses.
JOGOLO HOUSE
Perched on the edge of the cliff, at the furthest end of the property, sits a 170 year old home from the Java Islands we call Jogolo. Complete with a writer's desk, outdoor Balinese shower, hand-carved architecture that will transport you to another land and time, Jogolo is teeming with history and comfort. Your cold plunge pool is adjacent to a warm bath, both outdoor. Full kitchen, too.
POTOO HOUSE
This two-floor imported home from Bali will have you wishing you'd never leave. Complete with a King Bed and a twin in the corner of the 180 year old home, Potoo has modern luxury with 360 views of the Pacific. On the lower level, a plunge pool and private spa. Potoo also includes many outdoor chairs, hammocks and a full kitchen, too.
BUNGALOW HILL
Six Jungle Bungalows built on the side of the mountain on the pathway to our very own private waterfall. Bali inspired, the interiors feature natural finishings and a gorgeous exposed shower and bath tub.
DOMELAND
Six Buckminster Fuller inspired Geodesic River Domes, among the best made in the world and partially powered by solar energy, sit perched on the edge of our private river with the fresh, flowing water feeding up to the domes. Experience the soothing sounds of relaxing and sleeping next to flowing water. Amazing!
THE HOUSE OF MASTERS
The House of Masters, located in the center of the property, is a 2,000 square foot Balinese structure hanging 100 feet in the Jungle canopy. Adjacent are restrooms and a yoga storage room for mats, blocks and more. The space can be converted for any type of retreat, workshop or dance party.
THE HEART OF IMILOA
A sprawling 3,000 square foot space that is the "Heart of Imiloa," our social space features loungy, multicultural inspired furnishings, couches, and 5 imported tables from Bali, all under a Polynesian style roof.
THE PATHS
Jungle paths connect the 20+ acres at Imiloa, with hand-made stairs and lighting, creating an immersive, easy experience for you and guests.
THE WATERFALL
Beyond the Jungle Bungalows is a path that leads to our own private waterfall. Descend into what feels like an enchanted jungle forest as you bask in the magic and beauty of the surrounding nature.
Quad occupancy in a Geodesic Dome with views of the jungle
Triple occupancy in a Geodesic Dome with views of the jungle
Double occupancy in a Jungle Bungalow with views of the jungle
Single occupancy in your own private Bali style suite with beautiful jungle views
Single occupancy in a your own private, 200-Year-Old Balinese villa with a private deck and stunning views of the jungle and ocean
Included in each accommodation is the comfiest mattresses, 850 thread count sheets, storage space and dry rooms as needed, fiber optic internet, daily cleaning service, private en-suite bath, indoor/outdoor design for every accommodation with a focus on nature and being your private refuge, and full service, thrice-filtered private well for drinking water throughout the property. More info below.

A completely private campus; available to your retreat group only. Access to a private waterfall, nature paths, incredible flora and fauna, and an ocean view infinity pool. Also included is a dedicated team of 20+ local professionals to coordinate everything for your enjoyment, from touch down to take off.
​

Gourmet plant-based cuisine prepared using all local and organic produce. Full meals, snacks, teas, coffees and fruit trays available throughout your stay.
Private transportation from the International airport to our campus; a private driver and transportation to our campus in Imiloa Mountain.
What's Not Included
Flights to SJO, Spa Services
Nicole is an incredible leader, feeling the mood & needs of the group. I loved the openness & experimentation – trying all kinds of exercises from meditation to movement to visualisation. I loved her flexibility – being able to adjust to our unique group needs & switching gears depending on the changes. I felt so taken care of on our retreat, Nicole would check in with us & how we slept, were feeling & if there was anything else we needed which was incredibly sweet. I felt like I could be myself because of the environment Nicole has created, it felt safe & open. The women that I spent these 3 days together became my spirit sisters & we were able to connect deeply because of that safe space. I also absolutely loved the little surprises that Nicole prepared for us – the magical playlist on the way to the retreat to get us 'in the mood' and the thoughtful goody bags with special treats. If you are new to retreats & kundalini yoga like I was, I highly recommend Nicole as your first experience – you will be well taken care of & will leave feeling refreshed, relaxed & at peace. And if you are an experienced yogi – Nicole will help you deepen your practice. There is something for everyone!
I have never felt so completely seen as I do by Margaret. Her monthly tarot readings shake me to the core. She is a constant, wise soul & the embodiment of healing energy. I trust her with my entire being.
Margaret has a rare capacity for presence and listening — rare even in the healing/helping professions. She is present with such calm and depth. I always felt supported but I also felt like I had my own space to experience my process free of judgement. And Margaret's meditator-like state of mind helped me access that state in myself. It was such a blessing to work with her. She touched my life.
Nicole did a fantastic job with the retreat. Our accommodations were beyond expectation, food healthy and satisfying. The eclectic goup of participants mixed well, and a closeness and bonding grew each day. Ghost Ranch and surrounding areas were the perfect setting for yoga, with a magical palette of ever-changing colors. We had a perfect combination of yoga and excursions, with some playful moments, as well as those that touched our hearts. We were always able to rest if needed. I left New Mexico with many memories, and a feeling of having attained a deeper understanding of the practice of Kundalini yoga. Heartfelt thanks to Nicole and Bill for bringing us together and creating an environment that encouraged each of us to push our limits, express our joy, share our sorrows and help one another with kindness, warmth and compassion whenever the need should appear.
Nicole and Bill were such amazing hosts! Always organized, supportive and attentive. Nicole is the kind of teacher that guides you to see how strong and capable you are of. She is knowledgable, loving, inspiring and has a steady calm presence that made this experience the perfect fusion of relaxing, fun, and full of new. I surprised myself at how much Kundalini yoga and meditation I was capable of doing, and I owe so much of that to the safe space Nicole created. This retreat was like a dream I never wanted to wake up from. I came back to the city refreshed, alive, and more at home with myself.
If it's spiritual, if it promotes healing, if it's difficult to describe, empowering or a little (or a lot) woo woo, Margaret's guidance and support is exactly what you need! Margaret Burns and Urban Desert Healing, if it's revealed to you, is the right next step…a year ago, I was sicker than I have ever been. Several months ago I began to grow spiritually. But it wasn't until I began working with Margaret that my mind, body and spirit merged to illuminate my healthiest and divinely inspired path. Since my first energy session, I am open to clarity and change that I don't believe I could have received without her healing hands. Margaret's depth and breadth of knowledge, diversity of expertise, direct experiences and ability to unconditionally love means she will "get you" on all levels and in all dimensions. Book an appointment. It's worth it. Let Margaret open the door to your truest, most authentic, healthy and connected Self.
What a wonderful, amazing experience. I have never been on a retreat and did not know what to expect. I felt 100 percent confident that Nicole would create a retreat that would leave me feeling like my best self. Not only did I feel that, but I am still feeling the effects of the weekend. Nicole made sure that when my daughter and I got there, we were comfortable and secure. Each day was planned perfectly with meditation, movement, breathing, sharing, journaling and hiking in nature. Bringing my daughter made us much closer. I have worked with Nicole learning and discovering Kundalini Yoga. During the pandemic, my husband and I continued with her online website that enabled us to always take a class when it was convenient for us. Thank you Nicole for a weekend I will never forget and will keep close to my heart.
Margaret Burns helped by bring my third son into life in October of 2011. She cared for me through my pregnancy, delivery and postpartum. She is an amazing midwife who practices with meticulous care and love. In her practice, she seems to be able to unify many areas of alternative care, medicine, and spirituality, to produce a unique and uplifting experience. During labor with my son, I felt absolutely taken care of in both body and spirit. Margaret is an amazing person who practices from the heart. I would absolutely recommend her to anyone who needs care through the birthing or postpartum period, or to anyone who needs support in other times or periods of life.
Before meeting Nicole, I wouldn't describe myself as someone who would have gone to a yoga retreat, but now if I can make it, I won't miss them! Nicole puts so much time and detail into the planning of the retreats, from the music (which is always excellent), the food (always delicious), and accommodations. She also sends detailed check lists on what to pack and it makes the whole experience feel very easy. The retreats themselves are both hard and beautiful. Hard, that it's internal work that is sometimes difficult to face, but in the end, you always leave feeling like you were glad to have done that work. It's also beautiful connecting with so many ages and types of women, I can't wait for the next retreat. It will be my yearly cleaning off the emotional sludge. Nicole is also an excellent teacher, I believe that she is here to teach, connect, and help us heal. I have practiced with Nicole now for five years and will continue to do so because I believe in her work and enjoy her so much.
This was a transformational experience. Nicole used all her expertise as a yoga teacher/spiritual mentor, life coach, group/movement therapist, astrologer, travel agent, and tour guide to create a wonderful space for growth and healing with fabulous accommodations sensitive to the original people whose land we were guests upon, fabulous food, and intuitive resourcefulness to meet our every need. Thank you Nicole.
Margaret has been a guiding light in my life. Her readings always fit in perfectly with my current life situation and provide me with gentle insight, clarity and direction on my journey. Her kind affirmations and words of encouragement always inspire me and give me the confidence I need to keep growing and evolving. Margaret's passion shines through her incredible generosity and dedication to her work. I am very grateful that our paths have crossed, and I cannot thank her enough for all she has done for me.
Nicole Smith Levay knows how to run a retreat and an amazing online community. I signed up for the Earth Medicine Magic retreat and I had no idea what to expect, except that I was excited to travel back to California and stay in the magical Redwoods. I was not new to retreats, but new to this group that had traveled with each other previously. The retreat itself was more than I could have asked for and expected. Nicole is a brilliant healer, who organized and facilitated this retreat full of activities from morning until night. She brought together a group of women that were able to share, heal and bond with each other. I highly recommend joining her online community Power Within Healing, you will not regret it. Thank you Nicole, for giving me a magical and healing experience.
Imiloa Experience
Imiloa Institute is a home and an experience where human beings are invited to awaken their consciousness.
At Imiloa, we are a proudly conscious comfort food campus. That means we serve healthy, locally-sourced, gourmet vegan meals that are as artistically plated, scientifically nourishing and delightfully crafted for all of our retreat guests.
Imiloa's world-class spa is a curated, sensual and deeply moving experience. Choose from Ayurvedic massages and practices, to a shamanic masseuse from our team members who are from the Boruca indigenous tribe here in Costa Rica, to more traditional Swedish, relaxation or Thai yoga massages, body wraps and others. A full list of spa offerings and a link to book during your free time will be provided to you before you arrival.
Schedule your plane to arrive at SJO. In order to access your private plane charter, all guests must be at the Domestic Terminal at SJO San Jose, Costa Rica no later than 3PM on the arrival day.
Once landed, proceed to customs and instructions will be provided to meet Imiloa concierge.
Proceed to baggage claim with concierge and proceed to Domestic Terminal (3 minute walk from International Terminal). Please be at the Domesitc Terminal at SJO San Jose, Costa Rica no later than 3PM on your day of arrival.
Private Imiloa plane will be waiting to fly you to Quepos.
Private ground transport shuttles will pick you up in Quepos and bring you to Imiloa.
If you are already in Costa Rica, ground transport may be coordinated from Quepos, Dominical or Uvita as inclusive.
Please do not plan to drive to Imiloa on your own. It is not permitted.
If you need to arrive the day before, please stay at the Hampton Inn across from the airport, or plan to be in the San Jose Domestic Terminal for private flight to Imiloa by no later than 3PM (instructions will be emailed).
You will depart Imiloa at 9AM, and arrive at the landing strip at 9:30AM, with an estimated arrival to SJO airport at 10:30AM. The domestic terminal is a 5-10 minute walk to the international terminal at SJO. Typically, it is suggested to be at the international terminal 2.5 hours prior to your international departure. Please book your departing international flight accordingly, knowing that you will be at the airport at 10:30AM on departure day.
Questions? Email us: impact@imiloainstitute.com
Imiloa has partnered with a comprehensive travel insurance provider that meets the entry requirements for Costa Rica and offers "cancel for any reason" plans to maximize coverage: www.globalrescue.com/imiloa (additional cost)
We follow cleansing and sanitization protocols as per Ministry of Health to ensure a safe environment
Staff and retreat participants are asked to follow and safety guidelines such as social distancing, washing of hands, and proper mask wearing.
Our team, the Welcome Home Team at Imiloa, from kitchen to property, gardening to coordination, logistics to transportation, will be available to you throughout your stay with anything you need. They have a ready smile, answers to most of your questions and can quickly support so your experience is easy and fulfilling.
Imiloa is located in the jungle, at the top of a mountain, overlooking the Pacific Ocean. Our lush retreat center is located adjacent to the second most biodiverse land on the planet.
Dominical, only 13 minutes away, is a beach town with surfer vibes, great coffee and plenty of shopping. Just north of our municipality is Quepos and to the south, Ojochal and Uvita, which is known as the Whale's Tail.
Just 45 minutes east sits Costa Rica's second largest city, San Isidro. Within an hour of Imiloa in all directions, you have access to airports, cafes, beaches, waterfalls, biodiversity and happy people ready to show you the lush, lovely area we call home.
You'll arrive easily on our private plane, and your group will enjoy unlimited transportation to and from the beach, to and from the airport and throughout your stay with us.