A wellness and yoga retreat for living in the present, connecting to nature, and increasing love for yourself, the love for others, and love for the world around you or something greater.
Costa Rica Yoga & Wellness Jungle Retreat
5 days, 5 elements combined, 7 chakras aligned. By embracing the elements of fire, air, space, earth, & water along with the energy within, we will align our chakras, free our minds, and come to our senses. Five days immersed in jungle luxury to release what doesn't serve and find joy, love & light within while we incorporate the elements and chakras into our daily practices, ceremonies, and workshops.
Into the jungle we go, on a journey to free our minds and connect to our senses. Join us as we travel to the beautiful Costa Rican jungle on a path to self-discovery using nature, the elements, and your chakras to activate your most authentic self and to allow your inner light to shine. Together we'll explore the 5 elements of fire, air, space, earth, & water and work in-depth with the 7 chakras. Each day of the retreat will include meditations, yoga sessions, guided workshops, events or ceremonies. Together we will create a space that encourages love for oneself, love for others, and love for the world around us. This retreat will put you on a path to living without limitation by learning to live in the present moment, to breathe, and to be. Everybody, with any, all, or no experience with yoga and meditation are welcome.
Book now to embrace your senses through the elements and experience alignment, freedom and a true essence of self.
How to activate your journey of self-discovery through breathwork, body movement, relaxing play, and guided workshops.
How to focus on and align your chakras.
The importance of the five elements for optimal living.
Techniques for freeing your mind and becoming more attuned to your senses.
How to make more space for things that feed your soul.
Practices and techniques that you can take home with you for daily practice in your personal and professional life.
Living well is a lifestyle, not just a retreat.
Daily yoga practice & body movement techniques
Daily guided meditations
Mindful practices and workshops to help you build a more joyful daily routine
Immersion ceremonies focused on your chakras and the 5 elements for harmonious and wholesome healing
A safe space to embrace your true self and create new habits
Luxurious lodging on a private campus in the jungle so you can reset without distractions
Nourishing plant-based meals to fuel your body and brain
Access to a private waterfall, endless acres of jungle trails to explore, and the local beach.
Photo credit: Jai Wellness Ayurveda and Yoga Teacher Training, June 2021
Time and space to grow
Harmony to live your life with ease
Alignment with being your true self
Confidence to make changes
Desire for a daily routine and habits that bring you joy
Companionship and a deep knowing that you are not alone
Jeanette Tachynsky
Jeanette hails from Ottawa, Canada as a conference planner by profession, who has been practicing yoga for over 15 years. She chose to deepen her personal practise by taking her first yoga teacher training in Vinyasa, and more recently she has attained another 200-hour Hatha Yoga and Ayurveda teacher training, both in beautiful Costa Rica. Jeanette also has a certification in Y4T, trauma informed yoga and is currently continuing her studies at an advanced level. She has a passion for learning, especially new skills to heal herself and to share these tools with others to help them in their healing journey.
In addition to being a registered yoga teacher with Yoga Alliance, Jeanette is also a practising energy healer, meditation teacher and a Reiki Level 2 Practitioner. Her sense of humour, charismatic personality, and compassionate nature create an inviting environment for her students and clients. She holds space for those in her world to be their authentic selves; to be curious, to learn, to grow, to heal and to breathe.
Jeanette plans to call Costa Rica home one day soon. Her newest project is creating and launching her wellness business, Breathe and Heal Wellness Studio.
Lori Dye
Village of Islands Yoga founder Lori Dye E-RYT, YACEP, is originally from Ottawa, Canada. She travelled the United States for 18 months, teaching yoga all over the country, and now calls the Florida Keys her home. This is where she has found commUNITY. She has been practicing yoga for over 30 years and it is truly her way of being. Her love of yoga lies in the magic of the breath, the harmony of internal peace & joy and the physical benefits of daily practice; this love emanates through her teaching.
After completing her first 200-hour Yoga Teacher Training program 2015, Lori became a member of Yoga Alliance. She has continued to grow as a student and teacher, completing her 200-hour Hatha Yoga and Ayurveda teacher training with Jai Wellness in Costa Rica, July 2021. She has taught nearly 3000 hours of group classes, private sessions, workshops, retreats, and guided imagery sessions. In addition to practicing and teaching yoga, she is also a Life / Health Coach, Hypnotherapist, and teaches Life Coaching courses online at a holistic college.
Lori is known for her warm and inviting teaching style. She engages and challenges students to be mindful, connect with breath-guided movement, and listen to their bodies. She enjoys bringing stillness and movement together with breath on the mat and always offers modifications to make yoga accessible to all. Lori has taught yoga at studios, shalas and beaches throughout the US and Canada and offers live-streaming and on-demand yoga classes.
Letícia Linton
Letícia Linton is based in São Paulo, Brasil. She started her career as a jewelry designer in 2000, studying Gemology, Design and Crystal Therapy, and becoming a jewelry icon in Brazil. All of her creations are guided by the energy and power of the stones.
She recently founded "Joy By Leticia". Through her business, Leticia shares her knowledge of coaching, yoga, Ayurveda, awareness, expansion consciousness, meditation, mindfulness, sound healing and Psycho Pranic Healing with her clients.
Leticia shares experiences and tools with others through social media, immersive experiences, and retreats. Providing access to modalities for healing and wellness is part of Leticia's purpose and joy in life.
This trio of beautiful souls has come together to combine all of their love, light, energy and modalities to create a soulful journey of self discovery.
Lori and Jeanette have nearly 1000 hours combined of yoga teacher training.
Jeanette has been an inspiration to me for many years…..her kindness and empathy for the struggles of the human ego go into everything she does, everything she expresses and everything she creates. You feel her vision and desire for a greater you through her mastery of the action of caring and above all else, her mastery of active listening…
After being in a serious car accident, I had reached out to Jeanette for guidance, she invited me to a weekend retreat at a cottage in the country.
Over the weekend, she helped understand the chakras and different energy and emotions being blocked in the body, mind and spirit. Thanks to her guided meditations and inspiring conversations, I left the resort centered and focused.
I can't wait to have another 1-on-1 session with her!
I attend the Hatha and Strength and Training classes that Lori Dye teaches. What I like about her classes, is she warms you up before the yoga poses and winds you down at the end. So no soreness from class but a good workout for your mind and body. She incorporates the mindfulness and the poses together for a true journey into yoga. I love the camaraderie of the class and the lovely tea she shares with us. I would recommend the class to all ages and levels because Lori is mindful of her pupils and gives alternate options if you feel the pose is too hard. Great Class overall!!!!
Good morning …I am a part of Jeanette's practice yoga classes. Shall we say her guinea pig to talk through new ideas for beginners. Through a couple of classes, she was able to pick up on my inability to do certain moves due to my arthritis. She then focused the session on what would work best for me. She has the ability to put you at ease and provides a safe and comfortable environment…Her little imperfections make her classes that more unique. Her laugh always makes me laugh too. She has also done an energy healing session..which was to say the least an amazing experience..She definitely has a calling….
I had the chance to be in a training course at the same time as Jeanette. We didn't know each other before this training. In four days, I had the chance to discover the magnificent person she is. This lady is beautiful in and out, full of love, strength, and amazing energy. I was immediately comfortable chatting with her and getting to know her. It was an instant heart to heart connection. So happy to have met her on my path and I sincerely hope we'll get a chance to work together again!
It was days of reconnection and finding myself again. The immersion @joybyleticia couldn't be at a better moment and it was the best experience. Disconnect to reconnect with my essence, my deepest ME with more clarity. Days with workshops, knowledge, laughs, tears, and new friendships. When I started to let go of my fears and insecurities, false beliefs and rescue my inner child that was lost inside of me. Thank you so much for everything. For your love and purpose that actually renewed the call of our own purpose as well. I will come back to São Paulo transformed, filled with life force to continue the lessons and new ways of life that I've learned by @joybyleticia
Having been part of this very first "Enjoy Immersion" by Leticia Linton was a life changing experience for me. For a long time, I was postponing being in contact with my true deepest self, and now, to get to know practices that help to facilitate that, it was simply amazing! In each reflection, in each breath Letícia and her team left me absolutely comfortable, welcoming, and warm at the same time. By the end, I left the immersion with a sense of fulfillment and happiness that I can't describe and also very nostalgic in a good way, from the wonderful moments and that we together with the group that was formed lived there! Let more and more immersions take place ahead!
I felt inspired by the powerful and the one-of-a-kind woman that Letícia Linton is. Her integrity and the way she empowers women to get out of their comfort zones is something unique, transforming and very special! The Joy retreat changed my way to look at people, to review my old patterns. I actually re-established the connection with myself. I have been able to recognize my limiting beliefs. I released that they were old and that I can move on! I could get in touch with positive and negative sides of me, finding myself with a great desire to be a better person, having more quality and joy of life!
Lori is a wonderful teacher! . Asanas are clearly explained, and she frequently reiterates that you should do what feels right for your body. Her voice is calming and soothing. Her class is one of the best I've experienced in 45 years.
I had the pleasure of meeting Jeanette a little over a year ago and quickly discovered that she is an incredibly amazing, compassionate, caring individual. I suffer from ptsd and often struggle opening up to people but that was not the case with her. Jeanette is a fantastic listener and she was able to help me open up and express my emotions quite freely. I am very much looking forward to attending her retreat and learning more about my mind and body.
Several aspects of Lori's yoga teaching make her a superior teacher. First, Lori herself seems to enjoy every minute of teaching, and that joy permeates the space with loving kindness. Lori also models each pose beautifully which inspires each and every student. She is not afraid to challenge students but never pushes someone to attempt a pose beyond that person's physical limitations.
Jeanette has a unique gift and talent. I was curious about energy healing and after speaking with Jeanette I decided to explore further. She was genuine in her approach and explanation and lead me through a spiritual session. She was intuitively able to create a safe environment where I could truly let go and receive the healing energy I didn't know I needed. I highly recommend working with Jeanette.
Lori Dye is amazing. You can really tell she cares. She really is very helpful and has great ideas of ways to help you with your needs. She takes the time to try and help you find your real true desires and needs and helps you realize how you can accomplish them. I enjoyed my session so much I am absolutely doing this again.
I had two energy healing sessions with Jeanette. Well, they were wonderful, but one was very different from the other. In the first one it was deep cleaning, with a lot of emotion. It was very intense and when we finished I felt lighter for sure. After the session she sat down and we had an nice conversation about what had happened and it was very comforting and enlightening for me. The second was less intense but no less important. But my energy was already lighter. I can't wait to have my next session. Jeanette is an amazing and competent professional. I recommend her to everyone!
The Joy Immersion" was literally a self consciousness shower on how we deal and relate with ourselves and our image. It took us to another level of reflection, meditation… and the final result was absolutely amazing, bringing us an inexplicable feeling of lightness, happiness, and joy… only being there to really feel. Thank you Letícia and all of your team for giving us this unique opportunity of incredible days. I already want to get back!
The Joy retreat took place in the middle of the nature in the period of four intense days where I could learn how to meditate. Through many breath techniques, yoga exercises the Enjoy Immersion allow me to go deeper into my soul. The sound bath healing experience and lots of other practices led me to many reflections about who I am in this huge Universe that surrounds all of us! I simply adored this retreat experience; I came back home with a clear and more open mind about my next choices in life!
I have been a close friend of Letícia Linton for many years, and I have always been fascinated by her spiritual evolution. I'm always joking that she is the Sun, because wherever she goes, rays of light and colors follow her and leaves behind happiness. My participation in the immersion "Joy by Leticia" was a special and unforgettable experience for me. She, in a simple and natural way, managed to pass on her knowledge to us and changed our way of seeing and living life. I can only thank God for crossing our paths.
TRIPLES
$3,100
PER PERSON
Triple occupancy in a Geodesic Dome with views of the jungle
DOUBLES
$3,500
PER PERSON
Double occupancy in a Geodesic Dome with views of the jungle
SINGLES
$4,000
PER PERSON
Single occupancy in a Jungle Bungalow or Bali style Suite with beautiful jungle views
ULTIMATE VIP PACKAGE
$6,500
PER PERSON
Single occupancy in your own private, 200-Year-Old Balinese villa with a private deck, plunge pool and stunning views of the jungle and ocean.
The Package includes:
– The Jogolo Bali Villa
– International flight credit (up to $600 USD)
– Spa Credit
– 1x Healing Session
*To qualify for this package you must pay in full at the time of booking

A completely private campus; available to your retreat group only. Access to a private waterfall, nature paths, incredible flora and fauna, and an ocean view infinity pool. Also included is a dedicated team of 20+ local professionals to coordinate everything for your enjoyment, from touch down to take off.
​

Gourmet plant-based cuisine prepared using all local and organic produce. Full meals, snacks, teas, coffees and fruit trays available throughout your stay.
Private transportation from the International airport to our campus; a private driver and transportation to our campus in Imiloa Mountain.
What's Not Included
Flights to SJO, Spa Services
You will be immersed in a 22-acre jungle oasis in Dominical, Costa Rica.
This enchanted mountainside jungle venue is ten minutes from the beach and it is the perfect setting to experience deep healing, embraced by nature, yet completely luxurious.
While staying at Imiloa you will enjoy our nature paths, our private waterfall, our salt-water pool, stunning views and delicious and nutritious meals by our five-star vegan chef.
Included in each accommodation is the comfiest mattresses, 850 thread count sheets, storage space and dry rooms as needed, fiber optic internet, daily cleaning service, private en-suite bath, indoor/outdoor design for every accommodation with a focus on nature and being your private refuge, and full service, thrice-filtered private well for drinking water throughout the property.
BALI VILLAGE
Bali Village is perched 1200 feet about the Pacific Ocean, on a ridge line of flora, fauna and wildlife every direction you look. These 5 accommodations are 160-200 year old homes imported from Bali. Each with their own en suite bathrooms, the homes bring you back and create a self space for rejuvenation and transformation.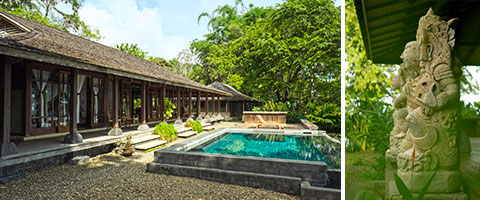 BALI MASTER SUITE
200 Year Old Homes from Bali. Imported from the Java Islands, these homes boast outdoor showers, full kitchen access, surreal vista views to the Pacific, their own salt water plunge pools and hand-carved art that is as old as the houses.
JOGOLO HOUSE
Perched on the edge of the cliff, at the furthest end of the property, sits a 170 year old home from the Java Islands we call Jogolo. Complete with a writer's desk, outdoor Balinese shower, hand-carved architecture that will transport you to another land and time, Jogolo is teeming with history and comfort. Your cold plunge pool is adjacent to a warm bath, both outdoor. Full kitchen, too.
POTOO HOUSE
This two-floor imported home from Bali will have you wishing you'd never leave. Complete with a King Bed and a twin in the corner of the 180 year old home, Potoo has modern luxury with 360 views of the Pacific. On the lower level, a plunge pool and private spa. Potoo also includes many outdoor chairs, hammocks and a full kitchen, too.
BUNGALOW HILL
Six Jungle Bungalows built on the side of the mountain on the pathway to our very own private waterfall. Bali inspired, the interiors feature natural finishings and a gorgeous exposed shower and bath tub.
DOMELAND
Six Buckminster Fuller inspired Geodesic River Domes, among the best made in the world and partially powered by solar energy, sit perched on the edge of our private river with the fresh, flowing water feeding up to the domes. Experience the soothing sounds of relaxing and sleeping next to flowing water. Amazing!
THE HOUSE OF MASTERS
The House of Masters, located in the center of the property, is a 2,000 square foot Balinese structure hanging 100 feet in the Jungle canopy. Adjacent are restrooms and a yoga storage room for mats, blocks and more. The space can be converted for any type of retreat, workshop or dance party.
THE HEART OF IMILOA
A sprawling 3,000 square foot space that is the "Heart of Imiloa," our social space features loungy, multicultural inspired furnishings, couches, and 5 imported tables from Bali, all under a Polynesian style roof.
THE PATHS
Jungle paths connect the 20+ acres at Imiloa, with hand-made stairs and lighting, creating an immersive, easy experience for you and guests.
THE WATERFALL
Beyond the Jungle Bungalows is a path that leads to our own private waterfall. Descend into what feels like an enchanted jungle forest as you bask in the magic and beauty of the surrounding nature.
At Imiloa, we are a proudly conscious comfort food campus. That means we serve healthy, locally-sourced, gourmet vegan meals that are as artistically plated, scientifically nourishing and delightfully crafted for all of our retreat guests.
Imiloa's world-class spa is a curated, sensual and deeply moving experience. Choose from Ayurvedic massages and practices, to a shamanic masseuse from our team members who are from the Boruca indigenous tribe here in Costa Rica, to more traditional Swedish, relaxation or Thai yoga massages, body wraps and others. A full list of spa offerings and a link to book during your free time will be provided to you before you arrival.
Schedule your plane to arrive at SJO. In order to access your private plane charter, all guests must be at the Domestic Terminal at SJO San Jose, Costa Rica no later than 3PM on the arrival day.
Once landed, proceed to customs and instructions will be provided to meet Imiloa concierge.
Proceed to baggage claim with concierge and proceed to Domestic Terminal (3 minute walk from International Terminal). Please be at the Domesitc Terminal at SJO San Jose, Costa Rica no later than 3PM on your day of arrival.
Private Imiloa plane will be waiting to fly you to Quepos.
Private ground transport shuttles will pick you up in Quepos and bring you to Imiloa.
If you are already in Costa Rica, ground transport may be coordinated from Quepos, Dominical or Uvita as inclusive.
Please do not plan to drive to Imiloa on your own. It is not permitted.
If you need to arrive the day before, please stay at the Hampton Inn across from the airport, or plan to be in the San Jose Domestic Terminal for private flight to Imiloa by no later than 3PM (instructions will be emailed).
You will depart Imiloa at 9AM, and arrive at the landing strip at 9:30AM, with an estimated arrival to SJO airport at 10:30AM. The domestic terminal is a 5-10 minute walk to the international terminal at SJO. Typically, it is suggested to be at the international terminal 2.5 hours prior to your international departure. Please book your departing international flight accordingly, knowing that you will be at the airport at 10:30AM on departure day.
Questions? Email us: impact@imiloainstitute.com
Our team, the Welcome Home Team at Imiloa, from kitchen to property, gardening to coordination, logistics to transportation, will be available to you throughout your stay with anything you need. They have a ready smile, answers to most of your questions and can quickly support so your experience is easy and fulfilling.
TRAVEL INSURANCE and COVID PROCEDURES
Imiloa has partnered with a comprehensive travel insurance provider that meets the entry requirements for Costa Rica and offers "cancel for any reason" plans to maximize coverage: www.globalrescue.com/imiloa (additional cost)
COVID tests for entry and exit requirements to your home country can be done on site. We have an on-call physician that can come to the property for testing and results sent in English.
We follow cleansing and sanitization protocols as per Ministry of Health to ensure a safe environment
Staff and retreat participants are asked to follow and safety guidelines such as social distancing, washing of hands, and proper mask wearing.
Imiloa is located in the jungle, at the top of a mountain, overlooking the Pacific Ocean. Our lush retreat center is located adjacent to the second most biodiverse land on the planet.
Dominical, only 13 minutes away, is a beach town with surfer vibes, great coffee and plenty of shopping. Just north of our municipality is Quepos and to the south, Ojochal and Uvita, which is known as the Whale's Tail.
Just 45 minutes east sits Costa Rica's second largest city, San Isidro. Within an hour of Imiloa in all directions, you have access to airports, cafes, beaches, waterfalls, biodiversity and happy people ready to show you the lush, lovely area we call home.
You'll arrive easily on our private plane, and your group will enjoy unlimited transportation to and from the beach, to and from the airport and throughout your stay with us.