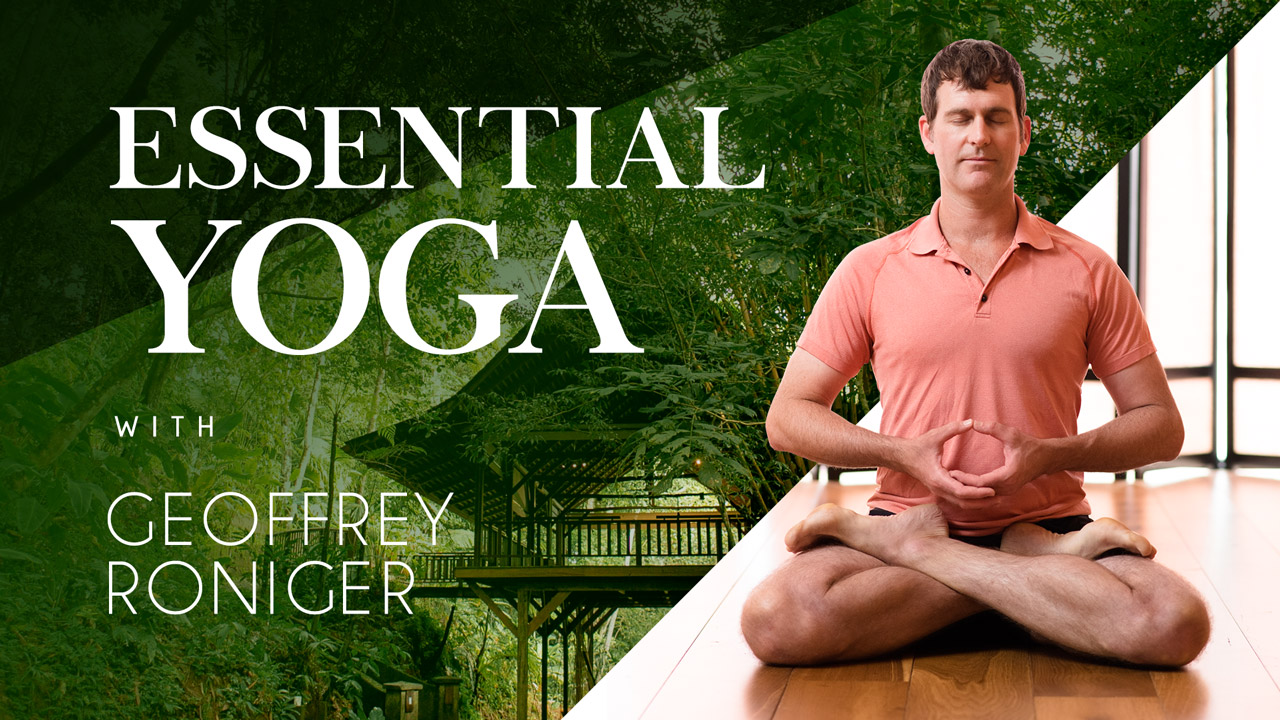 This unique yoga retreat is guaranteed to replenish your energy, restore your sense of wonder, and expand your perspective of self and world. It is an invitation for renewal on every level of your being.
Geoffrey Roniger is a world-class facilitator of balance, connection, and ease. Imiloa is a world-class retreat center with miles of hiking trails, easy access to a private beach, and a natural landscape that is simply breathtaking. Meanwhile the beauty of Geoffrey's all-levels teaching style is that it is simply breath-giving. Weaving together alignment, subtle movement, and creative metaphors to bring ancient yogic principles into modern life, Geoffrey's signature sequences will move you toward profound states of contentment and clarity.
Replenish your energy, restore your sense of wonder, and expand your perspective of self and world.
When you come on my Essential Yoga Retreat at Imiloa, you will experience lightness and ease in your body/mind. You will feel more connected to your authentic self, as opposed to the more superficial self which is your societal role.You will also receive a healthy dose of inspiration by communing with nature and by conversing with bright, interesting people.
This experience will benefit your everyday life because you will have remembered what brings you meaning and joy. Therefore, you will naturally and spontaneously be inclined to seek more of those things as you re-enter everyday life and move through the world.
During this 6-day retreat we will journey from the soles of the feet to the crown of the head in order to re-inhabit and reorganize the body.
On the subtle level we will progress through a highly accessible breathing program that will pacify the nerves and quiet the mind. Each practice session will include ample time for meditation so that each participant can drop into the sweet solace of spaciousness.
Geoffrey Roniger
Geoffrey Roniger began practicing yoga in 1995 and has been a passionate explorer and innovator of the art form ever since. Well-known in both the San Francisco Bay Area and the Greater New Orleans Area for his authenticity and creativity, Geoffrey's enthusiasm for yoga is undeniably contagious.
After graduating from Vanderbilt University with a degree in European Studies in 1998, Geoffrey moved to Edinburgh, Scotland where he helped renovate a 19th century church into Europe's largest yoga studio. Shortly after his return to the United States, he graduated from Piedmont Yoga Studio's 18-month Advanced Studies Program, where he formally apprenticed with Richard Rosen and Rodney Yee.
From 2005 to 2010, Geoffrey was the on-site yoga teacher for Salesforce.com, Amyris Biotechnologies, Beverly Prior Architects, Juice Design, and Urban Revision in San Francisco. Through this experience he created Workplace Wellness, an effective and accessible program that uses modified yoga techniques to counteract the negative effects of sitting all day at a desk. Geoffrey's private clientele has included several CEOs dealing with high levels of stress, professional athletes aiming to improve their overall efficiency, and health care professionals searching for a reliable method of self-care.
Geoffrey also served on the teacher training staff at The Yoga Loft in San Francisco between 2005 and 2010. During that time period he became a dedicated student of the Alexander Technique, and this shifted his personal practice and teaching style toward a more internal, less goal-oriented approach. In 2007 Geoffrey volunteered for Urban Zen at both V Day and the Special Olympics, which successfully implemented therapeutic yoga techniques for evacuees of Hurricane Katrina and athletes with disabilities, and from this experience he was appointed to Urban Zen's faculty for the Integrative Therapy Program in New York. Geoffrey has been featured in the Awakened Athletes, Masterclass, and Basics columns for Yoga Journal as well as in the Gaiam video, Yoga Now. He created his own instructional yoga video web site, MyYogaToGo.com, so that he could share fresh observations and insights about his practice with students from around the country. He is an ambassador for Lululemon Athletica and has led numerous workshops and retreats around the world.
In 2010 Geoffrey moved back to his hometown of New Orleans where he opened Freret Street Yoga. Since 2013 he has conducted six different Advanced Studies/Teacher Training Programs and has elevated the local yoga scene by intimately sharing his approach to the practice with hundreds of dedicated students. In 2020 Geoffrey re-branded his studio as Yoga Unbound in order to convey his deeper mission of evolving yoga to meet the needs of our modern world rather than keeping it constrained by its traditional origins. He lives in New Orleans with his wife, three children, and two dogs.
Geoffrey has been a student of mine for many years, and in all honesty, of all my students, I would be hard pressed to name a more sincere and dedicated practitioner of the art and science of Hatha Yoga.
As a teacher, I've watched him grow from a yoga baby to a yoga adult, and the transformation has been impressive. If you are looking for a teacher that can lead you through all aspects of the practice with great skill and compassion, look no further.
Geoffrey is a storehouse of deep understanding of yoga and yoga teaching. His genuine quest for self-knowledge through his practice of asana, pranayama, and meditation has enabled him to leap like Hanuman over many of the obstacles that obscure the light of the soul. He can guide you through the physical alignment that leads to ease of breath and quietness of the mind. Study with him and you will be led to the essence of yoga and yourself.
You know how you have one, maybe two, truly great teachers in your life — in any subject — who rearranged and re-inspired the way you thought about everything? Geoffrey is one of those teachers. And he keeps getting better, like a great Burgundy.
Begin the new year and new decade by reconnecting with your essential self. This unique yoga retreat is guaranteed to replenish your energy, restore your sense of wonder, and expand your perspective of self and world. It is an invitation for renewal on every level of your being.
TRIPLES
$2,700
PER PERSON
Triple occupancy in a Geodesic Dome with views of the jungle
DOUBLES
$3,000
PER PERSON
Double occupancy in a Geodesic Dome with views of the jungle
SINGLES
$3,400
PER PERSON
Single occupancy in your own Bali style suite or Jungle Bungalow with beautiful jungle views
VIP DOUBLE
$3,700
PER PERSON
Double occupancy in a beautiful 200-Year-Old Balinese villa with a private deck and stunning views of the jungle and ocean. *Please note: This villa has 1 king bed and 1 twin bed.

A completely private campus; available to your retreat group only. Access to a private waterfall, nature paths, incredible flora and fauna, and an ocean view infinity pool. Also included is a dedicated team of 20+ local professionals to coordinate everything for your enjoyment, from touch down to take off.
​

Gourmet plant-based cuisine prepared using all local and organic produce. Full meals, snacks, teas, coffees and fruit trays available throughout your stay.
Private transportation from the International airport to our campus; a private driver and transportation to our campus in Imiloa Mountain.
What's Not Included
Flights to SJO, Spa Services
You will be immersed in a 22-acre jungle oasis in Dominical, Costa Rica.
This enchanted mountainside jungle venue is ten minutes from the beach and it is the perfect setting to experience deep healing, embraced by nature, yet completely luxurious.
While staying at Imiloa you will enjoy our nature paths, our private waterfall, our salt-water pool, stunning views and delicious and nutritious meals by our five-star vegan chef.
Included in each accommodation is the comfiest mattresses, 850 thread count sheets, storage space and dry rooms as needed, fiber optic internet, daily cleaning service, private en-suite bath, indoor/outdoor design for every accommodation with a focus on nature and being your private refuge, and full service, thrice-filtered private well for drinking water throughout the property.
BALI VILLAGE
Bali Village is perched 1200 feet about the Pacific Ocean, on a ridge line of flora, fauna and wildlife every direction you look. These 5 accommodations are 160-200 year old homes imported from Bali. Each with their own en suite bathrooms, the homes bring you back and create a self space for rejuvenation and transformation.
BALI MASTER SUITE
200 Year Old Homes from Bali. Imported from the Java Islands, these homes boast outdoor showers, full kitchen access, surreal vista views to the Pacific, their own salt water plunge pools and hand-carved art that is as old as the houses.
JOGOLO HOUSE
Perched on the edge of the cliff, at the furthest end of the property, sits a 170 year old home from the Java Islands we call Jogolo. Complete with a writer's desk, outdoor Balinese shower, hand-carved architecture that will transport you to another land and time, Jogolo is teeming with history and comfort. Your cold plunge pool is adjacent to a warm bath, both outdoor. Full kitchen, too.
POTOO HOUSE
This two-floor imported home from Bali will have you wishing you'd never leave. Complete with a King Bed and a twin in the corner of the 180 year old home, Potoo has modern luxury with 360 views of the Pacific. On the lower level, a plunge pool and private spa. Potoo also includes many outdoor chairs, hammocks and a full kitchen, too.
BUNGALOW HILL
Six Jungle Bungalows built on the side of the mountain on the pathway to our very own private waterfall. Bali inspired, the interiors feature natural finishings and a gorgeous exposed shower and bath tub.
DOMELAND
Six Buckminster Fuller inspired Geodesic River Domes, among the best made in the world and partially powered by solar energy, sit perched on the edge of our private river with the fresh, flowing water feeding up to the domes. Experience the soothing sounds of relaxing and sleeping next to flowing water. Amazing!
THE HOUSE OF MASTERS
The House of Masters, located in the center of the property, is a 2,000 square foot Balinese structure hanging 100 feet in the Jungle canopy. Adjacent are restrooms and a yoga storage room for mats, blocks and more. The space can be converted for any type of retreat, workshop or dance party.
THE HEART OF IMILOA
A sprawling 3,000 square foot space that is the "Heart of Imiloa," our social space features loungy, multicultural inspired furnishings, couches, and 5 imported tables from Bali, all under a Polynesian style roof.
THE PATHS
Jungle paths connect the 20+ acres at Imiloa, with hand-made stairs and lighting, creating an immersive, easy experience for you and guests.
THE WATERFALL
Beyond the Jungle Bungalows is a path that leads to our own private waterfall. Descend into what feels like an enchanted jungle forest as you bask in the magic and beauty of the surrounding nature.
Schedule your plane to arrive at SJO. In order to access your private plane charter, all guests must be at the Domestic Terminal at SJO San Jose, Costa Rica no later than 3PM on the arrival day.
Once landed, proceed to customs and instructions will be provided to meet Imiloa concierge.
Proceed to baggage claim with concierge and proceed to Domestic Terminal (3 minute walk from International Terminal). Please be at the Domesitc Terminal at SJO San Jose, Costa Rica no later than 3PM on your day of arrival.
Private Imiloa plane will be waiting to fly you to Quepos.
Private ground transport shuttles will pick you up in Quepos and bring you to Imiloa.
If you are already in Costa Rica, ground transport may be coordinated from Quepos, Dominical or Uvita as inclusive.
Please do not plan to drive to Imiloa on your own. It is not permitted.
If you need to arrive the day before, please stay at the Hampton Inn across from the airport, or plan to be in the San Jose Domestic Terminal for private flight to Imiloa by no later than 3PM (instructions will be emailed).
You will depart Imiloa at 9AM, and arrive at the landing strip at 9:30AM, with an estimated arrival to SJO airport at 10:30AM. The domestic terminal is a 5-10 minute walk to the international terminal at SJO. Typically, it is suggested to be at the international terminal 2.5 hours prior to your international departure. Please book your departing international flight accordingly, knowing that you will be at the airport at 10:30AM on departure day.
Questions? Email us: impact@imiloainstitute.com
Imiloa has partnered with a comprehensive travel insurance provider that meets the entry requirements for Costa Rica and offers "cancel for any reason" plans to maximize coverage: www.globalrescue.com/imiloa (additional cost)
We follow cleansing and sanitization protocols as per Ministry of Health to ensure a safe environment
Staff and retreat participants are asked to follow and safety guidelines such as social distancing, washing of hands, and proper mask wearing.
Imiloa's world-class spa is a curated, sensual and deeply moving experience. Choose from Ayurvedic massages and practices, to a shamanic masseuse from our teammembers who are from the Boruca indigenous tribe here in Costa Rica, to more traditional Swedish, relaxation or Thai yoga massages, body wraps and others. A full list of spa offerings and a link to book during your free time will be provided to you before you arrival.
At Imiloa, we are a proudly conscious comfort food campus. That means we serve healthy, locally-sourced, gourmet vegan meals that are as artistically plated, scientifically nourishing and delightfully crafted for all of our retreat guests.
Our team, the Welcome Home Team at Imiloa, from kitchen to property, gardening to coordination, logistics to transportation, will be available to you throughout your stay with anything you need. They have a ready smile, answers to most of your questions and can quickly support so your experience is easy and fulfilling.
Imiloa is located at the top of a mountain, at the end of the road and out on the edge of the cliff, 3KM north of Dominical, Costa Rica. You'll arrive easily on our private plane, and then enjoy unlimited transportation throughout the length of your stay.
Beyond this, Imiloa is located on the edge of the second most bio-diverse area on the planet. Dominical is a beachtown with surfer vibes, great coffee shops and plenty of shopping (only 13 minutes away). To the North, the center of our Municipality, Quepos, and to our south, Uvita, the famous Whale's Tail and Ojochal (with heavy European influence). Just 45 minutes east sits Costa Rica's second largest city, San Isidro. So whether 30 minutes north or south of Imiloa, or 45 minutes east, you have airports and cafes, beaches and waterfalls, bio-diversity and happy people ready to show you the lush, lovely area we call home.