Play, experiment, have fun! Explore painting as a genuine path to spiritual awakening and learn to embrace your own creative voice with confidence. Embody spontaneous creation with emphasis on ""no rules!"".
Join professional artist Samantha daSilva as she shares her unorthodox method of painting: Rollers rather than brushes, tables instead of easels, lots of paint and water, canvas manipulation and plaster, salt, sand and wood shavings to create ethereal, textured abstracts.
Throughout this course, demonstrations, gentle guidance and heart-centered discussions will be offered to assist you to:
Let go of fear
Silence the inner critic
Indulge your creative urges
Turn up your intuition
Explore your own artistic style in a safe, supportive environment
Infuse your life story and experiences into your work
Dissolve preconceived notions of ""beauty"" & ""ugly""
Learn to see the canvas as your mirror
Align with the creative power to become a co-creator
Peel back the layers, see yourself with greater compassion
Embrace abundance and gratitude as your co-creators
All levels of experience are welcome, including those who have never picked up a paintbrush. (or a roller!). Everyone is considered a beginner.
All materials are supplied. All you need to bring is an open mind and an open heart.
What Is the Fearless Abstract Painting?
Fearless Abstract Painting is both philosophy and technique. The philosophy is simple: "The process of creating evolves into ideas."
You might ask: "You mean, I don't need an idea before I begin?"
Precisely! Contrary to popular belief, you do not need an idea before you begin to paint. The process of creating will evolve into an idea.
"OK. But what exactly does that mean?"
As a fourth generation artist, I was no stranger to the creative process. I was encouraged to indulge in all things creative from a very early age. But as the years went on, I became like so many of the artists I meet today: Paralyzed by fear.​
Fear of the blank canvas
Fear you don't know how to begin
Fear you can't draw
Fear that your idea isn't good enough
Fear that your idea had not only been done before, but done better by somebody else
Fear that due to your lack of technical skill, you would not be able to give the idea that's in your head, shape and form on the canvas
Fear that your work will be judged
Fear that your work will be ridiculed
Fear that you will have "proof" that you aren't a real artist (or creative) after all
​Well, it's no wonder that there is so much fear in art! We put so much pressure and the burden of expectations on ourselves! Enter Fearless Abstract Painting: no easels, no brushes, no pallets, no colour wheel and no preconceived ideas.
"What? Really? How is that possible?"
Yes! And it's wonderfully liberating. And addictive. When you push the paint around, add water, tilt the canvas and play the process begins to take shape into an idea. Our inner creativity (often dormant or silenced by many layers of "realistic", linear-type thinking) begins to blossom, grow, and bring balance back into our lives, reminding us that there is a creative source in all of us.
​I've seen it thousands of times. Most haven't picked up a brush (much less a roller!) since kindergarten, or they've been painting for years but they feel rigid and stiff. The result is that they begin to paint and think in a whole new different way when they use the Fearless Abstract Painting method.
You can call the Retreats Concierge Team directly M-F 8am to 10pm Eastern Time at +1-305-600-0906
Sunday, November 14
Day 1
Arrive at San Jose International Airport.
Luxury Transportation Pick-Up.
Private Charter to Imiloa Institute.
Welcome cocktails & snacks.
Check-In. Dinner.
Bonfire Opening Ceremony.
Monday, November 15
Day 2
Breakfast.
Morning workshop & FEARLESS Abstract Painting at House of Masters.
Lunch.
Hike to a nearby waterfall.
Break.
Dinner.
Sound Journey Guided Meditation.
Tuesday, November 16
Day 3
Breakfast.
Morning workshop & FEARLESS Abstract Painting at House of Masters.
Lunch.
Visit Playa (beach) & forage for natural, texture-making materials.
Break.
Dinner.
Wednesday, November 17
Day 4
Breakfast.
Choose your own adventure!
This is your free day to paint, explore or simply enjoy a delicious day of rest. Take a luxurious bath, receive a massage, go for a hike, relax at the beach, or spend the whole day in the studio. Transportation and a bagged lunch are available. We will then gather for dinner and a bonfire on the beach.
Thursday, November 18
Day 5
Breakfast.
FEARLESS Abstract Painting.
Lunch.
White Gala Final Art Show.
Closing Circle.
Dinner.
Friday, November 19
Day 6
Breakfast.
Check out.
Luxury transportation to charter.
Charter to San Jose Airport.
All SUPPLIES ARE INCLUDED
SUPPLY LIST (Per Student) Included in Ticket Price
5 Cotton Canvases (Unstretched) 24″ x 30″ each
1 Mini Paint Roller
2 Mini Paint Roller Foam Inserts
5 Acrylic Paint Colors (Red, Yellow, Blue, White & Grey). Please feel free to bring additional acrylic paint colors that resonate with you.
1 Paper Towel Roll
1 Spray Bottle
1 DAP Spackling Paste
1 Acrylic Gel Medium, Matte
1 Drop Cloth
1 Painting Apron
1 Journal
1 Pen
5 Pairs Disposable Gloves
Samantha Da Silva
Samantha da Silva (born 1978 Santos, São Paulo, Brazil) is a professional artist, educator and yogi living and working in SLC, Utah, United States.
Having travelled extensively and acquired (nearly) three citizenships, da Silva's work focuses on the idea of home, belonging and the inexorable passage of time.
If home is where the heart is, then by its simplest definition, home is where we are. da Silva infuses her environment into the work namely: salt, sand, wood shavings, plaster, metallic pigments and newspaper to create ethereal textured abstracts.
As a third generation artist, da Silva was inspired at an early age by her copiously artistic family. Her grandmother, a portrait artist, her aunt, an accomplished jewelry designer, and her mother, a water colorist, all influenced da Silva to experiment with a variety of mediums.
Upon graduating high school, da Silva opted out of attending art school for a career path that was 'safer' and 'more secure'. But life has a magnetic force that pulls you back to where you need to be. Ten years and an array of tumultuously revelatory experiences led her back to her initial love: art.
Intent on making up for lost time, da Silva dedicated herself full-time to creating and teaching art. Her passion for abstract painting has manifested itself though prolific expressions on canvas. Since '08, da Silva's work has been exhibited in hundreds of exhibitions including a television appearance in HGTV's Love It or List It, a collaboration with Schoolhouse Electric, and a cover feature in Dote Magazine.
As an educator, da Silva has partnered with progressive learning institutes including: The Calgary School Of Art, Donkey Mill Art Center on Hawaii, Metchosin International School of the Arts, and Hollyhock Leadership Institute."
This has truly shifted the way I approach painting and it's been a healing balm of sorts. The style of painting Sam teaches is not about following any set of precise rules; she shares her approach and offers incredibly helpful demos and guidance, but she always reminds her students, "there are no wrong answers, just different results." Sam teaches with such gentleness and compassion, and she makes painting feel both approachable and energizing.
Your philosophy and approach resonated strongly with me. I have taken this same mindset to explore more art in the areas of mixed media, pouring media, stone sculpture, plaster carving, and sketching. We went through some challenging times a few years ago when we lost our home to a fire. In there was an art area and a number of paintings. The "learning to let go" was helpful in getting through it. Since then, we have built a dedicated art space and a desire to create more. Just wanted to sat Thank You and glad to see you continue to pass on your wisdom and talents to others.
I am so stoked since taking Samantha's Fearless Abstract workshop in SLC. Her approach to art and superb instruction opened a portal for me. I now have the courage to try all types of applications in my paintings; the textures brings such energy to my new work. I will definitely take more workshops with Sam and encourage others to do so. The whole process was encouraging and exciting!
I am on a new and exciting journey – and at the end of the day – I'm painting again! I thank you for that. I can only sing your praises and send good mana your way Samantha. I appreciate you sharing your insights, techniques and experiences with our class. I will think of you always for giving me the kick in the pants I need to get the party started. I highly recommend your class to any and all. It was fun, enlightening, freeing and most of all – FEARLESS!!
Learn More About Fearless Abstract Painting
Lodging in the serene "Geodesic River Domes"
Triple occupancy to include you and two other attendees
Lodging in the exquisite "Jungle Bungalows" (Jungalows) complete with a bathtub in the jungle
Double occupancy to include you and oneother attendee
Lodging in the exquisite "Jungle Bungalows" (Jungalows) complete with a bathtub in the jungle

A completely private campus; available to your retreat group only. Access to a private waterfall, nature paths, incredible flora and fauna, and an ocean view infinity pool. Also included is a dedicated team of 20+ local professionals to coordinate everything for your enjoyment, from touch down to take off.
​

Gourmet plant-based cuisine prepared using all local and organic produce. Full meals, snacks, teas, coffees, juices, elixirs and fruit trays available throughout your stay.
Private transportation from the International airport to our campus; a private driver and transportation to our campus in Imiloa Mountain.
What's Not Included
Flights to SJO, Spa Services
You will be immersed in a 22-acre jungle oasis in Dominical, Costa Rica.
This enchanted mountainside jungle venue is ten minutes from the beach and it is the perfect setting to experience deep healing, embraced by nature, yet completely luxurious.
While staying at Imiloa you will enjoy our nature paths, our private waterfall, our salt-water pool, stunning views and delicious and nutritious meals by our five-star vegan chef.
Included in each accommodation is the comfiest mattresses, 850 thread count sheets, storage space and dry rooms as needed, fiber optic internet, daily cleaning service, private en-suite bath, indoor/outdoor design for every accommodation with a focus on nature and being your private refuge, and full service, thrice-filtered private well for drinking water throughout the property.
BALI VILLAGE
Bali Village is perched 1200 feet about the Pacific Ocean, on a ridge line of flora, fauna and wildlife every direction you look. These 5 accommodations are 160-200 year old homes imported from Bali. Each with their own en suite bathrooms, the homes bring you back and create a self space for rejuvenation and transformation.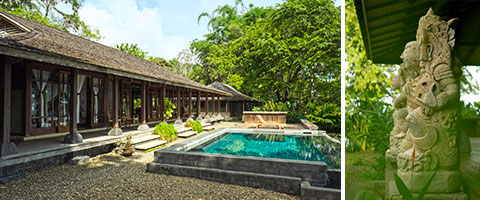 BALI MASTER SUITE
200 Year Old Homes from Bali. Imported from the Java Islands, these homes boast outdoor showers, full kitchen access, surreal vista views to the Pacific, their own salt water plunge pools and hand-carved art that is as old as the houses.
JOGLO HOUSE
Perched on the edge of the cliff, at the furthest end of the property, sits a 170 year old home from the Java Islands we call Joglo. Complete with a writer's desk, outdoor Balinese shower, hand-carved architecture that will transport you to another land and time, Joglo is teeming with history and comfort. Your cold plunge pool is adjacent to a warm bath, both outdoor. Full kitchen, too.
POTOO HOUSE
This two-floor imported home from Bali will have you wishing you'd never leave. Complete with a King Bed and a twin in the corner of the 180 year old home, Potoo has modern luxury with 360 views of the Pacific. On the lower level, a plunge pool and private spa. Potoo also includes many outdoor chairs, hammocks and a full kitchen, too.
BUNGALOW HILL
Six Jungle Bungalows built on the side of the mountain on the pathway to our very own private waterfall. Bali inspired, the interiors feature natural finishings and a gorgeous exposed shower and bath tub.
DOMELAND
Six Buckminster Fuller inspired Geodesic River Domes, among the best made in the world and partially powered by solar energy, sit perched on the edge of our private river with the fresh, flowing water feeding up to the domes. Experience the soothing sounds of relaxing and sleeping next to flowing water. Amazing!
THE HOUSE OF MASTERS
The House of Masters, located in the center of the property, is a 2,000 square foot Balinese structure hanging 100 feet in the Jungle canopy. Adjacent are restrooms and a yoga storage room for mats, blocks and more. The space can be converted for any type of retreat, workshop or dance party.
THE HEART OF IMILOA
A sprawling 3,000 square foot space that is the "Heart of Imiloa," our social space features loungy, multicultural inspired furnishings, couches, and 5 imported tables from Bali, all under a Polynesian style roof.
THE PATHS
Jungle paths connect the 20+ acres at Imiloa, with hand-made stairs and lighting, creating an immersive, easy experience for you and guests.
THE WATERFALL
Beyond the Jungle Bungalows is a path that leads to our own private waterfall. Descend into what feels like an enchanted jungle forest as you bask in the magic and beauty of the surrounding nature.
At Imiloa, we are a proudly conscious comfort food campus. That means we serve healthy, locally-sourced, gourmet vegan meals that are as artistically plated, scientifically nourishing and delightfully crafted for all of our retreat guests.
Imiloa's world-class spa is a curated, sensual and deeply moving experience. Choose from Ayurvedic massages and practices, to a shamanic masseuse from our team members who are from the Boruca indigenous tribe here in Costa Rica, to more traditional Swedish, relaxation or Thai yoga massages, body wraps and others. A full list of spa offerings and a link to book during your free time will be provided to you before you arrival.
Schedule your plane to arrive at SJO. In order to access your private plane charter, all guests must be at the Domestic Terminal at SJO San Jose, Costa Rica no later than 3PM on the arrival day.
Once landed, proceed to customs and instructions will be provided to meet Imiloa concierge.
Proceed to baggage claim with concierge and proceed to Domestic Terminal (3 minute walk from International Terminal). Please be at the Domesitc Terminal at SJO San Jose, Costa Rica no later than 3PM on your day of arrival.
Private Imiloa plane will be waiting to fly you to Quepos.
Private ground transport shuttles will pick you up in Quepos and bring you to Imiloa.
If you are already in Costa Rica, ground transport may be coordinated from Quepos, Dominical or Uvita as inclusive.
Please do not plan to drive to Imiloa on your own. It is not permitted.
If you need to arrive the day before, please stay at the Hampton Inn across from the airport, or plan to be in the San Jose Domestic Terminal for private flight to Imiloa by no later than 3PM (instructions will be emailed)
Questions? Email us: impact@imiloainstitute.com
Our team, the Welcome Home Team at Imiloa, from kitchen to property, gardening to coordination, logistics to transportation, will be available to you throughout your stay with anything you need. They have a ready smile, answers to most of your questions and can quickly support so your experience is easy and fulfilling.
TRAVEL INSURANCE and COVID PROCEDURES
Imiloa has partnered with a comprehensive travel insurance provider that meets the entry requirements for Costa Rica and offers "cancel for any reason" plans to maximize coverage: www.globalrescue.com/imiloa (additional cost)
COVID tests for entry and exit requirements to your home country can be done on site. We have an on-call physician that can come to the property for testing and results sent in English.
We follow cleansing and sanitization protocols as per Ministry of Health to ensure a safe environment
Staff and retreat participants are asked to follow and safety guidelines such as social distancing, washing of hands, and proper mask wearing.
Imiloa is located in the jungle, at the top of a mountain, overlooking the Pacific Ocean. Our lush retreat center is located adjacent to the second most biodiverse land on the planet.
Dominical, only 13 minutes away, is a beach town with surfer vibes, great coffee and plenty of shopping. Just north of our municipality is Quepos and to the south, Ojochal and Uvita, which is known as the Whale's Tail.
Just 45 minutes east sits Costa Rica's second largest city, San Isidro. Within an hour of Imiloa in all directions, you have access to airports, cafes, beaches, waterfalls, biodiversity and happy people ready to show you the lush, lovely area we call home.
You'll arrive easily on our private plane, and your group will enjoy unlimited transportation to and from the beach, to and from the airport and throughout your stay with us.