Let us awaken your soul and pamper you on this 8 day journey to wholeness.
Our work is based on reactivating our original DNA by freeing the deep traumas of our ancestors at a cellular level in order to let our creative power and our personal medicines flourish.
During these 8 days, you will participate in 3 medicine ceremonies where you're invited to be a spiritual warrior, offering actively to the collective alchemical process that is going to take place. During these circles, highly sacred events might occur, visitations of High Spirits, Ancestors from all Nations, and also Star Beings delivering sacred knowledge and deep healing.
We ask everyone to enter the sacred place with trust, gratitude, and humility behaving with great respect and alignment. You will be asked to leave your comfort zone, revise your beliefs, and transcend them in order to meet your inner truth and learn how to align with the changes occurring on Earth.
This retreat is for guests who wish to heal, let go of old patterns and reconnect with Source. It is a journey towards oneself and oneness. Activating the powerful technology named SIBA during the medicine ceremonies allows to go deeper into your intentions. Both SIBA and the Medicines bond together and open portals directly to your ancestral memories where we can unearth the source issues and blockages. We provide healings during the ceremonies that are deep and relieve many pains on the physical, emotional, and psychological level. We are specialized in treating severe conditions or other heavy issues that we see mainly as the result of trans generational traumas, inherited from ancestors. Our icaros (chants), music and the sacred language called Meïa allow us to journey with joy and security into the many realms of our inner temple. We receive many insights during the retreat, each understanding leads us to deeper healing.
Collectively, we synchronize with the shift of frequency happening on the planet with consciousness and willingness to leave behind everything that impedes us from reaching a higher level of frequency, being more detached from the mundane and learning to rely more on the spirit world and Nature's laws.
Trish Damon
Trish is a leader in this nascent industry of psychedelics and has curated events and held space with various medicines for the last five years. She is trained in several trauma therapies and a graduate of the University of Santa Monica, with a degree in Spiritual Psychology. She was recently featured in a Pedram Shojai Docuseries on "Trauma and the Use of Psychedelic Medicines" on Whole TV and "Psychedelics Revealed" featured on Revealed Films. After walking the long road of mental, physical, and spiritual healing for herself, Trish is now leading others toward their own rediscovery of their wholeness. Her personal story is unique and challenging, but as a result she is blessed with the clarity and compassion that can only be learned through studying a multitude of modalities and her own healing. Trish has dedicated her life to passing on to others the wisdom she has received from many sources and teachers. She is skilled in walking others through a process of integration after the use of psychedelic assisted therapies.
Lydia Thunder Buffalo Woman
Lydia is a french Italian traditional practitioner. She was trained since 2000 in the Shipibo/Conibo tradition of sacred plants of the Peruvian Amazon in two different lineages, first with maestro Don Benito Arevalo then with maestro Teobaldo Ochavano Lopez with whom she created a retreat center in the Amazon Jungle. Prior to her first trip to the Amazon, she worked in the tradition of sacred Inipi (sweat Lodge), with Lakota shaman, Archie Fire Lame Deer). In 2008, she developed the technology SIBA and has been working with both SIBA and the traditional medicine since then. She became « maestra », teacher-healer in the Ayahuasca tradition in 2013. Author of The Oracle of the Mother Goddess (L'Oracle de la Déesse Mère) released in 2021, Guy Trédaniel editions, France. Lydia is in regular contact with medicine men and women from Peru, Brazil and Mexico who honor the beauty of Nature and consider themselves the guardians of the balance of life. They recognize her as a messenger of their culture and a carrier of their vision. She particularly likes to accompany women and men into their depth, to the discovery of their sacred feminine and masculine, to contribute to respect for the feminine dimension of life and its necessary integration into our society. Her therapeutic approach is holistic, taking into account all dimensions of being: physical, mental, emotional, family, social, cultural and spiritual. She is also trained in Western techniques such as foot reflexology and art therapy. The different techniques that she uses aim to find a sense of well-being, a coherence, a harmony of her inner world in order to live better in the outside world. Her treatments combine a full range of natural, preventive, and curative therapies. She leads internships, retreats, participates in conferences and organizes initiation trips to Peru, Mexico and Egypt.
Pancho Crazy Deer
François Hascoet aka Pancho Crazy Deer is a french traditional practitioner. He has been following the native traditional teachings of the Shipibo since 2010, as well as SIBA's teachings with Lydia. He learned the piano at the age of six, the harmonium, then the organ at the age of fifteen, the bassoon at the age of 17. A student at the Conservatories of Caen and Rouen, he participated in the creation of a university choir in Rouen, taught piano and organ, worked as a bassoonist in the symphony and chamber orchestras of Upper and Lower Normandy. Pancho then became a long-term editor for the French-speaking world and traveled for nine years to meet all the French-speaking peoples of the world, then went to live six months in Cambodia, one year in Gabon to teach the piano, before going to Tibet. central then in the high Himalayas to share three years the life of the Tibetan monks of the monastery of Tabo. He creates the Upekkha association which allows the creation of a school in the Spiti valley (Himachal Pradesh, India) The many trips to India are the occasion for an approach to Carnatic music and the learning of the sitar. Back in France, he devoted himself to welcoming guests to a Templar house in Haute Provence, where he shared music, meditation and organic vegan cuisine with his hosts. In 2010 it is the meeting with Lydia, the beginning of an intensive shamanic learning. Thanks to his knowledge and experience in the field of music, François also offers courses in the liberation of the voice and spontaneous songs.
Lydia and Pancho both dedicate their lives to healing, guiding, and teaching the sacred ways of Pachamama, Mother Earth, the path of sacred ecology. They travel all over the planet to share their medicines with all those who wish to free themselves from their limitations. They are now based in the valley of Chirripo in Costa Rica where they are creating a holistic clinic with a botanical garden and wildlife sanctuary.
I am always deeply in awe and in gratitude for the ceremonies that I've been part of with Lydia and Pancho, for what they do, for what they give, for their capacity of navigating the realm of the spirits. They work as a perfect team, supporting each other beautifully, to hold us in our incredible journey back to ourselves, with songs, with sounds, with the strength of fierce warriors of love. I feel held and protected as I open myself each time, allowing vulnerability in, to do the much needed deeper work. I can't recommend them enough.
In dieta with Lydia and Pancho I was able to heal a deep ancestral trauma. Through witnessing the root of the trauma and not just the symptoms, I freed the souls of my lineage: past, present, and future.
It has been my privilege to participate in ceremonies with Lydia and Pancho. The experience is fascinating, both at a deep, personal level and as a member of a very special, powerful group. In both instances, there was a profound sense of meaning and healing. Perhaps, most exciting for me, was the powerful experience of participating in a process that could bring glimpses of the future forward, right into the NOW.
DOUBLES
$4,000
PER PERSON
Double occupancy in a Jungle Bungalow or Geodesic Dome with views of the jungle.
SINGLES
$5,000
PER PERSON
Single occupancy in your own private Bali style suite with beautiful jungle views.
VIP SINGLES
$6,000
PER PERSON
Single occupancy in your own private, 200-Year-Old Balinese villa with a private deck and stunning views of the jungle and ocean.

A completely private campus; available to your retreat group only. Access to a private waterfall, nature paths, incredible flora and fauna, and an ocean view infinity pool. Also included is a dedicated team of 20+ local professionals to coordinate everything for your enjoyment, from touch down to take off.
​

Gourmet plant-based cuisine prepared using all local and organic produce. Full meals, snacks, teas, coffees, juices, elixirs and fruit trays available throughout your stay.
Private transportation from the International airport to our campus; a private driver and transportation to our campus in Imiloa Mountain.
What's Not Included
Flights to SJO, Spa Services
You will be immersed in a 22-acre jungle oasis in Dominical, Costa Rica.
This enchanted mountainside jungle venue is ten minutes from the beach and it is the perfect setting to experience deep healing, embraced by nature, yet completely luxurious.
While staying at Imiloa you will enjoy our nature paths, our private waterfall, our salt-water pool, stunning views and delicious and nutritious meals by our five-star vegan chef.
Included in each accommodation is the comfiest mattresses, 850 thread count sheets, storage space and dry rooms as needed, fiber optic internet, daily cleaning service, private en-suite bath, indoor/outdoor design for every accommodation with a focus on nature and being your private refuge, and full service, thrice-filtered private well for drinking water throughout the property.
BALI VILLAGE
Bali Village is perched 1200 feet about the Pacific Ocean, on a ridge line of flora, fauna and wildlife every direction you look. These 5 accommodations are 160-200 year old homes imported from Bali. Each with their own en suite bathrooms, the homes bring you back and create a self space for rejuvenation and transformation.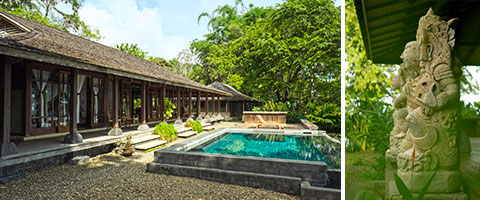 BALI MASTER SUITE
200 Year Old Homes from Bali. Imported from the Java Islands, these homes boast outdoor showers, full kitchen access, surreal vista views to the Pacific, their own salt water plunge pools and hand-carved art that is as old as the houses.
JOGLO HOUSE
Perched on the edge of the cliff, at the furthest end of the property, sits a 170 year old home from the Java Islands we call Joglo. Complete with a writer's desk, outdoor Balinese shower, hand-carved architecture that will transport you to another land and time, Joglo is teeming with history and comfort. Your cold plunge pool is adjacent to a warm bath, both outdoor. Full kitchen, too.
POTOO HOUSE
This two-floor imported home from Bali will have you wishing you'd never leave. Complete with a King Bed and a twin in the corner of the 180 year old home, Potoo has modern luxury with 360 views of the Pacific. On the lower level, a plunge pool and private spa. Potoo also includes many outdoor chairs, hammocks and a full kitchen, too.
BUNGALOW HILL
Six Jungle Bungalows built on the side of the mountain on the pathway to our very own private waterfall. Bali inspired, the interiors feature natural finishings and a gorgeous exposed shower and bath tub.
DOMELAND
Six Buckminster Fuller inspired Geodesic River Domes, among the best made in the world and partially powered by solar energy, sit perched on the edge of our private river with the fresh, flowing water feeding up to the domes. Experience the soothing sounds of relaxing and sleeping next to flowing water. Amazing!
THE HOUSE OF MASTERS
The House of Masters, located in the center of the property, is a 2,000 square foot Balinese structure hanging 100 feet in the Jungle canopy. Adjacent are restrooms and a yoga storage room for mats, blocks and more. The space can be converted for any type of retreat, workshop or dance party.
THE HEART OF IMILOA
A sprawling 3,000 square foot space that is the "Heart of Imiloa," our social space features loungy, multicultural inspired furnishings, couches, and 5 imported tables from Bali, all under a Polynesian style roof.
THE PATHS
Jungle paths connect the 20+ acres at Imiloa, with hand-made stairs and lighting, creating an immersive, easy experience for you and guests.
THE WATERFALL
Beyond the Jungle Bungalows is a path that leads to our own private waterfall. Descend into what feels like an enchanted jungle forest as you bask in the magic and beauty of the surrounding nature.
At Imiloa, we are a proudly conscious comfort food campus. That means we serve healthy, locally-sourced, gourmet vegan meals that are as artistically plated, scientifically nourishing and delightfully crafted for all of our retreat guests.
Imiloa's world-class spa is a curated, sensual and deeply moving experience. Choose from Ayurvedic massages and practices, to a shamanic masseuse from our team members who are from the Boruca indigenous tribe here in Costa Rica, to more traditional Swedish, relaxation or Thai yoga massages, body wraps and others. A full list of spa offerings and a link to book during your free time will be provided to you before you arrival.
Schedule your plane to arrive at SJO. In order to access your private plane charter, all guests must be at the Domestic Terminal at SJO San Jose, Costa Rica no later than 3PM on the arrival day.
Once landed, proceed to customs and instructions will be provided to meet Imiloa concierge.
Proceed to baggage claim with concierge and proceed to Domestic Terminal (3 minute walk from International Terminal). Please be at the Domesitc Terminal at SJO San Jose, Costa Rica no later than 3PM on your day of arrival.
Private Imiloa plane will be waiting to fly you to Quepos.
Private ground transport shuttles will pick you up in Quepos and bring you to Imiloa.
If you are already in Costa Rica, ground transport may be coordinated from Quepos, Dominical or Uvita as inclusive.
Please do not plan to drive to Imiloa on your own. It is not permitted.
If you need to arrive the day before, please stay at the Hampton Inn across from the airport, or plan to be in the San Jose Domestic Terminal for private flight to Imiloa by no later than 3PM (instructions will be emailed).
You will depart Imiloa at 9AM, and arrive at the landing strip at 9:30AM, with an estimated arrival to SJO airport at 10:30AM. The domestic terminal is a 5-10 minute walk to the international terminal at SJO. Typically, it is suggested to be at the international terminal 2.5 hours prior to your international departure. Please book your departing international flight accordingly, knowing that you will be at the airport at 10:30AM on departure day.
Questions? Email us: impact@imiloainstitute.com
Our team, the Welcome Home Team at Imiloa, from kitchen to property, gardening to coordination, logistics to transportation, will be available to you throughout your stay with anything you need. They have a ready smile, answers to most of your questions and can quickly support so your experience is easy and fulfilling.
TRAVEL INSURANCE and COVID PROCEDURES
Imiloa has partnered with a comprehensive travel insurance provider that meets the entry requirements for Costa Rica and offers "cancel for any reason" plans to maximize coverage: www.globalrescue.com/imiloa (additional cost)
COVID tests for entry and exit requirements to your home country can be done on site. We have an on-call physician that can come to the property for testing and results sent in English.
We follow cleansing and sanitization protocols as per Ministry of Health to ensure a safe environment
Staff and retreat participants are asked to follow and safety guidelines such as social distancing, washing of hands, and proper mask wearing.
Imiloa is located in the jungle, at the top of a mountain, overlooking the Pacific Ocean. Our lush retreat center is located adjacent to the second most biodiverse land on the planet.
Dominical, only 13 minutes away, is a beach town with surfer vibes, great coffee and plenty of shopping. Just north of our municipality is Quepos and to the south, Ojochal and Uvita, which is known as the Whale's Tail.
Just 45 minutes east sits Costa Rica's second largest city, San Isidro. Within an hour of Imiloa in all directions, you have access to airports, cafes, beaches, waterfalls, biodiversity and happy people ready to show you the lush, lovely area we call home.
You'll arrive easily on our private plane, and your group will enjoy unlimited transportation to and from the beach, to and from the airport and throughout your stay with us.