Join us on a 5-day experiential retreat to align the mind, body, and spirit, heal trauma, and free your inner warrior.
Through the exploration and practice of scientifically proven methods in mindfulness, self-expression, and healing, you will engage in an active process that re-aligns mind, body, and spirit. As a result of these transformative practices, you will relieve stress, release trauma and fear-based blocks, and gain the freedom to embrace the best, most courageous version of your self.
Mind-Body Medicine in Action is designed to help you reduce stress, manage anxiety, and heal from the effects of trauma. Through the exploration and practice of scientifically proven methods in mindfulness, self-expression, and healing, you will engage in an active process that re-aligns mind, body, and spirit. You will master a set of skills that will allow you to improve your self-awareness, self-regulation, and self-efficacy– allowing you to transform your life, professional career, and relationships.
This comprehensive model harnesses the fundamental principles and basic science of Mind-Body skills to teach you different techniques in mindfulness, movement, guided imagery, biofeedback, mindful eating, spirituality, and self-expression through words, drawing, and movement. These techniques are designed to free you from fear, pain or stress and align your mind, body, and soul to authenticity.
As a result of these transformative practices, you will gain clarity, release trauma and fear-based blocks, and discover the freedom to embrace your best, most courageous life. If you're feeling burnt out, disconnected from self, empty, stressed, anxious, need to release past pain or trauma, longing for a return to your true self, want to reduce anger, or want to increase your level of compassion and self-awareness, this retreat is for you!
Do you want to recover your true self, heal your soul and rekindle your appetite for life?
Embrace the science and practice of healing, expression, and connection as mind-body skills.
Release pain and trauma through verbal, visual and physical self-expression.
Integrate mind-body techniques like written dialogs, biofeedback, and genograms into your self-care routine.
Align your mind, body, and spirit to facilitate a reconnection with your true self.
Develop self-understanding and emotional control, leading to greater self-awareness, social connection, and leadership.
Workshops in this retreat are based on the Center for Mind Body Medicine's modalities and will include some of the following:
Mind Body Medicine and Drawing:
Introduction to Mind-Body Medicine and accessing hidden emotions.
Autogenics and Underpinnings:
The how and why of balancing sympathetic overdrive with parasympathetic relaxation to reduce stress.
Breathing and Movement:
Fundamentals of breathing and movement and how they help break up fixed mental, emotional and physical patterns.
Meditation and Nutrition:
The power of concentrative, meditative and movement meditations and creating mindful eating habits.
Guided Imagery and the Mind-Body Connection:
The conscious, powerful use of imagination to understand self, heal body and mind and maintain overall wellbeing.
Emotions and Dialogue with a Symptom:
Practices in recognizing emotions, what they mean and how to get them moving through you, not getting stuck within you.
Genograms:
Understanding and addressing the ancestral source of positive and negative behavioral patterns in our lives.
Spirituality, Peacefulness and Intuition:
Rekindling the connection between the self and a greater power. Quieting the mind and calming the body for inner peace and wisdom.
Rituals and Drawings:
The importance of ritual to maintain self-care practices and how self-expression expands self-awareness.
Trigger positive change in your physiology and psychology to manage stress and anxiety.
Bring new vision, self awareness, joy and compassion to your life and work.
Build strength and courage to release the past and live your dreams unapologetically.
Find healing and humanity as part of a growing global community.
Kat Niewiadomska
Kat Niewiadomska, PhD is an award winning Executive, Leadership and Life Coach helping high performers step fully into their power and achieve the goals that bring them the most purpose, passion and prosperity. She is also a mind-body skills practitioner, speaker, artist, and award winning author.
Kat has always had a deep curiosity about people. During her time at MIT, she turned her Engineering Master's degree into a research dissertation, examining how humans learn. During her time as a PhD student in Environmental Science, she wrote a book that became a finalist in the International Book Awards. It wasn't until she realized that her education didn't fit with her values, that she made the leap from working with underwater robots and writing software to working with people and writing creatively. Watch her TEDx talk on The Power of Distraction to find out how.
As a coach and creative healer, Kat's purpose is to help people redesign their lives, unlock their creativity and become the heroes of their own story. She is a mother of three and believes that success in life is having freedom, love and creativity.
Toni Napolitano
Toni Napolitano holds an MBA in International Business and a BS in Business Administration from Lynn University in Boca Raton, Florida. She is a certified Reiki practitioner, intuitive coach, second-generation card reader, aspiring author, and podcast addict. She is also a graduate of The Inspired Life 200 hour Yoga Teacher Training program, completing her teaching certification in February 2020.
Toni was first drawn to yoga in the early 90's. She was immediately hooked by the connection of body movement and breath, as well as the quieting of her mind that followed. In the following years, her appreciation deepened as she integrated a regular practice of Vinyasa flow and Yin yoga, along with daily meditation and energy work. Her favorite part of teaching is seeing others find connection and alignment to their inner selves, and become fully present in the flow, during her classes.
A consultant & former luxury retail executive, she is now passionate about bringing much-needed mindfulness and meditation practices into the high-pressure environment of the post-pandemic corporate landscape, helping companies and employees smoothly navigate the ongoing re-entry process.
As a coach, she thrives on supporting high-performing leaders that are experiencing burnout, through reconnecting with their passion and purpose.
Kat is an amazing coach!! As a physician, Kat helped me see my strengths and weaknesses in leadership, while constantly working on innovative ways to improve the weaker points!! I have grown tremendously when I was with Kat and many of her coaching tips continue to resonate with me till now!! I would recommend Kat for anyone who is looking to have a great coaching on leadership!!
Toni is so calm and welcoming, coupled with her big heart I immediately knew I'd love her retreat. Such a wonderful group brought together for empowerment, movement and our own betterment. Toni beautifully facilitated every bit. Her intuitive approach gave insight to areas I hadn't considered. And her kind and gentle manner gave me the permission to give myself that same space. I highly recommend running and jumping at a chance to spend time with this beauty, you'll be better for it.
Kat is a wildly creative, thoughtful and innovative leader. She views the world via a lens of immense opportunity and growth, both for her 'self' and for others. Her curiosity, tenacity and passion for self discovery is infectious. She readily encourages those around her to lean-into each moment, and appreciate the journey alongside.
Toni has a gift for delivering wisdom with compassion. She creates a warm and emotionally safe environment where you can open up your heart to be heard and grow and feel connected to your purpose and others.
My experience in taking Toni's classes has been amazing on so many levels. She provides a warm, safe space and is attentive to everyone's needs. Her wisdom and sense of calm allows me to drop into myself and let the rest of the busy world fade away….
Working with Kat was amazing. Her ability to listen, process the information given and move forward from there is one of the reasons Kat is an amazing coach throughout. In fact my experience was so positive that this encouraged me into enrolling into a life coach certification program and get my own accreditations . Trust is a very serious matter in our lives, Kat certainly knows the meaning of trust! I would highly recommend working with Kat whether in life and or executive coaching!
Toni's yoga classes are grounding, calming, and healing for me. She has a way of connecting on an energetic level that is incredibly loving. It's like she can reach the little girl within me and hug her through yoga. I cherish every chance to do yoga with Toni.
Consistently, Kat's coaching has brought clarity and opened up so many new perspectives to get out of situations I thought I had analyzed profoundly. She has a deep ear that catches subtlety and a great analytical intelligent mind that makes subtle distinctions with these subtle details, creating a whole new range of possibilities.
My executive coaching journey with Kat was exciting and fruitful, leading to a radical change needed on both personal and professional levels, and supporting an important career shift which improved my life experience. Day-to-day decisions, time management & communication moved from good to best in a year' laps. Kat helped me see my way to a new self, with her timely coaching, inspiring perseverance, & many tools that helped pave the path forward, while enjoying her comforting presence!!
Toni's intuition and calming presence can transform any event into a spiritual journey. She has an incredible ability to gently guide others. Her way of delivering insightful and helpful commentary is always from a place of love. I wholeheartedly recommend attending a retreat led by Toni, just being in her presence is bound to rub off some of her beautiful healing energy!
Kat has been the guiding light in my professional and personal development journey. A life coach with just the right questions to ask ! Wouldn't be here today without her . Totally recommend her!!!
Toni's yoga class was a healing experience for me. She led us through a thoughtful, emotional practice, giving us just what our bodies and minds needed. She gave us support and space and I can only hope to practice with her one day again soon.
TRIPLES
$2,800
PER PERSON
Triple occupancy in a Geodesic Dome with views of the jungle
DOUBLES
$3,400
PER PERSON
Double occupancy in a Jungle Bungalow or Geodesic Dome with views of the jungle
SINGLES
$3,800
PER PERSON
Single occupancy in your own private Bali style suite with beautiful jungle views
VIP SINGLES
$4,400
PER PERSON
Single occupancy in your own private, 200-Year-Old Balinese villa with a private deck and stunning views of the jungle and ocean

A completely private campus; available to your retreat group only. Access to a private waterfall, nature paths, incredible flora and fauna, and an ocean view infinity pool. Also included is a dedicated team of 20+ local professionals to coordinate everything for your enjoyment, from touch down to take off.
​

Gourmet plant-based cuisine prepared using all local and organic produce. Full meals, snacks, teas, coffees and fruit trays available throughout your stay.
Private transportation from the International airport to our campus; a private driver and transportation to our campus in Imiloa Mountain.
What's Not Included
Flights to SJO, Spa Services
You will be immersed in a 22-acre jungle oasis in Dominical, Costa Rica.
This enchanted mountainside jungle venue is ten minutes from the beach and it is the perfect setting to experience deep healing, embraced by nature, yet completely luxurious.
While staying at Imiloa you will enjoy our nature paths, our private waterfall, our salt-water pool, stunning views and delicious and nutritious meals by our five-star vegan chef.
Included in each accommodation is the comfiest mattresses, 850 thread count sheets, storage space and dry rooms as needed, fiber optic internet, daily cleaning service, private en-suite bath, indoor/outdoor design for every accommodation with a focus on nature and being your private refuge, and full service, thrice-filtered private well for drinking water throughout the property.
BALI VILLAGE
Bali Village is perched 1200 feet about the Pacific Ocean, on a ridge line of flora, fauna and wildlife every direction you look. These 5 accommodations are 160-200 year old homes imported from Bali. Each with their own en suite bathrooms, the homes bring you back and create a self space for rejuvenation and transformation.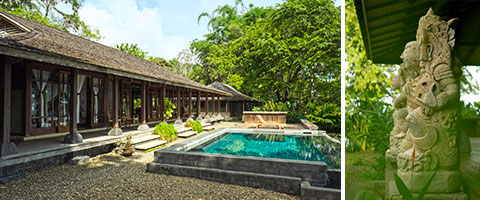 BALI MASTER SUITE
200 Year Old Homes from Bali. Imported from the Java Islands, these homes boast outdoor showers, full kitchen access, surreal vista views to the Pacific, their own salt water plunge pools and hand-carved art that is as old as the houses.
JOGOLO HOUSE
Perched on the edge of the cliff, at the furthest end of the property, sits a 170 year old home from the Java Islands we call Jogolo. Complete with a writer's desk, outdoor Balinese shower, hand-carved architecture that will transport you to another land and time, Jogolo is teeming with history and comfort. Your cold plunge pool is adjacent to a warm bath, both outdoor. Full kitchen, too.
POTOO HOUSE
This two-floor imported home from Bali will have you wishing you'd never leave. Complete with a King Bed and a twin in the corner of the 180 year old home, Potoo has modern luxury with 360 views of the Pacific. On the lower level, a plunge pool and private spa. Potoo also includes many outdoor chairs, hammocks and a full kitchen, too.
BUNGALOW HILL
Six Jungle Bungalows built on the side of the mountain on the pathway to our very own private waterfall. Bali inspired, the interiors feature natural finishings and a gorgeous exposed shower and bath tub.
DOMELAND
Six Buckminster Fuller inspired Geodesic River Domes, among the best made in the world and partially powered by solar energy, sit perched on the edge of our private river with the fresh, flowing water feeding up to the domes. Experience the soothing sounds of relaxing and sleeping next to flowing water. Amazing!
THE HOUSE OF MASTERS
The House of Masters, located in the center of the property, is a 2,000 square foot Balinese structure hanging 100 feet in the Jungle canopy. Adjacent are restrooms and a yoga storage room for mats, blocks and more. The space can be converted for any type of retreat, workshop or dance party.
THE HEART OF IMILOA
A sprawling 3,000 square foot space that is the "Heart of Imiloa," our social space features loungy, multicultural inspired furnishings, couches, and 5 imported tables from Bali, all under a Polynesian style roof.
THE PATHS
Jungle paths connect the 20+ acres at Imiloa, with hand-made stairs and lighting, creating an immersive, easy experience for you and guests.
THE WATERFALL
Beyond the Jungle Bungalows is a path that leads to our own private waterfall. Descend into what feels like an enchanted jungle forest as you bask in the magic and beauty of the surrounding nature.
At Imiloa, we are a proudly conscious comfort food campus. That means we serve healthy, locally-sourced, gourmet vegan meals that are as artistically plated, scientifically nourishing and delightfully crafted for all of our retreat guests.
Imiloa's world-class spa is a curated, sensual and deeply moving experience. Choose from Ayurvedic massages and practices, to a shamanic masseuse from our team members who are from the Boruca indigenous tribe here in Costa Rica, to more traditional Swedish, relaxation or Thai yoga massages, body wraps and others. A full list of spa offerings and a link to book during your free time will be provided to you before you arrival.
Schedule your plane to arrive at SJO. In order to access your private plane charter, all guests must be at the Domestic Terminal at SJO San Jose, Costa Rica no later than 3PM on the arrival day.
Once landed, proceed to customs and instructions will be provided to meet Imiloa concierge.
Proceed to baggage claim with concierge and proceed to Domestic Terminal (3 minute walk from International Terminal). Please be at the Domesitc Terminal at SJO San Jose, Costa Rica no later than 3PM on your day of arrival.
Private Imiloa plane will be waiting to fly you to Quepos.
Private ground transport shuttles will pick you up in Quepos and bring you to Imiloa.
If you are already in Costa Rica, ground transport may be coordinated from Quepos, Dominical or Uvita as inclusive.
Please do not plan to drive to Imiloa on your own. It is not permitted.
If you need to arrive the day before, please stay at the Hampton Inn across from the airport, or plan to be in the San Jose Domestic Terminal for private flight to Imiloa by no later than 3PM (instructions will be emailed).
You will depart Imiloa at 9AM, and arrive at the landing strip at 9:30AM, with an estimated arrival to SJO airport at 10:30AM. The domestic terminal is a 5-10 minute walk to the international terminal at SJO. Typically, it is suggested to be at the international terminal 2.5 hours prior to your international departure. Please book your departing international flight accordingly, knowing that you will be at the airport at 10:30AM on departure day.
Questions? Email us: impact@imiloainstitute.com
Our team, the Welcome Home Team at Imiloa, from kitchen to property, gardening to coordination, logistics to transportation, will be available to you throughout your stay with anything you need. They have a ready smile, answers to most of your questions and can quickly support so your experience is easy and fulfilling.
TRAVEL INSURANCE and COVID PROCEDURES
Imiloa has partnered with a comprehensive travel insurance provider that meets the entry requirements for Costa Rica and offers "cancel for any reason" plans to maximize coverage: www.globalrescue.com/imiloa (additional cost)
COVID tests for entry and exit requirements to your home country can be done on site. We have an on-call physician that can come to the property for testing and results sent in English.
We follow cleansing and sanitization protocols as per Ministry of Health to ensure a safe environment
Staff and retreat participants are asked to follow and safety guidelines such as social distancing, washing of hands, and proper mask wearing.
Imiloa is located in the jungle, at the top of a mountain, overlooking the Pacific Ocean. Our lush retreat center is located adjacent to the second most biodiverse land on the planet.
Dominical, only 13 minutes away, is a beach town with surfer vibes, great coffee and plenty of shopping. Just north of our municipality is Quepos and to the south, Ojochal and Uvita, which is known as the Whale's Tail.
Just 45 minutes east sits Costa Rica's second largest city, San Isidro. Within an hour of Imiloa in all directions, you have access to airports, cafes, beaches, waterfalls, biodiversity and happy people ready to show you the lush, lovely area we call home.
You'll arrive easily on our private plane, and your group will enjoy unlimited transportation to and from the beach, to and from the airport and throughout your stay with us.