Get ready to transform your back pain and level-up your self-care skills in Costa Rica! While staying at the Imiloa Institute you'll enjoy gourmet plant-based cuisine, mountain jungle sunsets, pacific ocean views and your own private waterfall.
Two daily sessions, three amazing meals, on twenty four stunning acres in Paradise.
Here's what else you can expect:
Strengthen and stabilize your back everyday with spine-safe core exercises
Soothe your nervous system and tame your pain response through Better Back Breathing techniques
Expand your understanding of the Retrain Back Pain mindset, breathing, stretching and movement exercises
Learn how to modify common exercises and yoga poses for your condition
Alleviate pain, stiffness and stress with daily therapeutic rollouts
Identify the Next Steps on your Individualized Back Rehab Roadmap to fast track your recovery
Enjoy healing, anti-inflammatory foods at every meal
The Retrain Back Pain Retreat at Imiloa focuses on the Three Core Elements of the Retrain Back Pain program, teaching you to relearn how you THINK, how you EAT and how you MOVE.
Workshop topics include:
Reframe Your Pain Brain
Retrain Your Spine Hygiene
Better Back Breathing techniques
Therapeutic Rollouts
Dynamic Stretching
Functional Rehab Exercises
Anti-inflammatory, pura vida pain-relief cuisine
Your comfort is our number one priority!
Everything will be taken care of at this all-inclusive adventure.
Ready to retrain your back pain?
The retreat at Imiloa will highlight the healthy practices of Retrain Back Pain creator, Dinneen Viggiano, which are: THINK | EAT | MOVE. It includes:
Reframing Your Pain Brain
Retraining Your Spine Hygiene
Better Back Breathing practices
Therapeutic Rollouts
Dynamic Stretching and
Functional Rehabilitative Exercises
All-natural, anti-inflammatory, pain relieving Costa Rican cuisine
Everything will be taken care of at this all-inclusive adventure, with your comfort and health our number one priority.
February 3
Day 1
Arrival around 3:30-4pm
4pm Welcome mocktail and snacks
4:30pm Check-in
6pm Safety Intro
6:30pm Dinner
8:00pm-9:00pm Travel Detangle Practice (optional) in the House of Masters
Candles, yoga mats and therapy balls will be provided
February 4
Day 2
8:30am Breakfast
10:00am Workshop
12:00pm Lunch
2:00pm Workshop
4:00pm Free time/Spa time/Pool/Beach
6:30pm Dinner
February 5th
Day 3
8:30am Breakfast
10:00am Workshop
12:00pm Lunch
2:00pm Workshop
4:00pm Free time/Spa time/Pool
6:30pm Dinner
February 6th
Day 4
8:30am Breakfast
10:00am Workshop
12:00pm Lunch
2:00pm Workshop
4:00pm Free time/Spa time/Pool
6:30pm Dinner
February 7th
Day 5
8:30am Breakfast
10:00am Workshop
12:00pm Lunch
2:00pm-3:30pm Workshop
4:00pm Future Pacing Ceremony on the beach with Avatar Clay
7:00pm Dinner
8:00pm Closing Ceremony
February 8th
Day 6
8:00am Breakfast
10:00am Check out
EMPOWERMENT
Understand what's been hindering your recovery, reclaim your power in your rehab process
CONFIDENCE
Learn and master key mindset and self-care skills so you can be your own back rehab boss
PURPOSE
Fine-tune your Individualized Rehab Roadmap Strategy so you return home with a clear, achievable path for success
TRANSFORMATION
This retreat will change the way you think, eat, and move so that you will go back home knowing how to prevent, relieve and manage your back with ease and confidence
MOVEMENT SKILLS
Master the "Rehab & Rebuild" functional therapeutic movements and rollouts that will keep you healthy for a lifetime
Dinneen Viggiano
Backfit Pro, NKT, CST, ERYT, YACEP, CHHC, CNC
Dinneen empowers students to retrain back pain through mindset, nutrition, breathing, posture, therapeutic self-massage and functional rehab exercises.
An experienced Therapeutic Movement & Back Pain Specialist with 20 years' experience, Dinneen is a Backfit Pro, a Tune Up Fitness Senior Teacher Trainer, a NeuroKinetic Therapist, a CranioSacral Therapist and a Certified Nutrition Counselor.
A true "teachers' teacher", Dinneen has been traveling the globe since 2010 teaching professional trainings worldwide.
Dinneen's understanding of human anatomy, extensive teaching experience, and kindhearted nature make her an excellent teacher. She offers therapeutic movement, self-massage techniques, and strengthening exercises to her students to restore their balance, ease, and wellbeing. While working one-on-one with Dinneen, I learned the potential causes of my back problem and began a movement and nutrition routine that eventually led to diminished pain and a return to my teaching and yoga practice. Dinneen's guidance helped me deepen my knowledge of my body and gave me therapeutic tools that I now share with my students.
Susannah
Body Mind Unwind
The Retrain Back Pain® workshop gives a guide how to take ownership of your body and what may ail you. The exercises and self care taught by Dinneen is empowering.
She is not only relatable but approachable in how she teaches. Also, as a pilates instructor, I able to show my clients new techniques to "retrain back pain." I would recommend this workshop to anyone with pain but even so more to all fitness professionals!
Dinneen has taught me how to treat my lower back pain through exercise, mindset and nutrition. In addition, she has taught me how to live my life every day, including how to get out of bed, how to sit (or not to sit) for long periods, how to sleep and how to incorporate simple exercises in daily life. Dinneen has a wealth of knowledge about relieving back pain holistically. She is a gifted teacher who easily translates her extensive knowledge in to easy to follow, fun and interesting practices. Dinneen is super talented and she has a big, giving heart. I like her as a teacher and as a person. She has my highest recommendation.
You will be immersed in a 22-acre jungle oasis in Dominical, Costa Rica.
This enchanted mountainside jungle venue is ten minutes from the beach and it is the perfect setting to experience deep healing, embraced by nature, yet completely luxurious.
While staying at Imiloa you will enjoy our nature paths, our private waterfall, our salt-water pool, stunning views and delicious and nutritious meals by our five-star vegan chef.
Included in each accommodation is the comfiest mattresses, 850 thread count sheets, storage space and dry rooms as needed, fiber optic internet, daily cleaning service, private en-suite bath, indoor/outdoor design for every accommodation with a focus on nature and being your private refuge, and full service, thrice-filtered private well for drinking water throughout the property.
BALI VILLAGE
Bali Village is perched 1200 feet about the Pacific Ocean, on a ridge line of flora, fauna and wildlife every direction you look. These 5 accommodations are 160-200 year old homes imported from Bali. Each with their own en suite bathrooms, the homes bring you back and create a self space for rejuvenation and transformation.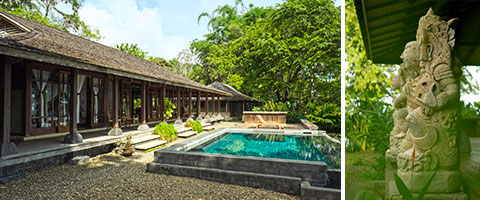 BALI MASTER SUITE
200 Year Old Homes from Bali. Imported from the Java Islands, these homes boast outdoor showers, full kitchen access, surreal vista views to the Pacific, their own salt water plunge pools and hand-carved art that is as old as the houses.
JOGLO HOUSE
Perched on the edge of the cliff, at the furthest end of the property, sits a 170 year old home from the Java Islands we call Joglo. Complete with a writer's desk, outdoor Balinese shower, hand-carved architecture that will transport you to another land and time, Joglo is teeming with history and comfort. Your cold plunge pool is adjacent to a warm bath, both outdoor. Full kitchen, too.
POTOO HOUSE
This two-floor imported home from Bali will have you wishing you'd never leave. Complete with a King Bed and a twin in the corner of the 180 year old home, Potoo has modern luxury with 360 views of the Pacific. On the lower level, a plunge pool and private spa. Potoo also includes many outdoor chairs, hammocks and a full kitchen, too.
BUNGALOW HILL
Six Jungle Bungalows built on the side of the mountain on the pathway to our very own private waterfall. Bali inspired, the interiors feature natural finishings and a gorgeous exposed shower and bath tub.
DOMELAND
Six Buckminster Fuller inspired Geodesic River Domes, among the best made in the world and partially powered by solar energy, sit perched on the edge of our private river with the fresh, flowing water feeding up to the domes. Experience the soothing sounds of relaxing and sleeping next to flowing water. Amazing!
THE HOUSE OF MASTERS
The House of Masters, located in the center of the property, is a 2,000 square foot Balinese structure hanging 100 feet in the Jungle canopy. Adjacent are restrooms and a yoga storage room for mats, blocks and more. The space can be converted for any type of retreat, workshop or dance party.
THE HEART OF IMILOA
A sprawling 3,000 square foot space that is the "Heart of Imiloa," our social space features loungy, multicultural inspired furnishings, couches, and 5 imported tables from Bali, all under a Polynesian style roof.
THE PATHS
Jungle paths connect the 20+ acres at Imiloa, with hand-made stairs and lighting, creating an immersive, easy experience for you and guests.
THE WATERFALL
Beyond the Jungle Bungalows is a path that leads to our own private waterfall. Descend into what feels like an enchanted jungle forest as you bask in the magic and beauty of the surrounding nature.
Triple occupancy in a Geodesic Dome with views of the jungle
Double occupancy in a Geodesic Dome with views of the jungle
Single occupancy in your own private Bali suite or Jungle Bungalow with beautiful jungle views
VIP SINGLE
$3,777
PER PERSON
Single occupancy in your own private, 200-Year-Old Balinese villa with a private deck and stunning views of the jungle and ocean

A completely private campus; available to your retreat group only. Access to a private waterfall, nature paths, incredible flora and fauna, and an ocean view infinity pool. Also included is a dedicated team of 20+ local professionals to coordinate everything for your enjoyment, from touch down to take off.

Gourmet plant-based cuisine prepared using all local and organic produce. Full meals, snacks, teas, coffees and fruit trays available throughout your stay.
Private transportation from the International airport to our campus; a local charter flight from SJO International, with a private driver and SUV transportation to our campus in Imiloa Mountain. During your stay, luxury ground transport is available at no additional cost for local transport, planned 72 hours in advance.
Food at Imiloa is an experience of itself — the perfect blend of art, nutritious and in harmony with nature, Imiloa's kitchen is proud to cater needs to every type of request, allergy or desire. We are a plant based kitchen.
Imiloa's world-class spa is a curated, sensual and deeply moving experience. Choose from Ayurvedic massages and practices, to a shamanic masseuse from our teammembers who are from the Boruca indigenous tribe here in Costa Rica, to more traditional Swedish, relaxation or Thai yoga massages, body wraps and others. A full list of spa offerings and a link to book during your free time will be provided to you before you arrival.
Schedule your plane to arrive at SJO. In order to access your private plane charter, all guests must be at the Domestic Terminal at SJO San Jose, Costa Rica no later than 3PM on the arrival day.
Once landed, proceed to customs and instructions will be provided to meet Imiloa concierge.
Proceed to baggage claim with concierge and proceed to Domestic Terminal (3 minute walk from International Terminal). Please be at the Domesitc Terminal at SJO San Jose, Costa Rica no later than 3PM on your day of arrival.
Private Imiloa plane will be waiting to fly you to Quepos.
Private ground transport shuttles will pick you up in Quepos and bring you to Imiloa.
If you are already in Costa Rica, ground transport may be coordinated from Quepos, Dominical or Uvita as inclusive.
Please do not plan to drive to Imiloa on your own. It is not permitted.
If you need to arrive the day before, please stay at the Hampton Inn across from the airport, or plan to be in the San Jose Domestic Terminal for private flight to Imiloa by no later than 3PM (instructions will be emailed).
You will depart Imiloa at 10AM, and arrive at the landing strip at 10:30AM, with an estimated arrival to SJO airport at 11:30AM. The domestic terminal is a 5-10 minute walk to the international terminal at SJO. Typically, it is suggested to be at the international terminal 2.5 hours prior to your international departure. Please book your departing international flight accordingly, knowing that you will be at the airport at 11:30AM on departure day.
Questions? Email us: impact@imiloainstitute.com
Our team, the Welcome Home Team at Imiloa, from kitchen to property, gardening to coordination, logistics to transportation, will be available to you throughout your stay with anything you need. They have a ready smile, answers to most of your questions and can quickly support so your experience is easy and fulfilling.
TRAVEL INSURANCE and COVID PROCEDURES
Imiloa has partnered with a comprehensive travel insurance provider that meets the entry requirements for Costa Rica and offers "cancel for any reason" plans to maximize coverage: www.globalrescue.com/imiloa (additional cost)
COVID tests for entry and exit requirements to your home country can be done on site. We have an on-call physician that can come to the property for testing and results sent in English.
We follow cleansing and sanitization protocols as per Ministry of Health to ensure a safe environment
Staff and retreat participants are asked to follow and safety guidelines such as social distancing, washing of hands, and proper mask wearing.
Imiloa is located in the jungle, at the top of a mountain, overlooking the Pacific Ocean. Our lush retreat center is located adjacent to the second most biodiverse land on the planet.
Dominical, only 13 minutes away, is a beach town with surfer vibes, great coffee and plenty of shopping. Just north of our municipality is Quepos and to the south, Ojochal and Uvita, which is known as the Whale's Tail.
Just 45 minutes east sits Costa Rica's second largest city, San Isidro. Within an hour of Imiloa in all directions, you have access to airports, cafes, beaches, waterfalls, biodiversity and happy people ready to show you the lush, lovely area we call home.
You'll arrive easily on our private plane, and your group will enjoy unlimited transportation to and from the beach, to and from the airport and throughout your stay with us.