An immersive retreat in the jungles of Costa Rica to empower coaches to step into alignment with their purpose, passion, and vision, and take their coaching business to the next level.
Join a community of like-minded coaches to learn, grow, connect and create wealth! The only retreat of its kind, Sacred Wellness & Wealth Immersion provides a nourishing space where coaches can align with their passion and vision, to create, grow, and scale your business.
It's no secret: As coaches, we want unshakeable confidence, access to a proven roadmap to success, and a way to keep our business scaling rapidly & consistently. But few coaches know the EXACT steps to take.
The Sacred Wellness & Wealth Immersion retreat has been artfully crafted to rapidly grow and scale your coaching business and take it to the next level! Unleash your vision, purpose, passion, and potential, as you step into high vibrational alignment to radically shift and grow every aspect of your business.
The only retreat of its kind, Sacred Wellness & Wealth Immersion provides a nourishing space for progressive coaches who want to focus on refining their products and services, scaling their business, and discovering metaphysical principles that grow confidence and increase cash flow.
Are you ready to align your business with the next level?
Your dream coaching business awaits.
Discover key marketing methods to develop & scale your coaching practice.
Understand how to align and customize your Business Launch Calendar for up to 3 Years.
Create a health & wellness platform that is buzz-worthy.
Discover & master the metaphysical rituals that grow a business organically.
Uncover spiritual blocks that STOP coaches from scaling their business.
Connect with a growing community of leaders.
Step into a higher vibration that attracts your dream clients.
Dr. Angela Cudger
Dr. Angela Cudger is a Master Holistic Health Coach & Integrative Lifestyle Expert, and Founder of Legacy Holistic Health Institute– the only black-owned Health Coach Training entity on the planet that is accredited and approved for distance education. Earning her Bachelor's of Cardiopulmonary Care Sciences from Georgia State University, and her Master's of Medical Science in Anesthesiology from Emory University School of Medicine, she is educated in Human Anatomy, Physiology, and Chronic Disease Management. Dr. Cudger's passion for mind-body-soul connection has also led her to become a Certified Kemetic Yoga Instructor (CYT 200) & Level III Reiki Healer.
In 2019, Dr. Cudger received her Doctorate of Philosophy degree with a focus in Healthcare Leadership. She is currently enrolled and pursuing a Doctorate of Metaphysical Sciences degree at the University of Metaphysics (IMM). Dr. Cudger currently trains and instructs a global student body. She has been featured in over 300 publications and outlets and has graced the covers of various national and international magazines as a powerhouse in business and wellness. As a leading expert in the field, she has scaled over 7 figures in 1 calendar year, successfully crafted, sold & profited on 10 different types of products in health coaching, scaled from start-up to growth business phases, and manages a team of 30+ specialists and experts.
My HBBB experience opened my mind, spirit and heart to activate the next level in my business and my personal life. The luxurious atmosphere, the nutritious and delicious chef prepared meals, the abundant energy of receiving and the genius revelation and impartation was second to none. I walked away with clarity and a game plan for my business and my personal life. I walked away inspired and loved. I walked away with memories with amazing women, who I had never met. I walked away with sharpened purpose and pursuit. I walked away with a 2020 vision of 6 figures made in my business. I walked away knowing the dream is closer than I think!
Attending the Holistic Business Breakthrough Bootcamp is the best and smartest business decision and investment I have made. This experience far exceeded my expectations. The blending of a beautiful, tranquil environment made for topnotch instruction, savvy presentations, and group exercises as unique as the exquisite plant-based food served by a phenomenal onsite chef to the unforgettable spiritual essential detox sound sweat experience. THIS Boot Camp was the real deal and now so is my business because of the training experience.
One of the best takeaways was to allow myself to be empty of preconceived notions, be open to "whatever is high vibration", evolve into a mind-shift always ready for the universe and leave a place with newly found brilliance layered with a yearning for constant personal and professional growth. Since the boot camp, I went on to launch two new products that I toyed with for over a year; created a Stress Care Subscription Box; drafted my first newsletter now ready for distribution; made available digital gift cards for the perfect gift and re-charged my charitable donation program Sickle Cell Campaign 2020 in honor of my mother, Moe.
I am the Founder of Loving Me Wellness Network, LLC, the umbrella company of Chandra Therapeutic Massage. If I had to describe my HBBB experience in one word, it would be EXPANSIVE. I walked away knowing that no matter how big my dreams are to dream bigger and always ask the question "what else can this be". I became more aware of how I hold myself back. I learned a deeper level of why meditation and journaling is required to expand. At the end I had my game plan to begin rebranding my business. I also experienced a spiritual awakening and tears were shed in a safe and supportive space. One-on-one time with Dr. Angela Cudger was PRICELESS. There was an awesome guest speaker that gave a blueprint on how to scale my business. The food was amazing and the accommodations luxurious. You are worth the investment in yourself. We deserve the absolute best of everything.
I am a Registered Nurse and student of Legacy Holistic Health Institute. I attended the Holistic Business Breakthrough Bootcamp in hopes of gaining a better understanding of business and how to incorporate my future plans of being a health and wellness practitioner into another business because this was all new to me . My experience was far greater than I expected. From the living arrangements to our meals , everything was done in a grand way. We stayed in a mansion with a wonderful chef that served only high vibrational foods. Dr. Angela Cudger, is a mastermind! We experienced a sweat lodge with sound therapy which brought us all closer together and also had us release anything that no longer served us to gain the mindset that we deserve the absolute best of everything! I was in such amazement to share a space with all these successful, like-minded individuals. They were always positive, high energy and very supportive. They've become my Tribe.
Quad occupancy in a Geodesic Dome with views of the jungle
TRIPLES
$3,300
PER PERSON
Triple occupancy in a Geodesic Dome with views of the jungle
DOUBLES
$4,000
PER PERSON
Double occupancy in a Jungle Bungalow or Geodesic Dome with views of the jungle
Single occupancy in your own private Bali style suite with beautiful jungle views

A completely private campus; available to your retreat group only. Access to a private waterfall, nature paths, incredible flora and fauna, and an ocean view infinity pool. Also included is a dedicated team of 20+ local professionals to coordinate everything for your enjoyment, from touch down to take off.
​

Gourmet plant-based cuisine prepared using all local and organic produce. Full meals, snacks, teas, coffees and fruit trays available throughout your stay.
Private transportation from the International airport to our campus; a private driver and transportation to our campus in Imiloa Mountain.
Welcome Sunset Happy Hour with Mocktails Poolside
Exclusive Business & Spiritual Growth Workshops Including Materials
All-White, Sunset Beach Celebration with Dinner & Music
$100 Spa Gift Package (for 1st 10 Paid in Full Participants)
Winter Solstice Sound Healing Immersion
Sacred Waterfall Journey (New Moon)
12/22/22 Portal Timeline Meditation
Exclusive Virtual Packing Party
International Travel Information Session (1st Call)
Perfect-Fit Roommate Selection
Bonfire Ceremony on 12/22 (Note: New Moon on 12/23)
Follow-up Group Integration Sessions (2 Sessions total)
1:1 Session with Dr. Cudger in Costa Rica
What's Not Included
Flights to SJO, Spa Services
You will be immersed in a 22-acre jungle oasis in Dominical, Costa Rica.
This enchanted mountainside jungle venue is ten minutes from the beach and it is the perfect setting to experience deep healing, embraced by nature, yet completely luxurious.
While staying at Imiloa you will enjoy our nature paths, our private waterfall, our salt-water pool, stunning views and delicious and nutritious meals by our five-star vegan chef.
Included in each accommodation is the comfiest mattresses, 850 thread count sheets, storage space and dry rooms as needed, fiber optic internet, daily cleaning service, private en-suite bath, indoor/outdoor design for every accommodation with a focus on nature and being your private refuge, and full service, thrice-filtered private well for drinking water throughout the property.
BALI VILLAGE
Bali Village is perched 1200 feet about the Pacific Ocean, on a ridge line of flora, fauna and wildlife every direction you look. These 5 accommodations are 160-200 year old homes imported from Bali. Each with their own en suite bathrooms, the homes bring you back and create a self space for rejuvenation and transformation.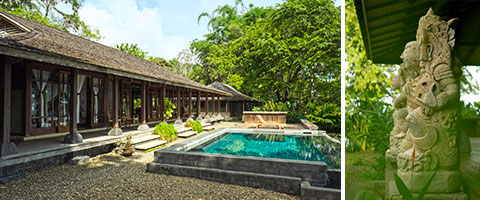 BALI MASTER SUITE
200 Year Old Homes from Bali. Imported from the Java Islands, these homes boast outdoor showers, full kitchen access, surreal vista views to the Pacific, their own salt water plunge pools and hand-carved art that is as old as the houses.
JOGOLO HOUSE
Perched on the edge of the cliff, at the furthest end of the property, sits a 170 year old home from the Java Islands we call Jogolo. Complete with a writer's desk, outdoor Balinese shower, hand-carved architecture that will transport you to another land and time, Jogolo is teeming with history and comfort. Your cold plunge pool is adjacent to a warm bath, both outdoor. Full kitchen, too.
POTOO HOUSE
This two-floor imported home from Bali will have you wishing you'd never leave. Complete with a King Bed and a twin in the corner of the 180 year old home, Potoo has modern luxury with 360 views of the Pacific. On the lower level, a plunge pool and private spa. Potoo also includes many outdoor chairs, hammocks and a full kitchen, too.
BUNGALOW HILL
Six Jungle Bungalows built on the side of the mountain on the pathway to our very own private waterfall. Bali inspired, the interiors feature natural finishings and a gorgeous exposed shower and bath tub.
DOMELAND
Six Buckminster Fuller inspired Geodesic River Domes, among the best made in the world and partially powered by solar energy, sit perched on the edge of our private river with the fresh, flowing water feeding up to the domes. Experience the soothing sounds of relaxing and sleeping next to flowing water. Amazing!
THE HOUSE OF MASTERS
The House of Masters, located in the center of the property, is a 2,000 square foot Balinese structure hanging 100 feet in the Jungle canopy. Adjacent are restrooms and a yoga storage room for mats, blocks and more. The space can be converted for any type of retreat, workshop or dance party.
THE HEART OF IMILOA
A sprawling 3,000 square foot space that is the "Heart of Imiloa," our social space features loungy, multicultural inspired furnishings, couches, and 5 imported tables from Bali, all under a Polynesian style roof.
THE PATHS
Jungle paths connect the 20+ acres at Imiloa, with hand-made stairs and lighting, creating an immersive, easy experience for you and guests.
THE WATERFALL
Beyond the Jungle Bungalows is a path that leads to our own private waterfall. Descend into what feels like an enchanted jungle forest as you bask in the magic and beauty of the surrounding nature.
At Imiloa, we are a proudly conscious comfort food campus. That means we serve healthy, locally-sourced, gourmet vegan meals that are as artistically plated, scientifically nourishing and delightfully crafted for all of our retreat guests.
Imiloa's world-class spa is a curated, sensual and deeply moving experience. Choose from Ayurvedic massages and practices, to a shamanic masseuse from our team members who are from the Boruca indigenous tribe here in Costa Rica, to more traditional Swedish, relaxation or Thai yoga massages, body wraps and others. A full list of spa offerings and a link to book during your free time will be provided to you before you arrival.
Schedule your plane to arrive at SJO. In order to access your private plane charter, all guests must be at the Domestic Terminal at SJO San Jose, Costa Rica no later than 3PM on the arrival day.
Once landed, proceed to customs and instructions will be provided to meet Imiloa concierge.
Proceed to baggage claim with concierge and proceed to Domestic Terminal (3 minute walk from International Terminal). Please be at the Domesitc Terminal at SJO San Jose, Costa Rica no later than 3PM on your day of arrival.
Private Imiloa plane will be waiting to fly you to Quepos.
Private ground transport shuttles will pick you up in Quepos and bring you to Imiloa.
If you are already in Costa Rica, ground transport may be coordinated from Quepos, Dominical or Uvita as inclusive.
Please do not plan to drive to Imiloa on your own. It is not permitted.
If you need to arrive the day before, please stay at the Hampton Inn across from the airport, or plan to be in the San Jose Domestic Terminal for private flight to Imiloa by no later than 3PM (instructions will be emailed).
You will depart Imiloa at 9AM, and arrive at the landing strip at 9:30AM, with an estimated arrival to SJO airport at 10:30AM. The domestic terminal is a 5-10 minute walk to the international terminal at SJO. Typically, it is suggested to be at the international terminal 2.5 hours prior to your international departure. Please book your departing international flight accordingly, knowing that you will be at the airport at 10:30AM on departure day.
Questions? Email us: impact@imiloainstitute.com
Our team, the Welcome Home Team at Imiloa, from kitchen to property, gardening to coordination, logistics to transportation, will be available to you throughout your stay with anything you need. They have a ready smile, answers to most of your questions and can quickly support so your experience is easy and fulfilling.
TRAVEL INSURANCE and COVID PROCEDURES
Imiloa has partnered with a comprehensive travel insurance provider that meets the entry requirements for Costa Rica and offers "cancel for any reason" plans to maximize coverage: www.globalrescue.com/imiloa (additional cost)
COVID tests for entry and exit requirements to your home country can be done on site. We have an on-call physician that can come to the property for testing and results sent in English.
We follow cleansing and sanitization protocols as per Ministry of Health to ensure a safe environment
Staff and retreat participants are asked to follow and safety guidelines such as social distancing, washing of hands, and proper mask wearing.
Imiloa is located in the jungle, at the top of a mountain, overlooking the Pacific Ocean. Our lush retreat center is located adjacent to the second most biodiverse land on the planet.
Dominical, only 13 minutes away, is a beach town with surfer vibes, great coffee and plenty of shopping. Just north of our municipality is Quepos and to the south, Ojochal and Uvita, which is known as the Whale's Tail.
Just 45 minutes east sits Costa Rica's second largest city, San Isidro. Within an hour of Imiloa in all directions, you have access to airports, cafes, beaches, waterfalls, biodiversity and happy people ready to show you the lush, lovely area we call home.
You'll arrive easily on our private plane, and your group will enjoy unlimited transportation to and from the beach, to and from the airport and throughout your stay with us.