Join us as we embark on a 5-night & 6-day journey of self-discovery, in the jungles of Costa Rica
There is no greater power on earth than story…are you ready to tell yours? Join us on the journey of uncovering your soul stories…the stories that reveal your deepest wisdom, your purpose, your "why." And in the process, brace yourself for joy, wonder, and serendipity!
There is a story inside of you that is waiting to be told. Are you ready to tell it?
Join like-minded sojourners who are on a mission to express through storytelling their most meaningful "Why?"
This magical, joyful, soul-opening retreat will lead you to a deeper understanding of the paths, callings, and life experiences that have led you to this moment in time. As a result, you'll become clearer about the life you want to live, the story you want to tell, and the future you want to create.
We will explore myths, literary tales, poetry, and your own life experiences to form the framework for igniting and activating your wisdom and unearthing the stories that only you can tell. Through the use of playful and productive writing prompts and techniques with Diana, and inspirational storytelling, story mining, and story shaping techniques with Michale, you will receive the support and encouragement you need to share your stories, both written and spoken, with ease and confidence. You will learn how to evoke emotion and spark joy and wonder in your communications in both your professional and personal life.
Michale and Diana believe that the most powerful way to pursue this journey of self-discovery is in the company of others who can hold you as you grow and evolve into your next chapter. Magic happens here. This process has a way of moving you and deepening your appreciation of your own amazing life and the lives of those around you. What you'll discover will serve as a stepping stone to an even more hopeful and promising future. Most importantly– you'll come to understand that when you share your stories, from your heart, you light the way for others.
Brace yourself for joy, wonder, and serendipity!
Processes for identifying your legacy, your deeply held "why," and your soul's story
Tools, story prompts, and experiences that will support you in creating your next chapter
The key ingredients that make for compelling storytelling and writing
How to communicate in a way that resonates in the hearts and minds of others
Greater confidence when you speak and write and a spiritual practice that enables you to listen at a deeper level
How to ask the right kind of questions that contribute to self-discovery and more meaningful insights
A deeper sense of who you are at your core.
Why the telling of your unique story matters
A profound appreciation for your own life's journey and the wisdom you have acquired along the way
The realization that our ability to listen deeply is what allows other's stories to be told
An understanding, on a soul level, that when you change your story, you change your life
Diana von Welanetz Wentworth
Diana von Welanetz Wentworth, New York times bestselling author of 10 award-winning books (including two of the Chicken Soup for the Soul titles), has had careers as a cookbook author, television celebrity chef, and as the Founder of Inside Edge Foundation for Education. (www.InsideEdge.org).
You may recognize her from years of hosting a long-running daily television series, The New Way Gourmet on the Lifetime Network.
In 1985, at the height of the Cold War, Diana and her late husband Paul von Welanetz traveled to the Soviet Union to be part of a documentary. They were so deeply touched by their fellow travelers, all leaders in human potential, that on their return, they reinvented their business focus. Thus, began the Inside Edge, (www.InsideEdge.org), a weekly breakfast forum in three Southern California cities where business leaders gathered to hear cutting-edge speakers on the topics of psychology, scientific breakthroughs, global issues, success strategies, spiritual awareness and the arts. Diana simply continued connecting people around the table, but for a higher purpose. Over 36 years, she has showcased the life-enhancing work of over 1500 hundred speakers at the Inside Edge.
It was at one of the early Inside Edge meetings that Jack Canfield and Mark Victor Hansen brainstormed their concept of the Chicken Soup for the Soul book series. Diana Wentworth, our workshop presenter, was in at the very beginning of this publishing phenomenon. As the author of The Pleasure of Your Company, "Cookbook of the Year" as well as five other culinary and home entertaining books, she became the first co-author with Jack Canfield and Mark Victor Hansen with the publication of the third title in the series, Chicken Soup for the Soul Cookbook. Given only three months to complete the manuscript of 101 stories with recipes, she used all of her years of passion for journal-writing techniques to quickly become an expert in creating inspiring life stories that are full of emotion. She later teamed up again with Canfield and Hansen, and with Dan Millman, to write Chicken Soup to Inspire Body and Soul. The series has sold 500 million books worldwide, and sparked massive interest in inspirational personal essays and storytelling.
The film rights to Diana's romantic memoir, Send Me Someone: A True Story of Love Here and Hereafter (Renaissance Books), the story of how her late husband promised to send her a new love, was purchased by the Lifetime Network for development into a movie of the week.
Diana loves to conduct writing classes online. She's been featured as the Keynote speaker at Writers Conferences on the subject Write and Publish Your Book in 90 Days, and on the subject of her upcoming book, Ignite: Spark and Burn Bright by Living on the Edge
Here is a current Link to a new November 2021 Forbes article on Diana's work:
https://www.forbes.com/sites/mikeswigunski/2021/11/18/4-essential-book-launch-steps-to-publish-a-best-seller-and-grow-your-business-exponentially
"My work is loving the world…
Are my boots old? Is my coat torn?
Am I no longer young and still not half-perfect?
Let me keep my mind on what matters,
Which is my work, which is mostly
Standing still and
learning to be astonished."
MESSENGER by Mary Oliver
"The stories people tell have a way of taking care of them. If stories come to you, care for them. And learn to give them away where they are needed. Sometimes a person needs a story more than food to stay alive. That is why we put these stories in each other's memories."
― Barry Lopez, Crow and Weasel
Michale Gabriel
Michale Gabriel has been called "one of the most inspiring storytellers in the world." Story by story, country by country, her forty-year journey as a professional storyteller has led Michale, founder, and CEO of Story by Design, from elementary school classrooms and children's hospitals, into corporate boardrooms and conference halls, fundraising galas, and even onto Soviet television. In 1987, near the end of the Cold War, Michale was invited to star in a Soviet produced television series, telling favorite stories of American children, which reached 50 million viewers. Her promotion of intercultural understanding earned her the nickname "Russia's American Fairy Godmother." That 6-part series was later used by pedagogical institutes throughout the former USSR to teach English teachers "how to tell stories with expression like Michale Gabriel."
Michale's Young Storytellers for Peace US/USSR exchange program, launched in 1986, generated extensive international press coverage, was the subject of an award-winning, nationally aired, PBS documentary, "Young Storytellers in Russia," and was featured on NBC Nightly News. Michale and her Young Storytellers were invited to meet privately with President and Mrs. Ronald Reagan prior to their ground-breaking journey. Michale has used storytelling as a tool for understanding and human connection in Uganda, Iraq, and Costa Rica.
For over 20 years, in addition to her other clients, Michale served as a consultant to the Boeing Company in both the US and India on storytelling and leadership, designing gold standard leadership programs, delivering keynotes and workshops to over 10,000 employees, and providing 1:1 storytelling coaching throughout the enterprise.
Michale works worldwide with clients through her Story by Design on-line and in person coaching and workshops for entrepreneurs, public speakers, corporate and non-profit leaders. She loves helping her clients discover the unique wisdom, and power in their own stories and then masterfully guides them in both shaping and delivering them for impact in a variety of settings: podcasts, master classes, boardrooms and stages.
Michale is the recipient of the "Most Inspiring Speaker" Award for 2021 from the prestigious Inside Edge Foundation for Education. She is a Parent's Choice award-winning recording artist, contributing author to the Chicken Soup to Inspire the Body and Soul series, The Healing Heart, author of Using Children's Literature, Storytelling, Writing, Drama, and Art to Enhance Your Classroom Program.
She founded the Storytelling Residency Program at Seattle Children's Hospital, Tell Me A Story program for rural Alaska, Young Storytellers for Peace US/USSR Exchange, Teachers for Peace US/USSR Exchange, and Storytell International. She is currently writing her memoir about the transforming power of story, which will be published in 2023.
Here is a link to a September 2021 presentation Michale did for the Inside Edge Foundation which highlights the power of story to transform lives.
https://www.youtube.com/watch?v=lwJqVtym1Hg&t=226s
Diana, I am so happy for your success, your contentment and joy! You are the quintessential essence of a radiant soul!
Michale Gabriel has a special gift—the ability to focus an audience both intellectually and emotionally around shared values and purpose.
Michale, what makes you unique are your life experiences, and how you were able to find value in each of your stories and share them with others. When you share your stories, you share the emotions, you make us part of your stories. You inspire us to reflect on our life stories and how they have influenced us. You touch our minds and hearts with your kindness, empathy and genuineness. Once a person has spent 5 minutes with you, you become a part of their life, forever – that's the impact you leave a person with.
You are an inspiration.
Diana's story of pure love and expecting magic has indeed resulted in a magical life of connection, divinity in action and impact on many. Her inspiration and humor make her accessible.
Michale Gabriel has the gift of knowing that everyone has a story inside of them but few know how to create it, share it, and put the right voice behind it. She takes storytelling to the next level so that her client's journey with her around pulling out the right story becomes a way of life that can transcend into every area of someone's life. When you know your story, you know your direction. For me, I had many stories but which story was the most relevant was hard to figure out on my own. Thanks to Michale, I lead with my signature story and have harvested others that further define my mission and vision.
A master of making things happen, Diana's a catalytic connector of great people and life-enhancing projects. With her ability to positively impact everyone and every idea that comes her way, she's created a lasting, heart-centered legacy!
Michale Gabriel is one of the great storytellers. She moves us to laughter and to tears. She creates magic for the children and for the child in each of us. She is my mentor and my teacher.
Diana Wentworth is the calmest, most measured, most engaging speaker I ever heard.  Her stories are mesmerizing and life-changing.
Her sense of spirituality and the joy of life are not only inspiring but contagious!
Michale is not a passive traveler on her journey in this world.  She has a magical gift for creating story by combining elements of a life into a tapestry that reveals the heart and soul of that life.  This is her true art.  She helps others discover the brilliance in their life's story.  Along the way, they learn to honor their human journey and deepen compassion of self.  Every person she touches in this way is forever changed. Michale's is not an ordinary life as she keeps to the path less travelled and stays impeccably true to the inner source of soul.
Diana Wentworth is an enchantress. When she speaks of creating a magical life, she is an embodiment. Her presentation will keep you spellbound.
Diana, I was inspired by your talk today because it continued my awakening to the hard fact that the movement of the spirit cares not about age or status. It just seeks those open and willing to dream big and act boldly to further humanity. It helps me to see that I too walk a path of grace and incredible opportunity.
DOUBLES
$3,650
PER PERSON
Double occupancy in a Jungle Bungalow or Geodesic Dome with views of the jungle.
SINGLES
$4,450
PER PERSON
Single occupancy in your own private Bali style suite or Jungle Bungalow with beautiful jungle views.
VIP SINGLES
$4,950
PER PERSON
Single occupancy in your own private, 200-Year-Old Balinese villa with a private deck and stunning views of the jungle and ocean.

A completely private campus; available to your retreat group only. Access to a private waterfall, nature paths, incredible flora and fauna, and an ocean view infinity pool. Also included is a dedicated team of 20+ local professionals to coordinate everything for your enjoyment, from touch down to take off.
​

Gourmet plant-based cuisine prepared using all local and organic produce. Full meals, snacks, teas, coffees and fruit trays available throughout your stay.
Private transportation from the International airport to our campus; a private driver and transportation to our campus in Imiloa Mountain.
What's Not Included
Flights to SJO, Spa Services
You will be immersed in a 22-acre jungle oasis in Dominical, Costa Rica.
This enchanted mountainside jungle venue is ten minutes from the beach and it is the perfect setting to experience deep healing, embraced by nature, yet completely luxurious.
While staying at Imiloa you will enjoy our nature paths, our private waterfall, our salt-water pool, stunning views and delicious and nutritious meals by our five-star vegan chef.
Included in each accommodation is the comfiest mattresses, 850 thread count sheets, storage space and dry rooms as needed, fiber optic internet, daily cleaning service, private en-suite bath, indoor/outdoor design for every accommodation with a focus on nature and being your private refuge, and full service, thrice-filtered private well for drinking water throughout the property.
BALI VILLAGE
Bali Village is perched 1200 feet about the Pacific Ocean, on a ridge line of flora, fauna and wildlife every direction you look. These 5 accommodations are 160-200 year old homes imported from Bali. Each with their own en suite bathrooms, the homes bring you back and create a self space for rejuvenation and transformation.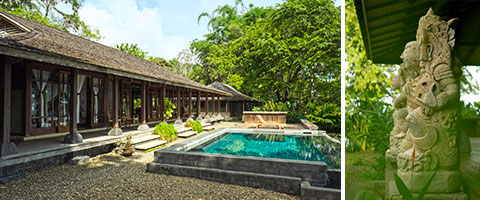 BALI MASTER SUITE
200 Year Old Homes from Bali. Imported from the Java Islands, these homes boast outdoor showers, full kitchen access, surreal vista views to the Pacific, their own salt water plunge pools and hand-carved art that is as old as the houses.
JOGOLO HOUSE
Perched on the edge of the cliff, at the furthest end of the property, sits a 170 year old home from the Java Islands we call Jogolo. Complete with a writer's desk, outdoor Balinese shower, hand-carved architecture that will transport you to another land and time, Jogolo is teeming with history and comfort. Your cold plunge pool is adjacent to a warm bath, both outdoor. Full kitchen, too.
POTOO HOUSE
This two-floor imported home from Bali will have you wishing you'd never leave. Complete with a King Bed and a twin in the corner of the 180 year old home, Potoo has modern luxury with 360 views of the Pacific. On the lower level, a plunge pool and private spa. Potoo also includes many outdoor chairs, hammocks and a full kitchen, too.
BUNGALOW HILL
Six Jungle Bungalows built on the side of the mountain on the pathway to our very own private waterfall. Bali inspired, the interiors feature natural finishings and a gorgeous exposed shower and bath tub.
DOMELAND
Six Buckminster Fuller inspired Geodesic River Domes, among the best made in the world and partially powered by solar energy, sit perched on the edge of our private river with the fresh, flowing water feeding up to the domes. Experience the soothing sounds of relaxing and sleeping next to flowing water. Amazing!
THE HOUSE OF MASTERS
The House of Masters, located in the center of the property, is a 2,000 square foot Balinese structure hanging 100 feet in the Jungle canopy. Adjacent are restrooms and a yoga storage room for mats, blocks and more. The space can be converted for any type of retreat, workshop or dance party.
THE HEART OF IMILOA
A sprawling 3,000 square foot space that is the "Heart of Imiloa," our social space features loungy, multicultural inspired furnishings, couches, and 5 imported tables from Bali, all under a Polynesian style roof.
THE PATHS
Jungle paths connect the 20+ acres at Imiloa, with hand-made stairs and lighting, creating an immersive, easy experience for you and guests.
THE WATERFALL
Beyond the Jungle Bungalows is a path that leads to our own private waterfall. Descend into what feels like an enchanted jungle forest as you bask in the magic and beauty of the surrounding nature.
At Imiloa, we are a proudly conscious comfort food campus. That means we serve healthy, locally-sourced, gourmet vegan meals that are as artistically plated, scientifically nourishing and delightfully crafted for all of our retreat guests.
Imiloa's world-class spa is a curated, sensual and deeply moving experience. Choose from Ayurvedic massages and practices, to a shamanic masseuse from our team members who are from the Boruca indigenous tribe here in Costa Rica, to more traditional Swedish, relaxation or Thai yoga massages, body wraps and others. A full list of spa offerings and a link to book during your free time will be provided to you before you arrival.
Schedule your plane to arrive at SJO. In order to access your private plane charter, all guests must be at the Domestic Terminal at SJO San Jose, Costa Rica no later than 3PM on the arrival day.
Once landed, proceed to customs and instructions will be provided to meet Imiloa concierge.
Proceed to baggage claim with concierge and proceed to Domestic Terminal (3 minute walk from International Terminal). Please be at the Domesitc Terminal at SJO San Jose, Costa Rica no later than 3PM on your day of arrival.
Private Imiloa plane will be waiting to fly you to Quepos.
Private ground transport shuttles will pick you up in Quepos and bring you to Imiloa.
If you are already in Costa Rica, ground transport may be coordinated from Quepos, Dominical or Uvita as inclusive.
Please do not plan to drive to Imiloa on your own. It is not permitted.
If you need to arrive the day before, please stay at the Hampton Inn across from the airport, or plan to be in the San Jose Domestic Terminal for private flight to Imiloa by no later than 3PM (instructions will be emailed).
You will depart Imiloa at 9AM, and arrive at the landing strip at 9:30AM, with an estimated arrival to SJO airport at 10:30AM. The domestic terminal is a 5-10 minute walk to the international terminal at SJO. Typically, it is suggested to be at the international terminal 2.5 hours prior to your international departure. Please book your departing international flight accordingly, knowing that you will be at the airport at 10:30AM on departure day.
Questions? Email us: impact@imiloainstitute.com
Our team, the Welcome Home Team at Imiloa, from kitchen to property, gardening to coordination, logistics to transportation, will be available to you throughout your stay with anything you need. They have a ready smile, answers to most of your questions and can quickly support so your experience is easy and fulfilling.
TRAVEL INSURANCE and COVID PROCEDURES
Imiloa has partnered with a comprehensive travel insurance provider that meets the entry requirements for Costa Rica and offers "cancel for any reason" plans to maximize coverage: www.globalrescue.com/imiloa (additional cost)
COVID tests for entry and exit requirements to your home country can be done on site. We have an on-call physician that can come to the property for testing and results sent in English.
We follow cleansing and sanitization protocols as per Ministry of Health to ensure a safe environment
Staff and retreat participants are asked to follow and safety guidelines such as social distancing, washing of hands, and proper mask wearing.
Imiloa is located in the jungle, at the top of a mountain, overlooking the Pacific Ocean. Our lush retreat center is located adjacent to the second most biodiverse land on the planet.
Dominical, only 13 minutes away, is a beach town with surfer vibes, great coffee and plenty of shopping. Just north of our municipality is Quepos and to the south, Ojochal and Uvita, which is known as the Whale's Tail.
Just 45 minutes east sits Costa Rica's second largest city, San Isidro. Within an hour of Imiloa in all directions, you have access to airports, cafes, beaches, waterfalls, biodiversity and happy people ready to show you the lush, lovely area we call home.
You'll arrive easily on our private plane, and your group will enjoy unlimited transportation to and from the beach, to and from the airport and throughout your stay with us.