The universe is whispering, Hey you! Yes, YOU. There is a different way to live your ONE PRECIOUS LIFE.
The SoulFULL Living Retreat gathers a community of open-hearted and dynamic women who desire to manifest experiences, contributions, relationships, and results that enhance their life and those they share it with. Your path towards a life of purpose, significance, belonging, freedom, balance, and joy is waiting for you here!
The SoulFULL Living Retreat is THE PLACE where women like you are seen, celebrated, and supported to develop more authentic connection to self and others, inspiring deep and lasting personal growth and relational change.
As working mothers and certified leadership, life and wellness coaches, we are passionate about equipping women with what they need to live their very best life. Especially when SoulFULL Living feels hard or out of reach.
So, what does it mean to live a SoulFULL Life?
A SoulFULL Human balances doing and being, masculine and feminine, giving and receiving, and work, rest and play.
A SoulFULL Woman empowers herself to live her truth, embraces imperfection, relishes passion, and invites serenity.
A SoulFULL Leader owns her purpose & strengths with confidence and inspires others to do the same.
A SoulFULL Mother nurtures herself unapologetically and raises her children securely.
A SoulFULL Daughter speaks her truth, knows her needs, and accepts her mom's imperfections.
A SoulFULL Partner gives and receives freely while honoring herself and others.
A SoulFULL Friend finds her people and dares to be known for who she is.
A SoulFULL Changemaker believes in her purpose and pursues her goals and aspirations with confidence, influence and service.
Would you like to know this woman? You already do!
Even if, in this moment, you might resonate more with some of these statements:
I am on the verge of burnout.
I feel guilty no matter what role I am playing.
I say yes when I mean no.
I resist help and assistance from others.
I have to be perfect.
I suffer from self-doubt and comparison.
I have lost touch with my body and what it needs.
I struggle to identify my purpose.
I am uninspired and unfulfilled at work.
I worry I am failing my children.
I lack passion for my partner.
I long to establish relationships that are genuine, secure, and satisfying.
We see you! We too are women who have navigated the same types of things you are. Who have felt many of the things you have and at times, still do. The challenges, drama, and suffering are real! We get it which is what inspired us to create this experience. For women like us. For women like you!
The 5-day immersive SoulFULL Living Retreat is both an experience and a community of like-minded women who support each other to:
KNOW our unique sources of purpose, significance and belonging.
HEAL patterns of thinking, feeling and behaving to manifest personal, professional and relational success.
SEE all parts of ourselves ~ Woman, Leader, Partner, Mom, Daughter, Sister, Friend ~ free from self-limiting beliefs that keep us stuck.
LOVE ourselves and others authentically through more conscious awareness of our needs and our boundaries.
Gather with like-minded women who are ready to transform their connection to self and others.
Master mindsets, tools, and self-care habits that get activated at the retreat and sustained back home.
Find newfound peace and satisfying relational bonds.
Understand your unique sources of purpose, significance and belonging.
Invite vulnerability and intimacy into the relationships that matter to you most, including the one with yourself!
Create better relationships with your family. Develop new or deeper friendships. Attract marvelous clients & easy-to-work-with partners and co-workers.
Our Carefully Crafted Journey
In community, here is the journey that awaits you!
Day 1 – June 9
COMMUNITY
Arrive at Imiloa via a chartered flight landing in the heart of the jungle. Discover the luxury of your accommodations and settle in with chef-prepared snacks and a dinner. Mingle with your community of open-hearted women who also desire connection and authenticity in their relationships. Relax and connect fireside together as details about the week ahead are revealed. Retire to your cozy bed in the jungle.
Day 2 – June 10
KNOW
Begin the journey by taking stock of all that has brought you to this retreat and set intentions for the week ahead. You will enter the SoulFULL Living journey by gaining more awareness about yourself and your relationships. Guided in gentle curiosity, you will be invited to get to know your acquired beliefs and patterns of behavior and how these connect to your deepest personal and relational needs. You will begin to reclaim your power and influence in relationships.
Day 3 – June 11
HEAL
Using the awareness awakened on Day Two, on Day Three you will learn how to begin healing your pain points; courageous work that helps reduce frustrating, repetitive, and burdening patterns that show up in our relationships to ourselves and others. You will explore and nurture your unique sense of purpose, significance, and belonging. You will leave this day with clarity, acceptance, and self-compassion.
Day 4 – June 12
SEE
Empowered by the transformative work of the past few days, a beach outing is your backdrop for a playful focus on self-care and self-acceptance. Re-envision a version of yourself that is powerful, connected, authentic, and increasingly free from the thoughts, feelings and behaviors that do not serve you or your relationships. Practice bringing your whole self to your relationships. Speak with strength, clarity, and honesty as you define a new way of showing up for yourself and others. You will begin mastering mindsets, tools, and self-care habits that invite ease and serenity.
Day 5 – June 13
LOVE
You'll spend this final full day completely attuned as your authentic self, relishing in your unique gifts of body, mind and spirit. A morning excursion honors your playful side with a fun-filled adventure. An afternoon activity helps you discover new ways to love and be loved. By now, you will have noticed that the slight shifts in how you show up for yourself and others are more congruent with your intentions and your needs. An evening gathering with your newfound community celebrates the incredible journey made in the course of just five days.
Day 6 – June 14
CONNECTION
This part of your SoulFULL Living journey ends by paying tribute to the deeper connections you've made to both self and others. Recognize the life-changing growth of each and everyone present, and appreciate the evolution of your heart-centered connections that will continue to serve you long after our retreat concludes.
Your SoulFULL Life is ready to welcome you, and so are we!
Renee
& Aleia
Note: The SoulFULL Living Retreat is designed for all women. Our community welcomes older adolescents and young adults who desire to connect with their peers and elders while embarking on their own personal growth journey. Minors must be accompanied by an adult.
Renée Dineen
Renée is an ICF PCC accredited executive and life coach, seasoned group facilitator and leadership consultant. Today she runs her own global practice out of California with an important focus on women and leadership. She believes that the new era of women's leadership calls us to step more fully into our role as changemakers—requiring greater attention to self-care, a willingness to heal what calls to be healed, and the courage to name and pursue our truest aspirations. Only then can women achieve the freedom, discernment and choiceful balance needed to fully step into their unique purpose and work in this world.
Renée is a woman on a mission for healing. What drives her above all is the opportunity to reduce human and organizational suffering and equip people to live with more purpose, grace, and joy. She has published dozens of self-help and leadership articles which have been featured in publications such as Fortune, Financial Times & Elephant Journal. Her new book titled The Art and Truth of Transformation for Women was released in 2021 and is a #1 best seller on Amazon.
In 2015, she founded the Modern Goddess Retreat: An Intimate Experience for Mothers & Daughters. The retreat is hosted multiple times a year in the California wine country. Taking all they have learned and experienced personally, Renée and her team have designed this new retreat to be hosted for the first time at Imiloa for women of all ages who share a desire to live a SoulFULL life!
Renée earned her Masters in Industrial/Organizational Psychology and is part of the coaching faculty at two highly renowned universities—Stanford in the US and IMD in Lausanne, Switzerland. She is also a TedX Speaker, a Hoffman Institute Graduate and seasoned teacher of the Enneagram.
Renée has been married for almost 20 years and has two teenagers. Together as a family, they have turned their passion for travel, 50 countries and counting, into a true family ritual!
Aleia Amend
Aleia has dedicated her entire adult life to working with women. She has been an executive in the beauty industry for 25 years using that platform to holistically guide women to seeing and believing their truth with acceptance of self through the lens of their soul.
Along with helping women disrupt their relationship to contrived standards of beauty, she has a tremendous passion for empowering women to choose themselves through the art of self care. Whether it's a yoga class, ballroom dancing, a journal practice, creating a nourishing meal or natural healing through essential oils, Aleia's empathic connection and support for women is felt before you even meet her!
As the creator of Soul Truth Wellness, an entrepreneur and the founder of Sol Sisters Nutritious Kitchen, Aleia brings self care full circle with her wellness clients walking them gently down the path of mindful awareness around patterns and behaviors that are not in service of our soul's journey and help to facilitate truth and courage that nourish our bodies and bring our lives the greatest sense of joy.
As a trained professional dancer, certified essential oil consultant and certified yoga and Pilates teacher, Aleia brings her integral and unique gifts to the retreat through holistic wellness activities and a distinctive session created to unearth our soul's truth to empower a courageous and truthful journey in this life.
The depth of heart and mastery that Renee and Aleia bring to this experience is awe-inspiring.
My relationships will not be the same afterwards. This experience has the potential to shift and make more peaceful, joyous and mutually enriching, every relationship I have with the women in my circle of life.
Thanks to Renee's outstanding ability, the outcome for me is that she cracked my life as an adult. I will be grateful to her for my entire life.
There was a perfect amount of intensity and levity. I came away with stronger relationships, a sense of relief, a better understanding of my pathway forward, fond memories, new friends and new intentions. I think all women should do this work. It would do wonders for our families as society in large.
I still feel the very positive vibes of the week we spent together. The impact it has had on me, both in my private and my professional life, is tremendous. I feel much more 'in balance' (heart, body & mind), to live life again to the fullest. I am more grateful for the life I have lived and the people I have loved so far. Many thanks for all your valuable insights and feedback.
Ready to transform your relationships as women, and with women?
Lodging in the serene "Geodesic River Domes"
Quadruple occupancy to include you and three other attendees
Lodging in the serene "Geodesic River Domes"
Triple occupancy to include you and two other attendees
Lodging in the exquisite "Jungle Bungalows" (Jungalows) complete with a bathtub in the jungle
Double occupancy to include you and one other attendee
Lodging in your own private, 200-Year-Old "Bali Home" with access to a view of the mountains and ocean
Single occupancy to ensure privacy
6 days and 5 nights luxury accommodations
Gourmet organic meals
Yoga and guided meditations
Pool & beach experiences
One hour spa treatment of your choice
Adventure excursion
2 private plane transfers from SJO airport to Imiloa's landing strip and all inclusive luxury ground transportation
Access to private waterfall, river adventures, and miles of jungle paths for relaxation, meditation and exploration.

A completely private campus; available to your retreat group only. Access to a private waterfall, nature paths, incredible flora and fauna, and an ocean view infinity pool. Also included is a dedicated team of 20+ local professionals to coordinate everything for your enjoyment, from touch down to take off.
​

Gourmet plant-based cuisine prepared using all local and organic produce. Full meals, snacks, teas, coffees and fruit trays available throughout your stay.
Private transportation from the International airport to our campus; a private driver and transportation to our campus in Imiloa Mountain.
You will be immersed in a 22-acre jungle oasis in Dominical, Costa Rica.
This enchanted mountainside jungle venue is ten minutes from the beach and it is the perfect setting to experience deep healing, embraced by nature, yet completely luxurious.
While staying at Imiloa you will enjoy our nature paths, our private waterfall, our salt-water pool, stunning views and delicious and nutritious meals by our five-star vegan chef.
Included in each accommodation is the comfiest mattresses, 850 thread count sheets, storage space and dry rooms as needed, fiber optic internet, daily cleaning service, private en-suite bath, indoor/outdoor design for every accommodation with a focus on nature and being your private refuge, and full service, thrice-filtered private well for drinking water throughout the property.
BALI VILLAGE
Bali Village is perched 1200 feet about the Pacific Ocean, on a ridge line of flora, fauna and wildlife every direction you look. These 5 accommodations are 160-200 year old homes imported from Bali. Each with their own en suite bathrooms, the homes bring you back and create a self space for rejuvenation and transformation.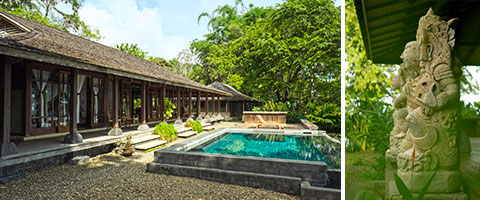 BALI MASTER SUITE
200 Year Old Homes from Bali. Imported from the Java Islands, these homes boast outdoor showers, full kitchen access, surreal vista views to the Pacific, their own salt water plunge pools and hand-carved art that is as old as the houses.
JOGOLO HOUSE
Perched on the edge of the cliff, at the furthest end of the property, sits a 170 year old home from the Java Islands we call Jogolo. Complete with a writer's desk, outdoor Balinese shower, hand-carved architecture that will transport you to another land and time, Jogolo is teeming with history and comfort. Your cold plunge pool is adjacent to a warm bath, both outdoor. Full kitchen, too.
POTOO HOUSE
This two-floor imported home from Bali will have you wishing you'd never leave. Complete with a King Bed and a twin in the corner of the 180 year old home, Potoo has modern luxury with 360 views of the Pacific. On the lower level, a plunge pool and private spa. Potoo also includes many outdoor chairs, hammocks and a full kitchen, too.
BUNGALOW HILL
Six Jungle Bungalows built on the side of the mountain on the pathway to our very own private waterfall. Bali inspired, the interiors feature natural finishings and a gorgeous exposed shower and bath tub.
DOMELAND
Six Buckminster Fuller inspired Geodesic River Domes, among the best made in the world and partially powered by solar energy, sit perched on the edge of our private river with the fresh, flowing water feeding up to the domes. Experience the soothing sounds of relaxing and sleeping next to flowing water. Amazing!
THE HOUSE OF MASTERS
The House of Masters, located in the center of the property, is a 2,000 square foot Balinese structure hanging 100 feet in the Jungle canopy. Adjacent are restrooms and a yoga storage room for mats, blocks and more. The space can be converted for any type of retreat, workshop or dance party.
THE HEART OF IMILOA
A sprawling 3,000 square foot space that is the "Heart of Imiloa," our social space features loungy, multicultural inspired furnishings, couches, and 5 imported tables from Bali, all under a Polynesian style roof.
THE PATHS
Jungle paths connect the 20+ acres at Imiloa, with hand-made stairs and lighting, creating an immersive, easy experience for you and guests.
THE WATERFALL
Beyond the Jungle Bungalows is a path that leads to our own private waterfall. Descend into what feels like an enchanted jungle forest as you bask in the magic and beauty of the surrounding nature.
TRAVEL INSURANCE and COVID PROCEDURES
TRAVEL INSURANCE AND PROTECT, DURING AND AFTER PANDEMIC www.globalrescue.com/imiloa 
We have an on-call doctor 
Fully following on cleansing protocols as per Ministry of Health
Schedule your plane to arrive at SJO. In order to access your private plane charter, all guests must be at the Domestic Terminal at SJO San Jose, Costa Rica no later than 3PM on the arrival day.
Once landed, proceed to customs and instructions will be provided to meet Imiloa concierge.
Proceed to baggage claim with concierge and proceed to Domestic Terminal (3 minute walk from International Terminal). Please be at the Domesitc Terminal at SJO San Jose, Costa Rica no later than 3PM on your day of arrival.
Private Imiloa plane will be waiting to fly you to Quepos.
Private ground transport shuttles will pick you up in Quepos and bring you to Imiloa.
If you are already in Costa Rica, ground transport may be coordinated from Quepos, Dominical or Uvita as inclusive.
Please do not plan to drive to Imiloa on your own. It is not permitted.
If you need to arrive the day before, please stay at the Hampton Inn across from the airport, or plan to be in the San Jose Domestic Terminal for private flight to Imiloa by no later than 3PM (instructions will be emailed).
You will depart Imiloa at 9AM, and arrive at the landing strip at 9:30AM, with an estimated arrival to SJO airport at 10:30AM. The domestic terminal is a 5-10 minute walk to the international terminal at SJO. Typically, it is suggested to be at the international terminal 2.5 hours prior to your international departure. Please book your departing international flight accordingly, knowing that you will be at the airport at 10:30AM on departure day.
Questions? Email us: impact@imiloainstitute.com
Imiloa's world-class spa is a curated, sensual and deeply moving experience. Choose from Ayurvedic massages and practices, to a shamanic masseuse from our teammembers who are from the Boruca indigenous tribe here in Costa Rica, to more traditional Swedish, relaxation or Thai yoga massages, body wraps and others. A full list of spa offerings and a link to book during your free time will be provided to you before you arrival.
At Imiloa, we are a proudly conscious comfort food campus. That means we serve healthy, locally-sourced, gourmet vegan meals that are as artistically plated, scientifically nourishing and delightfully crafted for all of our retreat guests.
Our team, the Welcome Home Team at Imiloa, from kitchen to property, gardening to coordination, logistics to transportation, will be available to you throughout your stay with anything you need. They have a ready smile, answers to most of your questions and can quickly support so your experience is easy and fulfilling.
Imiloa is located at the top of a mountain, at the end of the road and out on the edge of the cliff, 3KM north of Dominical, Costa Rica. You'll arrive easily on our private plane, and then enjoy unlimited transportation throughout the length of your stay.
Beyond this, Imiloa is located on the edge of the second most bio-diverse area on the planet. Dominical is a beachtown with surfer vibes, great coffee shops and plenty of shopping (only 13 minutes away). To the North, the center of our Municipality, Quepos, and to our south, Uvita, the famous Whale's Tail and Ojochal (with heavy European influence). Just 45 minutes east sits Costa Rica's second largest city, San Isidro. So whether 30 minutes north or south of Imiloa, or 45 minutes east, you have airports and cafes, beaches and waterfalls, bio-diversity and happy people ready to show you the lush, lovely area we call home.