Experience deep healing and inner transformation via sacred plant ceremonies, rainforest immersion, and Shamanic adventures on this 5 night retreat in tropical paradise.
By diving deeply into the mystical methods and traditions of shamanic healing,
we will rekindle our connection to Mother Earth, each other, and ourselves. Using ancient healing methods including sacred plant ceremonies, forest bathing, meditation, breathwork, and fun-filled adventures, we will reignite the inner fire that fuels passion and gives deep meaning to our lives. If you are a seeker of deep mystical experiences and reconnection this is the retreat for you!
Sacred Path's mission is to revive ancient mystical and shamanic traditions in order to achieve profound inner healing and deep reconnection with ourselves, each other, and Mother Earth. On this 5 night retreat immersed in the beauty and vibrancy of the Imiloa Institute, we will dive deeply into ancient practices to experience mystical states and deep inner healing. You will be elevated, transformed, and renewed.
Join us in tropical paradise as we reconnect deeply with ourselves and Mother Earth through experiential adventures including blue clay ceremony at the base of a sacred jungle waterfall, grounding cacao ceremony, rainforest immersion hikes, sunset celebration ceremonies, and immersing ourselves fully into the intense beauty and healing energies of The Imiloa Institute. We will explore and experience multiple shamanic practices to activate and sustain elevated states of being.
By diving deeply into our consciousness with the aid of sacred medicine we will identify and remove blocks that keep us from realizing our dreams and highest potentials. This Sacred Path Retreat will include two sacred plant ceremonies (introductory & advanced) and group integration sessions to "lock in" the benefits leading to true reconnection, life elevation, and transformation.
The Sacred Path beckons. Will you answer the call and join us to break through barriers and limiting beliefs to elevate your life to levels beyond your wildest imagination? We look forward to you joining us on The Sacred Path.
Experience the safe use of sacred medicines and ancient modalities to elevate your life beyond your wildest imagination.
Explore ancient healing modalities including plant & medicines, meditation, breathwork, diet, and nature connection to raise your vibration and live grounded, centered, and amazing lives.
Experience the profound benefits of reconnecting with Mother Nature and your authentic self.
Reconnect with your true inner nature and revive the sparks of passion, wonder, curiosity and awe.
Release stuck emotions and blocked energies to move towards greater freedom and flow states.
Andy Sudbrock
Andy Sudbrock is an Ecologist and Medicine Man who specializes in facilitating deeply mystical sacred plant ceremonies and nature reconnection experiences. His deep connection with Mother Earth is powerful and contagious. People who work with Andy often have experiences so profound that they refer to them as the most meaningful experiences of their lives. Andy is deeply connected to the natural world and understands that most people live in a state of disconnection from the incredible healing power provided by Mother Earth. Andy is gifted in helping clients to reestablish their connection with Source and transforming lives through connection, deep healing, and shamanic practices. Andy is the founder of Sacred Path Retreats and when he is not leading medicine retreats he abides and gardens at his nature sanctuary and forest preserve near Nashville, TN.
Michelle Beck
Michelle Beck is a Nurse Practitioner with a specialty in psychiatry and a certified Psychedelic Integration Coach. She has extensive experience working in substance abuse and mental health, along with internal medicine and end of life care. She has a calling to guide individuals and groups through alternative spiritual healing modalities. Michelle has the heart and hands of a gifted and grounded healer and her calm and joyful spirit is medicine in and of itself. Michelle is the Medical Director for Sacred Path Retreats.
Jennifer Masley
Jennifer Masley is a multi-talented healer with 25 years of experience in leading people through personal and professional transformation by way of coaching, food energetics, yoga, reiki, sound healing, meditation and nature immersion. Jennifer has created, owned and operated sustainable restaurants and juice bars throughout the United States. She believes that real health starts with building strong networks and is steadfast in her commitment to deepening community connection. Having spent her life committed to the well-being of people and planet, she feels strongly that better understanding the connection between the two is where the healing begins.
I am easily sucked into the grind of everyday wondering if there is ever an ending, every waking minute evaporates into my endless to do list. From the moment I arrived at Andy's sacred retreat I felt my nervous system quiet, and I could hear, smell and feel again. Andy has a beautiful gift to share with the world and I feel so grateful to be able to share such a special space with him. I connected for the first time with the beauty that is in everything. The forest came alive and allowed me to remember, remember why I am here and why there is no need for fear. My heart is filled with joy and love, which I hope to now share with all I encounter. What a gift, priceless.
As I have gone through life, my days have been filled with tasks to do and goals to accomplish, around work, family, and daily chores. "Doing" dominated "Being" and the wonder and sacred in the world around me and within me often went unrecognized. I had the extreme good fortune to be connected with Andy, hoping to experience a journey of relearning how to find the sacred in each day. Through a reset retreat with Andy as guide, I explored nature and my own depths in a way I had never before experienced. The love of family and friends, so taken for granted, emerged with a renewed sense of gratitude and priority, and the majesty and mystery of trees, grasses, birds and the unbridled beauty of a sunlit Fall day awakened my senses and mind. After the retreat, I continue to feel the positive energy from it as I breathe in the day, ever thankful for this time together and the benefit of Andy's wisdom, kindness, and vision.
Prior to participating in Ceremony with Andy, I was in deep grieving over a recent loss in my life. I was called to Andy and his remarkable services because I knew he offered the right medicine and it was the right time. When they say the medicine knows, or calls someone to sit, I have to say this is very true and real in my experience. I have participated in plant ceremonies before and my time with Andy stands out as very intimate and caring. My fondest memories of the night were when he knew intuitively to use and bring into the journey experience sound healing tools and even sage and palo Santo. Andy can truly see beyond our world. I felt very protected, safe and guided throughout the whole experience. Through Andy's expert facilitation I was able to reach Source. During the journey to this sacred space that resides within us and around us simultaneously, I received so much wisdom and love, it is one of the most moving and truth-revealing experiences of my life. I know the lessons, messages, gifts, etc. are different for everyone who's journey's lead them here — but I can say that mine helped me obliterate the last obstacles and yet at the same time assist me in putting myself back together. I came away from the whole experience feeling more cleansed, clear, enlightened and inspired to proceed on my path unhindered and uninhibited. I note my journey with Andy as a pivot point on my path over the past year. I have also had the blessing of sitting with Andy as a participant in ceremony as well. In all of my experiences with him, Andy generously brings both his healer's heart and warrior-wizard's grounded energy to every experience. It's a huge blessing for anyone or any group to benefit from Andy's gifts. For those beginning on the path with plant medicine, I can't recommend Andy more highly. He truly is a messenger and envoy for the medicine and not only does he help bring journeyers closer to our own hearts and spirits — but also to that of our planet Earth mother. Thank you, Andy for being a caring way shower, and one who is helped me, and so many others, walk each other home.
DOUBLES
$3,800
PER PERSON
Double occupancy in a Jungle Bungalow or Geodesic Dome with views of the jungle
SINGLES
$4,600
PER PERSON
Single occupancy in your own Bali style suite or Jungle Bungalow with beautiful jungle views
VIP SINGLES
$5,400
PER PERSON
Single occupancy in your own private, 200-Year-Old Balinese villa with a private deck and stunning views of the jungle and ocean

A completely private campus; available to your retreat group only. Access to a private waterfall, nature paths, incredible flora and fauna, and an ocean view infinity pool. Also included is a dedicated team of 20+ local professionals to coordinate everything for your enjoyment, from touch down to take off.
​

Gourmet plant-based cuisine prepared using all local and organic produce. Full meals, snacks, teas, coffees, juices, elixirs and fruit trays available throughout your stay.
Private transportation from the International airport to our campus; a private driver and transportation to our campus in Imiloa Mountain.
What's Not Included
Flights to SJO, Spa Services
You will be immersed in a 22-acre jungle oasis in Dominical, Costa Rica.
This enchanted mountainside jungle venue is ten minutes from the beach and it is the perfect setting to experience deep healing, embraced by nature, yet completely luxurious.
While staying at Imiloa you will enjoy our nature paths, our private waterfall, our salt-water pool, stunning views and delicious and nutritious meals by our five-star vegan chef.
Included in each accommodation is the comfiest mattresses, 850 thread count sheets, storage space and dry rooms as needed, fiber optic internet, daily cleaning service, private en-suite bath, indoor/outdoor design for every accommodation with a focus on nature and being your private refuge, and full service, thrice-filtered private well for drinking water throughout the property.
BALI VILLAGE
Bali Village is perched 1200 feet about the Pacific Ocean, on a ridge line of flora, fauna and wildlife every direction you look. These 5 accommodations are 160-200 year old homes imported from Bali. Each with their own en suite bathrooms, the homes bring you back and create a self space for rejuvenation and transformation.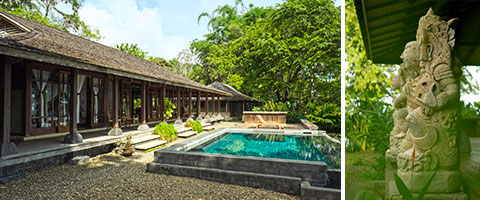 BALI MASTER SUITE
200 Year Old Homes from Bali. Imported from the Java Islands, these homes boast outdoor showers, full kitchen access, surreal vista views to the Pacific, their own salt water plunge pools and hand-carved art that is as old as the houses.
JOGLO HOUSE
Perched on the edge of the cliff, at the furthest end of the property, sits a 170 year old home from the Java Islands we call Joglo. Complete with a writer's desk, outdoor Balinese shower, hand-carved architecture that will transport you to another land and time, Joglo is teeming with history and comfort. Your cold plunge pool is adjacent to a warm bath, both outdoor. Full kitchen, too.
POTOO HOUSE
This two-floor imported home from Bali will have you wishing you'd never leave. Complete with a King Bed and a twin in the corner of the 180 year old home, Potoo has modern luxury with 360 views of the Pacific. On the lower level, a plunge pool and private spa. Potoo also includes many outdoor chairs, hammocks and a full kitchen, too.
BUNGALOW HILL
Six Jungle Bungalows built on the side of the mountain on the pathway to our very own private waterfall. Bali inspired, the interiors feature natural finishings and a gorgeous exposed shower and bath tub.
DOMELAND
Six Buckminster Fuller inspired Geodesic River Domes, among the best made in the world and partially powered by solar energy, sit perched on the edge of our private river with the fresh, flowing water feeding up to the domes. Experience the soothing sounds of relaxing and sleeping next to flowing water. Amazing!
THE HOUSE OF MASTERS
The House of Masters, located in the center of the property, is a 2,000 square foot Balinese structure hanging 100 feet in the Jungle canopy. Adjacent are restrooms and a yoga storage room for mats, blocks and more. The space can be converted for any type of retreat, workshop or dance party.
THE HEART OF IMILOA
A sprawling 3,000 square foot space that is the "Heart of Imiloa," our social space features loungy, multicultural inspired furnishings, couches, and 5 imported tables from Bali, all under a Polynesian style roof.
THE PATHS
Jungle paths connect the 20+ acres at Imiloa, with hand-made stairs and lighting, creating an immersive, easy experience for you and guests.
THE WATERFALL
Beyond the Jungle Bungalows is a path that leads to our own private waterfall. Descend into what feels like an enchanted jungle forest as you bask in the magic and beauty of the surrounding nature.
At Imiloa, we are a proudly conscious comfort food campus. That means we serve healthy, locally-sourced, gourmet vegan meals that are as artistically plated, scientifically nourishing and delightfully crafted for all of our retreat guests.
Imiloa's world-class spa is a curated, sensual and deeply moving experience. Choose from Ayurvedic massages and practices, to a shamanic masseuse from our team members who are from the Boruca indigenous tribe here in Costa Rica, to more traditional Swedish, relaxation or Thai yoga massages, body wraps and others. A full list of spa offerings and a link to book during your free time will be provided to you before you arrival.
Schedule your plane to arrive at SJO. In order to access your private plane charter, all guests must be at the Domestic Terminal at SJO San Jose, Costa Rica no later than 3PM on the arrival day.
Once landed, proceed to customs and instructions will be provided to meet Imiloa concierge.
Proceed to baggage claim with concierge and proceed to Domestic Terminal (3 minute walk from International Terminal). Please be at the Domesitc Terminal at SJO San Jose, Costa Rica no later than 3PM on your day of arrival.
Private Imiloa plane will be waiting to fly you to Quepos.
Private ground transport shuttles will pick you up in Quepos and bring you to Imiloa.
If you are already in Costa Rica, ground transport may be coordinated from Quepos, Dominical or Uvita as inclusive.
Please do not plan to drive to Imiloa on your own. It is not permitted.
If you need to arrive the day before, please stay at the Hampton Inn across from the airport, or plan to be in the San Jose Domestic Terminal for private flight to Imiloa by no later than 3PM (instructions will be emailed).
You will depart Imiloa at 9AM, and arrive at the landing strip at 9:30AM, with an estimated arrival to SJO airport at 10:30AM. The domestic terminal is a 5-10 minute walk to the international terminal at SJO. Typically, it is suggested to be at the international terminal 2.5 hours prior to your international departure. Please book your departing international flight accordingly, knowing that you will be at the airport at 10:30AM on departure day.
Questions? Email us: impact@imiloainstitute.com
Our team, the Welcome Home Team at Imiloa, from kitchen to property, gardening to coordination, logistics to transportation, will be available to you throughout your stay with anything you need. They have a ready smile, answers to most of your questions and can quickly support so your experience is easy and fulfilling.
TRAVEL INSURANCE and COVID PROCEDURES
Imiloa has partnered with a comprehensive travel insurance provider that meets the entry requirements for Costa Rica and offers "cancel for any reason" plans to maximize coverage: www.globalrescue.com/imiloa (additional cost)
COVID tests for entry and exit requirements to your home country can be done on site. We have an on-call physician that can come to the property for testing and results sent in English.
We follow cleansing and sanitization protocols as per Ministry of Health to ensure a safe environment
Staff and retreat participants are asked to follow and safety guidelines such as social distancing, washing of hands, and proper mask wearing.
Imiloa is located in the jungle, at the top of a mountain, overlooking the Pacific Ocean. Our lush retreat center is located adjacent to the second most biodiverse land on the planet.
Dominical, only 13 minutes away, is a beach town with surfer vibes, great coffee and plenty of shopping. Just north of our municipality is Quepos and to the south, Ojochal and Uvita, which is known as the Whale's Tail.
Just 45 minutes east sits Costa Rica's second largest city, San Isidro. Within an hour of Imiloa in all directions, you have access to airports, cafes, beaches, waterfalls, biodiversity and happy people ready to show you the lush, lovely area we call home.
You'll arrive easily on our private plane, and your group will enjoy unlimited transportation to and from the beach, to and from the airport and throughout your stay with us.