A 6 Day immersive retreat to help early career researchers reduce career-related stress and anxiety, overcome burnout, reconnect with the purpose of their work, and elevate their writing practice while simultaneously honoring their needs for restoration and rejuvenation.
Anchored in the philosophy that self-awareness, supportive community, and intentional rest are necessary for productive and fulfilling careers in academia, WWRR offers an invitation for researchers to reconnect to their purpose and passion for work via mindful practices including meditation, yogic movement, reiki, environmental connection, and support circles. This time is yours – tap in and reignite the excitement and enthusiasm for your work.
During the 1981 Annual Meeting of the Ohio Arts Council, Toni Morrison shared a bit of potentially life-changing advice for innovators and writers. She said, "If there is a book that you want to read, but it hasn't been written yet, you must be the one to write it."
The Writing Well Retreat for Researchers is "the book" I desired to read but had not yet read – an experience meant to offer space to reconnect with and advance our work in a supportive community while engaging in restorative practices in beautiful places. It is meant to offer an opportunity to reawaken aspects of ourselves that get lost in to-do lists, lectures, grading, data analysis, meetings, paper drafts, and email responses. It is a reflective pause and deep inhalation created to illuminate and revive the passion for and purpose of our work.
I recognize how challenging it can be for us to make substantial strides in our work given all that is expected of us. I also recognize how pivotal it is to have a few days solely dedicated to working on the aspects of ourselves and our work that are most impactful and often most neglected. Moreover, I acknowledge the impact that the activities planned for this retreat can have on our minds and bodies – they are essential for allowing us to show up to work and life as our best selves.
That said, this retreat is designed specifically for you… to allow space for deep reflection, thinking, and writing as well as time to unplug from your normal scenery and day-to-day routine so you can intentionally engage with yourself, other brilliant minds, and this beautiful world around us to make the shifts needed to get things done.
I am so looking forward to meeting you in person, spending connected time, and of course, elevating our minds and spirits higher as we continue to move forward into what I know will be an abundant 2022. The Thrive Institute for Professional Development and I are honored and filled with joy and anticipation to welcome you to Costa Rica.
Peace & Productivity,
Jasmine Abrams
Reset, Renew, and Restore Yourself and Your Writing Practice in a Jungle Oasis in Costa Rica.
Experience freedom from overwhelm, exhaustion, and work-related stress
Learn how to rejuvenate your mind and body to reignite your passion for life and work
Discover a path for advancing your career while prioritizing your wellbeing
Identify new strategies to balance the challenges of academia with the joys of your life
Activate your passion by unplugging from your normal scenery and day-to-day routine so you can intentionally engage with yourself and other brilliant minds
Ample Writing Time in Supportive Community
Given the structure of the writing retreat, you will have ample time to work in supportive community on your writing projects and are likely to complete a few. You start with goals but leave with accomplishments.
Relief from the Daily Grind
At the Writing Well Retreat, you are relieved of everything that is depleting you and refilled through activities that are intentionally designed to help you embrace the changes needed for you to do your best work and be the best version of yourself.
Transformative Career Development Workshops
You will have the opportunity to learn from seasoned academics in workshops that help you discover the "hidden curriculum" of academia. The things most academics spend years of their career learning about writing strategies, productivity, work-life balance, and personal branding, you will learn in just a few days during the retreat.
Practices to Support Your Wellbeing
This retreat is designed to be a catalyst for transformation of your career and life. You will leave the retreat with life-changing mindset shifts that reverberate positive change in your daily wellness habits and long-term planning for professional success. We are invested in seeing you level up your life and step into your greatness.
Jasmine Abrams, PhD
As an international behavioral research scientist, Dr. Abrams' work is conducted with the goal of utilizing culture as an avenue to better understand and reduce health disparities. Dr. Abrams conducts international research in collaboration with community-based and health service organizations and she is fiercely dedicated to sexual health promotion among women of African ancestry – with a focus on sexual and maternal health. She has secured numerous federal funding awards to support her work, including funding from NIMH, NIMHD, NHLBI, and Fogarty International Center. Dr. Abrams has also founded 4 companies, including the Thrive Institute for Professional Development. The mission of the Thrive Institute is to offer transformative training and professional development experiences to advance productivity and well-being among researchers at research intensive institutions. In her downtime, Dr. Abrams enjoys yoga, dancing salsa, painting, and playing with her Mini Schnauzer pup, Phoenix.
Faye Belgrave, PhD
Faye Belgrave, Ph.D., is a Professor in the Department of Psychology at Virginia Commonwealth University. As the Associate Dean for Equity and Community Partnerships, she is responsible for the development and implementation of a plan for improving diversity, equity, and inclusion. In addition, she is responsible for elevating and promoting the College's community-engaged research and teaching. Dr. Belgrave has conducted countless workshops and seminars on diversity and engaged in other activities to increase inclusiveness for underrepresented and marginalized faculty, students and staff at VCU. Dr. Belgrave is also the founding director of the Center for Cultural Experiences in Prevention. Her research is on health disparities, focusing on drug and HIV prevention among African Americans and other racial/ethnic minorities. Her programmatic and research activities also focus on culture and context, women's health and gender-related issues. Much of her work is conducted with community-based organizations. Throughout her career, she has mentored hundreds of early career faculty and advocated for their needs in various settings. In addition, Dr. Belgrave has been honored with many awards, including a Senior Lifetime Achievement Award from the American Psychological Association, the Association of Black Psychologists' Distinguished Faculty Award, and an Outstanding Faculty Award from the State Council of Higher Education, among many others.
Gretchen Fletcher
Gretchen Fletcher is an experienced Executive Assistant, specializing in coordination and event planning. In her current role as a Senior Executive Assistant, she began to see the need for administrative support for professionals in various industries. As such, Gretchen founded Upper Echelon Consulting Group. Their mission is to provide high quality administrative support for organizations of all sizes– from small startups, to large corporations and individuals. They strive to consistently deliver and maintain detail-oriented support, coupled with familial rapport and top-notch professionalism. Gretchen is passionate about health and wellness and enjoys working out daily, and meal prep to fuel her fast paced lifestyle. Gretchen has also found humbleness and grace within her spiritual practice. She leads a bible study once a week with like minds and has found great joy in embracing that leadership role.
Burnout is so real… I was exhausted, overwhelmed, and depressed…[but] This space was especially curated for rest, restoration, and writing. I did all those things and received … peer mentorship [and] resource-sharing… This experience was invaluable. I checked off one of my writing goals and drafted/submitted my first… grant proposal…I'm so excited for all 2022 will bring now that my mind is clear.
I was burnt out, tired, anxious…unhappy. I was not at my best…[but] this retreat was EVERYTHING. Thank you for this gift including giving us the space to write, brainstorm, plan, and rest (also the massages and gourmet meals). I had a successful NIH presentation, developed an action plan for three projects, and submitted an R&R!
This has been phenomenal… amazing! The way we were able to engage as intellectuals as well as… gaining more insight regarding what we truly need to take our careers to the next level. And the rejuvenation piece is just so fantastic… it… cultivates our brains and minds to be in a space for our creative juices to start flowing… We really don't have spaces like this… It's been absolutely transformative.
I loved the affirmations–I have them in my office, home, on my phone…they resonated with me and my goals for the new year. My takeaway was on centering my why in all of my work and making sure that my work is aligned with that (and not just chasing % effort haha). Also, prioritize thinking time. I took a block of time each day to sit outside and write-pen and paper-ideas. It was nice to step away from the computer, be out in nature, and think!
The importance of rest and rejuvenation. I've been super productive since I have gotten back and I think its because I rested on the trip but then also I got great ideas from my colleagues on my next steps and planning for my research projects.
My biggest takeaway was the reminder of the importance of mentorship and networking. Hearing the stories and experiences of others is always an invaluable source of information.
Double occupancy in a Geodesic Dome with views of the jungle
Double occupancy in a Jungle Bungalow with views of the jungle
Single occupancy in a Jungle Bungalow with views of the jungle
Single occupancy in a Bali style suite with beautiful jungle views
VIP SINGLE
$4,997
PER PERSON
Single occupancy in your own private Bali Villa or Bali style Suite with stunning views of the jungle and ocean

A completely private campus; available to your retreat group only. Access to a private waterfall, nature paths, incredible flora and fauna, and an ocean view infinity pool. Also included is a dedicated team of 20+ local professionals to coordinate everything for your enjoyment, from touch down to take off.
​

Gourmet plant-based cuisine prepared using all local and organic produce. Full meals, snacks, teas, coffees and fruit trays available throughout your stay.
Private transportation from the International airport to our campus; a private driver and transportation to our campus in Imiloa Mountain.
What's Not Included
Flights to SJO, Spa Services
You will be immersed in a 22-acre jungle oasis in Dominical, Costa Rica.
This enchanted mountainside jungle venue is ten minutes from the beach and it is the perfect setting to experience deep healing, embraced by nature, yet completely luxurious.
While staying at Imiloa you will enjoy our nature paths, our private waterfall, our salt-water pool, stunning views and delicious and nutritious meals by our five-star vegan chef.
Included in each accommodation is the comfiest mattresses, 850 thread count sheets, storage space and dry rooms as needed, fiber optic internet, daily cleaning service, private en-suite bath, indoor/outdoor design for every accommodation with a focus on nature and being your private refuge, and full service, thrice-filtered private well for drinking water throughout the property.
BALI VILLAGE
Bali Village is perched 1200 feet about the Pacific Ocean, on a ridge line of flora, fauna and wildlife every direction you look. These 5 accommodations are 160-200 year old homes imported from Bali. Each with their own en suite bathrooms, the homes bring you back and create a self space for rejuvenation and transformation.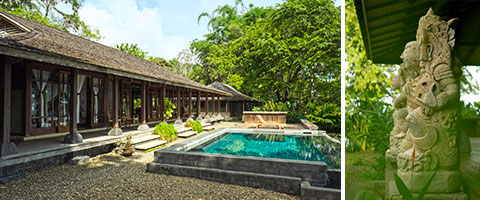 BALI MASTER SUITE
200 Year Old Homes from Bali. Imported from the Java Islands, these homes boast outdoor showers, full kitchen access, surreal vista views to the Pacific, their own salt water plunge pools and hand-carved art that is as old as the houses.
JOGOLO HOUSE
Perched on the edge of the cliff, at the furthest end of the property, sits a 170 year old home from the Java Islands we call Jogolo. Complete with a writer's desk, outdoor Balinese shower, hand-carved architecture that will transport you to another land and time, Jogolo is teeming with history and comfort. Your cold plunge pool is adjacent to a warm bath, both outdoor. Full kitchen, too.
POTOO HOUSE
This two-floor imported home from Bali will have you wishing you'd never leave. Complete with a King Bed and a twin in the corner of the 180 year old home, Potoo has modern luxury with 360 views of the Pacific. On the lower level, a plunge pool and private spa. Potoo also includes many outdoor chairs, hammocks and a full kitchen, too.
BUNGALOW HILL
Six Jungle Bungalows built on the side of the mountain on the pathway to our very own private waterfall. Bali inspired, the interiors feature natural finishings and a gorgeous exposed shower and bath tub.
DOMELAND
Six Buckminster Fuller inspired Geodesic River Domes, among the best made in the world and partially powered by solar energy, sit perched on the edge of our private river with the fresh, flowing water feeding up to the domes. Experience the soothing sounds of relaxing and sleeping next to flowing water. Amazing!
THE HOUSE OF MASTERS
The House of Masters, located in the center of the property, is a 2,000 square foot Balinese structure hanging 100 feet in the Jungle canopy. Adjacent are restrooms and a yoga storage room for mats, blocks and more. The space can be converted for any type of retreat, workshop or dance party.
THE HEART OF IMILOA
A sprawling 3,000 square foot space that is the "Heart of Imiloa," our social space features loungy, multicultural inspired furnishings, couches, and 5 imported tables from Bali, all under a Polynesian style roof.
THE PATHS
Jungle paths connect the 20+ acres at Imiloa, with hand-made stairs and lighting, creating an immersive, easy experience for you and guests.
THE WATERFALL
Beyond the Jungle Bungalows is a path that leads to our own private waterfall. Descend into what feels like an enchanted jungle forest as you bask in the magic and beauty of the surrounding nature.
At Imiloa, we are a proudly conscious comfort food campus. That means we serve healthy, locally-sourced, gourmet vegan meals that are as artistically plated, scientifically nourishing and delightfully crafted for all of our retreat guests.
Imiloa's world-class spa is a curated, sensual and deeply moving experience. Choose from Ayurvedic massages and practices, to a shamanic masseuse from our team members who are from the Boruca indigenous tribe here in Costa Rica, to more traditional Swedish, relaxation or Thai yoga massages, body wraps and others. A full list of spa offerings and a link to book during your free time will be provided to you before you arrival.
Schedule your plane to arrive at SJO. In order to access your private plane charter, all guests must be at the Domestic Terminal at SJO San Jose, Costa Rica no later than 3PM on the arrival day.
Once landed, proceed to customs and instructions will be provided to meet Imiloa concierge.
Proceed to baggage claim with concierge and proceed to Domestic Terminal (3 minute walk from International Terminal). Please be at the Domesitc Terminal at SJO San Jose, Costa Rica no later than 3PM on your day of arrival.
Private Imiloa plane will be waiting to fly you to Quepos.
Private ground transport shuttles will pick you up in Quepos and bring you to Imiloa.
If you are already in Costa Rica, ground transport may be coordinated from Quepos, Dominical or Uvita as inclusive.
Please do not plan to drive to Imiloa on your own. It is not permitted.
If you need to arrive the day before, please stay at the Hampton Inn across from the airport, or plan to be in the San Jose Domestic Terminal for private flight to Imiloa by no later than 3PM (instructions will be emailed).
You will depart Imiloa at 9AM, and arrive at the landing strip at 9:30AM, with an estimated arrival to SJO airport at 10:30AM. The domestic terminal is a 5-10 minute walk to the international terminal at SJO. Typically, it is suggested to be at the international terminal 2.5 hours prior to your international departure. Please book your departing international flight accordingly, knowing that you will be at the airport at 10:30AM on departure day.
Questions? Email us: impact@imiloainstitute.com
Our team, the Welcome Home Team at Imiloa, from kitchen to property, gardening to coordination, logistics to transportation, will be available to you throughout your stay with anything you need. They have a ready smile, answers to most of your questions and can quickly support so your experience is easy and fulfilling.
TRAVEL INSURANCE and COVID PROCEDURES
Imiloa has partnered with a comprehensive travel insurance provider that meets the entry requirements for Costa Rica and offers "cancel for any reason" plans to maximize coverage: www.globalrescue.com/imiloa (additional cost)
COVID tests for entry and exit requirements to your home country can be done on site. We have an on-call physician that can come to the property for testing and results sent in English.
We follow cleansing and sanitization protocols as per Ministry of Health to ensure a safe environment
Staff and retreat participants are asked to follow and safety guidelines such as social distancing, washing of hands, and proper mask wearing.
Imiloa is located in the jungle, at the top of a mountain, overlooking the Pacific Ocean. Our lush retreat center is located adjacent to the second most biodiverse land on the planet.
Dominical, only 13 minutes away, is a beach town with surfer vibes, great coffee and plenty of shopping. Just north of our municipality is Quepos and to the south, Ojochal and Uvita, which is known as the Whale's Tail.
Just 45 minutes east sits Costa Rica's second largest city, San Isidro. Within an hour of Imiloa in all directions, you have access to airports, cafes, beaches, waterfalls, biodiversity and happy people ready to show you the lush, lovely area we call home.
You'll arrive easily on our private plane, and your group will enjoy unlimited transportation to and from the beach, to and from the airport and throughout your stay with us.