A 6-day all-inclusive journey to tune into your Heart and Soul
September 30 – October 5, 2022
Release the masks you wear for everyone else. Embody your true nature through exploration. Embrace the unknown. You are safe to explore and love yourself. Your soul tribe is here, we love you.
The world needs us. For who we are. Not for who we need to be for our friends, our neighbors, our parents, our co-workers… not the masks we wear to make everyone happy. This week embrace your true essence because the planet needs your unique personal perspective. YOUR SPECIAL SAUCE. In this cocoon you have permission to be your self, take up space and release past conditioning, behaviors and beliefs that prevent you from living your truth.
When we are given the love and space to shed layers that are not in alignment, we heal ourselves and the collective. In this retreat we will be uncovering these layers through multiple modalities: meditation, yoga, breathwork, movement, tantra, being and sacred ceremonies. We co-create this space so everyone feels safe to explore the fears that hold us back from embracing our genuine expression.
The behaviors, beliefs and conditioning that have trained us to overly protect our heart, to put walls up around our true nature, are coming down. It will be messy and uncomfortable… and you will leave feeling connected to your self, to the heart-centered beings that entered this space with you and with Pachamama.
If you desire to embrace your soul gifts and emerge this week as your unapologetic self? You are safe, join us.
Activate your power and truth in a safe container.
Experience access to your inner wisdom.
Feel interconnectedness to the beings and space around you as well as the divine.
Learn how to appreciate the present moment
Receive support throughout the uncovering process and in integration post-retreat.
Release What No Longer Serves You
 Gain Self-Love and Acceptance
Cultivate Divine Inner Wisdom
Access to a Loving Community of Heart-Centered Humans
Chelsea Carter
Chelsea Carter is on a quest for deeper truth and embodiment and following her heart to tropical places to hold sacred spaces. She works with the land and the humans that come into her space to intuitively guide sacred ceremony and guide humans to deeper layers of their truth. Her Priestess power is evident when she gathers humans for retreats, full moon gatherings, cacao ceremonies, somatic breathwork releases and meditation classes through her business, Heart Centered Humans. She utilizes her gift as an intuitive guide and creatrix of the Light Network to shift the planet and raise the collective vibration.
Molly Ren
Molly is a licensed massage therapist and after working through her own chronic pain and physical body set backs, she's felt called to continue to heal and help others heal through Massage Therapy. Having been practicing in this field now for 5 years, it is clear Molly is here to hold space for the body in much deeper ways. Specializing in being able to feel the spots that are calling for attention and work through the energy blocks that might be showing up. You will feel completely rejuvenated after a session with Molly.
And more divinely aligned facilitators
This retreat led by Chelsea has been such a transformative experience. When I was told about this trip, I just knew I was meant to be there and that I would receive the answers to a lot of questions that were holding me back. I did what I needed to do to make sure I made it and boy was I right! Not only did I fall in love with the view, but I was able to experience the beautiful and radiant light that is Chelsea. Chelsea has such an amazing way of always helping you feel safe, heard, understood but also challenged.. regardless of whether it's in a group setting or a one on one conversation. She truly embodies all that she is and is truly unapologetic about it in the most amazing way possible. If you're reading this, it might just be because you're curious and desiring to be part of one of her retreats. I say dive deep and if anything resonates, just jump into it. I promise you won't be the least bit disappointed!
I have known Chelsea for almost 9 years now and I have never seen her so in her element. I attended the July 23rd to 25th full moon rustic retreat and I will remember it forever. Chelsea moved through obstacles with ease on finding a campsite (since there was an unexpected road closure) and was prepared for hosting in non-stop rain (which was forecasted) and had the confidence and faith that the universe would provide. We had the most amazing group of people with the perfect campsite and had not a single drop of rain on Saturday or Sunday. I full-heartedly believe in Chelsea's powerful connection to spirit and ability to manifest. She was exceptional at fitting a multitude of breathwork activities, crafting, and readings into the weekend without rushing any part of the process and allowing everything to fall into place. Our full moon circle was a safe space to put in the work and open ourselves to change and growth. Chelsea is amazing at holding space and opening people up to speak their truth. Her energy is so positive and soothing to be around. Not only has she discovered her ability to help others, but she is also open to and seeking continuous growth for herself. I can only imagine how much more amazing every retreat will be!
Chelsea's Connected Camping Retreat was truly one of the most heart opening, magical weekends I've ever had. I've paid $2000++ for weekend retreats that haven't even been half as impactful as the space Chelsea held. She is the medicine mama that your soul needs to journey deep into yourself and experience the breakthroughs that will take you to the next level. She was there with me every step of the way and made everyone at the retreat feel free enough to be open, vulnerable and lead with their hearts. I highly recommend experiencing Chelsea's gifts in this setting and getting out of your comfort zone!
I first started utilizing meditation and breathwork with Chelsea, which was honestly something I always struggled with. I'm now able to sit through her entire meditation class completely attentive to my awareness. This is huge for me. I've also had many many amazing breakthroughs in my meditations with the guidance Chelsea provides. The breathwork was difficult for me to get comfortable with due to my body getting tingly and reacting deeply to the healing but now that I'm able to move through it in a loving capacity, I've realized how deeply useful the breathwork portion is. I've been able to release such powerful shadows in short periods of time.
I started going to her Full Moon gatherings and Cacao Ceremonies and have felt extremely supported through all transitions. The Women's circles are deeply loving and profound, giving me a community to feel supported by.
Everything Chelsea does, she leads with her heart and comes from a space of Love. She's done so much deep work on herself that I know I'm being supported in the best way possible. Now that I've started her 1:1 container, I can't express how freeing it is. It's only been a week and I've been able to make radical shifts in my mental and physical being.
If you've been looking for the sign- this is it. I encourage anyone seeking a deeper practice with themselves or the world around them, to begin working with Chelsea in any capacity.
Quad occupancy in a Geodesic Dome with views of the jungle.
TRIPLES
$3,333
PER PERSON
Triple occupancy in a Geodesic Dome with views of the jungle.
DOUBLES
$3,555
PER PERSON
Double occupancy in a Jungle Bungalow with views of the jungle.
SINGLES
$3,999
PER PERSON
Single occupancy in your own private, 200-Year-Old Balinese suite with beautiful jungle views.
VIP SINGLES
$4,444
PER PERSON
Single occupancy in a your own private, 200-Year-Old Balinese villa with a private deck and stunning views of the jungle and ocean.

A completely private campus; available to your retreat group only. Access to a private waterfall, nature paths, incredible flora and fauna, and an ocean view infinity pool. Also included is a dedicated team of 20+ local professionals to coordinate everything for your enjoyment, from touch down to take off.
​

Gourmet plant-based cuisine prepared using all local and organic produce. Full meals, snacks, teas, coffees and fruit trays available throughout your stay.
Private transportation from the International airport to our campus; a private driver and transportation to our campus in Imiloa Mountain.
What's Not Included
Flights to SJO, Spa Services
You will be immersed in a 22-acre jungle oasis in Dominical, Costa Rica.
This enchanted mountainside jungle venue is ten minutes from the beach and it is the perfect setting to experience deep healing, embraced by nature, yet completely luxurious.
While staying at Imiloa you will enjoy our nature paths, our private waterfall, our salt-water pool, stunning views and delicious and nutritious meals by our five-star vegan chef.
Included in each accommodation is the comfiest mattresses, 850 thread count sheets, storage space and dry rooms as needed, fiber optic internet, daily cleaning service, private en-suite bath, indoor/outdoor design for every accommodation with a focus on nature and being your private refuge, and full service, thrice-filtered private well for drinking water throughout the property.
BALI VILLAGE
Bali Village is perched 1200 feet about the Pacific Ocean, on a ridge line of flora, fauna and wildlife every direction you look. These 5 accommodations are 160-200 year old homes imported from Bali. Each with their own en suite bathrooms, the homes bring you back and create a self space for rejuvenation and transformation.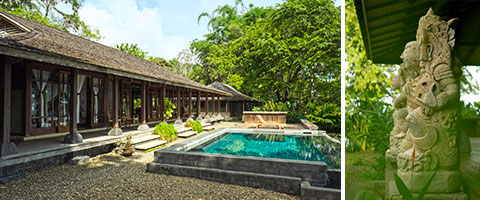 BALI MASTER SUITE
200 Year Old Homes from Bali. Imported from the Java Islands, these homes boast outdoor showers, full kitchen access, surreal vista views to the Pacific, their own salt water plunge pools and hand-carved art that is as old as the houses.
JOGOLO HOUSE
Perched on the edge of the cliff, at the furthest end of the property, sits a 170 year old home from the Java Islands we call Jogolo. Complete with a writer's desk, outdoor Balinese shower, hand-carved architecture that will transport you to another land and time, Jogolo is teeming with history and comfort. Your cold plunge pool is adjacent to a warm bath, both outdoor. Full kitchen, too.
POTOO HOUSE
This two-floor imported home from Bali will have you wishing you'd never leave. Complete with a King Bed and a twin in the corner of the 180 year old home, Potoo has modern luxury with 360 views of the Pacific. On the lower level, a plunge pool and private spa. Potoo also includes many outdoor chairs, hammocks and a full kitchen, too.
BUNGALOW HILL
Six Jungle Bungalows built on the side of the mountain on the pathway to our very own private waterfall. Bali inspired, the interiors feature natural finishings and a gorgeous exposed shower and bath tub.
DOMELAND
Six Buckminster Fuller inspired Geodesic River Domes, among the best made in the world and partially powered by solar energy, sit perched on the edge of our private river with the fresh, flowing water feeding up to the domes. Experience the soothing sounds of relaxing and sleeping next to flowing water. Amazing!
THE HOUSE OF MASTERS
The House of Masters, located in the center of the property, is a 2,000 square foot Balinese structure hanging 100 feet in the Jungle canopy. Adjacent are restrooms and a yoga storage room for mats, blocks and more. The space can be converted for any type of retreat, workshop or dance party.
THE HEART OF IMILOA
A sprawling 3,000 square foot space that is the "Heart of Imiloa," our social space features loungy, multicultural inspired furnishings, couches, and 5 imported tables from Bali, all under a Polynesian style roof.
THE PATHS
Jungle paths connect the 20+ acres at Imiloa, with hand-made stairs and lighting, creating an immersive, easy experience for you and guests.
THE WATERFALL
Beyond the Jungle Bungalows is a path that leads to our own private waterfall. Descend into what feels like an enchanted jungle forest as you bask in the magic and beauty of the surrounding nature.
At Imiloa, we are a proudly conscious comfort food campus. That means we serve healthy, locally-sourced, gourmet vegan meals that are as artistically plated, scientifically nourishing and delightfully crafted for all of our retreat guests.
Imiloa's world-class spa is a curated, sensual and deeply moving experience. Choose from Ayurvedic massages and practices, to a shamanic masseuse from our team members who are from the Boruca indigenous tribe here in Costa Rica, to more traditional Swedish, relaxation or Thai yoga massages, body wraps and others. A full list of spa offerings and a link to book during your free time will be provided to you before you arrival.
Schedule your plane to arrive at SJO. In order to access your private plane charter, all guests must be at the Domestic Terminal at SJO San Jose, Costa Rica no later than 3PM on the arrival day.
Once landed, proceed to customs and instructions will be provided to meet Imiloa concierge.
Proceed to baggage claim with concierge and proceed to Domestic Terminal (3 minute walk from International Terminal). Please be at the Domesitc Terminal at SJO San Jose, Costa Rica no later than 3PM on your day of arrival.
Private Imiloa plane will be waiting to fly you to Quepos.
Private ground transport shuttles will pick you up in Quepos and bring you to Imiloa.
If you are already in Costa Rica, ground transport may be coordinated from Quepos, Dominical or Uvita as inclusive.
Please do not plan to drive to Imiloa on your own. It is not permitted.
If you need to arrive the day before, please stay at the Hampton Inn across from the airport, or plan to be in the San Jose Domestic Terminal for private flight to Imiloa by no later than 3PM (instructions will be emailed).
You will depart Imiloa at 9AM, and arrive at the landing strip at 9:30AM, with an estimated arrival to SJO airport at 10:30AM. The domestic terminal is a 5-10 minute walk to the international terminal at SJO. Typically, it is suggested to be at the international terminal 2.5 hours prior to your international departure. Please book your departing international flight accordingly, knowing that you will be at the airport at 10:30AM on departure day.
Questions? Email us: impact@imiloainstitute.com
Our team, the Welcome Home Team at Imiloa, from kitchen to property, gardening to coordination, logistics to transportation, will be available to you throughout your stay with anything you need. They have a ready smile, answers to most of your questions and can quickly support so your experience is easy and fulfilling.
TRAVEL INSURANCE and COVID PROCEDURES
Imiloa has partnered with a comprehensive travel insurance provider that meets the entry requirements for Costa Rica and offers "cancel for any reason" plans to maximize coverage: www.globalrescue.com/imiloa (additional cost)
COVID tests for entry and exit requirements to your home country can be done on site. We have an on-call physician that can come to the property for testing and results sent in English.
We follow cleansing and sanitization protocols as per Ministry of Health to ensure a safe environment
Staff and retreat participants are asked to follow and safety guidelines such as social distancing, washing of hands, and proper mask wearing.
Imiloa is located in the jungle, at the top of a mountain, overlooking the Pacific Ocean. Our lush retreat center is located adjacent to the second most biodiverse land on the planet.
Dominical, only 13 minutes away, is a beach town with surfer vibes, great coffee and plenty of shopping. Just north of our municipality is Quepos and to the south, Ojochal and Uvita, which is known as the Whale's Tail.
Just 45 minutes east sits Costa Rica's second largest city, San Isidro. Within an hour of Imiloa in all directions, you have access to airports, cafes, beaches, waterfalls, biodiversity and happy people ready to show you the lush, lovely area we call home.
You'll arrive easily on our private plane, and your group will enjoy unlimited transportation to and from the beach, to and from the airport and throughout your stay with us.