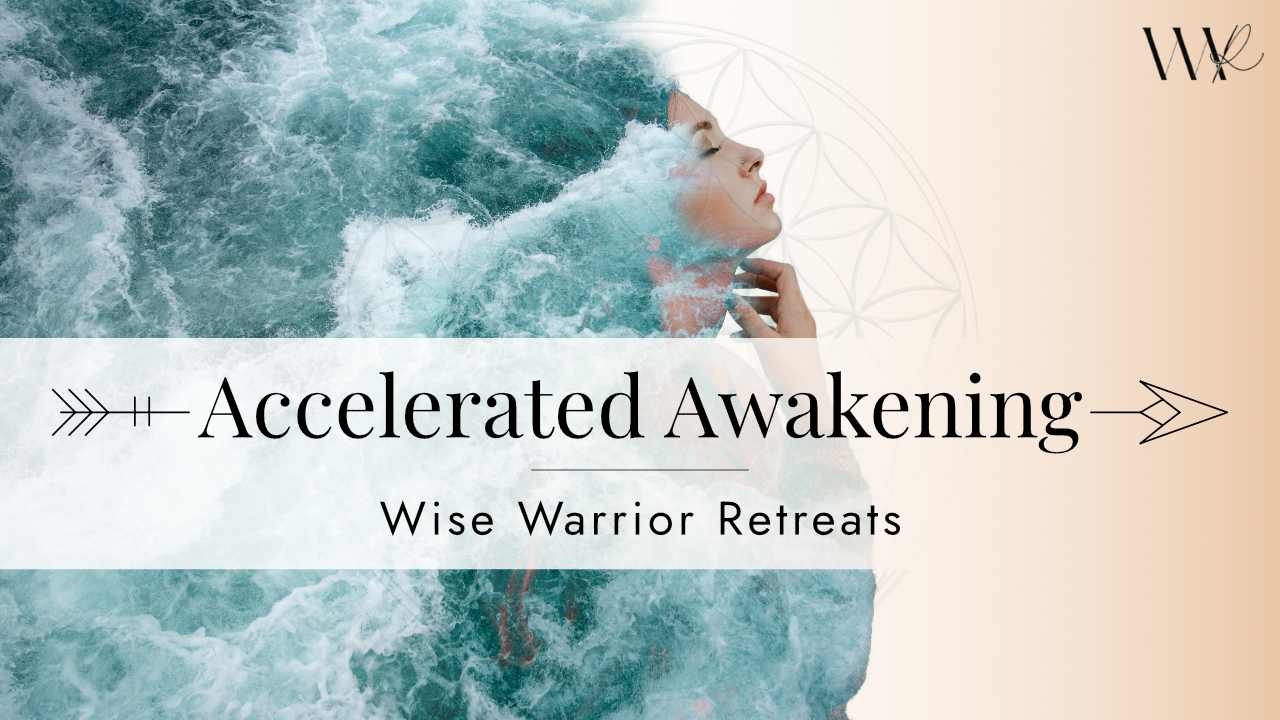 A 7-day immersive plant medicine retreat to awaken your spirit, shift entrenched patterns and catalyze your healing.
February 9th – 15th , 2024
As we navigate the layers of this human experience, it is easy to lose our way. No matter what our unique story is, so many of us are seeking a return back to freedom and joy. 
Wise Warrior Retreat's mission is to provide safe and nurturing spaces for profound and lasting healing
This immersive retreat has been designed with the intention to support you in finding answers and direction, and to help you remember how to access your most authentic self. Together, we will come home: learning once again how to embody our inner healer and the wise warrior within. 
This retreat will take you through a transformational arch of experience, beginning from the moment you say "yes". We will support you in listening to the whisper that is ushering you towards remembering that you are here for something far greater than this human experience.
The one assuring you that you get to have a life filled and fueled by inspiration, balance, purpose and play. We will honor the part of you that is tired of spinning in the cycles of discomfort, heaviness and exhaustion, and celebrate the part of you that is ready to awaken.
Come dive into the magic of our energetic container designed to help you bust through limiting beliefs, shift stuck patterns, and release outdated conditioning, so you can unveil and unleash the power of your true nature to create the sustainable changes you most desire.
Through our intentionally curated retreat, you will experience a blend of complementary practices weaving together the modern science of the most current mental and physical health practices along with the ancient wisdom taught from indigenous lineages and our master plan teachers. 
You'll have the opportunity to engage in experiential somatic based practices, receive and learn powerful energy techniques, participate in integration circles facilitated by a licensed mental health trauma therapist, as well tapping into elevated states of consciousness which will offer guidance and sacred wisdom. This unique approach offers deep healing helping you access something greater. Gaining more clarity on the root of your suffering and an opportunity to release what is no longer serving. So that you can alchemize your struggles and live the life you desire.
Together we will release, heal, connect, play and come home to ourselves in the support of our safe and sacred retreat container. What's holding you back? The time is now.
You may experience freedom from:
Fear and other blockages that keep you from living a fully expressed life

Cyclical dysfunctional patterns that are no longer serving

Layers of unresolved trauma

Deeply stored grief

Limiting beliefs that create stagnancy in your life
Retreat Experience
Please note that the proposed itinerary can be subject to change
Day 1
Arrival
Arrival, Snacks & Settling In
Welcome Dinner 
Welcome Ceremony 
Day 2
Intention
Open Devotion
Embodied Meditation
Creative Workshop
Yoga
Beach/Spa Time
Optional Integration Sessions for Individualized Support
Medicine Orientation Talk and Initial Ceremony
Day 3
Surrender
Open Devotion
Embodied Meditation
Integration Circle
Ecstatic Movement
Beach/Spa Time
Optional Integration Sessions for Individualized Support
Evening Medicine Ceremony
Day 4
Remember
Open Devotion
Embodied Meditation
Integration Circle
Somatic Healing Workshop
Beach/Spa Time
Optional Integration Sessions for Individualized Support
Restorative Candlelit Evening Yoga
Day 5
Release
Embodied Meditation
Cord Cutting Ceremony
Waterfall Blue Clay Experience
Beach/Spa Time
Optional Integration Sessions for Individualized Support
Final Medicine Ceremony
Day 6
Integrate
Embodied Meditation
Integration Circle
Actualization Toolkit Workshop ~ Supporting Post-Retreat Integration
Beach/Spa Time
Optional Integration Sessions for Individualized Support 
Closing Ceremony Ritual 
Beach Dinner & Dj Dance Party 
Day 7
Departure
Group Tobacco & Energy Clearing
Travel Day Preparation
An upgraded perspective, devotion, and connection to your life path.
A renewed desire to live in alignment with your soul's purpose
Expanded capacity to authentically connect to yourself, others, and that which you are in relationship to in the world
Divine wisdom and guidance from our master plant teachers
Fully embodied healing and a rekindling to the magic that surrounds us in this life
Reserve your space for the Accelerated Awakening Retreat. Answer the call. Your transformation awaits.
Adriana
Balentine
Wise Warrior Retreats Owner & Visionary
Medicine: A mental health and trauma specialist, Adriana has transcended her own journey of complex illness to birth her mission of deeply rooted connections, collaboration and community. She holds a vision of the transformative power of healing containers, and the essential integration process that follows these life changing experiences. She sees the potent possibilities when we commit to doing our own work. For ourselves, for the collective and for our planet.
Bre
Wolta
Integrator + Relationship Clarity Coach
Medicine: As a connector and self-development enthusiast, Bre pours her gifts of organizing and leadership into planning our retreat as well as utilizing her innate ability to hold safe space to lead guests through finding clarity in their confusion. She guides them as they alchemize their negative narratives, soothe their tightly wound nervous system, untether from past versions of themselves, and reawaken to their true Self essence.
Hannah
Kinderlehrer
Movement Medicine + Holistic Somatic Coach
Medicine: Hannah believes in living life through the wisdom of the body and true belonging to the Earth and each other. She has birthed a magic elixir of expressive movement + community for falling in love with our lives by holding an unconditional space infused with irreverent humor.
White Raven
Facilitator
Nature is my teacher. I have been working with Grandmother lineages since 2012. Prior to that I worked with various shamanic teachers and paths beginning in 2004 including Claudia Hromas of Vienna, Austria who comes from Sundance and Lilith lineages of teachings, Dennis & Marcia Miranda, Gregory Harper, and Teresa Iñiguez-Flores of the Mexican Palo tradition. I have been a practicing yogini since 2007. Some of the voices/teachings who have helped me shape and cultivate my meditative and creative practices include Dr. Clarissa Pinkola Estes, Dr. David Hawkins Ph.D, Ekhart Tolle, Teachings of Abraham, Richard Rudd, 13 Grandmothers, Michael Meade, Julia Cameron, Nana Veary, Gay and Kathlyn Hendricks, Krishnamurti, AmmaJi, Hale Makua, Tyson Yunkaporta and Don Miguel Ruiz. This is the foundation. 
My Grandmother lineages are Mestizo and Shiphibo. Mestizo through Linda Marie Luna, María Cristina Mendoza coming from Don Solon Tello. Shiphibo through two families, Don Tomas Chávez y Delia Díaz Mori as well as Olga Díaz Mori, and Don Gilberto Mahua and Catalina Mahua. 
My grandfather lineages are of Huachuma and are mestizo/Quechua through Julián Sesari and the Quispe family. 
My life's work is to reflect creative empowerment, lead by example, and listen deeply to the Pachamama. Love, Light, Healing and "Highest and Best" is the overarching prayer and intention behind all. My service is born from humbleness and the deepest gratitude for the Healing and Holding that has been given to me. 
I am a visual artist by day, employing various mediums to express the beauties and mysteries I am continually in wonder of. My hope is that I do as much honor and justice as possible to the beautiful truths that have been gifted and hopefully inspire others to commit to their sacred and joyful creative purpose.
Marie Luna
Facilitator
Marie Luna has studied plant medicine for 40 years. She studied herbalism and midwifery, and worked as a midwife and hospice nurse assistant throughout the 80s and 90s. She completed somatic psychotherapy training in the 90s, and paired this with a bodywork and somatic release practice. Trauma resolution became a passion of hers during this time.
She has spent the past 30 years of her life learning the ways of plant medicines in Central America and South America with indigenous and mestizo teachers, called vegetalistas. She has completed numerous plantas dietas in Peru.  Her facilitation style draws from many decades of study spent in ceremony with Medicine people from the Dineh and Ute Nations, with Amazonians Don Agustin Rivas Vasquez, Jorge Gonzalez, and Maria Cristina Mendoza Vidal, and members of the Peruvian Quechua, Inka, Bora Bora and Shipibo Nations. She has been facilitating plant medicine ceremonies for 16 years, with the encouragement of her teachers and mentors.
It is supremely important to Marie that safety in set and setting be created and maintained throughout the ceremony retreat process. Of particular interest to Marie is safety and welcome for people from all walks of life.
Marie would like to help you clear your mind, heart and spirit so that you may see how unique and amazing you truly are!
Jen Sutton
Guest Communications
Medicine: After spending over two decades as a mental health and addiction professional, Jen has formed a genuine respect for each person's unique Hero's Journey.
She believes that our deepest fear is to be seen – and rejected. Her "medicine" lies in her genuine ability to witness, honor, encourage, and celebrate our most hidden and protected shadow-aspects in order to be accepted and integrated. She sees our human experience as simultaneously a painful and spectacularly beautiful portal for growth and evolution.
It is Jen's greatest joy to participate as a soul ally on this path, wherever we find ourselves. Creating supportive, comfortable, safe and healthy spaces for transformative experiences to unfold is her passion.
Wise Warrior Retreats is a place where you can find and feel alignment with your soul. Along with providing a wealth of delicious, beautiful, nourishing, soul filling accommodations, meals, movement, activities, support, guidance, and life long friends, Wise Warriors creates a safe, loving, joyous container to journey to your outer limits and into your potential. Forever changed, forever grateful.
My experiences with Wise Warrior have been amazing. Initially I went to Costa Rica to address very specific issues in my life – little did I know how much I would benefit from the entire retreat! The team was welcoming and cultivated connections between all the guests in an easy and meaningful way. The instant bond I formed with the other participants and staff was unexpected. There were a nice variety of program components that complemented each other seamlessly, and I appreciated the balance between downtime and activity. I especially enjoyed the cord cutting ceremony, dance, somatic processing tools, and integration circles – and of course the ceremonies which were beautifully held in safety and support. The food was excellent and accommodations perfect. I had several profound experiences and shifts when I was there, and I've been able to incorporate important integration practices post-retreat(s) that help me continue to weave those into my day-to-day. I also haven't laughed that hard in a long time and it was much needed! The entire team was solid: professional, grounded, experienced, relatable and human. It seems more important than ever to trust the people/organizations holding this type of retreat and I can absolutely recommend Wise Warrior! A+++
I left wanting to better myself, my relationships, my life and my business. It helped me put the SOUL back into my soul purpose. Yes. 100%. It was a life changing experience that everyone needs to do.
There were so many different facets with the movement, shamanic healing, teachings, and plant medicine that offered different ways to receive guidance and healing. Plus, we all left with such a strong sense of belonging and love.
I received coaching and guidance from both the medicine and the loving community. My existence and journey has been permanently changed for the better! I do everything differently now. In comparison to who I was, I'm so happy to exist with what I have learned and to apply the new wisdom on the daily, with no interest in returning to a way of life that was pre- Wise Warrior Retreat! My favorite things from the retreat… THE PEOPLE, THE LOCATION, THE POWER AND GUIDANCE OF THE MEDICINE! When you invest in yourself (self love) it will help bring a new path (with lots of options) and a new path you're really going to love!
Triple occupancy in a Geodesic Dome with views of the jungle
2-PERSON BUNGALOWS
$5,450*
Double occupancy in a Jungle Bungalow with views of the jungle
Single occupancy in your own private Bali style suite with beautiful jungle views
VIP 2-PERSON VILLA
$7,750*
Double occupancy in your own private, 200-Year-Old Balinese villa with a private deck and stunning views of the jungle and ocean

A completely private campus; available to your retreat group only. Access to a private waterfall, nature paths, incredible flora and fauna, and an ocean view infinity pool. Also included is a dedicated team of 20+ local professionals to coordinate everything for your enjoyment, from touch down to take off.
​

Gourmet plant-based cuisine prepared using all local and organic produce. Full meals, snacks, teas, coffees, juices, elixirs and fruit trays available throughout your stay.
Private transportation from the International airport to our campus; a private driver and transportation to our campus in Imiloa Mountain.
What's Not Included
Flights to SJO, Spa Services
Please note that the first 50% payment is due the day you purchase your ticket and the last 50% is due on 11/11/2023
Immerse yourself in a 22-acre jungle oasis located in Dominical, Costa Rica. Imiloa is nestled in the heart of the rainforest, overlooking the majestic Pacific Ocean, and is just a short 15-minute ride from the beach. It offers the perfect setting for experiencing deep healing while being embraced by nature, all in the comfort of luxurious accommodations. We like to call it JungleLuxury.
During your stay at Imiloa, you can revel in the beauty of our nature paths, indulge in the serenity of our private waterfall, relax by the shared infinity pool that offers breathtaking forest and ocean views, and of course, savor the culinary delights of our gourmet plant-based meals meticulously crafted by our expert kitchen team.
Included in each accommodation is the comfiest mattresses, 850 thread count sheets, storage space and dry rooms as needed, fiber optic internet, daily cleaning service, private en-suite bath, indoor/outdoor design for every accommodation with a focus on nature and being your private refuge, and full service, thrice-filtered private well for drinking water throughout the property.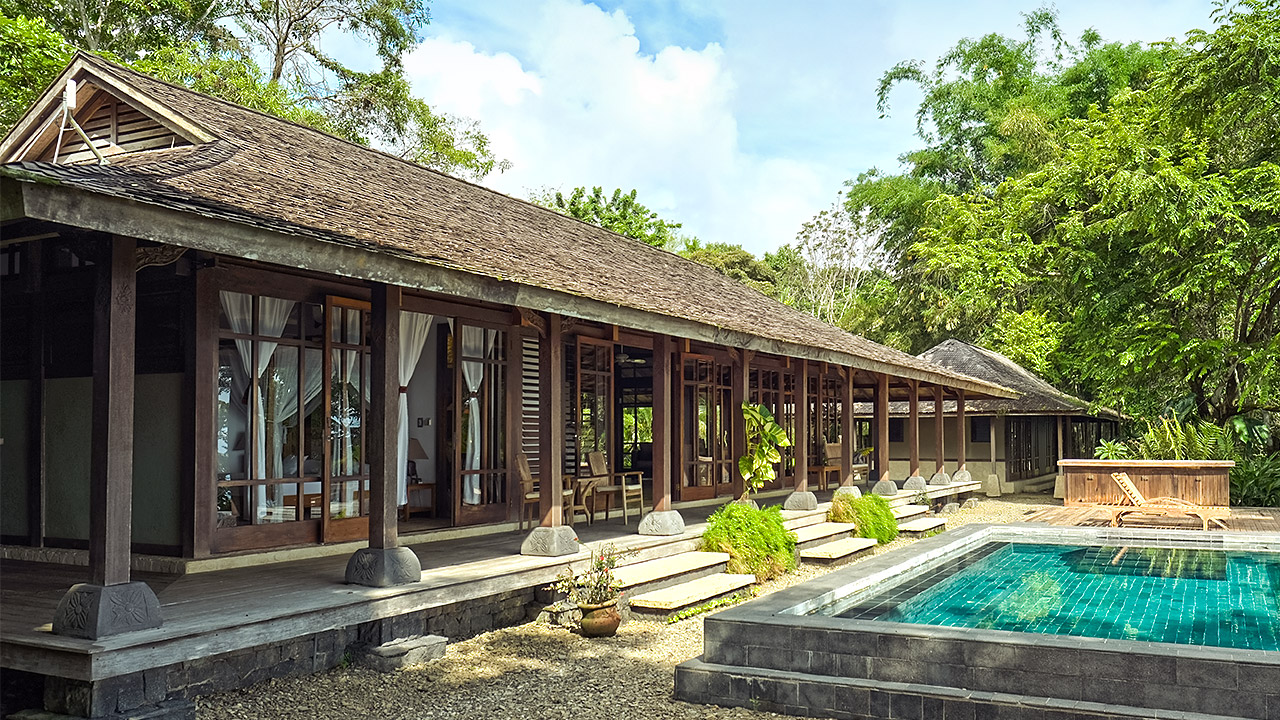 Bali Suites
Our 3 Bali Suites are elegantly situated at the top of the mountain in the 200 year old Bali Village. The suites are located just a few steps away from our shared infinity pool, with gorgeous views overlooking the rainforest and the pacific ocean.
Bali Suites 1 and 2: 1 King bed or 2 twins
Shared infinity plunge pool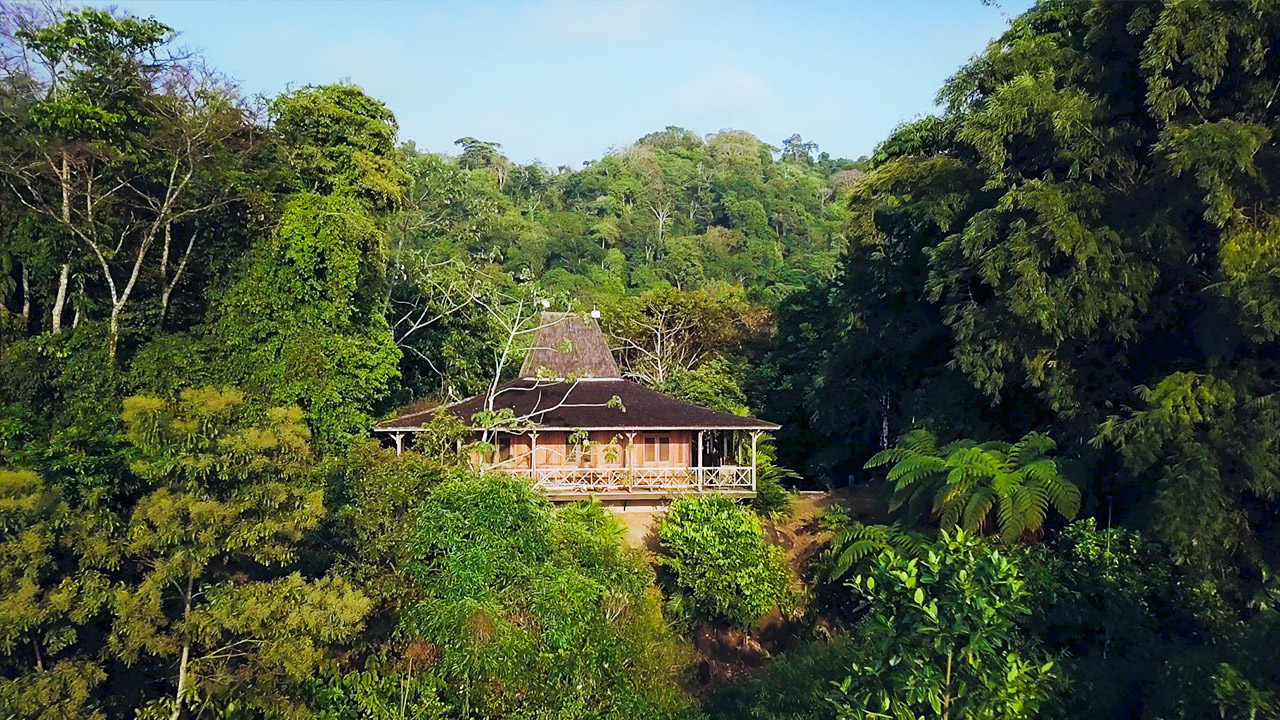 Jogolo House
Perched on the edge of the cliff, at the furthest end of the property, sits a 170 year old home from the Java Islands named Jogolo. Complete with a writer's desk, outdoor Balinese shower, and unique hand-carved architecture, Jogolo is teeming with history, soul and comfort.
No AC | Fans + Open-air construction that allow for natural ventilation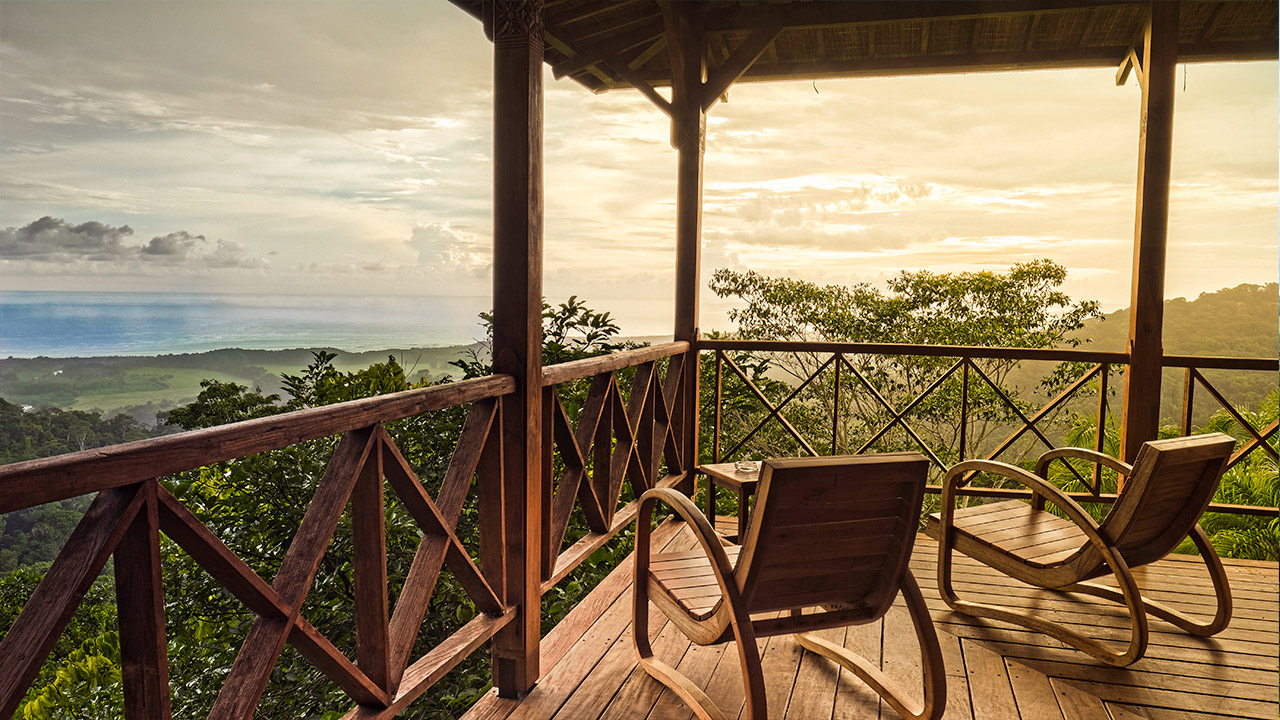 Potoo House
This two-floor imported home from Bali will have you wishing you'd never leave. Complete with a King Bed and a twin in the corner of the 180 year old home, Potoo combines open-air jungle luxury with unparalleled views of the Pacific ocean. On the lower level you will find a plunge pool and private area perfect for spa treatments.
1 King bed and 1 Twin bed
No AC | Fans + Open-air construction that allow for natural ventilation
Geodesic River Domes
Inspired by sacred geometry, our 6 Geodesic River Domes, sits in the rainforest along the edge of our private river. Enjoy the soothing sounds of the flowing water paired with the vibrant sounds of the jungle.
Open-air shower with rainforest views
Jungle Bungalows
Our 6 Jungle Bungalows are in close proximity to our common area, and right on the pathway to our own private waterfall. Bali inspired, the interiors feature natural finishings and beautiful details. Spacious bathrooms with a shower and soaking tub looking out to the rainforest.
No AC | Open-air construction with fans and screens that allow for natural ventilation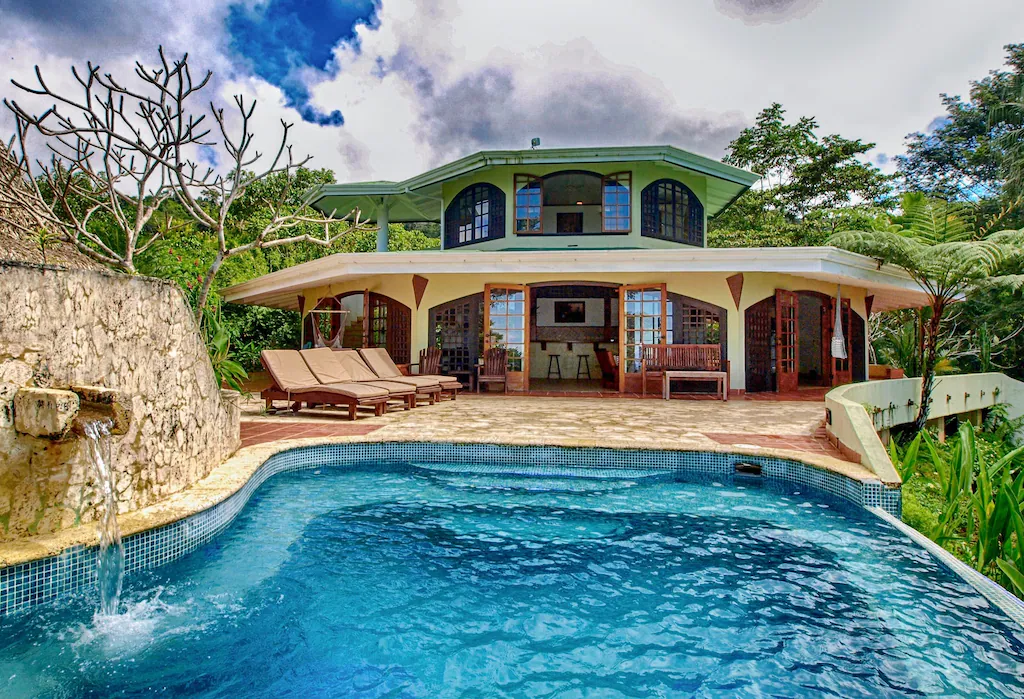 Mountain, Jungle, and Ocean View Suites
Sky Forest is on 8 contiguous acres to Imiloa, making the campus feel like a 30-acre wonderland. The home is 350sq/m with three expansive bedrooms, two downstairs and one up, with mountain, jungle, and ocean views respectively.
Each room can be 1 King bed or 2 twins
3,500 sq/ft of space + 500 sq/ft outdoor space
Private campus within the campus
Infinity pool with magnificent views to the Pacific
GOURMET PLANT BASED CUISINE
At Imiloa, we take pride in being a conscious comfort food campus. That means we serve healthy, locally-sourced, gourmet vegan meals that are as artistically plated, scientifically nourishing and delightfully crafted for all of our retreat guests.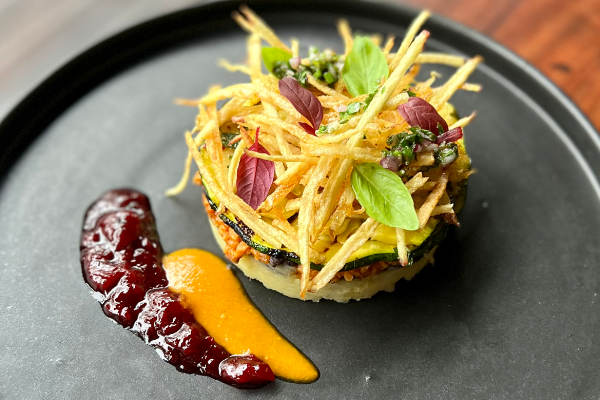 The Spa
Treat yourself to the ultimate relaxation and wellness experience amidst our lush jungle surroundings. Our signature 60-minute massage treatments, offered by skilled local specialists will leave you feeling relaxed rejuvenated. Unwind and embark on a blissful journey of tranquility, surrounded by the serenity and soothing sounds of the rainforest.
The Wellness Bar
At Imiloa we have developed a healthy and tasty menu for our Wellness bar which includes an amazing assortment of signature beverages ranging from superfood smoothies, detoxifying elixirs, freshly pressed juices, custom crafted mocktails & delicious specialty coffees.
ALL INCLUSIVE TRANSPORTATION
Included in your retreat ticket is a privately charted plane from SJO to Imiloa as well as luxury ground transportation to from the airstrip. For more details and information on transportation please email our team at welcomehome@imiloainstitute.com
Imiloa has taken the extra step to ensure your peace of mind by partnering with a trusted and comprehensive travel insurance provider. Our chosen provider meets the entry requirements for Costa Rica and offers "cancel for any reason" plans that provide maximum coverage. With this additional option available through www.globalrescue.com/imiloa, you can travel with confidence, knowing that your retreat experience is safeguarded against unforeseen circumstances. Discover the true essence of worry-free travel where every detail is carefully curated to enhance your journey of wellness and adventure.
Nestled in the heart of the jungle, atop a mountain with breathtaking views of the Pacific Ocean, Imiloa offers a truly immersive nature experience. Adjacent to the second most biodiverse land on the planet, our location is a nature-lover's paradise. Just a quick 15-minute drive away, you'll find Dominical, a vibrant beach town with surf, excellent coffee, and local shopping opportunities.
To the north, you can explore Quepos, and to the south, discover Ojochal and Uvita, famously known as the Whale's Tail.
But that's not all. Imiloa's convenient location also provides easy access to other attractions. Just 45 minutes to the east lies San Isidro, Costa Rica's second largest city. Within an hour's drive in all directions, you'll find cafes, beaches, waterfalls, biodiversity, and friendly locals eager to share the beauty of our lush, lovely area that we proudly call home.
Your journey to Imiloa is made even more convenient with our private plane, ensuring a smooth arrival. During your stay with us, your group will enjoy unlimited transportation to and from the beach, airport, and throughout your retreat, making your experience seamless and stress-free.
Come, immerse yourself in the wonders of nature and experience the warm hospitality of Imiloa. We can't wait to meet you!