A 6-day transformative journey of self-awakening through workshops, movement, and the practice of Yoga.
Deepen your journey of self-understanding through decolonized wisdom informed by South Asian Vedic spirituality and West African Bantu philosophy. Susanna Barkataki and Blair Imani will guide you through a curated experience of excursions, workshops, and movement practices while you unplug, unwind, and unlearn.
Yoga unity activist Susanna Barkataki and creative education specialist Blair Imani firmly believe that wellness and self-transformation should be rooted in decolonization, anti-oppression, and inclusion. The core principles of Ahimsa (non-harm) and Ubuntu (mutual respect) will be practiced during all aspects of the retreat from our movement practices, meals, conversations, and more.
The answers to many of our pressing questions are already inside us, but we lack the time, opportunity, or moments of calm to bring these insights into clear focus. Through the art of Yoga, we will engage in mindful practices to expand our awareness, become grounded, and employ tools of self-discovery. By understanding and caring for ourselves, we will open our minds to more deeply connect with our community and world.
At Imiloa Institute you will be surrounded by nature's embrace in an ethical, sustainable, luxurious space where worker well-being is as much of a focus as your own. Be mindful that while we are hosting you at a luxury resort, we will be in the wilderness and scheduling and amenities may change with the weather.
Are you ready to unplug, unwind, and unlearn?
Day 2
Satya and Ahimsa: Truth and Non-Harm
In the morning at Imiloa, we'll begin with a yoga session to help us feel centered and grounded. This will also be the time we establish our core principles, guidelines, and hopes for our time together. After enjoying a delightful breakfast, we'll set out on a guided nature walk, aiming to foster a mindful connection with our surroundings. The day will conclude with a bonfire ceremony, where we'll solidify our intentions for our entire experience.
Day 3
Svadhyaya and Kujisomea: Self Inquiry and Self Study
In the morning, our yoga session will emphasize 'Svadhyaya', which means self-reflection or introspection. Once breakfast is done, we'll experience the therapeutic effects of Blue Clay at Imiloa's revered waterfall. For our post-dinner activity, Blair will guide us in an identity mapping exercise drawing on the concept of 'Kujisomea' or self-study to delve into how we perceive ourselves. We'll conclude the day with an activity designed for profound relaxation.
Day 4
Pratyahara: Withdrawing of the Senses
In the morning, our yoga session will center on 'Pratyahara', which is about drawing inward and withdrawing from external sensory input. After yoga, we'll enjoy a silent breakfast where the emphasis is on mindful eating and understanding how we nourish our bodies. Later in the day, we'll visit Dominical beach, swimming in the waves and engaging in movement work on the shore. Before dinner, we'll take a tour of the Imiloa garden, learning about local plants and herbs. We'll then incorporate these plants into our evening meal, offering a culinary experience designed to delight your taste buds.
Day 5
Samadhi and Ubuntu: Interbeing and Mutual Respect
In the morning, our yoga session will center on 'Samadhi', emphasizing the concept of interconnection. Following that, our workshop will delve deeper into our previous identity mapping exercise, examining the communal influences on our identity formation. Drawing from the Bantu philosophy of 'ubuntu'—which can be understood as 'I am because you are'—we'll investigate our core values, ethics, and interpersonal relationships. The day will progress with a soothing session of restorative yoga, setting the perfect tone for a relaxed evening enjoying a film.
Techniques for self-understanding, cultivating balance and inner harmony in many circumstances.

Understand yourself and the space you want to occupy in the world.

A deeper understanding of your own power and influence.

Understand your own power in building the world you want to live in.
Intentionality is the key to a rewarding retreat and it begins with your application. We hope that you will leave our shared time with practical takeaways for maintaining wellness and self-understanding. This will be a mind-body-spirit reawakening that will leave you refreshed, rested, and rejuvenated.
Susanna Barkataki
Susanna Barkataki, (she/her) is an Indian yoga practitioner and founder of Ignite Institute for Yogic Leadership and Social Change, Known for her work in decolonizing and embracing the roots of yoga, she runs 200/300 Embody Yoga's Roots Yoga Teacher Training programs that are changing the face of yoga today.
Author of #1 International Bestseller in Yoga, Nov 2020 Embrace Yoga's Roots: Courageous Ways to Deepen Your Yoga Practice. Susanna's yoga trainings are currently shifting the paradigm of what yoga looks like in the West, with a commitment to diversity and culture. She educates in Yoga Teacher Trainings and beyond as the founder of Yoga Class Curator, a year long training to deepen beyond YTT. She is an E-RYT 500, Certified Yoga Therapist (C-IAYT). With an Honors degree in Philosophy from UC Berkeley and a Master's in Education from Cambridge College, Barkataki runs programs that change the world with authentic yoga. Her gift is storytelling from the roots of yoga and making complex philosophical topics down to earth, practical and implementable for students of all experiences. Learn more at SusannaBarkataki.com and join her on social @SusannaBarkataki
Blair Imani
Blair Imani (she/her) is the creator of the viral web series Smarter in Seconds. She is the LA Times Bestselling author of Read This to Get Smarter and Head of Education at Feminist for All. She is also the author of Making Our Way Home and Modern HERstory. Her scholarship spans intersectionality, gender studies, race and racism, sociology, and United States history. As a public speaker, Blair Imani has presented at universities including Oxford and Harvard. She serves on the Board of Directors for the Tegan and Sara Foundation. The New York Times praises Blair Imani's unique ability to create "progressive lessons with vibrant visuals and a perky, quirky delivery." She lives in Los Angeles, California.
Her work centers women and girls, global Black communities, and the LGBTQ+ community. As an educator, influencer, and semi-retired organizer, Blair Imani is dedicated to making the world less terrible and amplifying the voices and work of those fighting the good fight.
Learn more about Blair Imani by visiting blairimani.com and joining her on social media @blairimani.
Susanna's work is a crucial addition for every yoga practitioner.
I have really grown and expanded my understanding of not only yoga and the practice, but how I show up in the world and for others, how to be of true service to others and deeper understanding of the societal and cultural systems we find ourselves in.
Blair's generosity is central to her work – she uses her skills and influence to guide, educate, and liberate, making her an invaluable asset to social justice education and collective liberation
Honoring the roots of the yoga practice and making sure we are inclusive of all is our responsibility as yoga teachers, and I can't think of anyone more suited to lead the way than Susanna. Her wisdom and grace shines so brightly.
Learning with Susanna changed the way I viewed the practice of yoga and what it means to teach yoga. Susanna's teaching has evolved the way I lead teacher trainings and how I lead a classroom. I feel so lucky to have learned from Susanna and her team!
As an educator, Blair Imani is an absolute leader and innovator. From her viral videos to her speaking engagements, Blair skillfully intertwines social justice theories and practice with humor, approachability, and accessibility
I absolutely recommend her work to all sincere students and teachers as a necessary step on the path of awakening.
Susanna helped me take a look yoga and beyond. The true practice of yoga as it shows up in our lives as humans and how we can cultivate the teachings every day and not just when we teach asana. Also the application of certain parts of the teachings to prove that yoga is a practice of social justice and activism is crucial.
Whether it's a keynote session with C Suite executives trying to navigate diversity initiatives, or a breakout session with LGBTQIA+ high school students who need to be inspired, Blair always rises to the occasion. Through humor and grace, she makes sure every listener comes away from her sessions a little more empathetic and a lot smarter
Susanna Barkataki elevates our understanding of yoga. It is beyond time to wake up and shift the paradigm that is pervading yoga today and honor the teachings with integrity, taking responsibility for how we practice and teach.
Susanna is an amazing teacher and yogi. In her unique, down to earth style she shares her wisdom and life experience about the mysteries of yoga. Yoga is truly her passion and love and that's how she teaches. It's easy to learn and stay motivated when you have such a wonderful and enthusiastic teacher.
SHARED | TRIPLE
$3,500
PER PERSON
Triple occupancy in a Geodesic Dome with views of the jungle
SHARED | DOUBLE
$4,000
PER PERSON
Double occupancy in a Geodesic Dome with views of the jungle
SHARED | DOUBLE
$4,500
PER PERSON
Double occupancy in a Jungle Bungalow
PRIVATE | SINGLE
$5,500
PER PERSON
Single occupancy in your own private Bali style suite with beautiful jungle views
VIP PRIVATE | SINGLE
$6,000
PER PERSON
Single occupancy in your own private Bali Villa with beautiful ocean views

A completely private campus; available to your retreat group only. Access to a private waterfall, nature paths, incredible flora and fauna, and an ocean view infinity pool. Also included is a dedicated team of 20+ local professionals to coordinate everything for your enjoyment, from touch down to take off.
​

Gourmet plant-based cuisine prepared using all local and organic produce. Full meals, snacks, teas, coffees and fruit trays available throughout your stay.
Private transportation from the International airport to our campus; a private driver and transportation to our campus in Imiloa Mountain.
What's Not Included
Flights to SJO, Spa Services
You will be immersed in a 22-acre jungle oasis in Dominical, Costa Rica.
This enchanted mountainside jungle venue is ten minutes from the beach and it is the perfect setting to experience deep healing, embraced by nature, yet completely luxurious.
While staying at Imiloa you will enjoy our nature paths, our private waterfall, our salt-water pool, stunning views and delicious and nutritious meals by our five-star vegan chef.
Included in each accommodation is the comfiest mattresses, 850 thread count sheets, storage space and dry rooms as needed, fiber optic internet, daily cleaning service, private en-suite bath, indoor/outdoor design for every accommodation with a focus on nature and being your private refuge, and full service, thrice-filtered private well for drinking water throughout the property.
Clients get to choose their own adventure.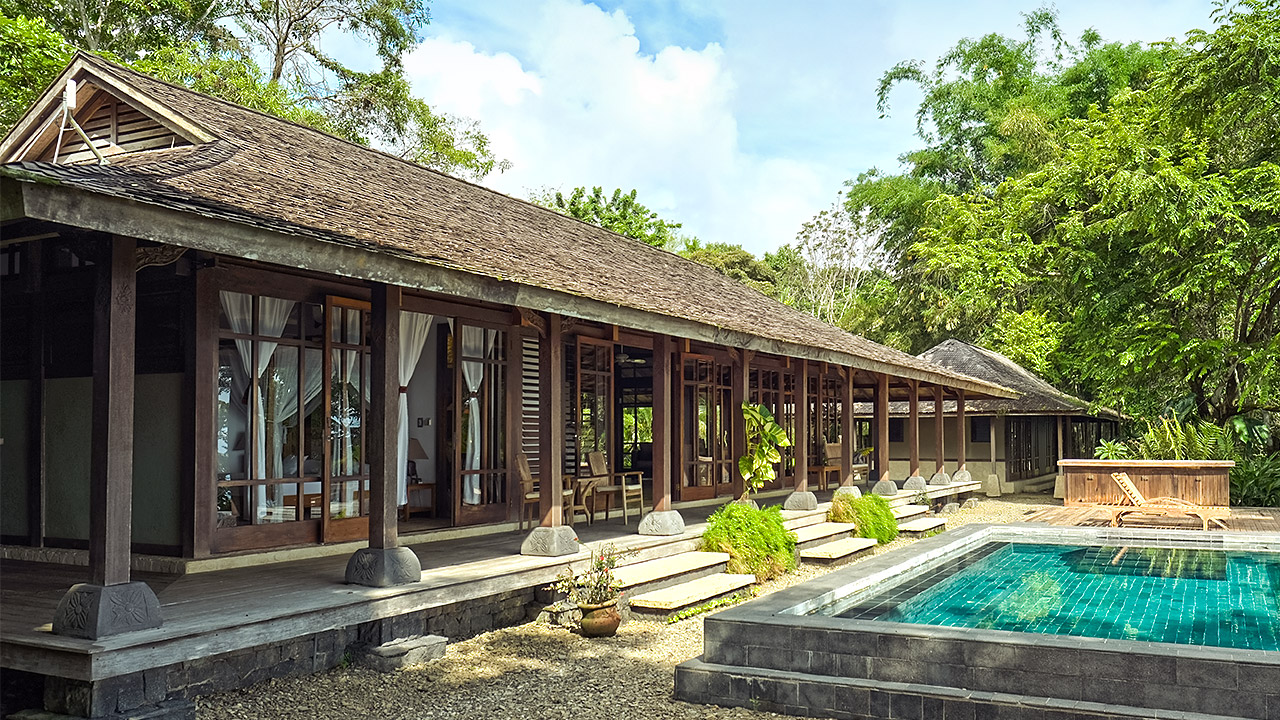 Bali Suites
Our 3 Bali Suites are elegantly situated at the top of the mountain in the 200 year old Bali Village. The suites are located just a few steps away from our shared infinity pool, with gorgeous views overlooking the rainforest and the pacific ocean.
Bali Suites 1 and 2: 1 King bed or 2 twins
Shared infinity plunge pool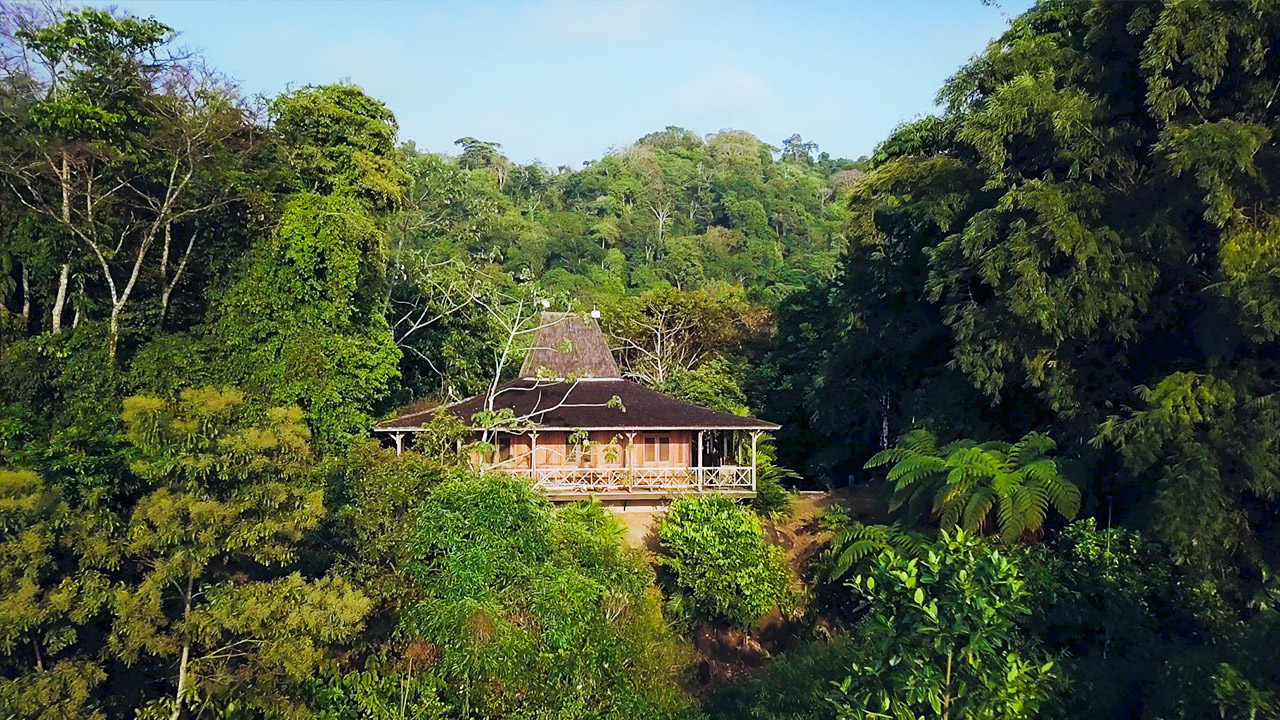 Jogolo House
Perched on the edge of the cliff, at the furthest end of the property, sits a 170 year old home from the Java Islands named Jogolo. Complete with a writer's desk, outdoor Balinese shower, and unique hand-carved architecture, Jogolo is teeming with history, soul and comfort.
No AC | Fans + Open-air construction that allow for natural ventilation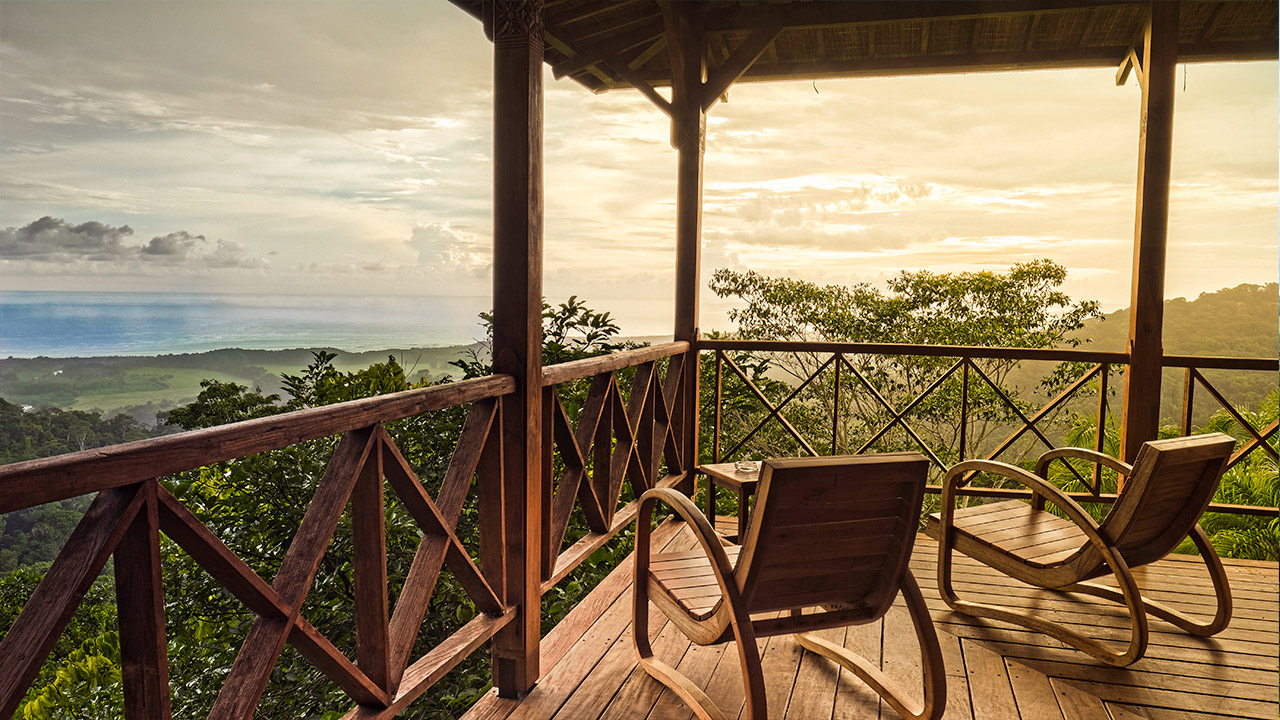 Potoo House
This two-floor imported home from Bali will have you wishing you'd never leave. Complete with a King Bed and a twin in the corner of the 180 year old home, Potoo combines open-air jungle luxury with unparalleled views of the Pacific ocean. On the lower level you will find a plunge pool and private area perfect for spa treatments.
1 King bed and 1 Twin bed
No AC | Fans + Open-air construction that allow for natural ventilation
Geodesic River Domes
Inspired by sacred geometry, our 6 Geodesic River Domes, sits in the rainforest along the edge of our private river. Enjoy the soothing sounds of the flowing water paired with the vibrant sounds of the jungle.
Open-air shower with rainforest views
Jungle Bungalows
Our 6 Jungle Bungalows are in close proximity to our common area, and right on the pathway to our own private waterfall. Bali inspired, the interiors feature natural finishings and beautiful details. Spacious bathrooms with a shower and soaking tub looking out to the rainforest.
No AC | Open-air construction with fans and screens that allow for natural ventilation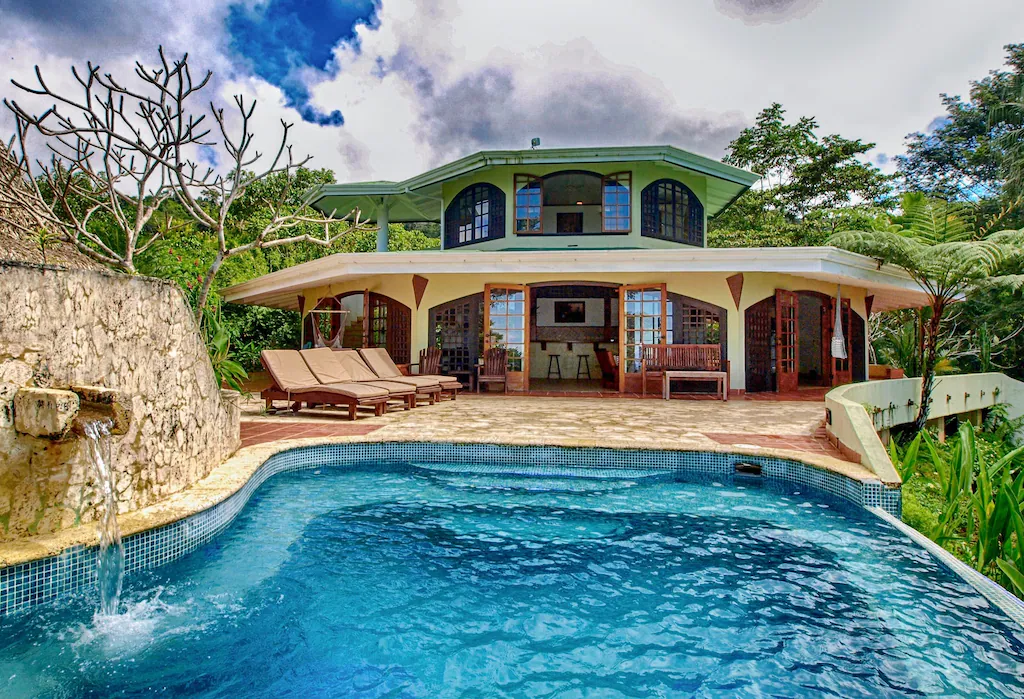 Mountain, Jungle, and Ocean View Suites
Sky Forest is on 8 contiguous acres to Imiloa, making the campus feel like a 30-acre wonderland. The home is 350sq/m with three expansive bedrooms, two downstairs and one up, with mountain, jungle, and ocean views respectively.
Each room can be 1 King bed or 2 twins
3,500 sq/ft of space + 500 sq/ft outdoor space
Private campus within the campus
Infinity pool with magnificent views to the Pacific
Only available for contracts that sign for 21 or more people
GOURMET PLANT BASED CUISINE
At Imiloa, we take pride in being a conscious comfort food campus. That means we serve healthy, locally-sourced, gourmet vegan meals that are as artistically plated, scientifically nourishing and delightfully crafted for all of our retreat guests.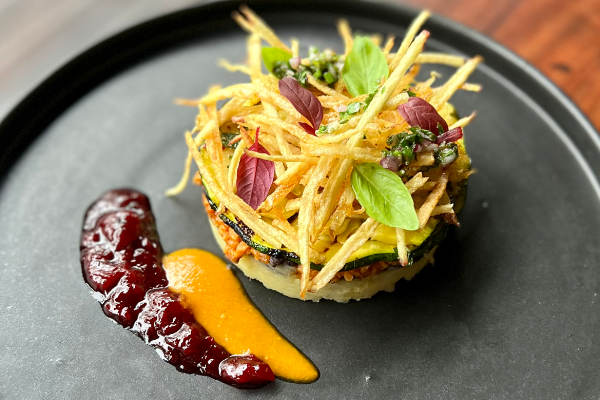 The Spa
Treat yourself to the ultimate relaxation and wellness experience amidst our lush jungle surroundings. Our signature 60-minute massage treatments, offered by skilled local specialists will leave you feeling relaxed rejuvenated. Unwind and embark on a blissful journey of tranquility, surrounded by the serenity and soothing sounds of the rainforest.
The Wellness Bar
At Imiloa we have developed a healthy and tasty menu for our Wellness bar which includes an amazing assortment of signature beverages ranging from superfood smoothies, detoxifying elixirs, freshly pressed juices, custom crafted mocktails & delicious specialty coffees.
ALL INCLUSIVE TRANSPORTATION
Included in your retreat ticket is a privately charted plane from SJO to Imiloa as well as luxury ground transportation to from the airstrip. For more details and information on transportation please email our team at welcomehome@imiloainstitute.com
Our team, the Welcome Home Team at Imiloa, from kitchen to property, gardening to coordination, logistics to transportation, will be available to you throughout your stay with anything you need. They have a ready smile, answers to most of your questions and can quickly support so your experience is easy and fulfilling.
Imiloa has taken the extra step to ensure your peace of mind by partnering with a trusted and comprehensive travel insurance provider. Our chosen provider meets the entry requirements for Costa Rica and offers "cancel for any reason" plans that provide maximum coverage. With this additional option available through www.globalrescue.com/imiloa, you can travel with confidence, knowing that your retreat experience is safeguarded against unforeseen circumstances. Discover the true essence of worry-free travel where every detail is carefully curated to enhance your journey of wellness and adventure.
Nestled in the heart of the jungle, atop a mountain with breathtaking views of the Pacific Ocean, Imiloa offers a truly immersive nature experience. Adjacent to the second most biodiverse land on the planet, our location is a nature-lover's paradise. Just a quick 15-minute drive away, you'll find Dominical, a vibrant beach town with surf, excellent coffee, and local shopping opportunities.
To the north, you can explore Quepos, and to the south, discover Ojochal and Uvita, famously known as the Whale's Tail.
But that's not all. Imiloa's convenient location also provides easy access to other attractions. Just 45 minutes to the east lies San Isidro, Costa Rica's second largest city. Within an hour's drive in all directions, you'll find cafes, beaches, waterfalls, biodiversity, and friendly locals eager to share the beauty of our lush, lovely area that we proudly call home.
Your journey to Imiloa is made even more convenient with our private plane, ensuring a smooth arrival. During your stay with us, your group will enjoy unlimited transportation to and from the beach, airport, and throughout your retreat, making your experience seamless and stress-free.
Come, immerse yourself in the wonders of nature and experience the warm hospitality of Imiloa. We can't wait to meet you!