Expand your connection with animals, intuition, energy and more. Participants in this retreat experience a freedom to try out their intuition in new ways – even if they're just discovering it. Free from judgement of the external world!
A 6-day immersive retreat to connect intuitively with animals and people alike
Are you ready to unlock your spiritual connection with animals? Discover the transformative power of intuitive communication and embark on an extraordinary journey at the Animal Soul Connections Retreat.  
Imagine expanding your intuition, opening your heart, and experiencing profound happiness by learning how to connect with animals on a deeper level. Led by renowned Animal Communicator, Danielle MacKinnon, this retreat offers a unique opportunity to explore her exclusive Soul Level Method tailored specifically for intuitive connection with the animals of Costa Rica.
Danielle's approach is easy, accessible, and most importantly, fun! You don't need any prior psychic experience to join in the excitement. From the enchanting hummingbirds to majestic whales, you'll practice connecting psychically with them all. 
Through workshops mixed with group experiences and practices, you'll also discover how to receive the profound wisdom and guidance your soul yearns for from each animal you connect with. Don't miss out on this extraordinary opportunity to connect with the furred, feathered, and scaled wonders of Costa Rica.
Opening and Closing Ceremonies led by the amazing Danielle: Brace yourself for a soulful and captivating journey right from the start.
Morning connection yoga: Rise and shine! If you're up for it, join Danielle for a revitalizing yoga session to kick-start your day on a positive note.
Up to 3 Workshops with Danielle: Get ready to unlock the secrets of her renowned Soul Level Method. These workshops will empower you to establish an intuitive connection with animals on a profound level.
Guided rainforest walk: As we explore the lush rainforest, you'll have the opportunity for real-time psychic connections with the fascinating wildlife we encounter. Prepare to be amazed!
Beach time on Costa Rica's picturesque shores: Picture yourself basking in the beauty of one of the most serene and pristine beaches in Costa Rica. It's the perfect setting to unwind, relax, and connect with nature.
Sound Healing: Allow the soothing sounds to wash over you as we harness the power of sound to integrate the intuitive openings you are experiencing. This session will leave you feeling harmonized and centered.
Sacred Cacao Ceremony: Prepare to dive deeper into your journey of integration through a sacred Cacao Ceremony. Experience the heart-opening effects of this ancient ritual as you connect with your inner self and the animal kingdom.
Whale Connection with Danielle's proprietary Soul Level Method: Brace yourself for an extraordinary and unique opportunity to communicate with majestic whales using Danielle's exclusive communication technique. It's an experience that goes beyond words.
Get ready to embark on an unforgettable adventure of self-discovery, connection, and profound intuitive experiences with Danielle as your guide. This is an opportunity you don't want to miss!
What You Will Discover
This 6-day immersive retreat aligns you with both people and animals that understand you like no one else can
CONNECTION with animals using your innate intuition.
COMMUNITY with those, just like you, whose sensitivity leads the way in their relationships with other people and animals alike.
KNOWLEDGE about the inner workings of the animal kingdom through your connections with the animals of Costa Rica.
COMPASSION for yourself as your connections with animals help you understand your soul the way they understand it.
Danielle Will Share With You
Danielle's Soul Level method for intuitive connection with all animals
How your intuition is already working (whether or not you've been aware of it)
​​How to activate your psychic sight, feeling, and hearing through the power of the animals
The ability to feel in your body what it is like to truly BE a particular animal (Learn how to "feel" what animals really want you to feel!)
Methods for moving through those challenges holding you back from experiencing true connection with animals and even with people
Danielle's proprietary techniques that you can take home to continue opening and expanding your intuition
Connection with people who feel about animals the way you do (that's hard for most of us to find!)
Emotional and energetic support as you dive into the intuitive world of animals (so many think it weird!)
Expert guidance from Danielle in how your intuition works for you, personally
An understanding of the world of animals and how they use the Soul Level to move human consciousness forward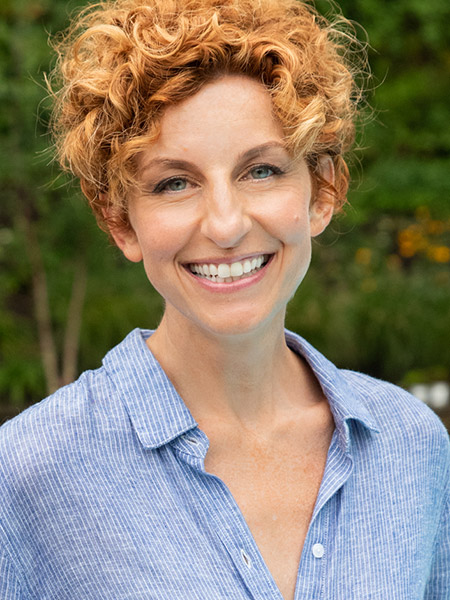 Danielle MacKinnon
World-renowned animal communicator, intuitive, best-selling author, and Soul Level Coach, Danielle MacKinnon has brought clarity, intuition, and deep animal connection to thousands worldwide through her Soul Level Method® in animal communication and personal development.
Danielle knows that everyone has the ability to connect to animals and people psychically to learn the soul lessons they're meant to know. In her school, the Danielle MacKinnon School, Danielle shows you how to communicate with animals, develop a relationship with your Guides, and trust your intuition on a deeper level so that you can create lasting, positive changes in your life.
Over the past 20 years, Danielle has helped thousands of people accept and embrace their natural ability to tap into their intuition and communicate with animals and people on a more meaningful level – the Soul LevelⓇ.
Day 1 – October 5th
Community
Meet and align with the incredible group of people who feel about animals, just like you.
Day 2 – October 6th
Explore
Delve in to animal intuition and discover what the animals have been saying all along
Day 3 – October 7th
Compassion
Move through your challenges to open your animal intuition and uncover the language of the animals
Day 4 – October 8th
Knowledge
Put your newfound knowledge and experience into practice with sloths, toucans, caterpillars and more
Day 5 – October 9th
Play
Band together with your community to play intuitively with the largest mammals on earth
Day 6 – October 10th
Connection
Experience continued connection with people and animals with your newly expanded intuition
*Please note: Agenda can be subject to change
The Animal Communication Retreat in Costa Rica with Danielle was truly one of the most amazing adventures I've ever had! My favorite part of the trip was when the group went out on a whale connection excursion. There were 4 whales swimming with and under our boat, and as we connected with them we were able to learn and practice energy management! This practice continued throughout the trip with all different types of animals as we explored each day. I was so surprised at what I was capable of doing! There is nothing like feeling seen and understood while getting the opportunity to be with like-minded people in a supportive, nurturing environment, all getting the opportunity to learn together. Costa Riaca is the kind of place that calls you to visit over and over again.
The Imiloa Institute in Costa Rica was the perfect setting for Danielle's Animal Soul Connection Retreat. Imiloa and their staff, went above and beyond expectations; hosting incredible lodging, vegan cuisine, sacred ceremonies and exciting day excursions including a once in a lifetime Whale Watching outting! Throughout our stay, they payed extreme attention to detail and nurtured the group. The most surprising part of this journey was the level of bonding, sharing, and closeness there was between the participants, especially after the long break from social engagement due to the pandemic. The lifechanging workshops were a continued reminder that we are all one. We each possess incredible intuitive gifts and when we pause to be with the wonder of the natural world, true magic happens. Every time I leave the Danielle MacKinnon retreat, I feel refreshed and renewed! This experience is truly a respite for the soul.
Danielle's Animal Soul Connection Retreat was beyond wonderful. Everything was so well taken care of, all we had to do was show up and participate. The Imiloa Institute did an incredible job at keeping everything organized, putting together our days, and the food! My goodness, I can't even explain how amazing it truly was. Every detail in the drinks and the food was thoroughly thought out and executed perfectly. So much so, that I am now making more conscious choices in the food and drink I consume back home after coming back. This retreat taught me that I actually can communicate with animals, and so could everyone else who attended! Even those most skeptical of their own abilities upon arrival. It was heartwarming to feel as though I belong and am seen. To find such a wonderful group of likeminded people was something I never thought I would come across. Danielle and Imiloa created a safe space to discuss metaphysics and "alternative" ideas among the group and I left considering everyone there my friends and feeling rejuvenated and loved. I am loving being able to keep in touch with those I connected there and being able to continue to share our gifts, that was the best part for me. I can't wait for the next one, I will go back in a heartbeat!
DOUBLES
$3,300
PER PERSON
Double occupancy in a Geodesic Dome with jungle views
SINGLES
$3,800
PER PERSON
Lodging in a Jungle Bungalow or Bali Style Suite with beautiful jungle views
SINGLES
$4,250
PER PERSON
Single occupancy in a Sky Forest Suite with shared pool, patio and beautiful views overlooking the rainforest and ocean.
VIP SINGLES
$4,500
PER PERSON
VIP Luxury Single in a 200 year old home from Bali, mountaintop, overlooking the Pacific Ocean

A completely private campus; available to your retreat group only. Access to a private waterfall, nature paths, incredible flora and fauna, and an ocean view infinity pool. Also included is a dedicated team of 20+ local professionals to coordinate everything for your enjoyment, from touch down to take off.
​

Gourmet plant-based cuisine prepared using all local and organic produce. Full meals, snacks, teas, coffees and fruit trays available throughout your stay.
Private transportation from the International airport to our campus; a private driver and transportation to our campus in Imiloa Mountain.
What's Not Included
Flights to SJO, Spa Services
Immerse yourself in a 22-acre jungle oasis located in Dominical, Costa Rica. Imiloa is nestled in the heart of the rainforest, overlooking the majestic Pacific Ocean, and is just a short 15-minute ride from the beach. It offers the perfect setting for experiencing deep healing while being embraced by nature, all in the comfort of luxurious accommodations. We like to call it JungleLuxury.
During your stay at Imiloa, you can revel in the beauty of our nature paths, indulge in the serenity of our private waterfall, relax by the shared infinity pool that offers breathtaking forest and ocean views, and of course, savor the culinary delights of our gourmet plant-based meals meticulously crafted by our expert kitchen team.
Included in each accommodation is the comfiest mattresses, 850 thread count sheets, storage space and dry rooms as needed, fiber optic internet, daily cleaning service, private en-suite bath, indoor/outdoor design for every accommodation with a focus on nature and being your private refuge, and full service, thrice-filtered private well for drinking water throughout the property.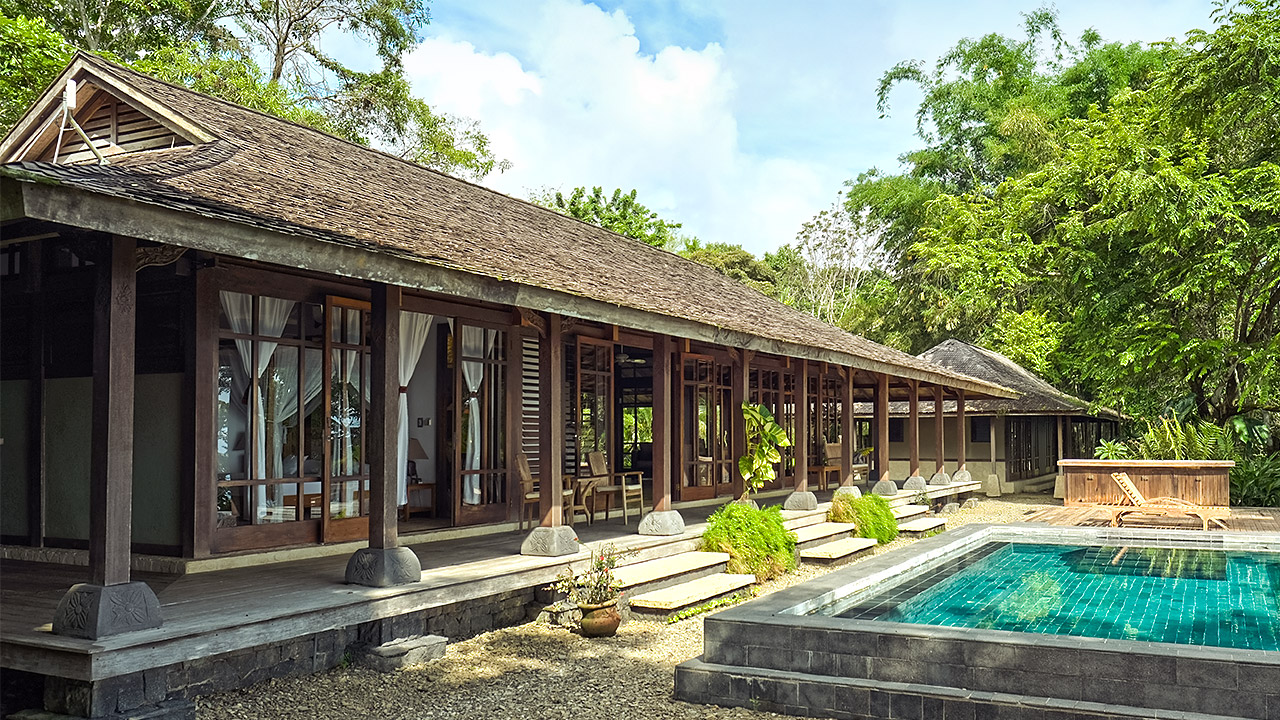 Bali Suites
Our 3 Bali Suites are elegantly situated at the top of the mountain in the 200 year old Bali Village. The suites are located just a few steps away from our shared infinity pool, with gorgeous views overlooking the rainforest and the pacific ocean.
Bali Suites 1 and 2: 1 King bed or 2 twins
Shared infinity plunge pool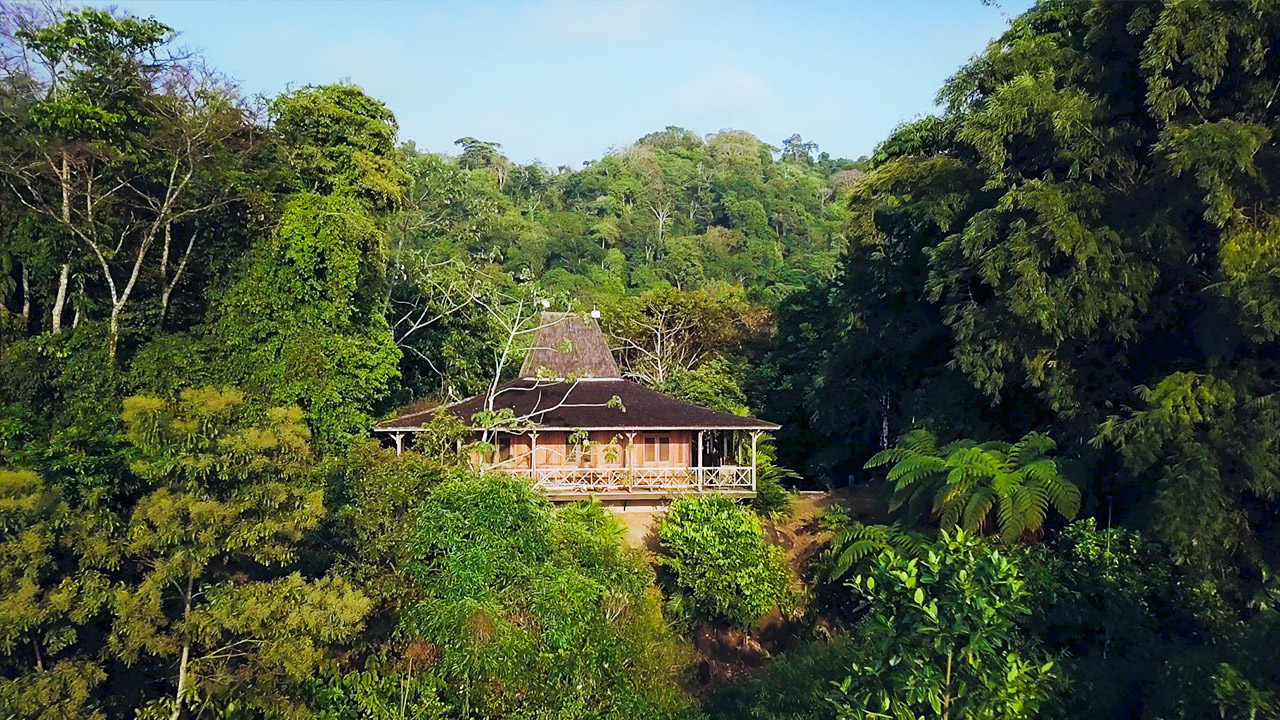 Jogolo House
Perched on the edge of the cliff, at the furthest end of the property, sits a 170 year old home from the Java Islands named Jogolo. Complete with a writer's desk, outdoor Balinese shower, and unique hand-carved architecture, Jogolo is teeming with history, soul and comfort.
No AC | Fans + Open-air construction that allow for natural ventilation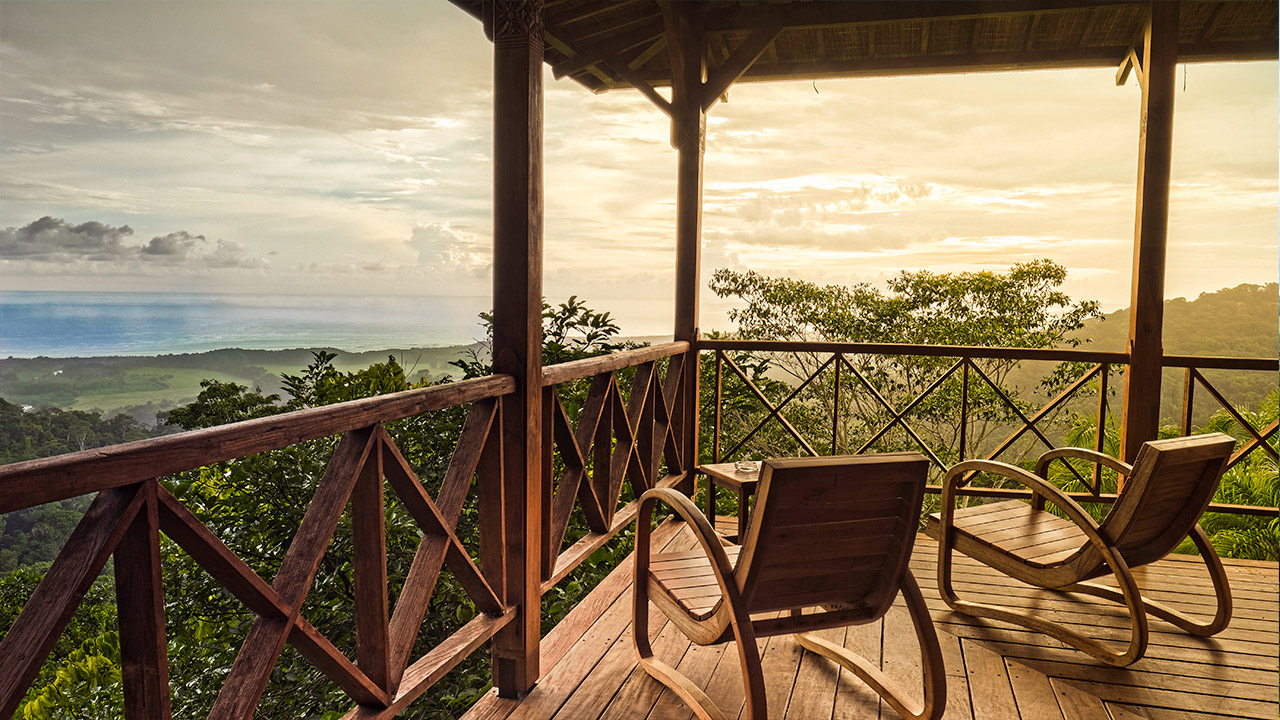 Potoo House
This two-floor imported home from Bali will have you wishing you'd never leave. Complete with a King Bed and a twin in the corner of the 180 year old home, Potoo combines open-air jungle luxury with unparalleled views of the Pacific ocean. On the lower level you will find a plunge pool and private area perfect for spa treatments.
1 King bed and 1 Twin bed
No AC | Fans + Open-air construction that allow for natural ventilation
Geodesic River Domes
Inspired by sacred geometry, our 6 Geodesic River Domes, sits in the rainforest along the edge of our private river. Enjoy the soothing sounds of the flowing water paired with the vibrant sounds of the jungle.
Open-air shower with rainforest views
Jungle Bungalows
Our 6 Jungle Bungalows are in close proximity to our common area, and right on the pathway to our own private waterfall. Bali inspired, the interiors feature natural finishings and beautiful details. Spacious bathrooms with a shower and soaking tub looking out to the rainforest.
No AC | Open-air construction with fans and screens that allow for natural ventilation
GOURMET PLANT BASED CUISINE
At Imiloa, we take pride in being a conscious comfort food campus. That means we serve healthy, locally-sourced, gourmet vegan meals that are as artistically plated, scientifically nourishing and delightfully crafted for all of our retreat guests.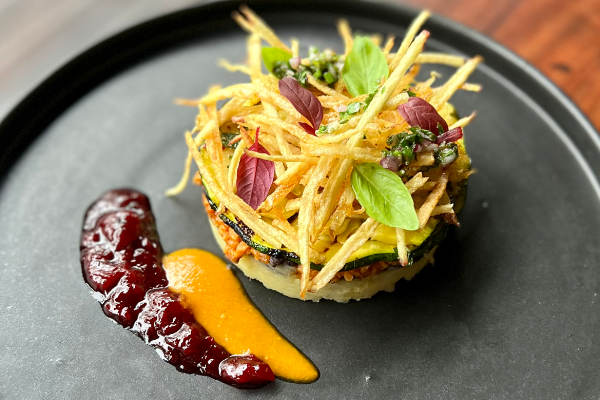 The Spa
Treat yourself to the ultimate relaxation and wellness experience amidst our lush jungle surroundings. Our signature 60-minute massage treatments, offered by skilled local specialists will leave you feeling relaxed rejuvenated. Unwind and embark on a blissful journey of tranquility, surrounded by the serenity and soothing sounds of the rainforest.
The Wellness Bar
At Imiloa we have developed a healthy and tasty menu for our Wellness bar which includes an amazing assortment of signature beverages ranging from superfood smoothies, detoxifying elixirs, freshly pressed juices, custom crafted mocktails & delicious specialty coffees.
ALL INCLUSIVE TRANSPORTATION
Included in your retreat ticket is a privately charted plane from SJO to Imiloa as well as luxury ground transportation to from the airstrip. For more details and information on transportation please email our team at welcomehome@imiloainstitute.com
Imiloa has taken the extra step to ensure your peace of mind by partnering with a trusted and comprehensive travel insurance provider. Our chosen provider meets the entry requirements for Costa Rica and offers "cancel for any reason" plans that provide maximum coverage. With this additional option available through www.globalrescue.com/imiloa, you can travel with confidence, knowing that your retreat experience is safeguarded against unforeseen circumstances. Discover the true essence of worry-free travel where every detail is carefully curated to enhance your journey of wellness and adventure.
Nestled in the heart of the jungle, atop a mountain with breathtaking views of the Pacific Ocean, Imiloa offers a truly immersive nature experience. Adjacent to the second most biodiverse land on the planet, our location is a nature-lover's paradise. Just a quick 15-minute drive away, you'll find Dominical, a vibrant beach town with surf, excellent coffee, and local shopping opportunities.
To the north, you can explore Quepos, and to the south, discover Ojochal and Uvita, famously known as the Whale's Tail.
But that's not all. Imiloa's convenient location also provides easy access to other attractions. Just 45 minutes to the east lies San Isidro, Costa Rica's second largest city. Within an hour's drive in all directions, you'll find cafes, beaches, waterfalls, biodiversity, and friendly locals eager to share the beauty of our lush, lovely area that we proudly call home.
Your journey to Imiloa is made even more convenient with our private plane, ensuring a smooth arrival. During your stay with us, your group will enjoy unlimited transportation to and from the beach, airport, and throughout your retreat, making your experience seamless and stress-free.
Come, immerse yourself in the wonders of nature and experience the warm hospitality of Imiloa. We can't wait to meet you!