Are you an entrepreneur, community leader, coach or someone always serving others and under-serving yourself? Then the Live Life Activated retreat is calling your name! Experience a 6 day immersive, transformational week of life-changing activities aligning your physical, mental, emotional, and spiritual practices while activating connection and purpose with like-minded entrepreneurs, creators, and leaders who are impacting lives across the world.
As leaders and creators, we often put so much burden on ourselves.  The pressure of building a business, creating our own brand, leading others and managing employees while driving impact can lead us to fall out of practice or forget about recharging ourselves.  We often are so focused on supporting others that we overlook our own health which can lead to burnout,  mindless escapes (social media takeovers, Netflix overloads, etc.) or even self-destructive activities leaving us mentally, emotionally and even physically drained and unhealthy.  If this sounds like you then the Live Life Activated retreat is calling.
You will be challenged to connect with yourself at a deeper level while also building lifelong connections.  Lead by world renown facilitators guiding us through a journey that will push you to become more aligned with yourself, allow you to deepen connection to others and leave you with tools to integrate into your life when you return to your daily routine. We do this by focusing all activities and workshops on aligning our physical, mental, emotional and spiritual practice with our mission and goals in life.
How to fine tune your mind and body to be the healthiest version of yourself.
Optimizing your physiology and mastering sleep.
The power of giving back.
How to rewire negative emotions and your nervous system to increase clarity, focus and productivity.
Using your sexual energy to stand more in your power and expression and how that translates into higher fulfillment and productivity in your life and business.
Communication practices to release your emotions in a healthy manner while reducing stress and anxiety in tense situations.
Radical authenticity and communication.
The power of integrating music and movement into your daily practice.
How to achieve and maintain a flow state that will enhance your productivity with ease.
Connection, community, clarity and renewed activation.
You will be recharged for the second half of the year with laser focus.
Your spirituality will be deepened and emotionally you will feel more connected to your soul which will propel all aspects of life.
You will gain new practices to live a healthier, more fulfilled purpose where you are more motivated to make a positive impact more than ever before.
You will develop life long friendships and lives will be changed forever (Just ask previous participants!)
Michael Dash
MICHAEL G. DASH is an entrepreneur, best selling author of Chasing The High, recovering addict, community leader, speaker and philanthropist. After a six year lawsuit with a former business partner, he sold his recruiting company of 11 years in 2018.
Having been disconnected from his soul's purpose and passion, Michael started attending both business and personal development retreats first embracing their impact on him and then studying the power they have on others.  Having experienced over 20 retreats over four continents, Michael knew his life work was helping leaders reconnect with themselves and their mission.  He started the Live Life Activated retreats in 2019 bringing in world expert facilitators, who impacted his transformation, to create a game changing experience for others.
Along the way Michael developed numerous tools diving into personal values, mission, alignment and habits focusing on the four main areas of practice that helped him turn his life around: Physical, Mental, Emotional and Spiritual.  This crafted the Live Life Activated retreats which are transforming people's lives.
In Michael's spare time he has raised over $100,000 for the Leukemia, Lymphoma Society while running four marathons and climbing Mt. Kilimanjaro.  He also has dedicated time to volunteering in maximum security prisons teaching heart lead entrepreneurship and giving hope to the otherwise hopeless.   
Michael co-founded the Activated.Life movement, focused on inspiring a culture of positivity, authenticity, passion, empathy, and resilience while giving back to others. He also founded F.A.T.E. From Addict To Entreprenuer and interview series of former addicts who are now successful entrepreneurs around the world. He is passionate about leading retreats and cultivating life shifting experiences.
 – John Scott Harrison, Managing Partner HiH LLC
I'm very honored because this retreat is next level. I'm grateful enough to share that I have been teaching and moving from event to event for so many years now, I've been to 60 of these types of retreats and I can say this one is by far one of the best I have ever been to. The quality of the people, the quality of the workshops, the flow between the program and surrendering to what the group feels like doing is super profound and very beautiful.  Michael is an amazing host and facilitator holding the group together with integrity and a healed masculine energy and here at Imiloa, the service, the food at Imiloa it's all just next level and I'm very grateful to be here. 
I was super nervous to come, having it been my first retreat and really had no idea what to expect in coming here but coming here has been one of the most life changing experiences I've ever had. I've learned so much about myself and the things I need to overcome and some of the bullshit stories I've been telling myself over the years that I need to recreate. But I've had so many amazing connections that have been made here. I never could have imagined I would have met so many beautiful spirited entrepreneurial people that are making huge impacts on this earth and to know I will be forever connected to them is one of the most beautiful things I could ever ask for.  
DOUBLES
$3,995
PER PERSON
Double occupancy in a Jungle Bungalow or Geodesic Dome with views of the jungle
Single occupancy in a Bali style suite with beautiful jungle views
Double occupancy (for couples) in a beautiful 200-Year-Old Balinese villa with a private deck and stunning views of the jungle and ocean

A completely private campus; available to your retreat group only. Access to a private waterfall, nature paths, incredible flora and fauna, and an ocean view infinity pool. Also included is a dedicated team of 20+ local professionals to coordinate everything for your enjoyment, from touch down to take off.
​

Gourmet plant-based cuisine prepared using all local and organic produce. Full meals, snacks, teas, coffees and fruit trays available throughout your stay.
Private transportation from the International airport to our campus; a private driver and transportation to our campus in Imiloa Mountain.
What's Not Included
Flights to SJO, Spa Services
You will be immersed in a 22-acre jungle oasis in Dominical, Costa Rica.
This enchanted mountainside jungle venue is ten minutes from the beach and it is the perfect setting to experience deep healing, embraced by nature, yet completely luxurious.
While staying at Imiloa you will enjoy our nature paths, our private waterfall, our salt-water pool, stunning views and delicious and nutritious meals by our five-star vegan chef.
Included in each accommodation is the comfiest mattresses, 850 thread count sheets, storage space and dry rooms as needed, fiber optic internet, daily cleaning service, private en-suite bath, indoor/outdoor design for every accommodation with a focus on nature and being your private refuge, and full service, thrice-filtered private well for drinking water throughout the property.
BALI VILLAGE
Bali Village is perched 1200 feet about the Pacific Ocean, on a ridge line of flora, fauna and wildlife every direction you look. These 5 accommodations are 160-200 year old homes imported from Bali. Each with their own en suite bathrooms, the homes bring you back and create a self space for rejuvenation and transformation.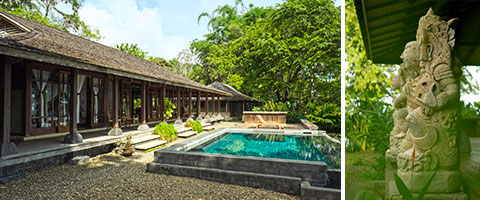 BALI MASTER SUITE
200 Year Old Homes from Bali. Imported from the Java Islands, these homes boast outdoor showers, full kitchen access, surreal vista views to the Pacific, their own salt water plunge pools and hand-carved art that is as old as the houses.
JOGOLO HOUSE
Perched on the edge of the cliff, at the furthest end of the property, sits a 170 year old home from the Java Islands we call Jogolo. Complete with a writer's desk, outdoor Balinese shower, hand-carved architecture that will transport you to another land and time, Jogolo is teeming with history and comfort. Your cold plunge pool is adjacent to a warm bath, both outdoor. Full kitchen, too.
POTOO HOUSE
This two-floor imported home from Bali will have you wishing you'd never leave. Complete with a King Bed and a twin in the corner of the 180 year old home, Potoo has modern luxury with 360 views of the Pacific. On the lower level, a plunge pool and private spa. Potoo also includes many outdoor chairs, hammocks and a full kitchen, too.
BUNGALOW HILL
Six Jungle Bungalows built on the side of the mountain on the pathway to our very own private waterfall. Bali inspired, the interiors feature natural finishings and a gorgeous exposed shower and bath tub.
DOMELAND
Six Buckminster Fuller inspired Geodesic River Domes, among the best made in the world and partially powered by solar energy, sit perched on the edge of our private river with the fresh, flowing water feeding up to the domes. Experience the soothing sounds of relaxing and sleeping next to flowing water. Amazing!
THE HOUSE OF MASTERS
The House of Masters, located in the center of the property, is a 2,000 square foot Balinese structure hanging 100 feet in the Jungle canopy. Adjacent are restrooms and a yoga storage room for mats, blocks and more. The space can be converted for any type of retreat, workshop or dance party.
THE HEART OF IMILOA
A sprawling 3,000 square foot space that is the "Heart of Imiloa," our social space features loungy, multicultural inspired furnishings, couches, and 5 imported tables from Bali, all under a Polynesian style roof.
THE PATHS
Jungle paths connect the 20+ acres at Imiloa, with hand-made stairs and lighting, creating an immersive, easy experience for you and guests.
THE WATERFALL
Beyond the Jungle Bungalows is a path that leads to our own private waterfall. Descend into what feels like an enchanted jungle forest as you bask in the magic and beauty of the surrounding nature.
At Imiloa, we are a proudly conscious comfort food campus. That means we serve healthy, locally-sourced, gourmet vegan meals that are as artistically plated, scientifically nourishing and delightfully crafted for all of our retreat guests.
Imiloa's world-class spa is a curated, sensual and deeply moving experience. Choose from Ayurvedic massages and practices, to a shamanic masseuse from our team members who are from the Boruca indigenous tribe here in Costa Rica, to more traditional Swedish, relaxation or Thai yoga massages, body wraps and others. A full list of spa offerings and a link to book during your free time will be provided to you before you arrival.
Schedule your plane to arrive at SJO. In order to access your private plane charter, all guests must be at the Domestic Terminal at SJO San Jose, Costa Rica no later than 3PM on the arrival day.
Once landed, proceed to customs and instructions will be provided to meet Imiloa concierge.
Proceed to baggage claim with concierge and proceed to Domestic Terminal (3 minute walk from International Terminal). Please be at the Domesitc Terminal at SJO San Jose, Costa Rica no later than 3PM on your day of arrival.
Private Imiloa plane will be waiting to fly you to Quepos.
Private ground transport shuttles will pick you up in Quepos and bring you to Imiloa.
If you are already in Costa Rica, ground transport may be coordinated from Quepos, Dominical or Uvita as inclusive.
Please do not plan to drive to Imiloa on your own. It is not permitted.
If you need to arrive the day before, please stay at the Hampton Inn across from the airport, or plan to be in the San Jose Domestic Terminal for private flight to Imiloa by no later than 3PM (instructions will be emailed).
You will depart Imiloa at 9AM, and arrive at the landing strip at 9:30AM, with an estimated arrival to SJO airport at 10:30AM. The domestic terminal is a 5-10 minute walk to the international terminal at SJO. Typically, it is suggested to be at the international terminal 2.5 hours prior to your international departure. Please book your departing international flight accordingly, knowing that you will be at the airport at 10:30AM on departure day.
Questions? Email us: impact@imiloainstitute.com
Our team, the Welcome Home Team at Imiloa, from kitchen to property, gardening to coordination, logistics to transportation, will be available to you throughout your stay with anything you need. They have a ready smile, answers to most of your questions and can quickly support so your experience is easy and fulfilling.
TRAVEL INSURANCE and COVID PROCEDURES
Imiloa has partnered with a comprehensive travel insurance provider that meets the entry requirements for Costa Rica and offers "cancel for any reason" plans to maximize coverage: www.globalrescue.com/imiloa (additional cost)
COVID tests for entry and exit requirements to your home country can be done on site. We have an on-call physician that can come to the property for testing and results sent in English.
We follow cleansing and sanitization protocols as per Ministry of Health to ensure a safe environment
Staff and retreat participants are asked to follow and safety guidelines such as social distancing, washing of hands, and proper mask wearing.
Imiloa is located in the jungle, at the top of a mountain, overlooking the Pacific Ocean. Our lush retreat center is located adjacent to the second most biodiverse land on the planet.
Dominical, only 13 minutes away, is a beach town with surfer vibes, great coffee and plenty of shopping. Just north of our municipality is Quepos and to the south, Ojochal and Uvita, which is known as the Whale's Tail.
Just 45 minutes east sits Costa Rica's second largest city, San Isidro. Within an hour of Imiloa in all directions, you have access to airports, cafes, beaches, waterfalls, biodiversity and happy people ready to show you the lush, lovely area we call home.
You'll arrive easily on our private plane, and your group will enjoy unlimited transportation to and from the beach, to and from the airport and throughout your stay with us.