Are you an entrepreneur, community leader, coach or someone always serving others and under-serving yourself? Then the Live Life Activated retreat is calling your name! Experience a 6 day immersive, transformational week of life-changing activities aligning your physical, mental, emotional, and spiritual practices while activating connection and purpose with like-minded entrepreneurs, creators, and leaders who are impacting lives across the world.
As leaders and creators, we often put so much burden on ourselves.  The pressure of building a business, creating our own brand, leading others and managing employees while driving impact can lead us to fall out of practice or forget about recharging ourselves.  We often are so focused on supporting others that we overlook our own health which can lead to burnout,  mindless escapes (social media takeovers, Netflix overloads, etc.) or even self-destructive activities leaving us mentally, emotionally and even physically drained and unhealthy.  If this sounds like you then the Live Life Activated retreat is calling.
You will be challenged to connect with yourself at a deeper level while also building lifelong connections.  Lead by world renown facilitators guiding us through a journey that will push you to become more aligned with yourself, allow you to deepen connection to others and leave you with tools to integrate into your life when you return to your daily routine. We do this by focusing all activities and workshops on aligning our physical, mental, emotional and spiritual practice with our mission and goals in life.
How to fine tune your mind and body to be the healthiest version of yourself.
Optimizing your physiology and mastering sleep.
The power of giving back.
How to rewire negative emotions and your nervous system to increase clarity, focus and productivity.
Using your sexual energy to stand more in your power and expression and how that translates into higher fulfillment and productivity in your life and business.
Communication practices to release your emotions in a healthy manner while reducing stress and anxiety in tense situations.
Radical authenticity and communication.
The power of integrating music and movement into your daily practice.
How to achieve and maintain a flow state that will enhance your productivity with ease.
Connection, community, clarity and renewed activation.
You will be recharged for the second half of the year with laser focus.
Your spirituality will be deepened and emotionally you will feel more connected to your soul which will propel all aspects of life.
You will gain new practices to live a healthier, more fulfilled purpose where you are more motivated to make a positive impact more than ever before.
You will develop life long friendships and lives will be changed forever (Just ask previous participants!)
Michael Dash
MICHAEL G. DASH is an entrepreneur, best selling author of Chasing The High, recovering addict, community leader, speaker and philanthropist. After a six year lawsuit with a former business partner, he sold his recruiting company of 11 years in 2018.
Having been disconnected from his soul's purpose and passion, Michael started attending both business and personal development retreats first embracing their impact on him and then studying the power they have on others.  Having experienced over 20 retreats over four continents, Michael knew his life work was helping leaders reconnect with themselves and their mission.  He started the Live Life Activated retreats in 2019 bringing in world expert facilitators, who impacted his transformation, to create a game changing experience for others.
Along the way Michael developed numerous tools diving into personal values, mission, alignment and habits focusing on the four main areas of practice that helped him turn his life around: Physical, Mental, Emotional and Spiritual.  This crafted the Live Life Activated retreats which are transforming people's lives.
In Michael's spare time he has raised over $100,000 for the Leukemia, Lymphoma Society while running four marathons and climbing Mt. Kilimanjaro.  He also has dedicated time to volunteering in maximum security prisons teaching heart lead entrepreneurship and giving hope to the otherwise hopeless.   
Michael co-founded the Activated.Life movement, focused on inspiring a culture of positivity, authenticity, passion, empathy, and resilience while giving back to others. He also founded F.A.T.E. From Addict To Entreprenuer and interview series of former addicts who are now successful entrepreneurs around the world. He is passionate about leading retreats and cultivating life shifting experiences.
Satish Kumar
Sleep and Performance Optimization Expert
SATISH is a wellness advocate and an expert at tapping into the power of sleep to optimize human performance. Satish's deep understanding of the relationship between sleep and human performance has helped people elevate the quality of their life through improved energy, focus, productivity and overall well being. Satish's mission is to serve people like himself, who desire to live life to the fullest, experience deep meaning, purpose, happiness, fulfillment, and connection, and discover how to achieve full optimization of mind, body, and spirit with boundless energy.
Satish currently lives in Tulum, Mexico.
 – John Scott Harrison, Managing Partner HiH LLC
I'm very honored because this retreat is next level. I'm grateful enough to share that I have been teaching and moving from event to event for so many years now, I've been to 60 of these types of retreats and I can say this one is by far one of the best I have ever been to. The quality of the people, the quality of the workshops, the flow between the program and surrendering to what the group feels like doing is super profound and very beautiful.  Michael is an amazing host and facilitator holding the group together with integrity and a healed masculine energy and here at Imiloa, the service, the food at Imiloa it's all just next level and I'm very grateful to be here. 
I was super nervous to come, having it been my first retreat and really had no idea what to expect in coming here but coming here has been one of the most life changing experiences I've ever had. I've learned so much about myself and the things I need to overcome and some of the bullshit stories I've been telling myself over the years that I need to recreate. But I've had so many amazing connections that have been made here. I never could have imagined I would have met so many beautiful spirited entrepreneurial people that are making huge impacts on this earth and to know I will be forever connected to them is one of the most beautiful things I could ever ask for.  
DOUBLES
$
3,595
PER PERSON
Double occupancy in a Jungle Bungalow or Geodesic Dome with views of the jungle
Single occupancy in a Bali style suite with beautiful jungle views
Double occupancy (for couples) in a beautiful 200-Year-Old Balinese villa with a private deck and stunning views of the jungle and ocean

A completely private campus; available to your retreat group only. Access to a private waterfall, nature paths, incredible flora and fauna, and an ocean view infinity pool. Also included is a dedicated team of 20+ local professionals to coordinate everything for your enjoyment, from touch down to take off.
​

Gourmet plant-based cuisine prepared using all local and organic produce. Full meals, snacks, teas, coffees and fruit trays available throughout your stay.
Private transportation from the International airport to our campus; a private driver and transportation to our campus in Imiloa Mountain.
What's Not Included
Flights to SJO, Spa Services
Immerse yourself in a 22-acre jungle oasis located in Dominical, Costa Rica. Imiloa is nestled in the heart of the rainforest, overlooking the majestic Pacific Ocean, and is just a short 15-minute ride from the beach. It offers the perfect setting for experiencing deep healing while being embraced by nature, all in the comfort of luxurious accommodations. We like to call it JungleLuxury.
During your stay at Imiloa, you can revel in the beauty of our nature paths, indulge in the serenity of our private waterfall, relax by the shared infinity pool that offers breathtaking forest and ocean views, and of course, savor the culinary delights of our gourmet plant-based meals meticulously crafted by our expert kitchen team.
Included in each accommodation is the comfiest mattresses, 850 thread count sheets, storage space and dry rooms as needed, fiber optic internet, daily cleaning service, private en-suite bath, indoor/outdoor design for every accommodation with a focus on nature and being your private refuge, and full service, thrice-filtered private well for drinking water throughout the property.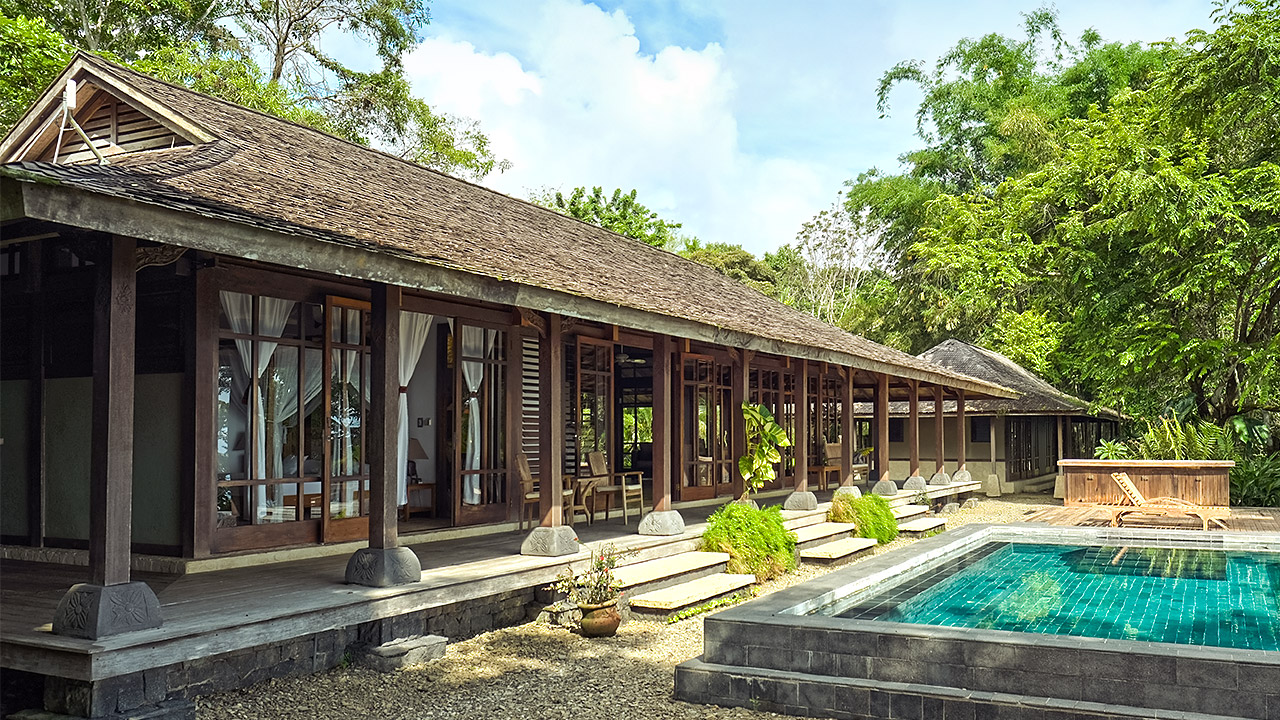 Bali Suites
Our 3 Bali Suites are elegantly situated at the top of the mountain in the 200 year old Bali Village. The suites are located just a few steps away from our shared infinity pool, with gorgeous views overlooking the rainforest and the pacific ocean.
Bali Suites 1 and 2: 1 King bed or 2 twins
Shared infinity plunge pool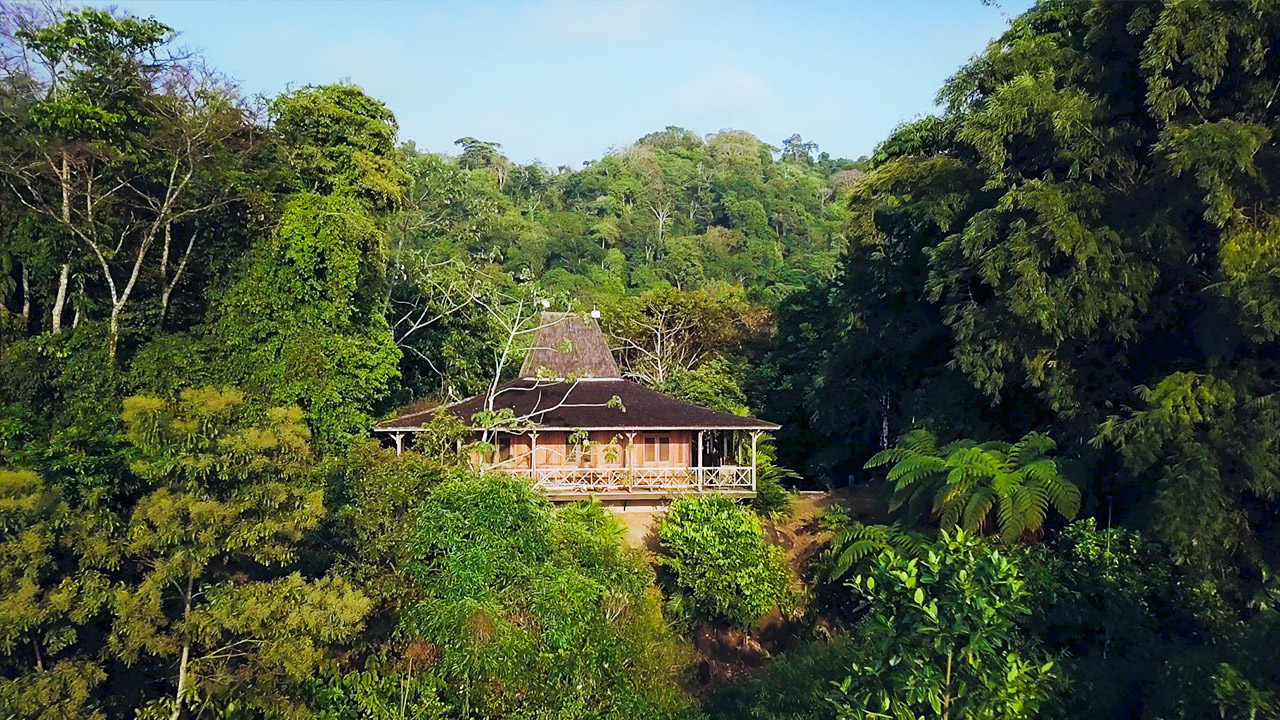 Jogolo House
Perched on the edge of the cliff, at the furthest end of the property, sits a 170 year old home from the Java Islands named Jogolo. Complete with a writer's desk, outdoor Balinese shower, and unique hand-carved architecture, Jogolo is teeming with history, soul and comfort.
No AC | Fans + Open-air construction that allow for natural ventilation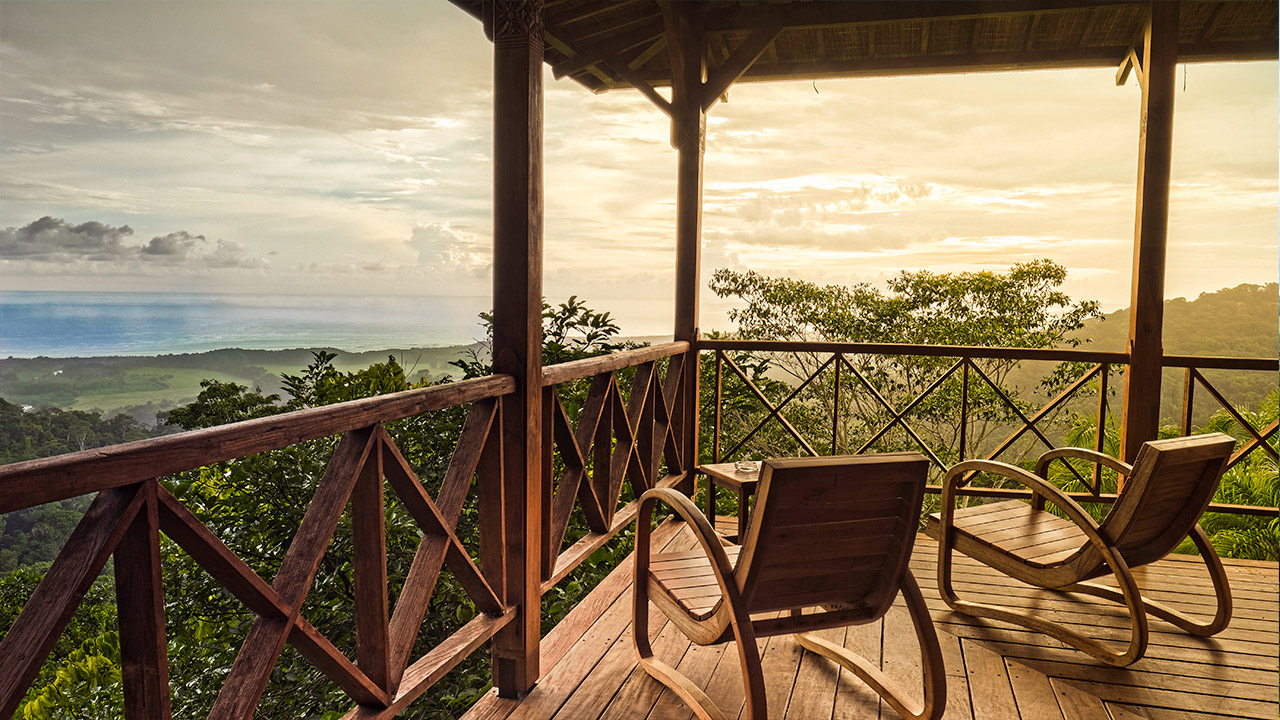 Potoo House
This two-floor imported home from Bali will have you wishing you'd never leave. Complete with a King Bed and a twin in the corner of the 180 year old home, Potoo combines open-air jungle luxury with unparalleled views of the Pacific ocean. On the lower level you will find a plunge pool and private area perfect for spa treatments.
1 King bed and 1 Twin bed
No AC | Fans + Open-air construction that allow for natural ventilation
Geodesic River Domes
Inspired by sacred geometry, our 6 Geodesic River Domes, sits in the rainforest along the edge of our private river. Enjoy the soothing sounds of the flowing water paired with the vibrant sounds of the jungle.
Open-air shower with rainforest views
Jungle Bungalows
Our 6 Jungle Bungalows are in close proximity to our common area, and right on the pathway to our own private waterfall. Bali inspired, the interiors feature natural finishings and beautiful details. Spacious bathrooms with a shower and soaking tub looking out to the rainforest.
No AC | Open-air construction with fans and screens that allow for natural ventilation
GOURMET PLANT BASED CUISINE
At Imiloa, we take pride in being a conscious comfort food campus. That means we serve healthy, locally-sourced, gourmet vegan meals that are as artistically plated, scientifically nourishing and delightfully crafted for all of our retreat guests.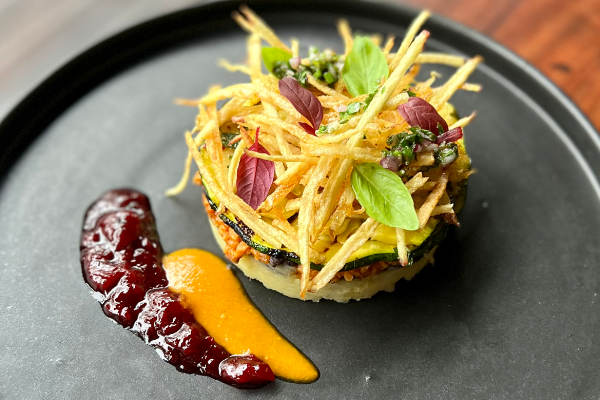 The Spa
Treat yourself to the ultimate relaxation and wellness experience amidst our lush jungle surroundings. Our signature 60-minute massage treatments, offered by skilled local specialists will leave you feeling relaxed rejuvenated. Unwind and embark on a blissful journey of tranquility, surrounded by the serenity and soothing sounds of the rainforest.
The Wellness Bar
At Imiloa we have developed a healthy and tasty menu for our Wellness bar which includes an amazing assortment of signature beverages ranging from superfood smoothies, detoxifying elixirs, freshly pressed juices, custom crafted mocktails & delicious specialty coffees.
ALL INCLUSIVE TRANSPORTATION
Included in your retreat ticket is a privately charted plane from SJO to Imiloa as well as luxury ground transportation to from the airstrip. For more details and information on transportation please email our team at welcomehome@imiloainstitute.com
Imiloa has taken the extra step to ensure your peace of mind by partnering with a trusted and comprehensive travel insurance provider. Our chosen provider meets the entry requirements for Costa Rica and offers "cancel for any reason" plans that provide maximum coverage. With this additional option available through www.globalrescue.com/imiloa, you can travel with confidence, knowing that your retreat experience is safeguarded against unforeseen circumstances. Discover the true essence of worry-free travel where every detail is carefully curated to enhance your journey of wellness and adventure.
Nestled in the heart of the jungle, atop a mountain with breathtaking views of the Pacific Ocean, Imiloa offers a truly immersive nature experience. Adjacent to the second most biodiverse land on the planet, our location is a nature-lover's paradise. Just a quick 15-minute drive away, you'll find Dominical, a vibrant beach town with surf, excellent coffee, and local shopping opportunities.
To the north, you can explore Quepos, and to the south, discover Ojochal and Uvita, famously known as the Whale's Tail.
But that's not all. Imiloa's convenient location also provides easy access to other attractions. Just 45 minutes to the east lies San Isidro, Costa Rica's second largest city. Within an hour's drive in all directions, you'll find cafes, beaches, waterfalls, biodiversity, and friendly locals eager to share the beauty of our lush, lovely area that we proudly call home.
Your journey to Imiloa is made even more convenient with our private plane, ensuring a smooth arrival. During your stay with us, your group will enjoy unlimited transportation to and from the beach, airport, and throughout your retreat, making your experience seamless and stress-free.
Come, immerse yourself in the wonders of nature and experience the warm hospitality of Imiloa. We can't wait to meet you!