An exceptional and fully inclusive 6-night/7-day New Year's Eve Event & Custom Crafted Wellness Journey
Dec 27th, 2023 – Jan 2nd, 2024
About New Years 2023 at Imiloa
Do you want to celebrate New Years Eve in Costa Rica to ring in the new year and new you? We will start the party with a beautiful 3-course dinner on the beach, mocktails and a bonfire. The party will continue at a secret location where we will have music, fire performance, fireworks, dancing and an opportunity to interact with the local community!
Imiloa Signature Retreats is a customly crafted retreat experience that has been meticulously designed with you in mind. This 7-day signature retreat is centered on restoration, wellness, rejuvenation, and vibrancy to support you as you develop crystal clear intentions to carry you into the New Year and beyond.
Imiloa's Signature Retreat NYE 2023 is creating a vibrant retreat experience to launch you into 2024 with energy and clarity.
We'll include wellness experiences, ceremonies, and workshops, this signature retreat is designed a to rejuvenate and invite you to re-imagine the life you want to live.
Plus! An excursion to Corcovado National Park by land and by sea will be sure to create an unforgettable Costa Rican experience.
Begin your journey two days after Christmas and two weeks after the end of Hanukkah 2023.
Want VIP? Join us December 26, 2023 for an extra night at Imiloa, a full 8-course tasting menu by our expert Vegan Chef, and be in one of our VIP suites. This is limited to five guests only (and their +1s).
At Imiloa Signature Retreats, partake in all of it or none of it.
The journey is up to you.
All NYE Signature Guests Will Receive:
7 days and 6 nights luxury accommodations
Gourmet plant-based meals (all inclusive). Three-course plated dinners, multi-course lunch and breakfasts, including snacks, juices, coffee, and tea throughout the day
5 Workshops to choose from throughout your stay
Daily Yoga classes & guided meditation from master facilitators
2 (1-hour) spa treatments of your choice
2 sacred ceremonies (cacao and sound healing)
A full day excursion to Corcovado National Park*
An beautiful white theme New Year's Eve beach party featuring 3-course gourmet dinner on the beach, mocktails, bonfire and surprise location with fire performance, music, dance and entertainment under the stars
A lavish New Year's brunch on January 1st
Private plane transfers from San Jose airport and all inclusive ground transportation to Imiloa
Access to our private waterfall, river and miles of jungle paths for relaxation, meditation and exploration
* Famous for being – the Amazon of Costa Rica – the Corcovado National Park is the largest stronghold of primary forest on a Pacific coastline, and is famous for being "the most biologically intense place on Earth". Be prepared for a thrilling tour as you explore some of Mother Nature's most amazing works of art.
Day 1 | ARRIVAL
Dec 27th
Arrive in Costa Rica at SJO airport and enjoy a private flight to the landing strip near Imiloa. You will meet the rest of your retreat group and enjoy the beautiful scenery as you fly over Costa Rica's mountains and the pacific coast line.
Upon arrival at Imiloa we will gather for delicious mocktails and enjoy a beautiful sunset, followed by a 3-course dinner.
Engage in rest and relaxation for the remainder of the evening to recalibrate for the exciting days ahead.
Day 2 | MIND
Dec 28th
Begin your first day at Imiloa with a hot beverage of your choice delivered to your doorstep.
Enjoy meditation or yoga before heading to a delicious gourmet breakfast.
Ground yourself with our Signature journaling workshop, followed by free time and spa sessions.
Tonight we will have a Sound Healing experience designed to calm the senses and the mind
Day 3 | HEART
Dec 29th
We will start the day with an immersive and heart opening cacao ceremony, followed by an invigorating Ecstatic dance class. Through these two activities we invite you to step out of your mind, into your body and open your heart.

This afternoon you will have the choice of hiking our jungle trails, visiting the waterfall or venturing down to the beach.
We will have a lovely afternoon meditation followed by a gourmet 3-course dinner.
Day 4 | FEEL
Dec 30th
Today we will embark on our full day adventure excursion to the Corcovado National Park
Famous for being – the Amazon of Costa Rica – the Corcovado National Park is the largest stronghold of primary forest on a pacific coastline, and is famous for being "the most biologically intense place on Earth". Be prepared for a thrilling tour as you explore some of Mother Nature's most amazing works of art.
The tour begins with a 1.5 hour boat ride from Uvita beach to San Pedrillo Ranger Station in Corcovado National Park. We will then go on several hikes throughout the extensive trails in the park, where you will have the chance to observe many different types of birds, mammals and reptiles.. We will then enjoy an outdoor lunch , followed by a visit to a small river where you will have the opportunity to relax and immerse yourself in the sights and sounds of nature.*It's recommended to bring binoculars for this tour.
We will return to Imiloa in the afternoon where you can enjoy free time (spa treatments, pool, or rest) for the remainder of the day.
3-course gourmet dinner and free evening
Day 5 | SPIRIT
Dec 31st
Today is the last day of the year and we will start the day with a morning of intentional silence. Witness the power of silence to quiet your mind and enhance your senses.
Experience a silent, mindful, breakfast as you notice the taste, texture, and smells of your meal.
In this space of silence we invite you to set your intentions for the New Year and let go of anything that no longer serves you.
The workshop of the day is a sacred Blue Clay experience at Imiloa's own onsite waterfall. The Blue Clay is a sacred healing clay that comes from the mountains near Imiloa. One of our experienced staff members will guide your group down to the waterfall where you will hear the story of the clay and do a guided meditation. You will use brushes to apply the clay, rest for a bit in the sun and then rinse it all off in the cool water from the waterfall. A perfect setting to visualize rinsing and letting go of anything you want to leave behind and not bring into the new year.
You will have a free and open afternoon to yourself where you can continue the silence or perhaps journal on some of the intentions you would like to set for the New Year.
At 5:00 p.m. we break the silence and start our New Years Celebration with mocktails and sunset at the Bali pool. We head down to the beach for our 3-course gourmet dinner, and after this we will head to our surprise location of the evening for the big party with music, dance, fire performance and entertainment under the stars.
Day 6 | BODY
Jan 1st
Today you will have a free morning with no scheduled activities! Enjoy a quiet and restful morning by yourself, take a dip in the waterfall onsite, chill by the infinity pool or get a relaxing massage – it's up to you!
At 10:00 a.m. we will gather for a lavish and extravagant New Years Brunch to celebrate and connect on the first day of the New Year.
In the afternoon you will have the option to participate in a fun and educational cooking class led by our executive chef. Imiloa is famous for our gourmet plant based cuisine, and today you will have the opportunity to get a behind the scenes look and be a part of that experience!. Our executive chef and his team will lead you in a plant based food workshop and cooking class. You'll also have a chance to explore Imiloa's edible garden. Experience eating in a whole new way!
Our chef will also join your retreat group for our last dinner together.
Day 7 | SOUL
Jan 2nd
We will have an earlier breakfast today and you will be departing Imiloa around 9:00 a.m. to take the private plane back to SJO.
How you will feel after the New Year's Signature Retreat
Chances are, if you're like many of our hundreds of guests, this will be the first time, perhaps in a long time, where you've put you first. Welcome home to you.
You'll feel rejuvenated, nourished, and taken care of in the most delicate way by our team. "Imiloa's team is joyful, caring and attentive to details," one 2023 guest recently wrote online. "The service they provide, just stunning. I'm forever changed by my experience of being there."  

Another 2023 guest recently shared on social media, "Every single team member at Imiloa, from kitchen to housekeeping, were professional, loving, skilled, knowledgeable and always available to help. It was a joy to be cared for."
You'll have truly enjoyed yourself in both the activities with others and the stillness with self. You'll have learned something new, something you can take into your life or profession. If you're coming with someone, you'll have a deeper understanding of who they are. 
You'll start seeing the world a bit differently. You'll notice the interconnectedness (nature shows how connected we all really are). You'll feel joy rising from within for no good reason, and you'll discover that you deserve to feel it.
Imiloa's Signature Retreat NYE 2023 may not transform your life, but it will enhance it and it will reveal to you where transformation is now possible. That's what we're here for.
So, what are you waiting for?
Bring your 2023 to a close in style and feel invigorated for your 2024 with our VIP Deluxe Package. Get everything in the 6-night / 7 day Signature Retreat plus.
Arrive in Costa Rica a day early (Dec 26, 2023) and get an extra night at Imiloa all by yourselves. Private flight to Imiloa on Dec 26 as early as noon
8-course private chef meal and education with Chef Daniel and the Cuisine Team
Private dinner with Jake Sasseville, CEO of Imiloa
VIP accommodations: Choose from a 200-year old handcrafted Bali Villa with a private plunge pool and stunning rainforest/ocean views, or enjoy a spacious suite at the Sky Forest House with beautiful views.

The house has a private patio, private pool and incredible views overlooking the rainforest and the ocean

.
Unlimited access to our wellness bar with over 40 different specialty drinks to choose from (Juices, smoothies, elixirs, mocktails, specialty coffees, and more).
A premium luxury SWAG BAG featuring unique local gifts from the area
*For couples wanting to share the total price for 2 people is: $10,461
SHARED
GEODESIC DOME
$3,974
PER PERSON
Double occupancy in a Geodesic Dome with views of the jungle
PRIVATE
Jungle BUNGALOW
$4,974
PER PERSON
Single occupancy in a Jungle Bungalow with beautiful jungle views.
*For couples wanting to share the total price for 2 people is: $7,461
PRIVATE
Bali Suite
$4,974
PER PERSON
Single occupancy in a Bali Suite with Jungle or Ocean views.
*For couples wanting to share the total price for 2 people is: $7,461

A completely private campus; available to your retreat group only. Access to a private waterfall, nature paths, incredible flora and fauna, and an ocean view infinity pool. Also included is a dedicated team of 20+ local professionals to coordinate everything for your enjoyment, from touch down to take off.
​

Gourmet plant-based cuisine prepared using all local and organic produce. Full meals, snacks, teas, coffees and fruit trays available throughout your stay.
Private transportation from the International airport to our campus; a private driver and transportation to our campus in Imiloa Mountain.
The team at Imiloa created a space where everyone was able to come and connect immediately, to let their guards down and just be. The facilitators for dance and yoga and cacao held such beautiful spaces and allowed everyone to fully expand into their own being and to truly feel. And the grounds are absolutely stunning!! Imiloa makes you feel at home in your soul.
This experience was truly a reset of my system. All parts. I was able to relax. I worked on breathing. I stretched with yoga. I virtually lived outside in nature and reconnected with the place I felt most comfortable. I re-tuned my body with sound and dance. I ate only foods that were good and fed and honored my system. I drank water and rehydrated. I listened to nature. I watched all sorts of creatures like a child. I had time to be curious. I took naps and slept and woke up when I wanted to. I had massages to release the built up stresses. I swam daily and dipped in the waterfall. I did not have to do anything for anyone except listen to me. First me, second me, and third me. I felt at ease. I felt energy. I felt mostly present. I could think clearly about myself and eventually see from above and what I could possibly want to be for others. I took long breaths and moved and meditated and no one called on me for anything. I could not want for anything more. It was and is my dream of heaven for my body and soul.
The signature retreat had a huge impact on my mental health & allowed me to draw from my inner spirit to become more peaceful and accepting of myself. It was transformational.
All the activities really worked to open me up, and then the time in between activities really allowed me to process, expand, integrate and chill. And, the waterfall is truly a magical spot – had a huge transformative breakthrough there!
My favorite parts of the Signature Retreat were the space and staff, the balanced blend of free time and activities, the blue clay experience, cacao ceremony, community cooking exercise, ecstatic dance, elixirs and juices, the warm drink and cookie delivery, bed was very comfortable, shower water temp and pressure where awesome, the variety of accommodations, potable water available everywhere, labeled plants in the garden, waterfall was spectacular (I went 3x!)
Immerse yourself in a 22-acre jungle oasis located in Dominical, Costa Rica. Imiloa is nestled in the heart of the rainforest, overlooking the majestic Pacific Ocean, and is just a short 15-minute ride from the beach. It offers the perfect setting for experiencing deep healing while being embraced by nature, all in the comfort of luxurious accommodations. We like to call it JungleLuxury.
During your stay at Imiloa, you can revel in the beauty of our nature paths, indulge in the serenity of our private waterfall, relax by the shared infinity pool that offers breathtaking forest and ocean views, and of course, savor the culinary delights of our gourmet plant-based meals meticulously crafted by our expert kitchen team.
Included in each accommodation is the comfiest mattresses, 850 thread count sheets, storage space and dry rooms as needed, fiber optic internet, daily cleaning service, private en-suite bath, indoor/outdoor design for every accommodation with a focus on nature and being your private refuge, and full service, thrice-filtered private well for drinking water throughout the property.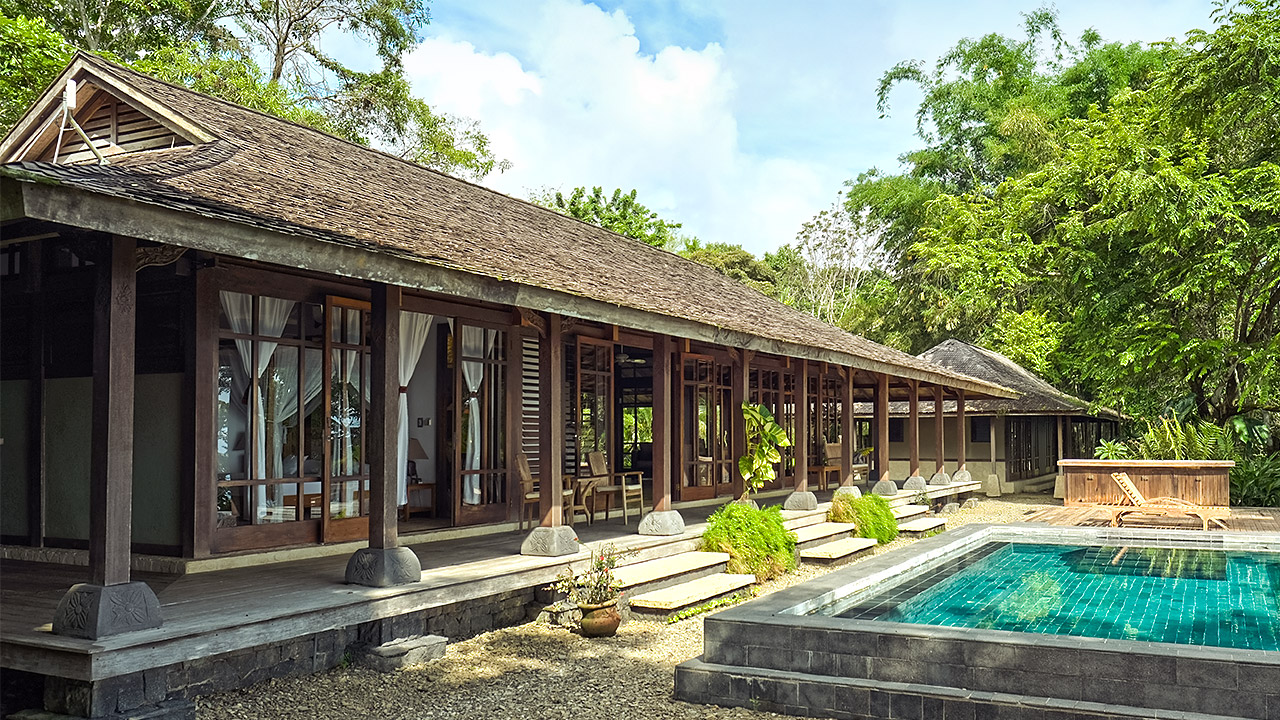 Bali Suites
Our 3 Bali Suites are elegantly situated at the top of the mountain in the 200 year old Bali Village. The suites are located just a few steps away from our shared infinity pool, with gorgeous views overlooking the rainforest and the pacific ocean.
Bali Suites 1 and 2: 1 King bed or 2 twins
Shared infinity plunge pool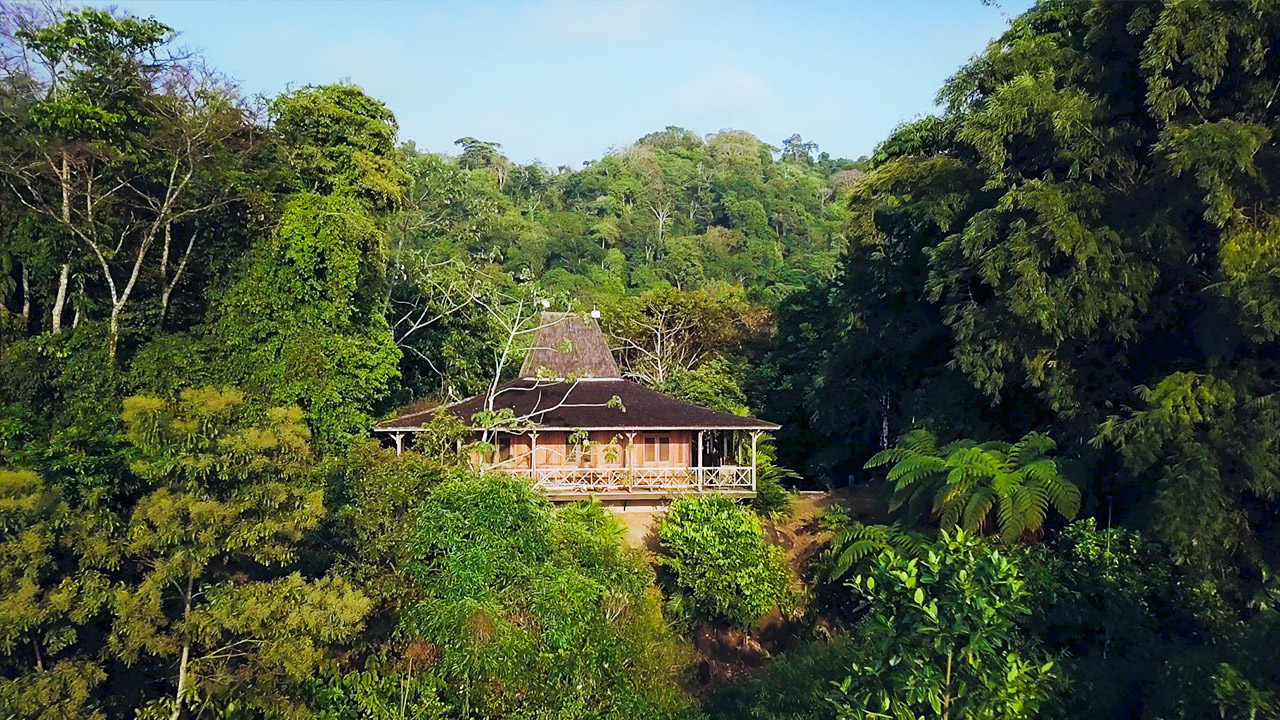 Jogolo House
Perched on the edge of the cliff, at the furthest end of the property, sits a 170 year old home from the Java Islands named Jogolo. Complete with a writer's desk, outdoor Balinese shower, and unique hand-carved architecture, Jogolo is teeming with history, soul and comfort.
No AC | Fans + Open-air construction that allow for natural ventilation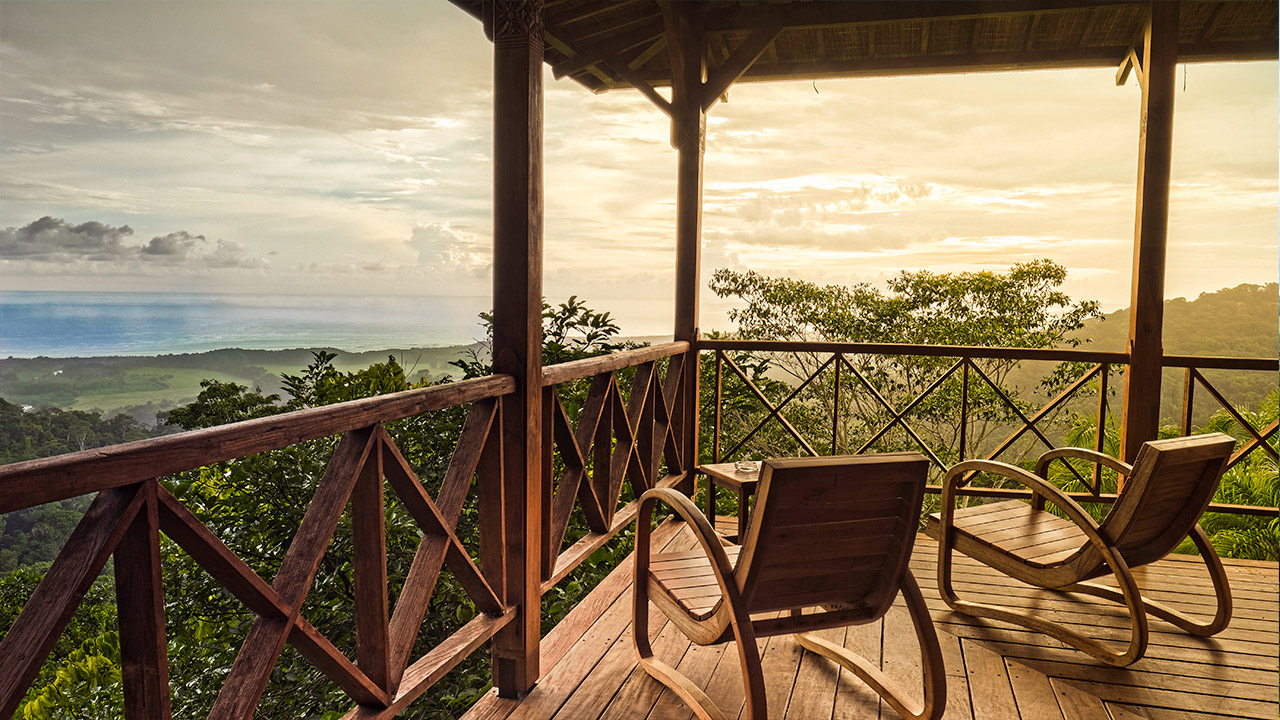 Potoo House
This two-floor imported home from Bali will have you wishing you'd never leave. Complete with a King Bed and a twin in the corner of the 180 year old home, Potoo combines open-air jungle luxury with unparalleled views of the Pacific ocean. On the lower level you will find a plunge pool and private area perfect for spa treatments.
1 King bed and 1 Twin bed
No AC | Fans + Open-air construction that allow for natural ventilation
Geodesic River Domes
Inspired by sacred geometry, our 6 Geodesic River Domes, sits in the rainforest along the edge of our private river. Enjoy the soothing sounds of the flowing water paired with the vibrant sounds of the jungle.
Open-air shower with rainforest views
Jungle Bungalows
Our 6 Jungle Bungalows are in close proximity to our common area, and right on the pathway to our own private waterfall. Bali inspired, the interiors feature natural finishings and beautiful details. Spacious bathrooms with a shower and soaking tub looking out to the rainforest.
No AC | Open-air construction with fans and screens that allow for natural ventilation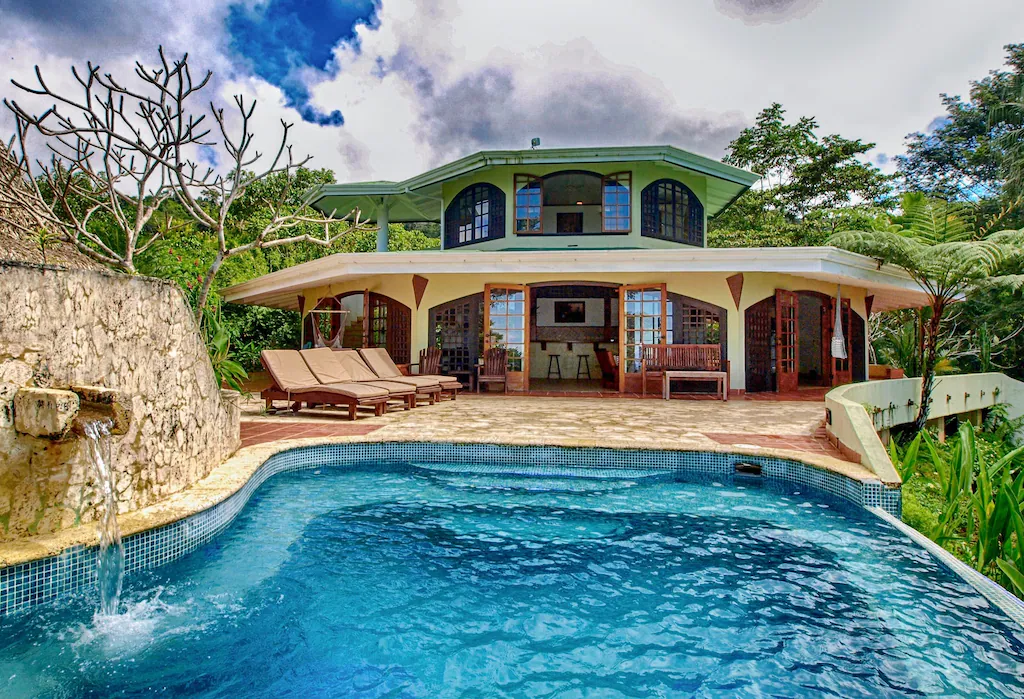 Mountain, Jungle, and Ocean View Suites
Sky Forest is on 8 contiguous acres to Imiloa, making the campus feel like a 30-acre wonderland. The home is 350sq/m with three expansive bedrooms, two downstairs and one up, with mountain, jungle, and ocean views respectively.
Each room can be 1 King bed or 2 twins
3,500 sq/ft of space + 500 sq/ft outdoor space
Private campus within the campus
Infinity pool with magnificent views to the Pacific
GOURMET PLANT BASED CUISINE
At Imiloa, we take pride in being a conscious comfort food campus. That means we serve healthy, locally-sourced, gourmet vegan meals that are as artistically plated, scientifically nourishing and delightfully crafted for all of our retreat guests.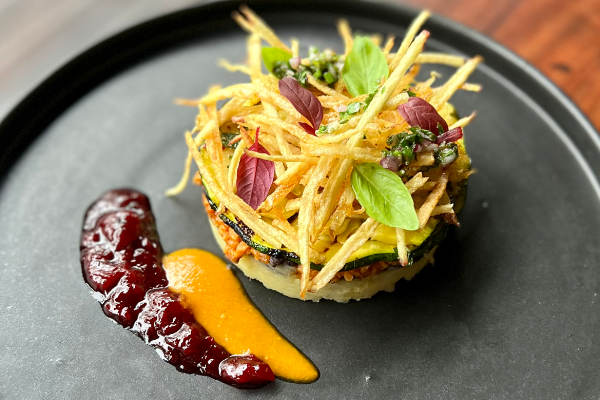 The Spa
Treat yourself to the ultimate relaxation and wellness experience amidst our lush jungle surroundings. Our signature 60-minute massage treatments, offered by skilled local specialists will leave you feeling relaxed rejuvenated. Unwind and embark on a blissful journey of tranquility, surrounded by the serenity and soothing sounds of the rainforest.
The Wellness Bar
At Imiloa we have developed a healthy and tasty menu for our Wellness bar which includes an amazing assortment of signature beverages ranging from superfood smoothies, detoxifying elixirs, freshly pressed juices, custom crafted mocktails & delicious specialty coffees.
ALL INCLUSIVE TRANSPORTATION
Included in your retreat ticket is a privately charted plane from SJO to Imiloa as well as luxury ground transportation to from the airstrip. For more details and information on transportation please email our team at welcomehome@imiloainstitute.com
Imiloa has taken the extra step to ensure your peace of mind by partnering with a trusted and comprehensive travel insurance provider. Our chosen provider meets the entry requirements for Costa Rica and offers "cancel for any reason" plans that provide maximum coverage. With this additional option available through www.globalrescue.com/imiloa, you can travel with confidence, knowing that your retreat experience is safeguarded against unforeseen circumstances. Discover the true essence of worry-free travel where every detail is carefully curated to enhance your journey of wellness and adventure.
Nestled in the heart of the jungle, atop a mountain with breathtaking views of the Pacific Ocean, Imiloa offers a truly immersive nature experience. Adjacent to the second most biodiverse land on the planet, our location is a nature-lover's paradise. Just a quick 15-minute drive away, you'll find Dominical, a vibrant beach town with surf, excellent coffee, and local shopping opportunities.
To the north, you can explore Quepos, and to the south, discover Ojochal and Uvita, famously known as the Whale's Tail.
But that's not all. Imiloa's convenient location also provides easy access to other attractions. Just 45 minutes to the east lies San Isidro, Costa Rica's second largest city. Within an hour's drive in all directions, you'll find cafes, beaches, waterfalls, biodiversity, and friendly locals eager to share the beauty of our lush, lovely area that we proudly call home.
Your journey to Imiloa is made even more convenient with our private plane, ensuring a smooth arrival. During your stay with us, your group will enjoy unlimited transportation to and from the beach, airport, and throughout your retreat, making your experience seamless and stress-free.
Come, immerse yourself in the wonders of nature and experience the warm hospitality of Imiloa. We can't wait to meet you!