Experience a 5-Star Yoga Teacher Training at a 5-Star Retreat Center
The best of both worlds! Reconnect with your personal Practice, your Intention to Teach, and your Spiritual Path. This is an opportunity to Nourish both your mind and body while gaining tools to live in harmony with the natural rhythms of the Earth that you will carry with you for a lifetime. Once you embark upon this transformative journey you will discover WHAT you are really here for, WHO you really are and HOW you can embody holistic health. You will learn what it looks like to live a sustainable lifestyle.
This 200-hr Yoga Teacher Training is the best of both worlds! Once you embark upon this transformative journey you will discover WHAT you are really here for, WHO you really are and HOW you can embody holistic health. This is an opportunity to Nourish both your mind and body while gaining tools to live in harmony with the natural rhythms of the Earth that you will carry with you for a lifetime. Reconnect with your personal Practice, your Intention to Teach, and your Spiritual Path.
You will Learn the Foundations of yoga asana, how to cue breathwork and poses, gain mindful awareness in nature and develop a deeper connection with your own body. Access ancient wisdom in a modern and accessible way.
The tools and resources available in this program will inspire change in you that will ripple out in your family, community and world. You will return from this Journey with confidence, intentional goals, and full of vitality.
We will meet before and after the LIVE IN PERSON program to prepare you for the trip and support you once you return home. You will experience a personalized approach and small teacher to student ratio.
You will have access to an online classroom, with pre-recorded lectures, in depth pose breakdowns, and on demand yoga classes.
Receive a 200 HR Yoga Teacher Training certificate from a Yoga Alliance Registered School with a hybrid program (in-person experience plus online material to watch at your own pace).
Daily yoga classes in a variety of styles, that are all accessible and adaptable for any level of practitioner. Mats and yoga props are available on property, no need to pack those essentials! You will experience hatha vinyasa, restorative, kundalini, yin and yoga nidra during your stay.
Become immersed in, and learn how to teach trauma-informed Vinyasa yoga, Hatha yoga and Mindfulness
Become an RYT200 with Yoga Alliance AND a YFI200 Certified Yoga Teacher
Optional live online office hours offered many times a week with your lead educators ensures you'll get all your questions answered
Unlimited online yoga and meditation classes for 6 months
Indefinite access to all ONLINE Course Materials (video, audio and PDF transcripts of online lessons)
Online Portion:
Pre-recorded Online Content to watch at your own pace and to keep!
Live virtual zoom sessions 2 weeks before the course begins for preparation & community building prior to arrival at Imiloa
In-Person Portion:
2 weeks of room and board at a 5 Star Retreat Center in beautiful CR
Shared and Single Accommodations (First come first serve)
In-depth Yoga Teacher Training Manual
An internationally recognized certification in yoga teaching and leadership (Yoga Alliance 200 HR Certificate)
Reconnect with your personal Practice, your Intention to Teach, and your Spiritual Path.
Learn the roots, history and foundations of Hatha Vinyasa Yoga.
Ethics of teaching yoga and awareness around classroom dynamics
Discover functional anatomy in the context of teaching yoga.
Explore How to hold safe, sacred space
Become versed in Trauma informed language & teaching methods
Gain the skill and confidence to lead adaptable yoga classes in person and online.
Solid understanding of how movement impacts mental health and contributes to a feeling of overall vitality
A toolkit for self care, with emphasis on filling your own cup in order to be of service to others.
Commitment to personal practice that informs their teaching as well as their own connection to self confidence.
Become part of a global community and make new friends
JEANNIE O'NEILL
M.ED, E-RYT500, YACEP: DIRECTOR OF EDUCATION at Yoga Farm Ithaca
Jeannie has a masters degree in education specializing in contemplative pedagogy and transformative curriculum design.
She is a 500E-RYT Vinyasa and Kundalini Yoga Teacher, Mindfulness Meditation instructor, a Yoga Alliance Continuing Education Provider and an Ayurvedic health practitioner.
Jeannie has led thousands of students through YTT programs at the foundational and the Advanced level. She has created countless educational programs and CEUs for educators, as well as creating the 'Radiant Warrior Yoga Teacher Training', 'Kundalini Warrior' and 'Spiritual Warrior 300YTT'. She also developed and guided a Kundalini Prenatal YTT and Rebirthing Certification Program.
Jeannie's take on yoga is that there is a depth and breadth of information that can be experimented with, in order to find the perfect inner balance and alignment. Her teaching philosophy is based in experiential learning and teaching the path that you have walked.
.
This program is absolutely incredible. It truly changed my life. Daniela, Christopher and Jeannie are the trifecta of excellent teaching. They not only show you how inclusive yoga is and make you feel so welcome but they pack a TON of information into the program. Things that truly changed my outlook on my ability to be a yoga teacher myself.
Awesome! Incredible! Life changing! I promise I'm not exaggerating! What an amazing gift Yoga Farm has been for me. I thought I was going to learn how to be a yoga teacher. Yes, I learned how to be a yoga teacher but I've also learned that there is so much more to yoga than Asana. And my journey is just beginning. I am so excited to continue on this journey with Yoga Farm and take more classes!! Amazing. Love, love, love Yoga Farm and all the fabulous teachers!!
Yoga Farm Ithaca offered a unique opportunity to complete my yoga teacher training program online. I felt very supported during the process and learned a lot of useful information for both my yoga practice and personal life. Thank you so much!
Skillful, knowledgeable, enlightening. Walking their talk. Nothing but appreciation for the space the YFI teachers and supporting staff are able to create for anyone to feel connected and learn in a way that suits the student best. Grounded and empowering. Feeling grateful for this inspiring bunch and looking forward to continuing my journey with them.
Having a dream put into the Universe is the start. Yoga Farm Ithaca fulfilled the dream. The classes were enlightening , healing and set up to complete with ease. The school staff was available anytime and their overall encouragement /support makes this school one that comes with highest recommendation. You can pace you courses to your needs/schedules. Such a great way experience. It is never too late to answer your calling.
I felt Yoga Farm did an incredible job making their program comprehensive and accessible for learners. I greatly benefited from the flexibility of format and the variety of teachers that participated in my session. I am extraordinarily grateful to the Yoga Farm staff and community for inviting me in and welcoming me so deeply. You will get out of this program what you put in so I encourage anyone with a strong desire to learn more about the practice of yoga to join. The Yoga Farm community is broad reaching, filled with wisdom, and incredibly warm and welcoming!
SINGLE
$6,250
PER PERSON
3 Monthly payments of $2,085
6 Monthly payments of $1,050
DOUBLE
$5,550
PER PERSON
3 Monthly payments of $1,850
6 Monthly payments of $925
TRIPLE
$5,250
PER PERSON
3 Monthly payments of $1,750
6 Monthly payments of $875

A completely private campus; available to your retreat group only. Access to a private waterfall, nature paths, incredible flora and fauna, and an ocean view infinity pool. Also included is a dedicated team of 20+ local professionals to coordinate everything for your enjoyment, from touch down to take off.
​

Gourmet plant-based cuisine prepared using all local and organic produce. Full meals, snacks, teas, coffees and fruit trays available throughout your stay.
Private transportation from the International airport to our campus; a private driver and transportation to our campus in Imiloa Mountain.
What's Not Included
Flights to SJO, Spa Services
Immerse yourself in a 22-acre jungle oasis located in Dominical, Costa Rica. Imiloa is nestled in the heart of the rainforest, overlooking the majestic Pacific Ocean, and is just a short 15-minute ride from the beach. It offers the perfect setting for experiencing deep healing while being embraced by nature, all in the comfort of luxurious accommodations. We like to call it JungleLuxury.
During your stay at Imiloa, you can revel in the beauty of our nature paths, indulge in the serenity of our private waterfall, relax by the shared infinity pool that offers breathtaking forest and ocean views, and of course, savor the culinary delights of our gourmet plant-based meals meticulously crafted by our expert kitchen team.
Included in each accommodation is the comfiest mattresses, 850 thread count sheets, storage space and dry rooms as needed, fiber optic internet, daily cleaning service, private en-suite bath, indoor/outdoor design for every accommodation with a focus on nature and being your private refuge, and full service, thrice-filtered private well for drinking water throughout the property.
Clients get to choose their own adventure.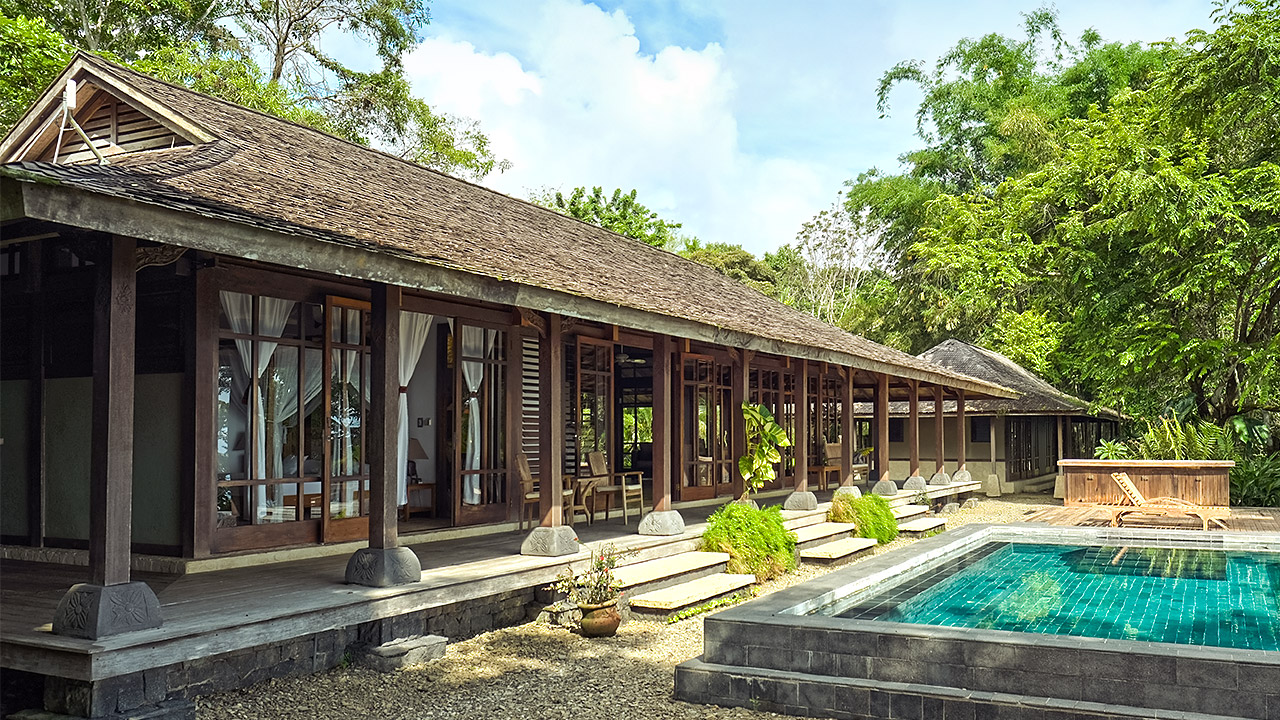 Bali Suites
Our 3 Bali Suites are elegantly situated at the top of the mountain in the 200 year old Bali Village. The suites are located just a few steps away from our shared infinity pool, with gorgeous views overlooking the rainforest and the pacific ocean.
Bali Suites 1 and 2: 1 King bed or 2 twins
Shared infinity plunge pool
Geodesic River Domes
Inspired by sacred geometry, our 6 Geodesic River Domes, sits in the rainforest along the edge of our private river. Enjoy the soothing sounds of the flowing water paired with the vibrant sounds of the jungle.
Open-air shower with rainforest views
Jungle Bungalows
Our 6 Jungle Bungalows are in close proximity to our common area, and right on the pathway to our own private waterfall. Bali inspired, the interiors feature natural finishings and beautiful details. Spacious bathrooms with a shower and soaking tub looking out to the rainforest.
No AC | Open-air construction with fans and screens that allow for natural ventilation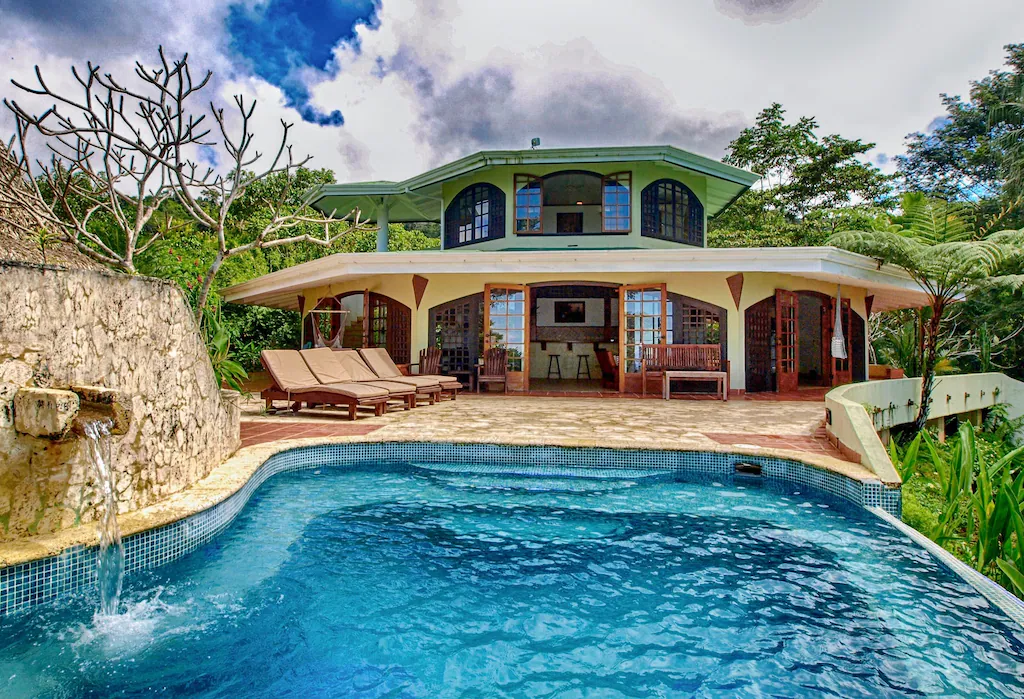 Mountain, Jungle, and Ocean View Suites
Sky Forest is on 8 contiguous acres to Imiloa, making the campus feel like a 30-acre wonderland. The home is 350sq/m with three expansive bedrooms, two downstairs and one up, with mountain, jungle, and ocean views respectively.
Each room can be 1 King bed or 2 twins
3,500 sq/ft of space + 500 sq/ft outdoor space
Private campus within the campus
Infinity pool with magnificent views to the Pacific
Only available for contracts that sign for 21 or more people
GOURMET PLANT BASED CUISINE
At Imiloa, we take pride in being a conscious comfort food campus. That means we serve healthy, locally-sourced, gourmet vegan meals that are as artistically plated, scientifically nourishing and delightfully crafted for all of our retreat guests.
The Spa
Treat yourself to the ultimate relaxation and wellness experience amidst our lush jungle surroundings. Our signature 60-minute massage treatments, offered by skilled local specialists will leave you feeling relaxed rejuvenated. Unwind and embark on a blissful journey of tranquility, surrounded by the serenity and soothing sounds of the rainforest.
The Wellness Bar
At Imiloa we have developed a healthy and tasty menu for our Wellness bar which includes an amazing assortment of signature beverages ranging from superfood smoothies, detoxifying elixirs, freshly pressed juices, custom crafted mocktails & delicious specialty coffees.
ALL INCLUSIVE TRANSPORTATION
Included in your retreat ticket is ground transportation to and from SJO airport and Imiloa. For more details and information on transportation please email our team at welcomehome@imiloainstitute.com
TRAVEL INSURANCE and COVID PROCEDURES
Imiloa has taken the extra step to ensure your peace of mind by partnering with a trusted and comprehensive travel insurance provider. Our chosen provider meets the entry requirements for Costa Rica and offers "cancel for any reason" plans that provide maximum coverage. With this additional option available through www.globalrescue.com/imiloa, you can travel with confidence, knowing that your retreat experience is safeguarded against unforeseen circumstances. Discover the true essence of worry-free travel where every detail is carefully curated to enhance your journey of wellness and adventure.
Nestled in the heart of the jungle, atop a mountain with breathtaking views of the Pacific Ocean, Imiloa offers a truly immersive nature experience. Adjacent to the second most biodiverse land on the planet, our location is a nature-lover's paradise. Just a short 13-minute drive away, you'll find Dominical, a vibrant beach town with surfer vibes, excellent coffee, and local shopping opportunities.
To the north, you can explore Quepos, and to the south, discover Ojochal and Uvita, famously known as the Whale's Tail.
But that's not all. Imiloa's convenient location also provides easy access to other attractions. Just 45 minutes to the east lies San Isidro, Costa Rica's second largest city. Within an hour's drive in all directions, you'll find cafes, beaches, waterfalls, biodiversity, and friendly locals eager to share the beauty of our lush, lovely area that we proudly call home.
Your journey to Imiloa is made even more convenient with our private plane, ensuring a smooth arrival. During your stay with us, your group will enjoy unlimited transportation to and from the beach, airport, and throughout your retreat, making your experience seamless and stress-free.
Come, immerse yourself in the wonders of nature and experience the warm hospitality of Imiloa. We can't wait to meet you!