Revive and Thrive – A transformational experience to Prioritize Wellbeing and Lead with Purpose. Learn to incorporate meaningful, sustainable wellbeing practices; juggle competing demands with ease; and reconnect with self, potential, purpose.
Join us for an immersive experience to assess and strengthen your wellbeing, particularly in the workplace. Learn how to transform your ability to lead yourself and others by discovering the intersection of inner balance and the six personas of a thriving leader. This is where you find sustained joy.
Do you feel disconnected, disempowered, and lack consistent wellbeing practices? Do competing priorities, serving others well, staying true to your values and purpose, and integrating all aspects of your life pose seemingly insurmountable challenges?
Your heart knows that the words you speak, like a pebble dropped in a pond, can ripple empowerment and profoundly change your perception of self and others. The energy you create when your words express your values impacts relationships and determines the balance in your life. Whether leading yourself or others, when you tap into the intuitive dimension of intelligence guiding your words, you realize that you can excel personally and professionally – and thrive!
This transformative experience is for you if you desire to lead yourself, your life, and others with greater ease. You will elevate your leadership skills, self-awareness and presence by cultivating community, movement, energetic hygiene and your intuition.
If the above excites you, click now to book your wellbeing retreat in Costa Rica with like-minded professionals!
1. Prioritize Wellbeing to Promote Productivity – attendees will be able to:
Prioritize wellbeing practices that bring joy and diminish competing demands.
Create new neural pathways that support your ideal day, week, and life, by utilizing pivot prompts.
Overcome time-suck tendencies based on the neuroscience of procrastination and multi-tasking.
2. Refine Spiritual and Intuitive Intelligence – attendees will be able to:
Integrate spiritual and intuitive intelligence into your life, including the workplace amongst colleagues and clients.
Develop intuition and align with your inner ally to thrive personally and professionally.
3. Improve Inner Narrative – attendees will be able to:
Create a positive, nurturing inner narrative to support your values.
Replace limiting words with ones that inspire and empower yourself.
Down time in a peaceful, expansive, natural environment conducive to self-discovery
Guided yoga, meditations and sound baths curated to enhance the integration of your learning
Connection with like-minded, ever-evolving, facilitators and participants
Tools and practices that serve your capacity to thrive personally and professionally
The power to lead yourself and others from a place of joy
Terre Short
Terre Short, MBA, is an author, speaker, coach and creator of Thriving Leader Collaborative. She believes that truly authentic leadership is achieved when we embrace our inner wisdom to overcome business challenges. As a NeuroMindfulness Practitioner, Terre lives at the intersection of wellbeing and leadership and has spent the last decade advising high performing Fortune 500 leaders on how to explore intuitive pathways to success. Terre is the author of The Words We Choose: Your Guide to How and Why Words Matter.
Prior to founding the company, Terre spent over 30 years as a senior executive in the Healthcare and Hospitality sectors, including various 5-star hotels and advancing the guest model to patient care with the largest health system in the United States, HCA. She earned her MBA in Healthcare Management, her Professional Coach Certification (PCC) and is a certified NeuroMindfulness Practitioner.
Lisa Solis DeLong
Lisa Solis DeLong, aka "The Joyful Shaman," is an international speaker, author, TEDx presenter, certified shamanic healer, guided energy medicine practitioner and registered nurse.
Lisa defines a miracle as a change in perception which leads to wonder and awe. As an international speaker, author, bereavement facilitator, ballroom dancer and mom, she weaves together insights from ancient wisdom and modern thought to inspire audiences with a powerful head to heart message using storytelling, writing prompts, dance, and humor. Audiences are transformed as they recognize the valuable gems hidden within their life experiences and remember who they truly are.
DeAnna Lynette Carpenter
DeAnna Lynette Carpenter is a spiritual doula, sound conduit, and creator of She Who Builds – a platform and community dedicated to providing women with the resources to go confidently in the direction of their dreams and build the life they imagine. She lives for creating spaces and experiences for women and men to disconnect to reconnect and is on a mission to inspire healing, which she describes as "a remembrance of and returning to one's Truest self."
Through spiritual doulaship (individual and group coaching), domestic and international retreat facilitation, sound baths and healings, mindfulness and more, DeAnna is weaving a web that supports soul remembrance and expression. She brings creativity, appreciation for beauty and innocence, her love of people and the land, authenticity, grounding, compassion, perspective, curiosity, enthusiasm, ceremony, and wisdom to every space she encounters.
DeAnna is the author of two books: Lessons from the Fall and In My Solitude. In 2018, she released her first album, Tsunami. DeAnna is a certified Kundalini Yoga teacher and is currently working on her second musical offering, Come Inside.
Terre has long been a sought-after expert to facilitate leaders and their organizations to improve results. She is a relatable coach, a creative consultant, and her ability to connect with an audience in small and large groups makes her an excellent speaker and trainer. I have had the privilege to see her in action in each of these settings and would not hesitate to recommend her.
Terre Short is a force of nature! Over the past 10 years I've had the opportunity to witness Terre's prowess in both clinical and educational settings. She brings energy, expertise, and experience to whatever task she undertakes and is especially adroit at embodying and teaching communication. She understands the power of words as well as nonverbal signals and astutely practices the three key communication elements: sending, receiving, and discerning that which is in-between. If you have a chance to work with her as a coach, speaker or facilitator, don't pass it up.
I met Terre Short when Parkview Health System hired the Studer Group to improve the system's employee engagement, care quality, and patient satisfaction scores. As Parkview's coach, Terre did an incredible job instilling a sense of urgency with our leadership team. In her role, Terre also possessed tremendous speaking skills, directly inspiring our leaders to take ownership and drive improvements in their specific areas. Terre helped set the foundation for the significant improvements that occurred at Parkview Health System over the following two years.
Lisa is gifted beyond words. With Justin's guidance she helped me gain perspective on the meaning of a loss in ways I could have never conceived. I was deeply moved by our session and have learned to tap into my 'Justin' on the other side. I've learned to ask and to receive with Lisa's help.
Truly amazing and I feel blessed to have been a part of this Thriving Leader Retreat. I received easy tools that I can use to apply to my personal wellbeing as well as serve me to be a better leader and better for all those around me.
Lisa DeLong's achingly beautiful story of life, love, and loss is a very personal and powerful journey. We have been friends for over a decade, and her son Justin was one of my heroes. Lisa's son Jacob, who s also one of my heroes, has been at war with the disease that took his brother's life. Blood Brothers is a real life experience o hope, compassion, and faith. Once you meet this mother and her family, your life will change forever.
I wanted you to know what a genuine articulate, compassion-centered speaker Lisa DeLong has been on several occasions while working with Providence Trinity Care Hospice Health Services. Although the topics have often been very delicate, she always maintained a professional and personal presence that brought home the message desired. On several occasion we asked to to be prepared to sell her book, Blood Brothers. Not surprising that the lines were long and each book sold with a caring word. She has a particular gift at "knowing her audience". Intuitively she can listen and lead, knowing when it is time to make certain information known. I do consider the times we have made presentations or met personally with others a privilege.
My experience with Lisa was phenomenal. Through the use of music and energy we were able to go on a spiritual and meditative journey, aligned uniquely for me. I was almost brought to tears as I felt as though I had been spiritually baptized: life and purpose and simple bliss were restored. Through our experience, I felt as though I were just at the tip of an iceberg; that in fact my recent tragedy was not an end-all-be-all but rather a fresh start. For now, I am guided through the dark with the wisdom and direction of the universe and its interconnectedness.
I am buzzing right now – at the Thriving Leader Collaborative Retreat, I got to connect with strangers who were friends ready to be had. It was the most beautiful, heartfelt, inspiring weekend where we got to talk about things we don't always talk about. They helped us feel safe and to find a way in the corporate world to come from the heart and honor our intuition.
The greatest impact for me at the Retreat was the established community. Having a place to come and let everything else in the world go, to be myself and able to be completely open for break throughs. Something I really wanted and deserved. It gave a place to invest in yourself and be so richly rewarded. I highly recommend this retreat.
DeAnna is magical. The first thing I said after having my first session with her is, "I have never felt so seen." DeAnna holds space for you and only you. She does not interject with her own ideas of what she thinks you should do or be; instead, she holds up a mirror to help you remember who you are. I feel immensely supported by her and our conversations are so expansive. She will always be my spiritual doula.
"Every event that I have attended hosted by DeAnna has been so incredibly rewarding because of the space she holds and the intention that she sets. It's always deep and powerful!"
When I first reached out to DeAnna to be my coach, I wasn't logically sure what to expect – but my soul innately knew I was in for a powerful (and necessary) journey – and trusted DeAnna as my priestess. Our sessions are a divine combination of intuition, reflection, encouragement, and remembrance. If you know you're on the verge of birthing the next level of yourself, DeAnna is the doula for you.
What a joy it was to meet you, hear your story and see your impact on our staff. Your willingness to serve, encourage and uplift others while sharing so deeply of yourself is an incredible gift that we so gratefully received! Your efforts have had an incredible impact on us that will overflow to staff, clients, families and our greater community as a whole. Thank you. My hope for you is that you will be blessed and encouraged to remain faithful, giving and abounding in eternal hope, joy, grace and love! I look forward to reading your book; thank you for your willingness to send signed copies to us!
Many blessings to you and your family,
I am not particularly a spiritual person, so I did not know what to expect at this retreat. I loved the mix of all sides – the intuitive and the corporate side – I am super excited to blend the two. And the team was AMAZING.
The Thriving Leader Collaborative Retreat has been the most incredible experience to relax in peace and be out in nature, and have the time and space to enjoy that thoroughly while learning with other phenomenal leaders. The guidance from the TLC team allowed me to think through those next stages of growth and those next learnings and evolutions of how I'll lead my business to success and how I will deliver success. I'm so thrilled I was able to be here.
DOME TRIPLE
$3,000
PER PERSON
Triple occupancy in a Geodesic Dome with views of the jungle
DOME DOUBLE
$3,500
PER PERSON
Double occupancy in a Geodesic Dome with views of the jungle
BUNGALOW DOUBLE
$3,800
PER PERSON
Double occupancy in a Jungle Bungalow with beautiful jungle views
BALI DOUBLE
$4,000
PER PERSON
Double occupancy in a private Bali style Suite with beautiful jungle views
BUNGALOW SINGLE
$4,200
PER PERSON
Single occupancy in a Jungle Bungalow with views of the jungle
BALI SINGLE
$4,500
PER PERSON
Single occupancy in your own private Bali style Suite with beautiful jungle views
Single occupancy in your own private, 200-Year-Old Balinese villa with a private deck and stunning views of the jungle and ocean

A completely private campus; available to your retreat group only. Access to a private waterfall, nature paths, incredible flora and fauna, and an ocean view infinity pool. Also included is a dedicated team of 20+ local professionals to coordinate everything for your enjoyment, from touch down to take off.
​

Gourmet plant-based cuisine prepared using all local and organic produce. Full meals, snacks, teas, coffees and fruit trays available throughout your stay.
Private transportation from the International airport to our campus; a private driver and transportation to our campus in Imiloa Mountain.
What's Not Included
Flights to SJO, Spa Services

Immerse yourself in a 22-acre jungle oasis located in Dominical, Costa Rica. Imiloa is nestled
in the heart of the rainforest, overlooking the majestic Pacific Ocean, and is just a short 15-
minute ride from the beach. It offers the perfect setting for experiencing deep healing while
being embraced by nature, all in the comfort of luxurious accommodations. We like to call it
JungleLuxury.


During your stay at Imiloa, you can revel in the beauty of our nature paths, indulge in the
serenity of our private waterfall, relax by the shared infinity pool that offers breathtaking forest
and ocean views, and of course, savor the culinary delights of our gourmet plant-based meals
meticulously crafted by our expert kitchen team.


Included in each accommodation is the comfiest mattresses, 850 thread count sheets, storage space and dry rooms as needed, fiber optic
internet, daily cleaning service, private en-suite bath, indoor/outdoor design for every accommodation with a focus on nature and being your
private refuge, and full service, thrice-filtered private well for drinking water throughout the property.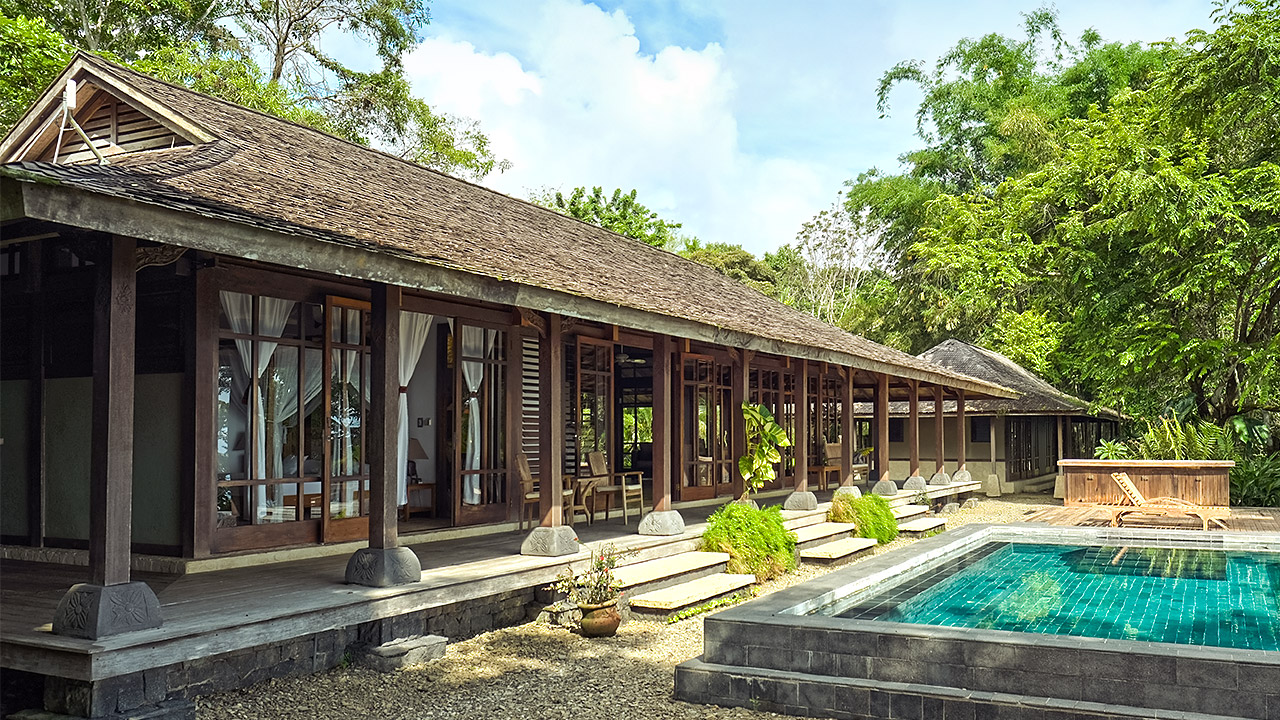 Bali Suites
Our 3 Bali Suites are elegantly situated at the top of the mountain in the 200 year old Bali Village. The suites are located just a few steps away from our shared infinity pool, with gorgeous views overlooking the rainforest and the pacific ocean.
Bali Suites 1 and 2: 1 King bed or 2 twins
Shared infinity plunge pool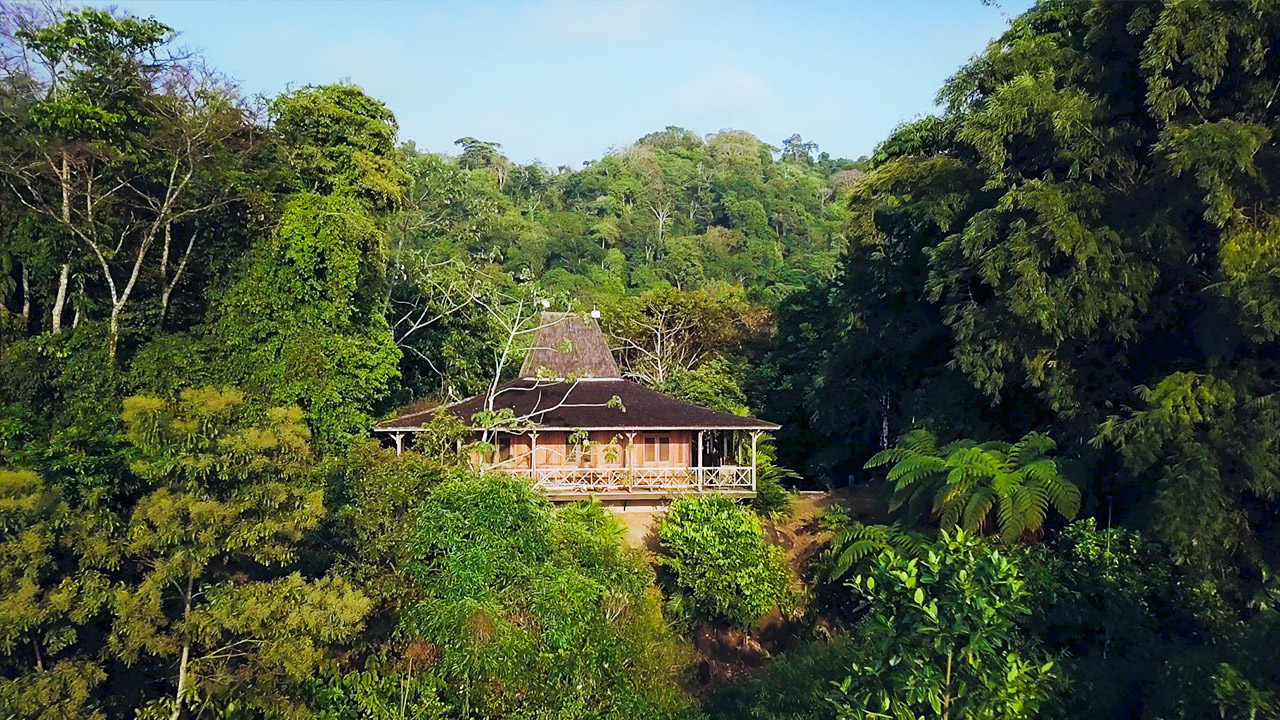 Jogolo House
Perched on the edge of the cliff, at the furthest end of the property, sits a 170 year old home from the Java Islands named Jogolo. Complete with a writer's desk, outdoor Balinese shower, and unique hand-carved architecture, Jogolo is teeming with history, soul and comfort.
No AC | Fans + Open-air construction that allow for natural ventilation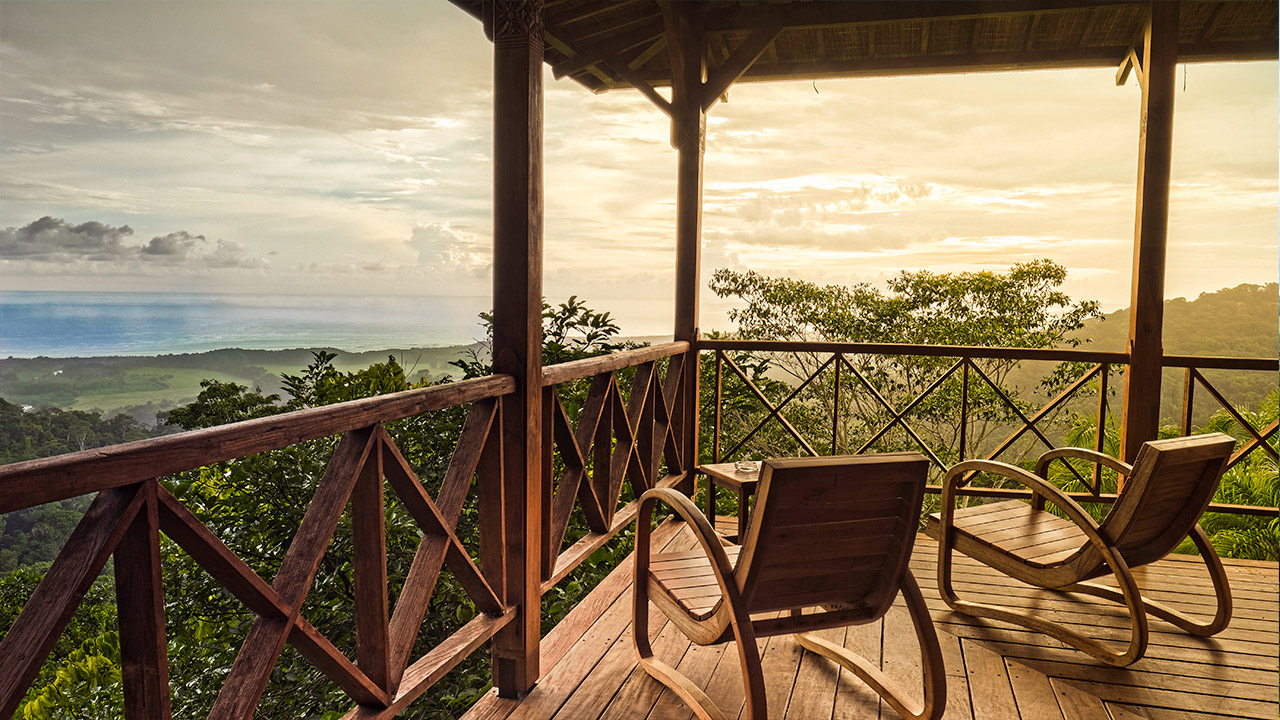 Potoo House
This two-floor imported home from Bali will have you wishing you'd never leave. Complete with a King Bed and a twin in the corner of the 180 year old home, Potoo combines open-air jungle luxury with unparalleled views of the Pacific ocean. On the lower level you will find a plunge pool and private area perfect for spa treatments.
1 King bed and 1 Twin bed
No AC | Fans + Open-air construction that allow for natural ventilation
Geodesic River Domes
Inspired by sacred geometry, our 6 Geodesic River Domes, sits in the rainforest along the edge of our private river. Enjoy the soothing sounds of the flowing water paired with the vibrant sounds of the jungle.
Open-air shower with rainforest views
Jungle Bungalows
Our 6 Jungle Bungalows are in close proximity to our common area, and right on the pathway to our own private waterfall. Bali inspired, the interiors feature natural finishings and beautiful details. Spacious bathrooms with a shower and soaking tub looking out to the rainforest.
No AC | Open-air construction with fans and screens that allow for natural ventilation
GOURMET PLANT BASED CUISINE
At Imiloa, we take pride in being a conscious comfort food campus. That means we serve healthy, locally-sourced, gourmet vegan meals that are as artistically plated, scientifically nourishing and delightfully crafted for all of our retreat guests.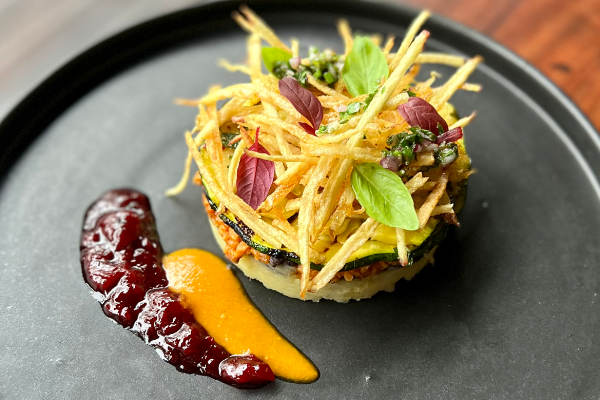 The Spa
Treat yourself to the ultimate relaxation and wellness experience amidst our lush jungle surroundings. Our signature 60-minute massage treatments, offered by skilled local specialists will leave you feeling relaxed rejuvenated. Unwind and embark on a blissful journey of tranquility, surrounded by the serenity and soothing sounds of the rainforest.
The Wellness Bar
At Imiloa we have developed a healthy and tasty menu for our Wellness bar which includes an amazing assortment of signature beverages ranging from superfood smoothies, detoxifying elixirs, freshly pressed juices, custom crafted mocktails & delicious specialty coffees.
ALL INCLUSIVE TRANSPORTATION
Included in your retreat ticket is a privately charted plane from SJO to Imiloa as well as luxury ground transportation to from the airstrip. For more details and information on transportation please email our team at welcomehome@imiloainstitute.com
Imiloa has taken the extra step to ensure your peace of mind by partnering with a trusted and comprehensive travel insurance provider. Our chosen provider meets the entry requirements for Costa Rica and offers "cancel for any reason" plans that provide maximum coverage. With this additional option available through
www.globalrescue.com/imiloa
, you can travel with confidence, knowing that your retreat experience is safeguarded against unforeseen circumstances. Discover the true essence of worry-free travel where every detail is carefully curated to enhance your journey of wellness and adventure.
Nestled in the heart of the jungle, atop a mountain with breathtaking views of the Pacific Ocean, Imiloa offers a truly immersive nature experience. Adjacent to the second most biodiverse land on the planet, our location is a nature-lover's paradise. Just a quick 15-minute drive away, you'll find Dominical, a vibrant beach town with surf, excellent coffee, and local shopping opportunities.
To the north, you can explore Quepos, and to the south, discover Ojochal and Uvita, famously known as the Whale's Tail.
But that's not all. Imiloa's convenient location also provides easy access to other attractions. Just 45 minutes to the east lies San Isidro, Costa Rica's second largest city. Within an hour's drive in all directions, you'll find cafes, beaches, waterfalls, biodiversity, and friendly locals eager to share the beauty of our lush, lovely area that we proudly call home.
Your journey to Imiloa is made even more convenient with our private plane, ensuring a smooth arrival. During your stay with us, your group will enjoy unlimited transportation to and from the beach, airport, and throughout your retreat, making your experience seamless and stress-free.
Come, immerse yourself in the wonders of nature and experience the warm hospitality of Imiloa. We can't wait to meet you!