A 6-day intensive retreat to help you manage your painful experiences, and lay the foundation for your path towards freedom and ultimate fulfillment. Create lifelong connections through this powerful healing experience and community.
February 29 – March 5, 2024
By purchasing a ticket I agree to the WALTERS WELLNESS GROUP, LLC TERMS AND CONDITIONS
Our life experiences mold and shape the relationship we create with ourselves, others, and the world. Join us to begin your healing journey through the art of compassion, journaling and movement. Discover new aspects of yourself and meet your tribe through this healing journey.
Are you ready to learn how to manage your pain and experience true freedom? Join us as we build a unique community of care and healing.
Book now to learn how get out of the passenger seat and into the driver's seat of your life.
By purchasing a ticket I agree to the WALTERS WELLNESS GROUP, LLC TERMS AND CONDITIONS
1.
A better understanding of how compassion, movement and journaling can impact one's journey of self-love.
2.
Develop a healthier sense of self by using compassion, effective communication, and forgiveness in managing one's painful experiences or past experiences.
3.
How to create healthier relationships through effective communication skills.
Meet and connect with others creating life long and powerful relationships.
Learn when and how to shift from your emotional mind to your "wise" mind.
Learn how to understand your emotions through the use of compassion.
Learn how to love and appreciate the "whole" you by creating a healthier relationship with yourself and others.
Learn how to find peace within.
Dr. Cathia Walters
Dr. Cathia Walters is an Educator, with a degree in clinical psychology, and founder of the Walters Wellness Group. Her identity is shaped by her heritage as a Black Jamaican woman who migrated to the United States at the age of sixteen. As a Black, Jamaican woman who views self-care as a radical act with great social impact, she created, hosts, and manages annual retreats for Black women in Runaway Bay, Jamaica and a bi-annual Black Couples Retreat in Lake Tahoe, California. She teaches classes focused on the use of Compassion in healing and incorporating movement as a part of healing. Dr. Walters has provided training, and hosted webinars and workshops focused on various aspects of healing. She has presented (2020), and served as a keynote panelist for the 2021 California Partnership to End Domestic Violence focusing on "Healing Trauma: From then to Now." She was also the Keynote speaker for New Bethel Tabernacle's "Unwavering Faith" Women's 2022 Conference speaking on the topic of Trauma and Grief. Additionally, she has written and collaborated published articles in the former APA Journal PsycCritiques.
Miguel Angel
Miguel is a facilitator, a community organizer, and an aspiring healer-in-training. After losing a friend to suicide in 2018 amid an already tumultuous year, he was forced to confront his own mental health struggles. Out of that tragedy, his deep desire to truly heal and live intentionally was reawakened. Since then he has manifested loving relationships, experiences, communities, mentors, and habits through mindfulness practices, deep intentionality, vulnerability, and the courage to speak with his wounds. His background in community organizing naturally moves him to share what he is learning and his lived experiences as a first-generation Mexican Immigrant have steered him to center Black, Indigenous, and Communities of Color in his work.
Dr. Yvette G. Flores
A Community-Clinical psychologist, Dr. Flores has done postdoctoral work in health psychology. Her research focus in the past has been substance abuse treatment outcomes, women's mental health, and intimate partner violence. She was co-investigator of a National Science Foundation Institutional Transformation grant to increase the numbers of Latinas in Science, Technology, Engineering, Mathematics, and Medicine [STEMM] careers. A Professor of Psychology in Chicana/o Studies at U.C. Davis for the past 33 years, Dr. Flores' current research promotes family well being in rural California communities and examines the mental health impact of migration on Mexican men. Her publications reflect her life's work of bridging psychology and Chicano/Latino studies, as she foregrounds gender, ethnicity and sexualities in her clinical, teaching and research practice. She has published four books, Chicana and Chicano Mental Health: Alma, Mente y Corazon, Psychological Perspectives for Chicano/Latino Families, Latinx Children and Adolescents, Cultura y Corazon: Decolonial Research Methods and an e-book: Decolonial Psychology Approaches with Latinx. Dr. Flores is a national and international consultant on cultural humility, prevention and treatment of trauma, and gender, migration and mental health. Most recently she served as a coach for the Women's Addiction Services Leadership Institute [WASLI], a project funded by SAMHSA. She is the current president of division 27 – Society for Community Research and Action – of the American Psychological Association [APA], and is past president of section 3 – Psychology of Latinas, of Division 35, Psychology of women of APA. Dr. Flores was recently promoted to Distinguished Professor at UC Davis.
I was so happy to have an opportunity to really unplug from all the roles I play in service to others so that I had could deeply check in with myself about my feelings, my life and my authentic desires for my future. "
My greatest take away was that: Before the retreat I already knew the importance of self-care but going on the retreat helped me realize how beneficial getting away can be for my mental and physical health.
You've curated a life changing experience. I am immensely grateful and give thanks for you and for the unique light you are in the world.
TRIPLES
$3,900
PER PERSON
Triple occupancy in a Geodesic Dome with views of the jungle
DOUBLES
$4,500
PER PERSON
Double occupancy in a Geodesic Dome with views of the jungle
SINGLES
$4,900
PER PERSON
Single occupancy in your own private Jungle Bungalow or Bali style suite with beautiful jungle views
VIP SINGLES
$5,000
PER PERSON
Single occupancy in your own private, 200-Year-Old Balinese villa with a private deck and stunning views of the jungle and ocean

A completely private campus; available to your retreat group only. Access to a private waterfall, nature paths, incredible flora and fauna, and an ocean view infinity pool. Also included is a dedicated team of 20+ local professionals to coordinate everything for your enjoyment, from touch down to take off.
​
Gourmet plant-based cuisine prepared using all local and organic produce. Full meals, snacks, teas, coffees and fruit trays available throughout your stay.
Private transportation from the International airport to our campus; a private driver and transportation to our campus in Imiloa Mountain.
What's Not Included
Psychological Services, Flights to SJO, Spa Services
Information shared by Walters Wellness Group are for informational purposes only and are not psychological services, or provided as a substitute for healthcare services. While one or more staff members of Walters Wellness Group may have healthcare licenses and/or provide healthcare services, in settings outside of Walters Wellness Group, those staff members are not providing healthcare services to you when working with or for Walters Wellness Group, and you waive any and all rights that may be owed to you if you were provided with healthcare services, such as (but not limited to) duties of confidentiality, recordkeeping, or duties to maintain the standard of care for healthcare professionals. If you are receiving healthcare services elsewhere, you agree to discuss your participation in The Services with your provider and accept sole responsibility for your participation and/or its impact on your condition(s).
By purchasing a ticket I agree to the WALTERS WELLNESS GROUP, LLC TERMS AND CONDITIONS
Immerse yourself in a 22-acre jungle oasis located in Dominical, Costa Rica. Imiloa is nestled in the heart of the rainforest, overlooking the majestic Pacific Ocean, and is just a short 15-minute ride from the beach. It offers the perfect setting for experiencing deep healing while being embraced by nature, all in the comfort of luxurious accommodations. We like to call it JungleLuxury.
During your stay at Imiloa, you can revel in the beauty of our nature paths, indulge in the serenity of our private waterfall, relax by the shared infinity pool that offers breathtaking forest and ocean views, and of course, savor the culinary delights of our gourmet plant-based meals meticulously crafted by our expert kitchen team.
Included in each accommodation is the comfiest mattresses, 850 thread count sheets, storage space and dry rooms as needed, fiber optic internet, daily cleaning service, private en-suite bath, indoor/outdoor design for every accommodation with a focus on nature and being your private refuge, and full service, thrice-filtered private well for drinking water throughout the property.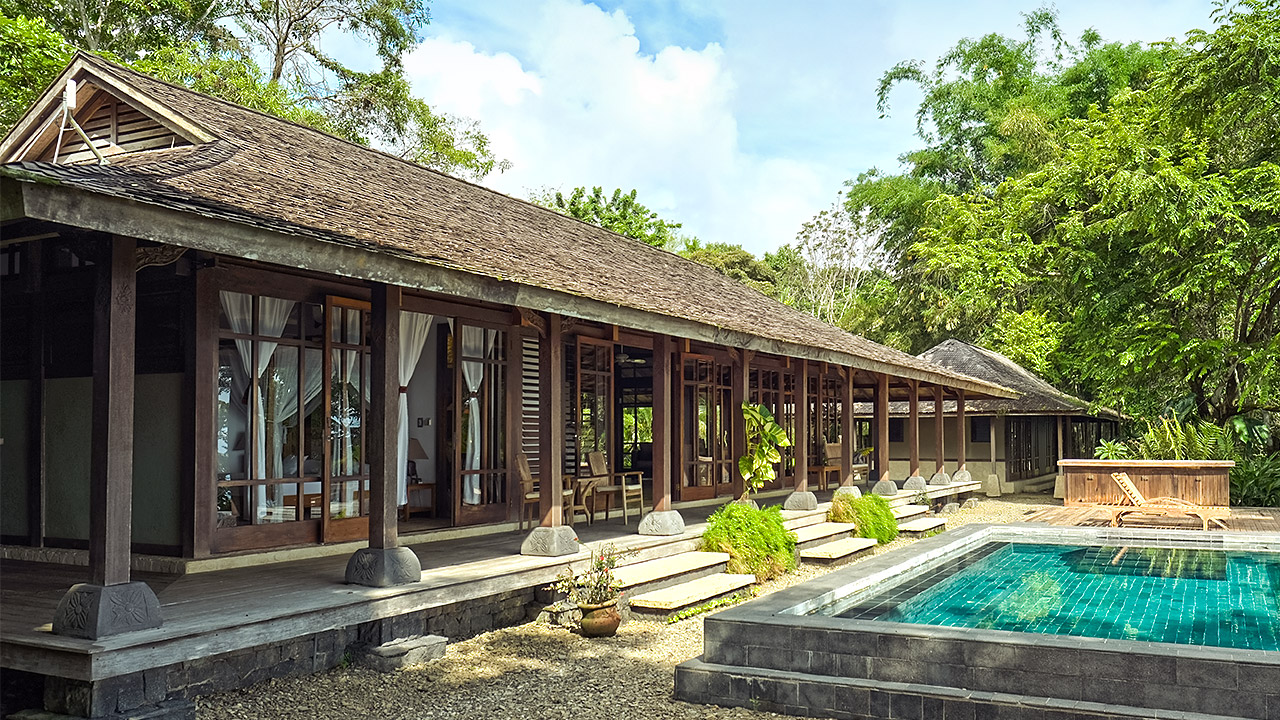 Bali Suites
Our 3 Bali Suites are elegantly situated at the top of the mountain in the 200 year old Bali Village. The suites are located just a few steps away from our shared infinity pool, with gorgeous views overlooking the rainforest and the pacific ocean.
Bali Suites 1 and 2: 1 King bed or 2 twins
Shared infinity plunge pool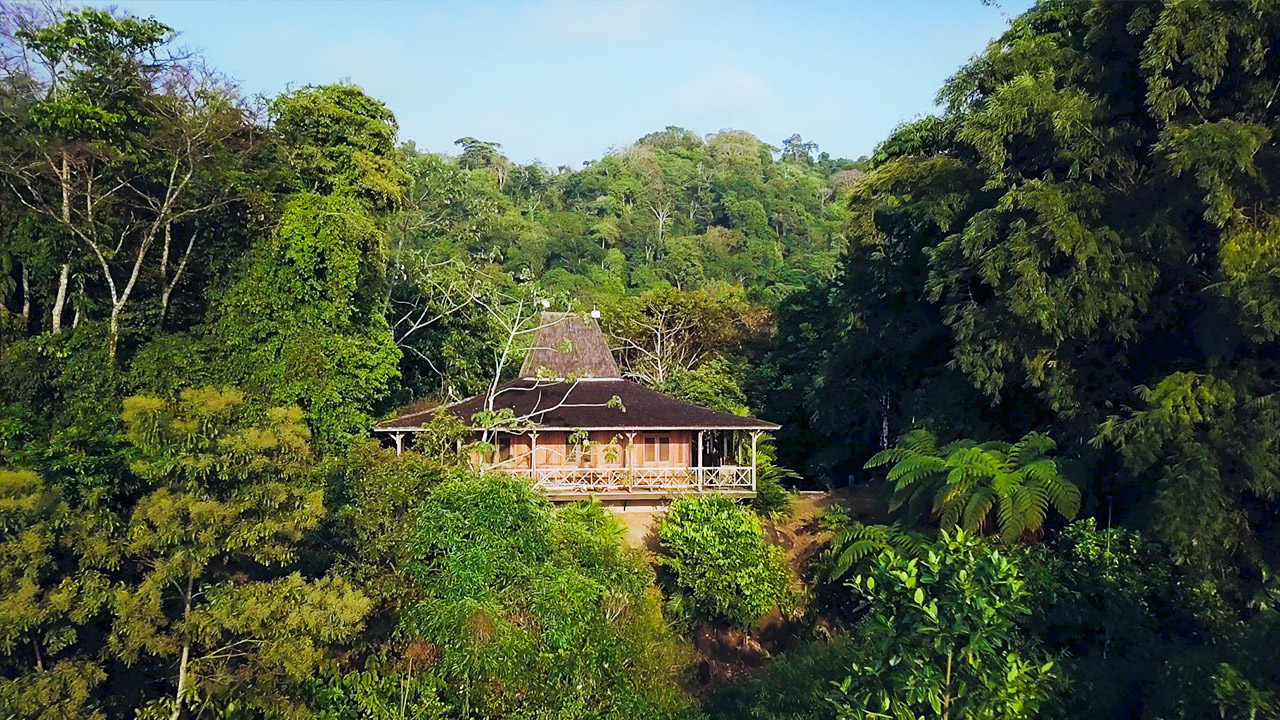 Jogolo House
Perched on the edge of the cliff, at the furthest end of the property, sits a 170 year old home from the Java Islands named Jogolo. Complete with a writer's desk, outdoor Balinese shower, and unique hand-carved architecture, Jogolo is teeming with history, soul and comfort.
No AC | Fans + Open-air construction that allow for natural ventilation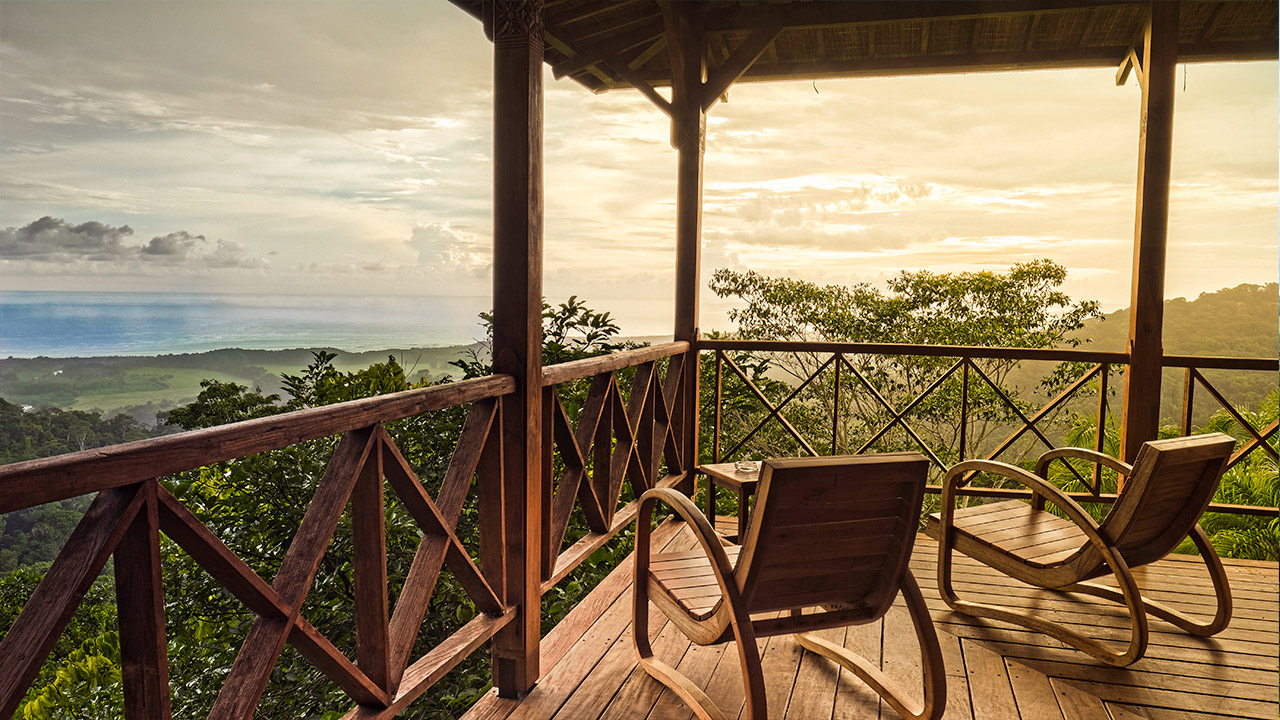 Potoo House
This two-floor imported home from Bali will have you wishing you'd never leave. Complete with a King Bed and a twin in the corner of the 180 year old home, Potoo combines open-air jungle luxury with unparalleled views of the Pacific ocean. On the lower level you will find a plunge pool and private area perfect for spa treatments.
1 King bed and 1 Twin bed
No AC | Fans + Open-air construction that allow for natural ventilation
Geodesic River Domes
Inspired by sacred geometry, our 6 Geodesic River Domes, sits in the rainforest along the edge of our private river. Enjoy the soothing sounds of the flowing water paired with the vibrant sounds of the jungle.
Open-air shower with rainforest views
Jungle Bungalows
Our 6 Jungle Bungalows are in close proximity to our common area, and right on the pathway to our own private waterfall. Bali inspired, the interiors feature natural finishings and beautiful details. Spacious bathrooms with a shower and soaking tub looking out to the rainforest.
No AC | Open-air construction with fans and screens that allow for natural ventilation
GOURMET PLANT BASED CUISINE
At Imiloa, we take pride in being a conscious comfort food campus. That means we serve healthy, locally-sourced, gourmet vegan meals that are as artistically plated, scientifically nourishing and delightfully crafted for all of our retreat guests.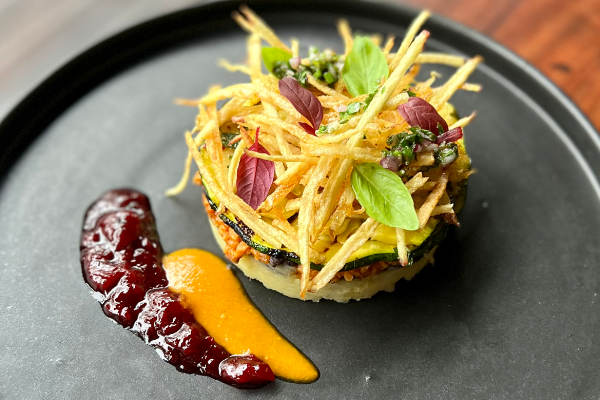 The Spa
Treat yourself to the ultimate relaxation and wellness experience amidst our lush jungle surroundings. Our signature 60-minute massage treatments, offered by skilled local specialists will leave you feeling relaxed rejuvenated. Unwind and embark on a blissful journey of tranquility, surrounded by the serenity and soothing sounds of the rainforest.
The Wellness Bar
At Imiloa we have developed a healthy and tasty menu for our Wellness bar which includes an amazing assortment of signature beverages ranging from superfood smoothies, detoxifying elixirs, freshly pressed juices, custom crafted mocktails & delicious specialty coffees.
ALL INCLUSIVE TRANSPORTATION
Included in your retreat ticket is a privately charted plane from SJO to Imiloa as well as luxury ground transportation to from the airstrip. For more details and information on transportation please email our team at welcomehome@imiloainstitute.com
Imiloa has taken the extra step to ensure your peace of mind by partnering with a trusted and comprehensive travel insurance provider. Our chosen provider meets the entry requirements for Costa Rica and offers "cancel for any reason" plans that provide maximum coverage. With this additional option available through www.globalrescue.com/imiloa, you can travel with confidence, knowing that your retreat experience is safeguarded against unforeseen circumstances. Discover the true essence of worry-free travel where every detail is carefully curated to enhance your journey of wellness and adventure.
Nestled in the heart of the jungle, atop a mountain with breathtaking views of the Pacific Ocean, Imiloa offers a truly immersive nature experience. Adjacent to the second most biodiverse land on the planet, our location is a nature-lover's paradise. Just a quick 15-minute drive away, you'll find Dominical, a vibrant beach town with surf, excellent coffee, and local shopping opportunities.
To the north, you can explore Quepos, and to the south, discover Ojochal and Uvita, famously known as the Whale's Tail.
But that's not all. Imiloa's convenient location also provides easy access to other attractions. Just 45 minutes to the east lies San Isidro, Costa Rica's second largest city. Within an hour's drive in all directions, you'll find cafes, beaches, waterfalls, biodiversity, and friendly locals eager to share the beauty of our lush, lovely area that we proudly call home.
Your journey to Imiloa is made even more convenient with our private plane, ensuring a smooth arrival. During your stay with us, your group will enjoy unlimited transportation to and from the beach, airport, and throughout your retreat, making your experience seamless and stress-free.
Come, immerse yourself in the wonders of nature and experience the warm hospitality of Imiloa. We can't wait to meet you!