A 6-day, all-inclusive retreat uniquely designed to nourish your well-being and growth.
Rest. Connect. Renew. Nurture. Reset. Transform.
You do so much for others. Who is taking care of YOU?
Anchored in the philosophy that support, self-awareness, community, and intentional rest are necessary pillars for productive and fulfilling careers in Medicine, this retreat offers an opportunity for physicians to pause, connect and renew. As you break free from stress and exhaustion, this immersive retreat experience will equip you with the skills to realign with what matters most to you, so that you can step forward with joy, clarity, freedom and vibrant fulfillment.
With a biopsychosocial model of personal and professional development across the lifespan, we invite you to reconnect with your core values and priorities, embrace your self-agency, and open your heart with ease to what is next. Through transformative physician wellness workshops, you will have the opportunity to learn, grow, expand and discover in a joyful and healing environment.
A catalyst of transformation for your career and life, this retreat will allow you to develop new knowledge and skills that will overflow into all areas of your life. It is time to uplevel your life and fully step into a newly defined era of a life well-lived.
Break free from feeling stressed, stuck or exhausted. Get empowered to create anything you want with your career and your life.
Are you ready to transform your life?
Experience freedom from feeling burned out, stressed, or stuck.
Rejuvenate your mind, body, and spirit to reignite your joy for life and work.
Rediscover your internal compass and realign with your core values, priorities, and interests.
Identify new strategies to tackle work/life challenges while remaining the author of your life.
Uplevel your relationship with yourself and everyone in your life.
Given the structure of the physician wellness retreat, you will have ample time for rest, quiet time, outdoor activities and exploration with fellow physicians. You will discover just the right experiences to nourish your mind, body and spirit so that you leave feeling restored.
Through transformative physician wellness workshops, you will have the opportunity to learn, grow and discover in a joyful and healing environment. This is your invitation to develop new knowledge and skills that will impact the rest of your life.
Experience deep renewal through activities that are intentionally designed to help you embrace your personal and professional development.
Return home with knowledge and skills that reverberate change in your daily habits, allowing you to create and sustain long-term joy and implement life-long practices to support your well-being.

Earn up to 24 hours AMA PRA Category 1 CME ™ while enjoying the experience of a lifetime
Kathy Stepien, MD, FAAP
Physician, Coach, Leader
Dr. Stepien is a board-certified Pediatrician in active practice and Certified Physician Coach. She founded the Institute for Physician Wellness in 2016, and is dedicated to improving physician well-being through coaching, retreats, and education. When she is not working, you can find her out on hiking trails with her two teenage sons and their Golden Retriever pup, Maddie.
Here's what other physicians have said about previous retreats
In the insanity of the current medical environment (covid), this was a fabulous way to hit pause, spend time thinking about medicine and life, and plan for a future change.
This conference is truly life-changing. I am a repeat attendee and every time I take away so many actionable things and thoughts that are specific to my life yet applicable to all. This community is amazing.
It's such a joy to interact with so many physicians from different backgrounds and parts of the country and connect around what we have in common.
Having a wellness community experience with educational support and peer to peer support–priceless.
This retreat was truly life altering and life saving for me! I am an ER doctor having survived working in the busiest ER in the state of California for two years during the pandemic. I went to the retreat feeling beaten up and broken. I was suffering and my family was suffering. I really was considering leaving medicine. After the retreat, I feel renewed and now understand things about medicine and about myself that I didn't understand before. With a few more of these retreats, I think that I will not only make it to retirement, but will be able to thrive in medicine. Thank you so much to the IPW team for making this happen for me!
The coaching and mindset-skills helped me realize how much control I have over work and life. This is life-changing.
I was not prepared for the full extent this program would have on me. Positively life-changing for the good. Amazing!
Physicians need to have the time and space to take care of their needs and recharge. They also need sustainable tools to ensure they remain happy in their work. IPW did all of this
This was my 4th IPW retreat. The entire experience creates intentional time, connection, and environments to recover and unwind from busy physician lives. I feel grounded, whole, and content when I'm here and every year I bring skills, peace, and change home with me.
Kathy validated work challenges and also helped me to see what changes were totally under my own control to make meaningful change. I felt empowered in a space that at times feels out of control.
Excellent retreat! Especially with all that we have been through over the past 2+ years with covid. I appreciate this much time and energy for rest, relaxation, reflection, encouragement and support.
This retreat was a great opportunity to rest, recharge and reflect. An outstanding investment in myself.
It was so good to relax and focus on me for a while. I loved learning about self-compassion. This retreat is just what I needed.
IPW understands the pursuit of wellness/happiness in our professional and personal lives. Physicians have a unique calling and unique challenges. This conference highlights both self awareness, support, understanding and collegiality, gives us resources and encourages our personal growth above all.
The Physicians Wellness retreat was what I needed to be able to unwind, recharge, and discover how to develop skills to become more self-compassionate. I am confident that this will translate into improved work/family/life relationships and productivity.
This retreat is a great mix of structured sessions with time and guidance for introspection with unplanned periods that let me do what I needed to truly rest and renew.
I have a better appreciation for protecting my own boundaries. I can say "no."
This was an excellent retreat to meet like-minded colleagues who are striving to grow, learn, and focus on self-improvement.
I have received many new tools to accept my worth and create change to improve my life and way I practice medicine.
Absolutely recommend for any physician looking for a moment to breathe and grow.
This retreat should be mandatory for all physicians.
Kathy and her team do a great job of making us feel comfortable and validate our feelings and challenges as physicians. The retreat allows you to grow and acknowledge our worth and gifts.
DOUBLES
$5,000
PER PERSON
Double occupancy in a Geodesic Dome with views of the jungle.
SINGLES
$7,000
PER PERSON
Single occupancy in a Jungle Bungalow with views of the jungle.
SINGLES
$9,000
PER PERSON
Single occupancy in your own private Bali style suite with beautiful jungle views.
VIP SINGLES
$11,000
PER PERSON
Single occupancy in your own private, 200-Year-Old Balinese villa with a private deck and stunning views of the jungle and ocean.

A completely private campus; available to your retreat group only. Access to a private waterfall, nature paths, incredible flora and fauna, and an ocean view infinity pool. Also included is a dedicated team of 20+ local professionals to coordinate everything for your enjoyment, from touch down to take off.
​

Gourmet plant-based cuisine prepared using all local and organic produce. Full meals, snacks, teas, coffees and fruit trays available throughout your stay.
Private, Imiloa passenger plane from the International airport to our campus; a private driver and transportation to our campus in Imiloa Mountain.
What's Not Included
Flights to SJO, Spa Services
Immerse yourself in a 22-acre jungle oasis located in Dominical, Costa Rica. Imiloa is nestled in the heart of the rainforest, overlooking the majestic Pacific Ocean, and is just a short 15-minute ride from the beach. It offers the perfect setting for experiencing deep healing while being embraced by nature, all in the comfort of luxurious accommodations. We like to call it JungleLuxury.
During your stay at Imiloa, you can revel in the beauty of our nature paths, indulge in the serenity of our private waterfall, relax by the shared infinity pool that offers breathtaking forest and ocean views, and of course, savor the culinary delights of our gourmet plant-based meals meticulously crafted by our expert kitchen team.
Included in each accommodation is the comfiest mattresses, 850 thread count sheets, storage space and dry rooms as needed, fiber optic internet, daily cleaning service, private en-suite bath, indoor/outdoor design for every accommodation with a focus on nature and being your private refuge, and full service, thrice-filtered private well for drinking water throughout the property.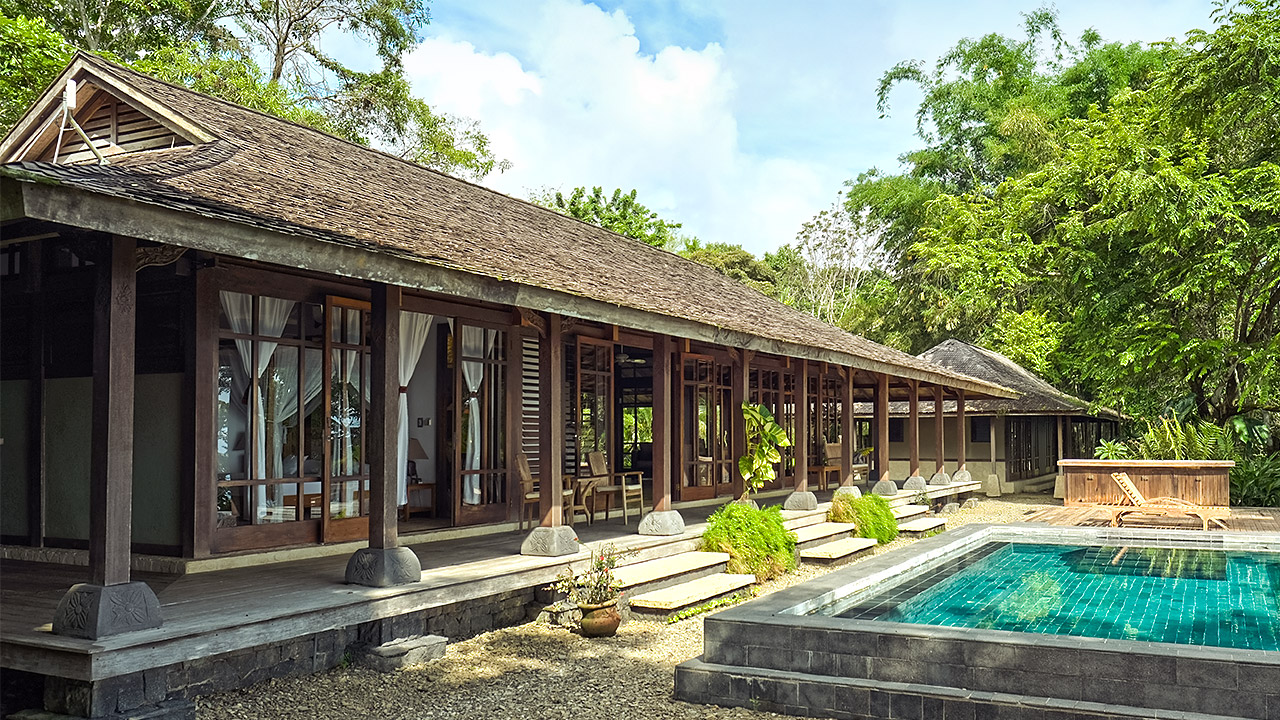 Bali Suites
Our 3 Bali Suites are elegantly situated at the top of the mountain in the 200 year old Bali Village. The suites are located just a few steps away from our shared infinity pool, with gorgeous views overlooking the rainforest and the pacific ocean.
Bali Suites 1 and 2: 1 King bed or 2 twins
Shared infinity plunge pool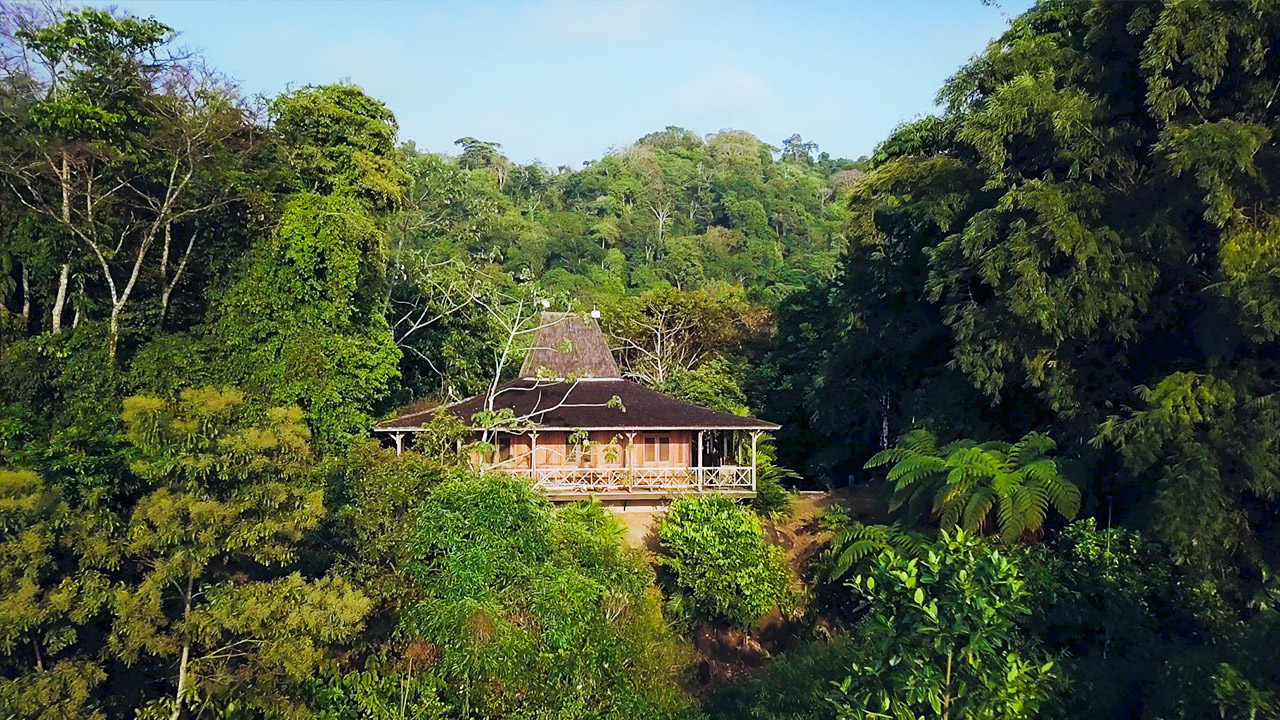 Jogolo House
Perched on the edge of the cliff, at the furthest end of the property, sits a 170 year old home from the Java Islands named Jogolo. Complete with a writer's desk, outdoor Balinese shower, and unique hand-carved architecture, Jogolo is teeming with history, soul and comfort.
No AC | Fans + Open-air construction that allow for natural ventilation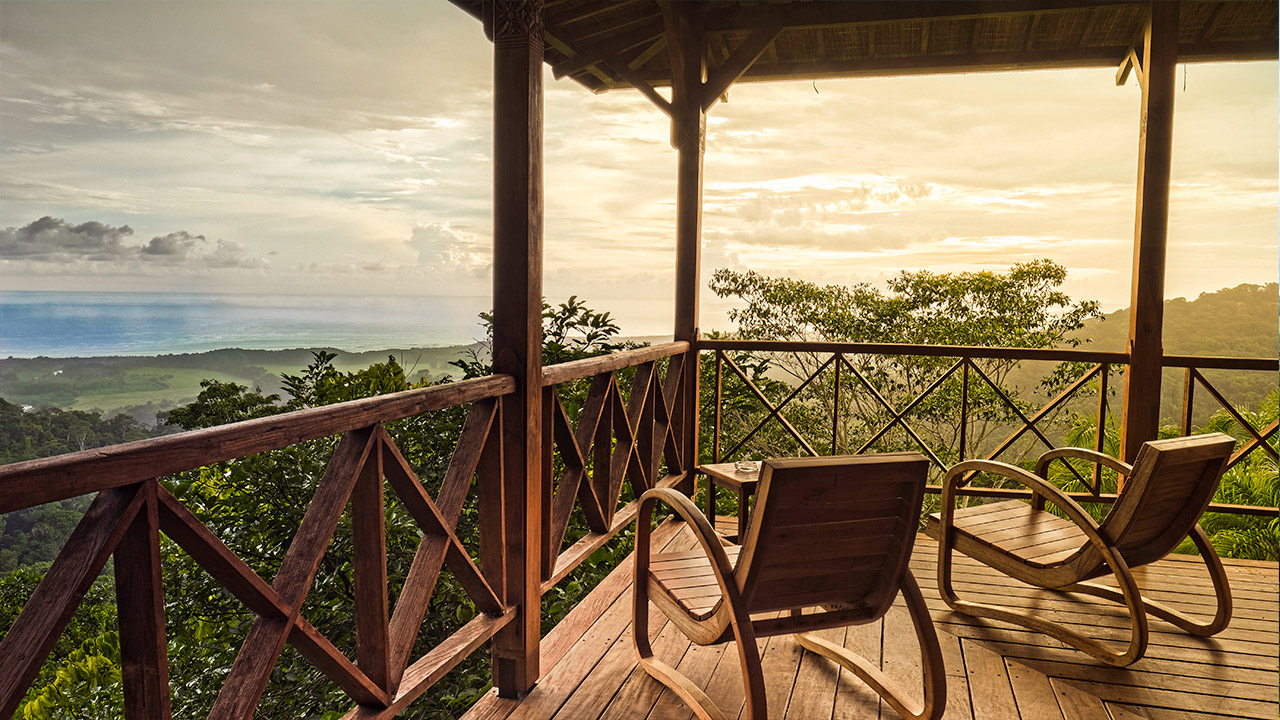 Potoo House
This two-floor imported home from Bali will have you wishing you'd never leave. Complete with a King Bed and a twin in the corner of the 180 year old home, Potoo combines open-air jungle luxury with unparalleled views of the Pacific ocean. On the lower level you will find a plunge pool and private area perfect for spa treatments.
1 King bed and 1 Twin bed
No AC | Fans + Open-air construction that allow for natural ventilation
Geodesic River Domes
Inspired by sacred geometry, our 6 Geodesic River Domes, sits in the rainforest along the edge of our private river. Enjoy the soothing sounds of the flowing water paired with the vibrant sounds of the jungle.
Open-air shower with rainforest views
Jungle Bungalows
Our 6 Jungle Bungalows are in close proximity to our common area, and right on the pathway to our own private waterfall. Bali inspired, the interiors feature natural finishings and beautiful details. Spacious bathrooms with a shower and soaking tub looking out to the rainforest.
No AC | Open-air construction with fans and screens that allow for natural ventilation
GOURMET PLANT BASED CUISINE
At Imiloa, we take pride in being a conscious comfort food campus. That means we serve healthy, locally-sourced, gourmet vegan meals that are as artistically plated, scientifically nourishing and delightfully crafted for all of our retreat guests.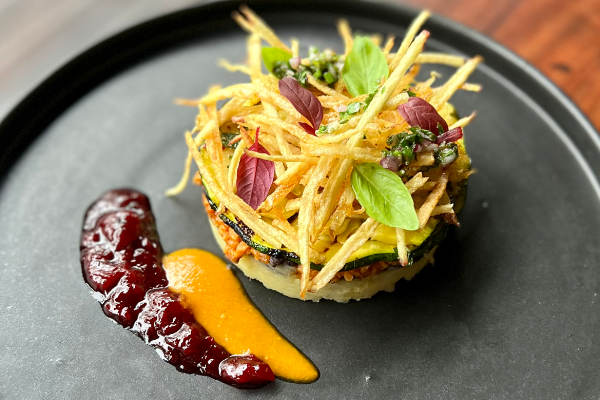 The Spa
Treat yourself to the ultimate relaxation and wellness experience amidst our lush jungle surroundings. Our signature 60-minute massage treatments, offered by skilled local specialists will leave you feeling relaxed rejuvenated. Unwind and embark on a blissful journey of tranquility, surrounded by the serenity and soothing sounds of the rainforest.
The Wellness Bar
At Imiloa we have developed a healthy and tasty menu for our Wellness bar which includes an amazing assortment of signature beverages ranging from superfood smoothies, detoxifying elixirs, freshly pressed juices, custom crafted mocktails & delicious specialty coffees.
ALL INCLUSIVE TRANSPORTATION
Included in your retreat ticket is a privately charted plane from SJO to Imiloa as well as luxury ground transportation to from the airstrip. For more details and information on transportation please email our team at welcomehome@imiloainstitute.com
Imiloa has taken the extra step to ensure your peace of mind by partnering with a trusted and comprehensive travel insurance provider. Our chosen provider meets the entry requirements for Costa Rica and offers "cancel for any reason" plans that provide maximum coverage. With this additional option available through www.globalrescue.com/imiloa, you can travel with confidence, knowing that your retreat experience is safeguarded against unforeseen circumstances. Discover the true essence of worry-free travel where every detail is carefully curated to enhance your journey of wellness and adventure.
Nestled in the heart of the jungle, atop a mountain with breathtaking views of the Pacific Ocean, Imiloa offers a truly immersive nature experience. Adjacent to the second most biodiverse land on the planet, our location is a nature-lover's paradise. Just a quick 15-minute drive away, you'll find Dominical, a vibrant beach town with surf, excellent coffee, and local shopping opportunities.
To the north, you can explore Quepos, and to the south, discover Ojochal and Uvita, famously known as the Whale's Tail.
But that's not all. Imiloa's convenient location also provides easy access to other attractions. Just 45 minutes to the east lies San Isidro, Costa Rica's second largest city. Within an hour's drive in all directions, you'll find cafes, beaches, waterfalls, biodiversity, and friendly locals eager to share the beauty of our lush, lovely area that we proudly call home.
Your journey to Imiloa is made even more convenient with our private plane, ensuring a smooth arrival. During your stay with us, your group will enjoy unlimited transportation to and from the beach, airport, and throughout your retreat, making your experience seamless and stress-free.
Come, immerse yourself in the wonders of nature and experience the warm hospitality of Imiloa. We can't wait to meet you!