A life-changing retreat to free yourself of the emotional and physical effects of stress, anxiety & trauma. Find your freedom and reconnect with your infinite power
In my nearly 25 years as a clinical psychologist and trauma specialist, one thing I can say for sure is that everyone of us have been impacted by trauma in one form or another. In addition to the personal, relationship and career challenges many of us experience, the post pandemic fallout has magnified the feelings of disconnect, lack of fulfillment and discontent for many of us.
This retreat will incorporate the tools and modalities I've cultivated as a clinical psychologist, author and personal development coach. This retreat will equip you with the know-how to finally transcend your trauma (even the trauma you don't realize you're carrying), reignite your passion, and restore your sense of freedom and purpose.
Can you personally relate with any of the following:
Lack of clarity

Sadness

Anxiety

Relationship difficulties

Confusion

Feeling unfulfilled

Easily distracted

Constantly checking social media/inability to put phone down

Inability to be still

Asking yourself, "Is this the best life has to offer?"

Wanting to flee, escape or numb yourself

Feeling stuck

Emotionally on edge, " triggered"
These feelings are usually an indication of a traumatized person. Trauma rewires our physiology and teaches our mental state to normalize operating from a heightened state of arousal. This is a harmful state of existence. This heightened state of arousal is a trauma response which if left unchecked invites emotional discomfort and physical disease into our lives. Operating life from a traumatized place prevents the abundance and prosperity that desires to enter our lives from doing so. You don't have to live like this any longer.
Anything learned and normalized can be unlearned, Just like you learned to adapt to living from a traumatized state, you can unlearn this counterproductive existence and recondition yourself to operate from a place of mindfulness, prosperity and power. It's in this place of resolved trauma where all the magic and beauty of life awaits you.
You will experience Post Traumatic Growth (PTG) which leads to stronger relationships, greater awareness of new possibilities, increased personal strength, spiritual enhancement, and deeper appreciation for life.

You will learn to be more present by learning effective methods to turn off past focused ruminative thinking (which promotes depression) and free yourself from future focused obsessive thinking (which promotes anxiety). You will learn to operate in a state of mindfulness, the state where all abundance, prosperity, intuition and connection resides.

You will go on a journey of self and uncover the truth of who you are and why you are here.

You will recognize the often overlooked gifts of trauma and how to use these gifts to empower and guide you.
You will gain FREEDOM. You will free yourself from the trauma trap and activate your limitless potential. You will free yourself from the emotional and physical pain unresolved trauma has had on your life. You will gain more satisfying intimate, familial, platonic and peer relationships by participating in experiential exercises to help you understand yourself and others better, therefore establishing new healthy behaviors and habits.
Dr. Rose Moten
Dr. Rose Moten is a psychologist, author, speaker, and personal development coach. She is founder of BLOOM Transformation Center, a Detroit based wellness center that blends traditional mental health services with other revolutionary approaches that has helped thousands to accelerate their personal growth and development.
Dr. Rose is a recognized by media outlets as and expert in the field of human behavior, relationships and the psychology behind many of life's challenges. She is regularly featured locally and nationally on television, radio and newsprint offering her insight into current events and hot topics.
Her insight and expertise has been featured on media outlets and platforms that include the Oprah Winfrey Show, OWN network, TedX, Chicago Sun Times, as well as the Detroit Free Press. She is regularly featured locally on Detroit media affiliates including WXYZ/ABC Detroit, WDIV/NBC Detroit and Fox2 Detroit.
Dr. Rose's highly acclaimed and effective, 7-Steps to Personal Transformation method provides a practical and effective blueprint for self-awareness, trauma healing, personal development and transformation.
Cortney Kane Sides
A midwest girl at heart, Cortney is an internationally renowned evidential medium, spiritual advisor, energetic artist, speaker and published author. Gifted with a unique form of synesthesia, Cortney combines her mediumship skills to connect with her clients on topics of life, love, work and healing, creating unique spiritual paintings for each session.
Thanks to Dr. Rose, I have a new understanding and awareness of who I am. I've come out on the other side with a new sense of self, empowered to be the best… The sooner we learn the skills, the faster we will get results. Dr. Rose will help you get there.
I highly recommend Dr. Rose to anyone on the path of self-discovery and improvement.
I am overwhelmed with gratitude. Several years ago, when I first visited Dr. Rose, I was a skeptic and distrusting of the world. My journey took me to several different doctors but nothing ever clicked. God continued to redirect me back to her. For He knew, Dr. Rose were the person who would facilitate me into becoming who He called me to be. He knew my breakthrough would flow through her.
I am thankful for her guidance, which has shown me how to tap into my power. I am thankful for her honesty and compassion. Most of all, I am thankful for her passion for teaching others to BLOOM. Thank you Dr. Rose for being an AWESOME teacher.
This retreat was made for me. I'm going back a different person with tools to maintain the changes I've made.
This retreat offered everything that you need. There was wellness, there was good food, there was good vibes, there was a ton of information that literally changed lives. I would recommend anytime you see this retreat offered to sign up. You'll thank me later.
I started blooming in ways I never imagined. It changed my life. I [am] happy with who I am, it's a feeling that no words can describe.
Throughout this journey I have been encouraged, supported, and got clarity on what I need to do to go to the next level.
Words cannot describe how good it felt to be at the sound healing gong meditation today. Every inch of my body felt relaxed and I felt at peace. This was exactly what I needed; I feel blessed that I was able to be there today and I look forward to going back.
In these sessions we got tools, but we got more than just tools we got a bounded sisterhood of accountability partners to keep us going, to keep this momentum.
I've had the wonderful opportunity to attend this retreat with Dr. Rose. This place is heaven! I have truly transformed and transcended. This has been the best week of my entire life and I look forward to coming back next year. You have got to get here. It's amazing.
I came here to celebrate my birthday, and I left healed from my trauma. I surrendered, I transcended my trauma, I feel whole. This retreat completely gave life a new meaning. It awakened me. Thank you Dr. Rose
Working with Dr. Rose has been an amazing journey of revelation and growth for me.
Dr Rose is amazing! I have attended her retreats many times. I always leave feeling renewed, calm and ready for what's before me. It is my personal self care and rejuvenation gift to myself.
Since starting my journey with Dr. Rose, I've been able to get a new job, new apartment, change relationships, [and] do so many amazing things. I recommend this to anyone who feels stuck in their life.
You might be apprehensive, but I guarantee you, once you start, you will find your direction.
Thank you Dr. Rose for this beautiful retreat. I have learned so much about myself. So much has been confirmed. The relationships that have been built will last forever.
It was amazing. All of these women poured into each other. It was a community healing environment. I'm so excited to see how we continue to transcend throughout the days, months and years to come.
This TYT Costa R retreat was beyond my expectations. I was just looking to get away, but the transcending part, that really did happen. To be free from my childhood trauma. To know why I have thought and acted the way I did which was needy and victim, I can now be free of that for ever and not have to concern myself or others with that little girl inside issues anymore, because I now know why.
TRIPLES
$3,999
PER PERSON
Triple occupancy in a Geodesic Dome with views of the jungle.
DOUBLES
$4,399
PER PERSON
Double occupancy in a Geodesic Dome with views of the jungle.
SINGLES
$4,899
PER PERSON
Single occupancy in a Jungle Bungalow or Bali style Suite with views of the jungle.
SINGLES
$5,899
PER PERSON
Single occupancy in a Sky Forest Suite with shared pool, patio and beautiful views overlooking the rainforest and ocean.
VIP SINGLES
$6,899
PER PERSON
Single occupancy in your own private, 200-Year-Old Balinese villa with a private deck and stunning views of the jungle and ocean.

A completely private campus; available to your retreat group only. Access to a private waterfall, nature paths, incredible flora and fauna, and an ocean view infinity pool. Also included is a dedicated team of 20+ local professionals to coordinate everything for your enjoyment, from touch down to take off.
​

Gourmet plant-based cuisine prepared using all local and organic produce. Full meals, snacks, teas, coffees and fruit trays available throughout your stay.
Private transportation from the International airport to our campus; a private driver and transportation to our campus in Imiloa Mountain.
Immerse yourself in a 22-acre jungle oasis located in Dominical, Costa Rica. Imiloa is nestled in the heart of the rainforest, overlooking the majestic Pacific Ocean, and is just a short 15-minute ride from the beach. It offers the perfect setting for experiencing deep healing while being embraced by nature, all in the comfort of luxurious accommodations. We like to call it JungleLuxury.
During your stay at Imiloa, you can revel in the beauty of our nature paths, indulge in the serenity of our private waterfall, relax by the shared infinity pool that offers breathtaking forest and ocean views, and of course, savor the culinary delights of our gourmet plant-based meals meticulously crafted by our expert kitchen team.
Included in each accommodation is the comfiest mattresses, 850 thread count sheets, storage space and dry rooms as needed, fiber optic internet, daily cleaning service, private en-suite bath, indoor/outdoor design for every accommodation with a focus on nature and being your private refuge, and full service, thrice-filtered private well for drinking water throughout the property.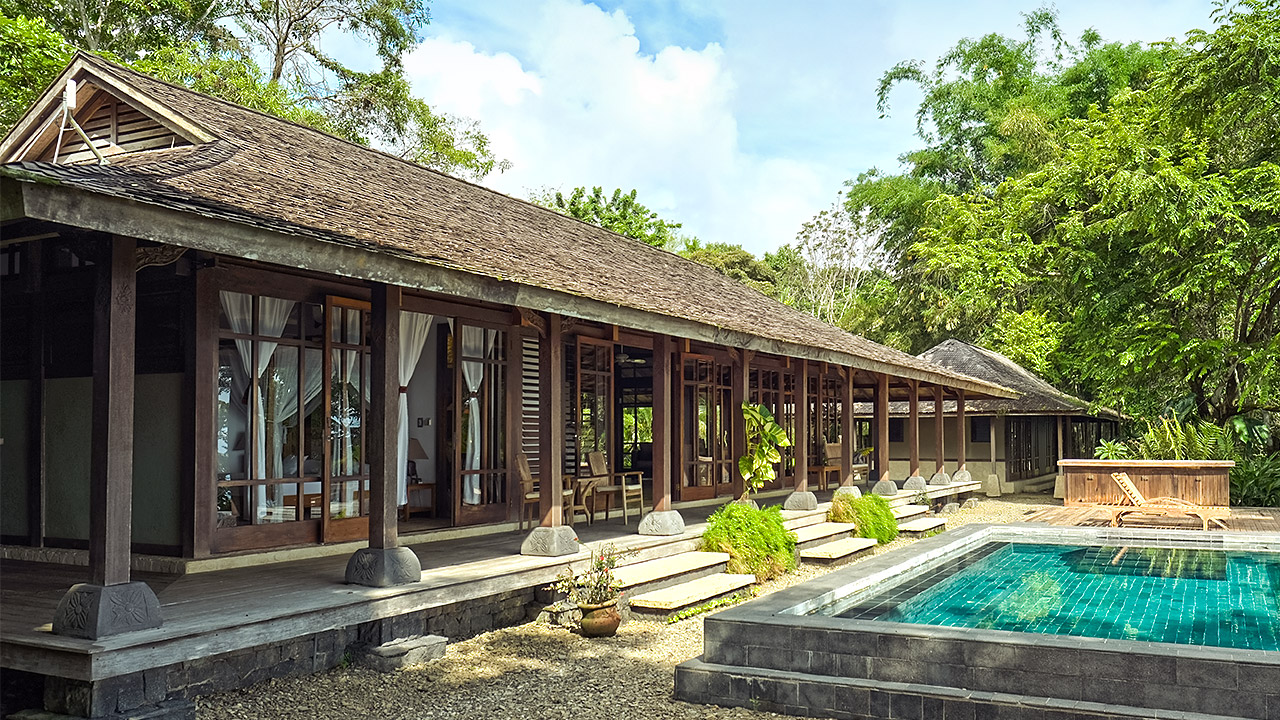 Bali Suites
Our 3 Bali Suites are elegantly situated at the top of the mountain in the 200 year old Bali Village. The suites are located just a few steps away from our shared infinity pool, with gorgeous views overlooking the rainforest and the pacific ocean.
Bali Suites 1 and 2: 1 King bed or 2 twins
Shared infinity plunge pool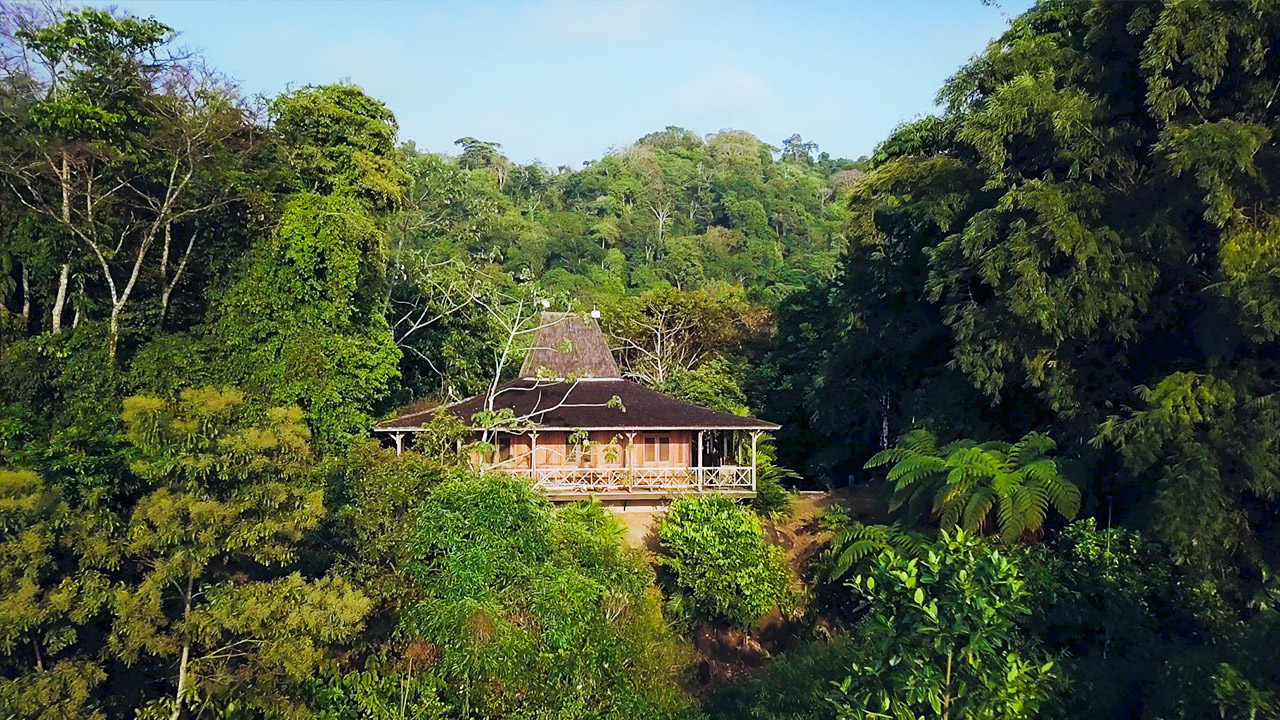 Jogolo House
Perched on the edge of the cliff, at the furthest end of the property, sits a 170 year old home from the Java Islands named Jogolo. Complete with a writer's desk, outdoor Balinese shower, and unique hand-carved architecture, Jogolo is teeming with history, soul and comfort.
No AC | Fans + Open-air construction that allow for natural ventilation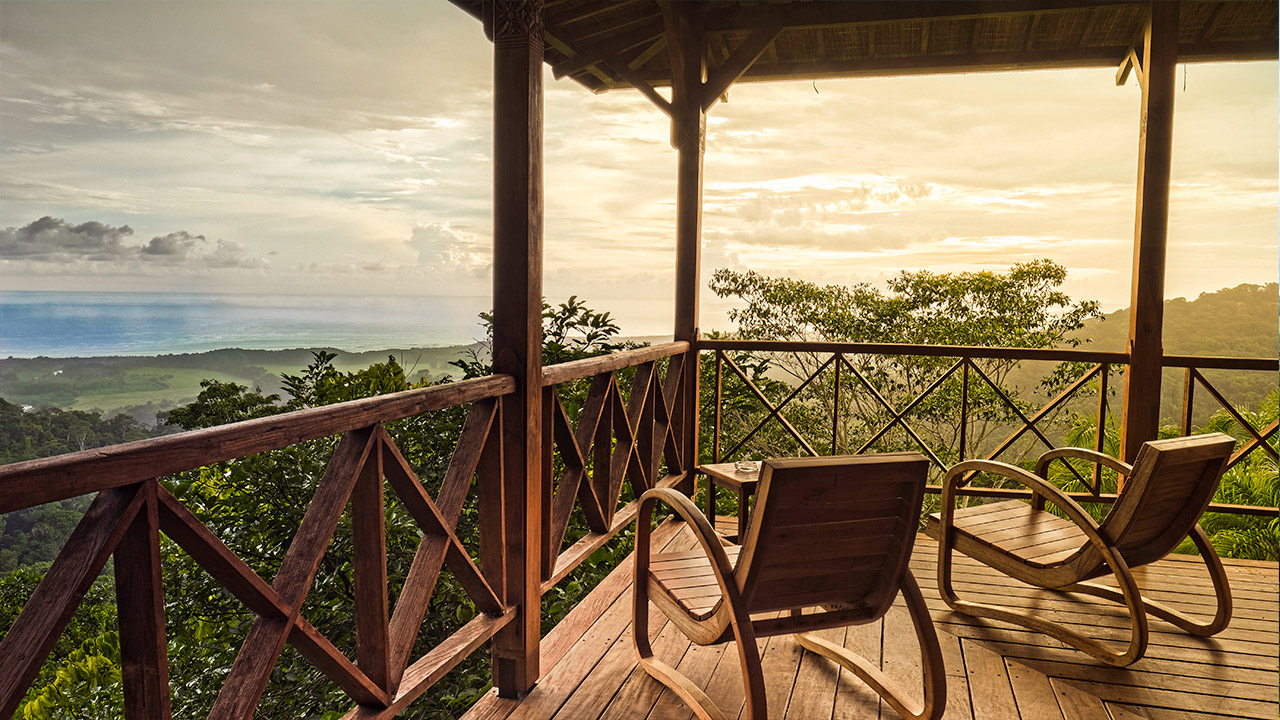 Potoo House
This two-floor imported home from Bali will have you wishing you'd never leave. Complete with a King Bed and a twin in the corner of the 180 year old home, Potoo combines open-air jungle luxury with unparalleled views of the Pacific ocean. On the lower level you will find a plunge pool and private area perfect for spa treatments.
1 King bed and 1 Twin bed
No AC | Fans + Open-air construction that allow for natural ventilation
Geodesic River Domes
Inspired by sacred geometry, our 6 Geodesic River Domes, sits in the rainforest along the edge of our private river. Enjoy the soothing sounds of the flowing water paired with the vibrant sounds of the jungle.
Open-air shower with rainforest views
Jungle Bungalows
Our 6 Jungle Bungalows are in close proximity to our common area, and right on the pathway to our own private waterfall. Bali inspired, the interiors feature natural finishings and beautiful details. Spacious bathrooms with a shower and soaking tub looking out to the rainforest.
No AC | Open-air construction with fans and screens that allow for natural ventilation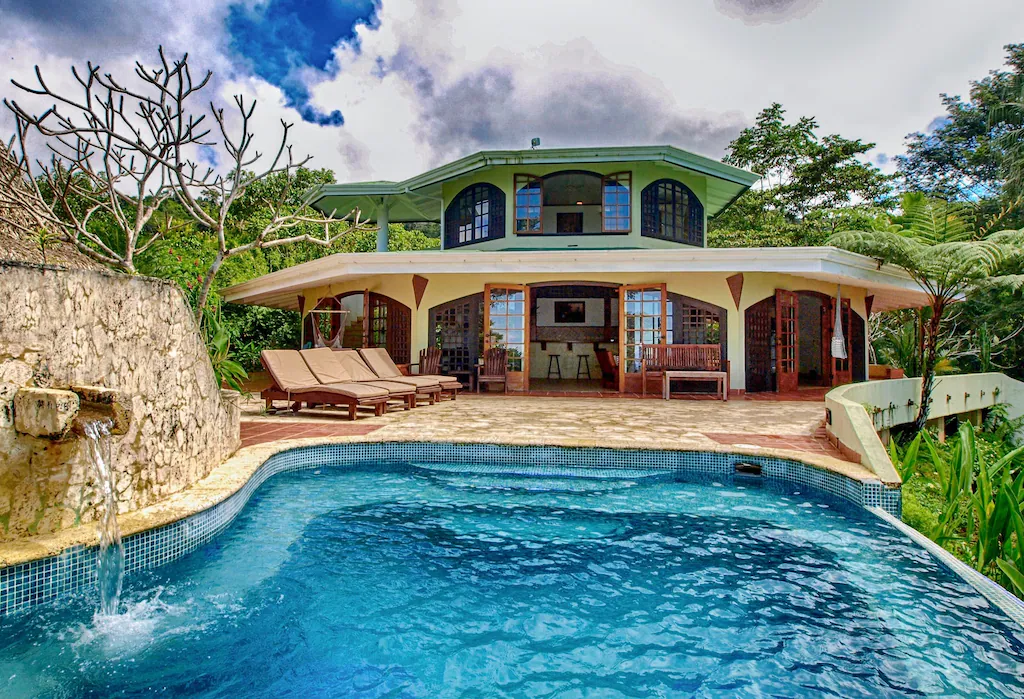 Mountain, Jungle, and Ocean View Suites
Sky Forest is on 8 contiguous acres to Imiloa, making the campus feel like a 30-acre wonderland. The home is 350sq/m with three expansive bedrooms, two downstairs and one up, with mountain, jungle, and ocean views respectively.
Each room can be 1 King bed or 2 twins
3,500 sq/ft of space + 500 sq/ft outdoor space
Private campus within the campus
Infinity pool with magnificent views to the Pacific
GOURMET PLANT BASED CUISINE
At Imiloa, we take pride in being a conscious comfort food campus. That means we serve healthy, locally-sourced, gourmet vegan meals that are as artistically plated, scientifically nourishing and delightfully crafted for all of our retreat guests.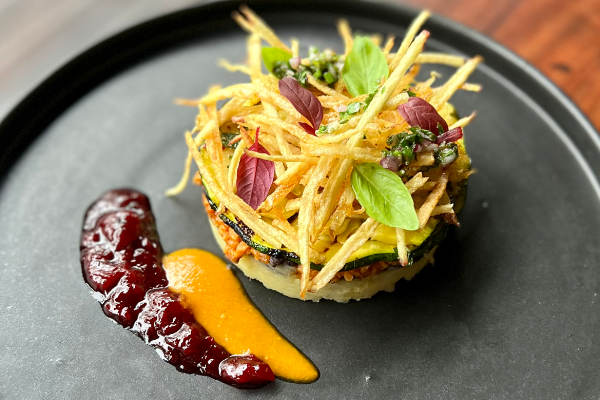 The Spa
Treat yourself to the ultimate relaxation and wellness experience amidst our lush jungle surroundings. Our signature 60-minute massage treatments, offered by skilled local specialists will leave you feeling relaxed rejuvenated. Unwind and embark on a blissful journey of tranquility, surrounded by the serenity and soothing sounds of the rainforest.
The Wellness Bar
At Imiloa we have developed a healthy and tasty menu for our Wellness bar which includes an amazing assortment of signature beverages ranging from superfood smoothies, detoxifying elixirs, freshly pressed juices, custom crafted mocktails & delicious specialty coffees.
ALL INCLUSIVE TRANSPORTATION
Included in your retreat ticket is a privately charted plane from SJO to Imiloa as well as luxury ground transportation to from the airstrip. For more details and information on transportation please email our team at welcomehome@imiloainstitute.com
Imiloa has taken the extra step to ensure your peace of mind by partnering with a trusted and comprehensive travel insurance provider. Our chosen provider meets the entry requirements for Costa Rica and offers "cancel for any reason" plans that provide maximum coverage. With this additional option available through www.globalrescue.com/imiloa, you can travel with confidence, knowing that your retreat experience is safeguarded against unforeseen circumstances. Discover the true essence of worry-free travel where every detail is carefully curated to enhance your journey of wellness and adventure.
Nestled in the heart of the jungle, atop a mountain with breathtaking views of the Pacific Ocean, Imiloa offers a truly immersive nature experience. Adjacent to the second most biodiverse land on the planet, our location is a nature-lover's paradise. Just a quick 15-minute drive away, you'll find Dominical, a vibrant beach town with surf, excellent coffee, and local shopping opportunities.
To the north, you can explore Quepos, and to the south, discover Ojochal and Uvita, famously known as the Whale's Tail.
But that's not all. Imiloa's convenient location also provides easy access to other attractions. Just 45 minutes to the east lies San Isidro, Costa Rica's second largest city. Within an hour's drive in all directions, you'll find cafes, beaches, waterfalls, biodiversity, and friendly locals eager to share the beauty of our lush, lovely area that we proudly call home.
Your journey to Imiloa is made even more convenient with our private plane, ensuring a smooth arrival. During your stay with us, your group will enjoy unlimited transportation to and from the beach, airport, and throughout your retreat, making your experience seamless and stress-free.
Come, immerse yourself in the wonders of nature and experience the warm hospitality of Imiloa. We can't wait to meet you!